---
post 60
written 2005-11-27 21:46:00

(Sigh)

11.27.05, 9:46 PM, EST, Ada, OH, delayed by a long-running football game
---
post 61
written 2005-11-30 20:01:00

Typing poorly today because of the band-aid on my right middle finger and the bandange on the inside of my elbow, and spelling poorly as well because of the blood loss.

Nope, you're not reading my creepy last will and e-testament, as I lay bleeding and wounded amidst the bodies of the assassins they sent to silence me... no, it's not that. I just gave blood again.

I feel like I can't live up to that last post about blood donation. That was a good post. This time around the exsanguinator wasn't as good, there was no skinny girl to feel sorry for, just showing up, tapping a vein, and going on my way.

Though I have been a good bit loopy since the exsanguination. Had pizza at Padrone's (which does a decent job of resisting my dad's "West of Pittsburgh, South of Baltimore" rule for finding good pizza. Not amazing or anything, but real pizza, as it ought to be made.

Now, the magic of Evidence. I figure if I prep for class and study for the exam as well, that's a good chunk of my prep for that one done. Evidence isn't until last, Dec. 16. First one's Fed Tax, but Prof. Lobenhofer has a crazy-ass long study session for that on Friday. (The Friday before finals week, and he schedules a study session. It's like he knows how to hurt a guy.) It's probably going to be very useful study stuff, though, so I'm skipping my weekly trip to Lima for groceries and gaming.

11.30.05, 8:01 PM, EST, Ada, OH, through a fine haze of blood loss
---
post 62
written 2005-12-01 12:25:00

It's snowing but not accumulating

Fa la la la la, la la la la

First real snowfall, I'm still waiting

Fa la la la la, la la la la

Might warm up later, become rain

Fa la la, la la la, la la laaa

Predictable weather forecast again

Fa la la la laaaa, la la, la laaaaa

12.1.05, 12:25 PM, EST, Ada, Oh, Bust Open Those Advent Calendars Y'all
---
post 63
written 2005-12-02 11:24:00

And just like that, another semester down.

That's weird. I absolutely feel like A) there should be more classes this week, and B) there should be more classes in the two weeks to come.

That's ridiculous, because A) it's Friday, and B) the next two weeks are exam weeks. Tuesday starts it off, then Friday, then Monday, then Friday, then I'm Audi. There will be a lot of studying between then and now. There will probably be some messed up sleep schedules, though lately I've been doing a fair job of waking up between 6am and 7am every day to get conditioned to it for my two 8:30 am exams. My brain's already in a form of neural shutdown, where I can't really concern myself with anything except exam material. My right arm is suffering from what can only be repetitive-stress disorder pains, since I don't lift anything heavier than my books these days. (Though it's about thirty-forty pounds of books, I reckon.) I'm not napping in the afternoons anymore, for no reason other than I'm constantly thinking about studying.

Right now, though, I'm just going to have some lunch and maybe watch Brazil, by Terry Gilliam. And, in three hours, go to a review session for Fed Tax, estimated to last at least three hours, but probably no more than eight. (sigh)

12.2.05, 11:24 AM, EST, Ada, OH, chill winds and such
---
post 64
written 2005-12-05 13:33:00

Not a lot to say except that I'm slowly freaking out more and more as my exam draws near. I imagine this cycle will continue as each exam is passed, then the next one approaches.

Is freaking out worse when it's slower? I don't know. I guess there's pros and cons both ways.

More studying.

12.5.05, 1:33 PM, EST, Ada, OH
---
post 65
written 2005-12-06 17:30:00

My writing hand hurts, my head hurts, and my confidence is way down.

One down, three to go.

12.6.05, 5:30 PM, EST, Ada, OH
---
post 67
written 2005-12-08 16:18:00

Okay, my head and my writing hand are okay, but now the small of my back is aching. Too much standing upright? Is my posture too good? I haven't shoveled all that much snow, so it can't be that.

So, I'm walking back from my Bus Org final, and trying to decide if I should walk in the fields and yards (snowy, drifting to two feet or more, no sidewalks in this part of town) or in the street (unplowed but pushed down by the passage of cars). As if on cue, a crappy, rust-bitten 80's model little pickup truck comes barrelling down the road. Barrelling in these conditions is only about 35 or 40, but you know what I'm saying. Every two or three seconds, he fishtails his back end. Keep in mind, in order to do that every two or three seconds, he has to yank his truck around in the other direction. I waited for him to realize he was an idiot and start driving at a normal speed for conditions, without all the "I want to crash into someone's house" driving skillz. None of these things occurred, so I quickly leapt into someone's yard. I hope no property owners minded. The truck-drivin' bozo continued his merry way down the road, oncoming traffic pulling off into driveways and snowdrifts, oblivious to every and any other thing on the road. (sigh) Life in Ohio isn't so bad you should kill yourself by driving like an ass on snow-coated roads. C'mon!

Two down, two to go. I understand the Con Law final is going to be a bit more demanding than some of my classmates thought. I have a study session with one or more of them scheduled for Sunday. It's never too late to get more studying done, right?

Personal to Chuck and Mikey: in my Bus Org essay, I argued against Delaware. (Well, the practice of allowing other states' companies to incorporate there, but I framed in terms of railing against Delaware as an entity.) I got your back.

12.8.05, 4:18 PM, Eastern Snowy Time, Ada, OH, where plowing the roads is optional
---
post 66
written 2005-12-08 23:15:00

Winter weather advisory today. Truly, all is well with the world. I'm looking forward to walking to my Bus Org exam in six inches of snow tomorrow.

Comic Connection closed its doors today. It will be missed, and I will not look forward to driving all the way to Findlay for comics. (But I'll do it.) But, no more Heroclix tournaments until we get something going somewhere else.

This weekend does not bode well for me. Friday, exam. Saturday, studying, Sunday, studying. Monday, another exam. One for which I will have had only two days of uninterrupted preparedness. After that, a big four day gap until Friday, and Evidence.

Then, the homestead. The ancient ruins. The familial estate.

Has anyone heard of the movies "3-Iron" or "November"? Or seen "House of Flying Daggers" or "Layer Cake"? All of these were in the previews for Kung Fu Hustle, which I watched for the first time after buying the DVD a while back. I think I want to see all of these films.

Right, then. Sleep.

12.8.05, 11:15 PM, EST, Ada, OH
---
post 68
written 2005-12-12 17:19:00

Whoof. Three down, one to go. I'm giving myself the rest of the day off.

Con Law a bit easier than the practice exams I studied, and I hope I hit all the issues. I did not have an opportunity to argue against the existence of Delaware this time, though I did get to invoke the spirits of Jefferson and Hamilton, and I love to invoke Hamilton. He's under a lot of people's radar. You know?

Turns out the little blonde on Food Network is Giada something. Nice.

I would like to see a poker table of all the meanest, most unpleasant pro players. Phil Hellmuth, Devil Fish... probably Scotty Nguyen. Who else belongs at that table? I want trash talk and surly attitudes. I want the players to compete for who the audience cares least about. The commentators can be all the nice guys - Lederer, Gus Hansen, Chris "Jesus" Ferguson. I'd watch that.

Mmmm. I could go for some Faith No More right about now. And I have Angel Dust on cassette. And I have a cassette player! It's like it was meant to be.

12.12.05, 5:19 pm, EST, Ada, OH
---
post 69
written 2005-12-14 16:21:00

Light snow today, rain all day tomorrow. Guess which one I have to drive to Dayton in? Heh.

Evidence studying requiring greater effort. There's a lot to remember. But keep in mind, while you cannot introduce proof of remedial measures as proof of liability for a given condition (to which the remedy is applied), you can use it as proof of something else - notice or control, for example.

Back continues to hurt, though it migrated north up to my sub-shoulder region. Stupid back pain.

I'd like to go on record as saying that my normally-favorable stance on the death penalty was thrown into disarray by Tookie Williams. I think if Schwartzenegger had received a letter from a given number of kids saying, "I didn't get involved in gangs because of Tookie's work," he should have pardoned him. But I think that may have been predetermined.

On iTunes right now: Coldplay, X&Y. Recently, Mystery Science Theater 3000, Clowns in the Sky.

12.14.05, 4:21 pm, EST, Ada, OH
---
post 70
written 2005-12-17 13:12:00

I could have sworn I wrote another entry yesterday when I got the server names straightened out. Huh.

12.17.05, 1:12 pm, EST, Ada, OH
---
post 71
written 2005-12-17 13:40:00

A couple of things -

The site was down briefly while Mikey moved icculus.org to Chicago. The server at least. Then, just to be a jerk, he temporarily changed the names of the servers so that no one could read my webjournal. That's all straightened out now.

Exams done, brain contracting back to a "normal" size. Drove way the heck out into Nowhere, Ohio, last night to play some games. We played in a bar that didn't serve liquor, and kept its soda and beer in two white, regular, stand up fridges behind the bar. Weird place, but I guess they get along.

I was going to drive home today, but it would have necessitated bringing all dirty laundry home and coming back to the apartment in January all messy. So, today, laundry and cleaning. Also, another day to let the roads get better from the storm that hit here in Ohio, then went east to hit PA.

Tomorrow: the big drive. I was going to go I-80, but I might wuss out and take the Turnpike because it has the potential to be safer. We'll see. I just don't like how curvy and hilly the Northeast Extension is, especially in winter.

Today's going to be a nice day for not studying, I think.

12.17.05, 1:40 pm, EST, Ada, OH
---
post 72
written 2006-01-06 19:19:00

I'm back. You can all relax now. I have to go unload my car.

1.6.06, 7:19 pm, EST, Ada, OH, 2006: the year before the year when everything went to hell
---
post 73
written 2006-01-09 16:21:00

Fickle chaos, which meddles in all things, has seen fit to force me to take a seminar class that I'm not all that interested in.

See, I was going to take Criminal Procedure, get myself some knowledge on the criminal side of things to go with all the estates, gifts, wills, etc, that I'm taking on Mondays (or Martindays as I'm calling them, as I have no one but brand-new Professor Martin on those days, two classes). But, I only reach this decision after class selection is closed last November. But, Dean Christoff says that the class is underenrolled (along with Civil Practice, which I'm also signed up for). So, today, I walk into room 125 and there are literally no seats available. This is unheard of. The law school's classrooms anticipate a huge turnout for some classes; some classes are required, some are just obvious choices, there's always that chance for a huge turnout. But these are lecture halls I'm talking about. Probably ten rows of deskspace, room for ten across. And it's full.

So, I'm not taking Criminal Procedure. And if you recall, I didn't get into Intellectual Property. So, that's two options down. I signed up for a class to keep my hours at a level that my advisor would accept - Constitutional Law Seminar. That sounds good, but the professor is a different prof from my Con Law prof, upstate New York native Joanne Brant. And I was told by a certain someone (a most attractive someone, you might find a picture of her on this journal somewhere) that said professor could be a poor choice, and would incur more grief than 2 hours of seminar is worth.

Yet here I am, signed up for Con Law Seminar and no other obvious options. So, I guess I make run at it. Furter updates as they become available.

1.9.06, 4:21 pm, EST, Ada, OH, Flatland
---
post 74
written 2006-01-09 16:29:00

Oh, if you can, spit on a US Bank today.

Many of you know how I went broke over vacation, but the lack of income and the lack of US Bank branches in Bucks County and the lack of help from the US Bank call center forced me to accept the overdraft and simply stop spending money. (Not counting the fake money that Visa represents.)

So today I go in, and explain my situation, and ask if they'll take off the bizarre number of charges that posted after I went into the negative numbers, after I was aware of my overdraft. And all I got was a lot of double talk and sneering refusals. I imagine that might be a valid business strategy in a town full of college kids who are one phone call away from a trust fund disbursement, but I tried to indicate that I was not one of that pampered class.

Still no dice.

So, I haggle and haggle and finally, she takes off the negative balance fees. $56, at $7 per day (??). Then, she says she'll take off half of the overdraft charges if I sign up for overdraft protection. I agree, since I know I'm closing this account as soon as I pay it up to positive numbers. Then, when she calculates the half of my fees, she adds the $56 back in. So, I end up having to pay half of the $56 which she already agreed was not proper for me to pay? Dastardly.

I'll get all my money in there, probably get a credit card from them as a result of signing up for overdraft protection, then take all my money out and walk a block north to Mom and Pop's Ada Bank. It won't change anything and it might cost me a little something in fees, but I don't care. Screw US Bank, screw their opportunitistic business practices, screw their refusal to dialogue about the situation. I'm not a huge stickler for customer service - my usual stance is that the person who has to serve is underpaid and underappreciated, so you should be nicer to them. But, not this time, pal.

1.9.06, 4:29 pm, EST, Ada, OH, home to US Bank, PepsiCo, Subway and soon Rite Aid
---
post 75
written 2006-01-12 07:45:00

Books are expensive. Books for law school moreso. Books for 15 credit-hours of law school proportionally moreso.

And then the stuff in them is hard to figure out!

They should make a law about that or something.

Two paperback books for Civil Pratice: $140 total. One hardcover for Legal Profession, a class in which, I am reliably informed, only the lectures are considered for test material: $100. And I'm still broke (until tomorrow) so my Visa bill will look frightening for about a month.

1.12.06, 7:45 AM, EST, Ada, OH
---
post 76
written 2006-01-12 13:00:00

I'm enjoying City of Heroes. If anyone wants to come fight crime with me, look for @TheHZA on the global channel.

1.12.06, 1:00 PM, EST, Paragon City
---
post 77
written 2006-01-12 14:59:00

So, the other day I see a university groundskeeper circling a hedge. I think nothing of it. Then I hear a clicking noise, and I look a little closer, and he has some kind of device he's aiming at the ground around the hedge. There's a long stem or wand projecting from the device. My first thought, it's a Geiger counter. I don't really know what they look like, but I'm pretty comfortable with this idea. I walk on, uncertain why the school would need to check the radiation exposure of its shrubbery.

Anyway, the next day I'm walking by the same hedge, and a university truck is parked on the sidewalk by the hedge. And as I'm walking by, a man emerged from the earth behind the hedge.

Please stay with me. This is the part where people usually start frowning at me in disbelief. Like, "C'mon, Heslin, there wasn't really a Muppet being held captive in the back of that station wagon." I know what I saw!

Yes, a man came up out of the ground, right behind that hedge that the guy was scanning for radiation the day before. There were sawhorses up, blocking off an area just off the sidewalk, and a neat hole had been dug of sufficient depth to conceal a full-grown man. And while I watched, that full-grown man climbed up from this hole to retrieve something from his truck.

So, I'm not certain what to do now. If I investigate, I could blow open a state-supported cover-up. I could be irradiated. But what if there's a radioactive bunker below the arts building? What if I'm the only one who saw it?

Any input on what I should do in this situation will be accepted.

1.12.06, 2:59 PM, EST, Ada, OH, The Truth Is Out Here
---
post 78
written 2006-01-12 20:07:00

Oh, and I might stay with US Bank to avoid having to re-enter all of my bank card, account numbers and routing numbers with all of my e-billing services.

Sometimes the degree of my laziness astounds even me. My rage had time to die down and become complacency.

1.12.06, 8:07 PM, EST, Ada, OH
---
post 79
written 2006-01-14 11:37:00

And no sooner do I write that I'm not angry at US Bank anymore, than they anger me again.

Did you know the charge for having them honor a check or a bank card use is the same as the charge for having them refuse a check or a bank card use for insufficient funds? It's true!

Did you know that casual disregard for customers, a bland refusal to adhere to the simplest social niceties, and double-dealing business sensibility are all S.O.P. for US Bank? It's true!

Now I have to weigh a continuing rage against my desire to not have to rewrite my online financial identity. I wonder if they know that's a weapon in their marketing arsenal. Jerks.

Saw Walk The Line last night. Good, good movie. Anyone who missed it should check it out on DVD, or the $1.50 theater like I did. Even if just for the passing appearances of Sam Phillips, Jerry Lee Lewis, Elvis, and Roy Orbison - the last three of whom, like Phoenix and Witherspoon, did all their own vocals.

1.14.06, 11:37 AM, EST, Ada, OH, it snowed a little last night
---
post 80
written 2006-01-16 22:34:00

So, I said to the barber, "just take it down to half-an-inch."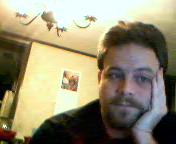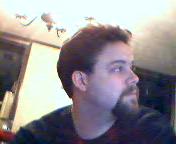 And I still look like Heatmiser. (sigh)
1.16.06, 10:34 PM, EST, Ada, OH
---
post 81
written 2006-01-18 17:58:00

As I write this, I'm in the law library, in a recliner, reclining. There's snow on the ground, I'm facing a wall of windows, and night's falling. I've just finished reading some cases on the Fifth Amendment protection against takings (most notably the Kelo v. New London eminent domain case that made the news this summer). I'm about to go get the book for my seminar class and probably take it home with me so I can read after dinner. Lunch was a Dr. Pepper and some peanut butter crackers, so dinner sounds like a pretty good idea. My phone works again, thanks to Bren for sending my charger (heh, you know, I forget something every time I travel).

There's going to be some kind of country-based baseball tournament in March. The World Baseball Classic, or something? Looks neat.

I need to figure out a topic for my Constitutional Law paper - I'm thinking about judicial activism, since I know little about it and I would bring a minimum of preconceptions to the table. I need to read for Legal Profession, but like Civil Practice, the lectures seem to be more central to the course than the texts. There will be two lectures in the next two weeks or so, and I've enjoyed all the lectures I've been to here.

All in all, things are pretty good. They could sure as hell be a lot worse.

1.18.06, 5:58 PM, EST, Ada, OH
---
post 82
written 2006-01-21 12:30:00

So, I'll be examining the "judicial activism" of the Supreme Court under Chief Justice Earl Warren - widely considered to have been one of the more activist courts in recent history - in comparison with the judicial activism of the Rehnquist Court, with close attention to matters of criminal procedure.

Oh, c'mon, that's interesting. C'mon! I get the impression the professor wants me to make a point about how "judicial activism" all a matter of perspective, most likely of a partisan nature.

Saw "The Family Stone" last night. Didn't really like it. I think the writer/director was trying to make most of the characters sympathetic by having their patience tried by cosmopolitan Sarah Jessica Parker. A little word of advice: don't try and make a character sympathetic by having them hate Sarah Jessica Parker. We love Sarah Jessica Parker. Therefore we hate your characters.

Oh, and US Bank is still refusing to accept my check card! Isn't that sweet? I gave them a check for many many dollars - a week ago - and apparently I'm not allowed to have it yet. I understand, of course. This probably falls under their "We've Already Established You're A Jerk And Reserve The Right To Keep Screwing You" policy.

If you get a chance, listen to The New Pornographers.

1.21.06, 12:30 PM, EST, Ada, OH
---
post 83
written 2006-01-27 10:27:00

Aawwwwggh.

My head hurts, my neck hurts, I yawned a little bit ago and my tongue hurt. I have another class in three hours. I'm bewildered. I'm single again.

This is clearly not my week. I'm going to take a nap, or drink some caffiene or something. I don't want to be sick all weekend. I will be calling people and bitterly complaining about being sick over the weekend if it happens. Therefore, you don't want me to be sick, either.

1.27.06, 10:27 AM, EST, Ada, OH
---
post 84
written 2006-01-30 12:51:00

Thanks for all the kind words and thoughts regarding my health. I'm feeling better now.

Friday night, my check card still didn't work. I swear US Bank was actively trying to make me insane. Actively. I called their phone center and got it cleared up. (Recall, last time I called the call center they claimed only the local branch could help me. Damn them all anyway.) I'm considering the value, both in practical results and personal gratification, of going to the local branch and asking them if they enjoy screwing with their customers - if it gives them some sort of twisted satisfaction.

Other than that, did some homework, watched some TV, played some CoH. CoH continues to run poorly on my computer. Hope to have that problem addressed this week. I hate that the performance of a computer program can elicit such quick, direct action on my part, like a skilled marrionetteer. Or, a half-assed marrionetteer. Either way.

I'm feeling discontent. Or entering some stupid "long dark night of the soul" phase. I hate that. I also hate that Susan's stupid weekly astrology e-mail virtually predicted that. There's a lot of things I hate.

I do enjoy Chex Mix, though. There is that.

1.30.06, 12:51 AM, EST, Ada, OH, past my bedtime, outside the good pizza availability zone
---
post 85
written 2006-02-01 08:24:00

Bring on February. I guess if January wants to be a collaborator, and roll over to the oppressor Spring, that's it's business. But we will boycott all Vichy January products, like that miserable little attempt at snow yesterday morning. No winter, no peace.

Bring on February, the month that knows what's up with winter, the month that's not afraid to show us what is meant by "deep" into winter. Bring it on.

Vive la resistance.

2.1.06, 8:24 AM, EST, Ada, OH
---
post 86
written 2006-02-01 20:09:00

I'm a pint short. You'll have to forgive me. I do enjoy giving blood, I do. I just can't always predict the consequences.

Attention, webjournal fans! You love to read about my activities, now you can mimic at least one of them in your own life! For the first time ever, I present, The Heslin Diet.

You can stop that South Beach and Atkins and Eat Only Things That Start With The Letter "P" and Wear A Rubber Suit Until You Almost Pass Out diets! This is the real deal, folks. Check it out:

First, you don't eat anything from the time you get up until, oh, 5 or 7pm.

Then, you eat whatever you want from 7pm until midnight.

Then, you sleep.

When you wake up, begin the process over again! Repeat until you hit your target weight. It's simple, and it's fun!

The Heslin Diet is great because, like the US Constitution, it foresees situations that cannot be directly addressed by its tenets. That's right! If you find an all-you-can-eat Buffalo Wing Nite somewhere, and they're willing to keep serving you past midnight, go ahead! If you reach 7pm and still don't want to eat, you can wave off eating for a night. No one minds. We're all very understanding.

My personal divergence from the Heslin Diet - yes, even I go outside these rules once in a while! - is to eat a single Hershey's Kiss in the fasting period from waking to 7pm. Just one. It's chocolate, which is nice, and is an appetite suppressant, which makes me sound like I know what I'm talking about! Everybody wins!

Give it a try, and if you aren't satisfied with your results, tough! Maybe you just didn't do it long enough. Did you ever think of that? Huh!?

Now, if you'll excuse me, I have to finish the drink from my KFC dinner.

2.1.06, 8:09 PM, EST, Ada, OH, well past the time when I'm allowed to eat KFC
---
post 87
written 2006-02-04 19:37:00

It's snowing, it's snowing, naa-naa-naa-na-naaaa-aaaa. I knew this weather couldn't keep up. February, you came through like a champ.

Of course, this means I'll have to go and study during/after the Super Bowl. No big deal, I can keep up on scores (and how much money I win in the pool: Steelers 7, Seahawks 0 or Steelers 4, Seahawks 0) online without interrupting my reading. Though I will miss those fabled Super Bowl commercials.

Which weren't even that good, last time I watched them with any interest. Though they suffer from a natural amount of hype, I think - someone paid $2 million for this 30 seconds? It better pay off.

Hey, I finally have a bank card. However, it's been about three weeks since I made my student loan deposit. During that time I've been unable to access any of that money personally without physically entering the bank, filling out bank foms and proving my identity. The whole purpose of check cards is to avoid that rigamarole. (Yeah, that's right, I called it rigamarole, and I did so unironically. Y'wanna fight about it?)

And, since it's a new bank card, I have to re-input its numbers into all my of online payment services and programs.

Which begs the question: why am I staying with US Bank again? Earlier, I suggested it was because I was too lazy to reinput all this stuff. That point's moot now. So... here's my plan:

I go into the branch, I explain the three weeks of financial deprivation, and I ask if they'll do anything to compensate me for it. If they'll make a gesture. If they have any interest in keeping me happy. And if not, I take all my money and go down the block to Liberty Bank.

We'll see. I might waffle. I'm bad like that.

Heroclix and comic books this morning. Won three matches out of three, which is nice, but lost first place on points.

More later.

2.4.06, 7:37 PM, EST, Ada, OH, apparently I think I'm funnier than I really am when I'm low on blood
---
post 88
written 2006-02-04 21:25:00

A poem.

Oh, sweet fragile Robinette...

spread your wings and fly! Fly far away where they can't hurt you

with their cruel taunts and

your haircut looks just fine to me

just fine.

We will celebrate our union in Valhalla.

--Keith Szewczuga

2.4.06, 9:25 PM, EST, Ada, OH, where Law & Order and the fine arts come together
---
post 89
written 2006-02-05 23:24:00

Go Steelers, not for any specific reason. I think their coach kinda looks like my high school Phys Ed teacher (Physical Ed Walsh, for those who know), Ben Roethlisberger (or however you spell it) is from Findlay, OH, just up the road from here, and as Marty and Drew and I were discussing over the holidays, there's something appealing about teams that have some kind of industry background (Packers, Chargers).

Also, I think I won a few bucks in the pool. Steelers 7, Seattle 0 at the end of the third quarter. Go me, then.

Congratulations, Pina, on the new job!

2.5.06, 11:24 PM, EST, Ada, OH
---
post 90
written 2006-02-07 12:55:00

Mikey tells me that the fictitious "Heslin Diet" described below is in substance identical to an actual, commerically available diet. As a result, please note my disclaimer that the below diet is not intended in any way as an attempt at the commercialization of or advocacy in favor of starving yourself for a significant portion of your day. It was some funny babbling I was doing while I was experiencing noticeable blood loss. (Well, funny to me at the time. Think about that.)

Mikey also says the diet doesn't work. I guess if you wait all day to eat something, you make sure it's something that's really really bad for dieting in general. So don't do it. I was only coincidentally following that eating schedule last week - I don't eat breakfast 95% of the time, and I'm working through the day so skipping lunch is easy enough.

Plus, I think I'm going to be poor for a while. The fees that USBank ran up on me combined with the costs I had to put on my credit card are preventing me from just paying off the credit card. (My plan was to put things on the credit card until I got my loan money, then pay off the credit card in total. If I did that now, I'd be broke again before the end of the semester.)

So, I'll be paying off my credit month by month and budgeting the heck out of myself. I'm also sticking with USBank after hearing from a friend who had a very bad experience with them. I don't need to provoke them into any kind of retribution. I wouldn't be concerned with retribution if USBank hadn't already demonstrated a complete disregard for a normal business-customer care relationship. This'll be the last time I complain about it, since at this point I'm signing up for the nightmare - removing my right to outrage. I know it's a bad deal, so I've got no right to expect sympathy for being in a bad deal.

And I still don't know what I'm doing this summer. There's a few classes I can take, and work at the Clinic is good work experience. Since I'm paying for the apartment regardless, it makes a certain amount of sense. But I really don't like the idea of spending the whole year in Ohio. Heh.

2.7.06, 12:55 PM, EST, Ada, OH, Currently listening to www.radioparadise.com
---
post 91
written 2006-02-09 20:32:00

It doesn't make any sense to be depressed over a discussion of constitutional law, does it?

I don't think so. But tonight we talked about moral reading of constitutional text and everyone that opened his mouth tonight just bagged on the author/speaker. (There was reading and a video.) The author, Dworkin, posited the idea of a omniscient legal mind that could catalog all prior decisions and the situations that prompted them, and could make the best of all possible findings based therein. As a single voice, the seminar derided him as an elitist, who clearly thought that he was that omniscient legal mind.

For whatever reason, that just makes me sad. I don't think Dworkin was suggesting that he has all the answers. He even said he considers the best thing we have, as a society, to serve that role is good argument. The flow of ideas, the social discourse wherein we can examine and consider our principles and circumstances. Class response: yeah, but he only reads the New York Times.

When did being good at something become something to be ashamed of? When did accomplishment become a reason to attack someone?

I'm going to read Taxation of Transfers and be depressed some more.

2.9.06, 8:32 PM, EST, Ada, OH, the internet can save us
---
post 92
written 2006-02-12 02:42:00

The Ada $3 theater comes through again. "Glory Road" was good stuff. I recommend it for $3. For $9.50, you might want to wait for something you really want to see.

Other than that, still depressed. Presumably not about constitutional law, but possibly by my doubts about whether I should be in that class. It was a placeholder, at one point. The material is interesting, but I feel like I don't really know what's up with the paper. My outline was horrible. I'm afraid of the professor's response to it.

Sigh. Stupid. Things are relatively good. I don't have much reason to be grumpy. Nevertheless.

2.12.06, 2:42 AM, EST, Ada, OH
---
post 93
written 2006-02-12 11:03:00

I'm so jealous.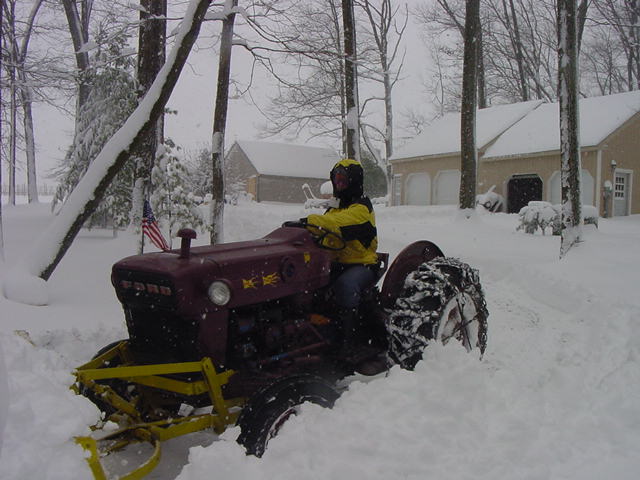 That's my Uncle Rich back in the 215. (sigh)
2.12.06, 11:03 AM, EST, Ada, OH, anywhere I go will have insufficient snow
---
post 94
written 2006-02-13 23:06:00

I made popcorn with my popcorn maker. I read some of All The King's Men last night. I'm caught up on my reading for my classes. Except for the two infected hangnails, I'm feeling pretty good.

Oh, except Carrie says that I'm the embodiment of global warming, and wherever I go, there will be less snow. It was up in the 40s while I was in PA - I get back to Ohio and the temperatures come up here. Meanwhile, the 215 gets 1-2 feet of snow. Same thing in Milwaukee. This is very disheartening.

Thus, I am now investigating the Alaska State Bar Exam. (Heh. Or not.)

2.13.06, 11:06 PM, EST, Ada, OH, an embarrassment to ninjas everywhere
---
post 95
written 2006-02-22 19:25:00

I understand some people have been wondering where the webjournal went. It's right here, baby, don't you fret. I've only been gone for --

Oh, nine days. Heh. Sorry about that.

I guess that's kinda long. It's hard to tell sometimes. I mark off time by going to class, studying, going to class, studying, eating, watching Lost and Samurai 7 on Netflix, sleeping, going to class, repeat until exhausted.

So, yeah, sorry about that. Spring break is next week, and I'm going to stay in town. Probably goof off a lot, but I have work to do and a lot of time to get it done in. So, (shrug), send me postcards from cool places I'm not next week. E-mail me for the address. (Which you should already have.)

2.22.06, 7:25 PM, EST, Ada, OH, Spring Break Capital of the Northwestern Ohio Party Circuit. (or not)
---
post 96
written 2006-02-22 19:29:00

I almost forgot - I'm going to retire the heslin@sprynet.com address. I've been waffling on that decision for a couple of years at this point, and I figure I might as well do it. Abruptly, like removing a bandage or administering an injection. Pulling a tooth. Something. (All of my metaphors are medical. How odd.)

I'll be sending out mail to this effect this week, but the new address will be matthew.heslin at Google's mail service, gmail. I'm not writing the address on my journal because the Spam Nation can find you that way. And I don't want to be found. That's why I'm ditching the existing address.

Send me mail there or wait for me to send mail from there, add me to your address book, forward me pictures of the adorable cyclops kitten, whatever.

2.22.06, 7:29 PM, EST, Ada, OH, literally moments after writing the last entry
---
post 97
written 2006-02-23 12:33:00

Hack hack, cough cough, yarf, owwwww.

Updating my webjournal seems to be hazardous to my health. I have a fever of 101, aches, head cold, and I tossed (minimal) cookies on my way out of the health center.

Yeah, that's right. I went to the health center.

2.23.06, 12:33 PM, EST, Ada, OH, if you're not calling to feel bad for me, don't call.
---
post 98
written 2006-02-26 18:15:00

Feeling much better, thank you.

Spring break is upon us! Woo. Woo hoo. Yes.

I have nothing planned. You should totally send me ideas for things to do. I'm going to go to the library a lot of reading for the material to finish my first draft. Play some games. Finish up All The King's Men. Eat dinner out a couple of times. Meh. Nothing big.

Oh, and I'll be watching Serenity, Ferris Bueller's Day Off, Breakfast at Tiffany's, and Almost Famous. I watched Donnie Darko yesterday.

2.26.06, 6:15 PM, EST, Ada, OH, I should have waited a minute for maximum sixes in that date/time stamp (or four months and one minute)
---
post 99
written 2006-02-28 12:11:00

I could swear I wrote another journal entry at some point. Man. Where's my brain? Anyway.

It snowed a little yesterday. I predictably got my hopes up, but I think we're past the point in the season where winter makes a big comeback. I could be wrong, but I'd hate to hold out that long just to realize it's late May. Y'know?

Though, the enormous snowfall of my youth was in March or April. Anyone remember that? We all thought winter was done, and then floompf, two feet of snow. (Yes, I used floompf in a sentence. You got a problem with it?) Though I may be seeing the snowfall of my youth through idealized glasses.

Once I was complaining bitterly to my brother about the downgrade in winter quality in recent years, and I told him, "You remember! Snowfall used to be huge! We would make tunnels in just to get around. That's was real precipitation. Accumulation. Y'feel me?" He of course said the obvious thing, which was "Maybe it's not that the snow piled higher back then, but it's that you were shorter." Which makes perfect sense and I will not dignify with a response. I prefer being strident to being wrong.

Sleeping in way too much last two days. Got up at a decent hour today, though. And then went back to sleep.

Read an excellent, nearly scientific article about judicial activism yesterday. Do you know what you could do for me? You could send me an e-mail or give me a call and tell me what you think judicial activism is. I'm looking for personal reactions, not dictionary or textbook definitions. Drop me a line.

2.28.06, 12:11 PM, EST, Ada, OH
---
post 100
written 2006-03-01 11:59:00

Huh. I totally forgot what I was going to write here.

3.1.06, 11:59 AM, EST, Ada, OH
---
post 101
written 2006-03-05 10:29:00

It ends!

About time too. Let's get back to having a reason to get up in the morning, y'know?

3.5.06, 10:29 AM, EST, Ada, OH
---
post 102
written 2006-03-10 12:51:00

A week where you get back to work is a week you have to remember how to get back to work.

Got a good amount done - did my turn at the seminar as discussion facilitator (conservative constitutional construction), and got a number of compliments on it. Which is fortunate, because my section was the one featuring the professor's citation - the authors used an article of his.

Need to get more done, though - no class tomorrow or Monday, so I'll probably spend that time reading and drafting parts of my seminar paper.

And I must shop. Food becomes scarce here at Casa Heslin. Perhaps a pleasant afteroon trip to Kenton, where lies a pizza place I haven't tried yet. Or possibly Lima, where comic books are to be found.

Wedding in Milwaukee in a few weeks - have to make sure I finish my paper early, so I can leave town without worrying about finishing too close to the day I leave. The deadline's early enough, so it should be a problem. You could ask me where I'm at on my paper if you call or e-mail me.

On Netflix this week: "The Warriors" and "Sky Captain and the World of Tomorrow." Different flavors of bad movie, but a unified theme nonetheless.

Sorry if this was a long time between posts again. Feel free to assume that a lack of new info tends to mean nothing's going on.

3.10.06, 12:51 AM, EST, Ada, OH, somewhere between late night and early morning
---
post 103
written 2006-03-18 22:50:00

Another week with not much updating. I apologize to those of you for whom checking this journal is a daily (or even more frequent) routine - to be disappointed six out of seven times is tragedy, of which I am the penitent author.

Y'like that? I'm gonna write some badass language in that metier for my paper. I just need to have some more stuff to write about. More research completed this week, most of it very partisan which is both helpful and hindering. More research tomorrow, along with reading for my Estates classes.

Thanks to all the people that I actually spoke to this week. Periodically, I'll get bummed about the limited amount of contact, virtually all of it academic in content and nature, that I have with other human beings. Talking to people - via phone, e-mail, IM - is good for my belief that there's more out there than empty fields and neglected towns, statutes and code sections, food both fast and frozen.

Reorganizing my comics, by company, title, series and issue number. This is a little more scary than it sounds. Y'all know how many comics I have? Yeah.

I should think about food. Or about not food, but sleep, and waking up early and getting some food.

3.18.06, 10:50 PM, EST, Ada, OH
---
post 104
written 2006-03-20 14:13:00

My schedule for the year has been rather drastically shifted by realism and responsibility.

I had thought I might stay here in Ada and take classes to reduce the total number of credit hours I'll need in my last two terms, Fall '06 and Spring '07. Also, Computer Law is only offered in the summer, so that was an opportunity I was looking forward to taking.

So, this week, I've been figuring out my schedule, and the stupid Pennsylvania state bar examination includes so many topics and areas of potential inquiry that I would be stuck taking too few hours, too many hours, or too extraneous a courseload.

As a result: not staying here for the summer. Or, at least, not unless I find a job here, which I deem unlikely. Where am I going for the summer? Who knows? Let's find work and go where the work is.

Fall '06: Products Liability, Estate Planning, Domestic Relations, Sales and Secured Transactions, and Employment Discrimination Law. Products Liability, Dom Rel, Sales and SecTrans and Employment Discrimination are all on the bar. Estate Planning is something I'm thinking about doing for a living.

Spring '07: Real Estate, Alternative Dispute Resolution, Advanced Legal Research, Criminal Procedure, Trial Advocacy, Federal Courts. Real Estate (specifically mortgage), Criminal Procedure are both bar material. The rest is probably malleable.

3.20.06, 2:13 PM, EST, Ada, OH, isn't Daylight Saving coming up soon?
---
post 105
written 2006-03-27 07:38:00

I'm not dead.

This is in lieu of an e-mail to the various Milwaukee folks who graciously and hospitably welcomed me into the familiar warmth and camraderie that is the old tradition. Wedding was lovely ("all they were missing was the Burmese fire-walking" according to one observer), good to see everyone, thanks to everyone who took part in my once-or-twice a year visit to the Cream City, and in my once-or-twice a year Jameson tolerance check (there may be a correlation between those two events. studies are ongoing).

Milwaukee has bookstores, neighborhoods, bars with very reasonable prices, culture, a Great Lake (two, really, but I don't get to the other one much), good food, good people, and is an excellent break from all the Ada in my life. Danke, danke, ein hunnert danke, y'all.

I did not get blindsided by a hangover in Gary, Indiana, thank God.

I did consider pulling over to a truck stop and asking someone to punch me in the gut so I could get it over with. (I went to Arby's for lunch instead.)

I went swimming. There was a shadowy woman smoking a cigarette at poolside when I did. I cannot explain this.

Good weekend, all in all. Congratulations to the happy couple.

3.27.06, 7:38 AM, EST, Ada (sigh), OH
---
post 106
written 2006-03-27 18:45:00

My webjournal, according to Keith, is 90% bitching about the lack of snow.

It's spring now. What am I going to post!?

3.27.06, 6:45 PM, EST, Ada, OH, terror closing in
---
post 107
written 2006-03-28 11:41:00

The wind doth taste of bittersweet

Like jasper wine and sugar

I bet it's blown through other's feet

like those of Caspar Weinburger

-Berkeley Breathed

3.28.06, 11:41 AM, EST, Ada, OH
---
post 108
written 2006-03-29 13:01:00

I forgot the before and after shots. Behold: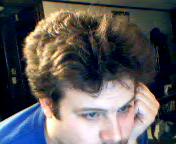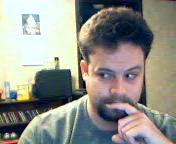 late March, sometime midday, Eastern Time Zone, Ada, OH
---
post 109
written 2006-03-31 07:43:00

I still haven't seen V For Vendetta, and if my work schedule is anything to judge by, I won't for a while.

"What is called 'American Democracy' is really remarkable for its non-democracy, that is, its protection of minorities, dissenters, incompetents, and social outcasts." - Richard Neely

David Cross is funny. Paul Anka covering pop rock is funny. Thanks to Keith for both.

3.31.06, 7:43 AM, EST, Ada, OH
---
post 110
written 2006-04-02 23:07:00

Television is the devil.

4.2.06, 11:07 PM, EDT, Ada, OH
---
post 111
written 2006-04-04 12:55:00

So... much... writing...

Can't... leave... library... for another three days!

4.4.06, 12:55 AM, EDT, Ada, OH, weird how the daylight saving gets you
---
post 112
written 2006-04-04 18:39:00

Even if I don't have time for maxing and relaxing, you should:

Cat and Girl and Our National Pastime.

One Red Paperclip can be redeemed for a moving van, and possibly more.

Just a little diversion for you. I have to eat and run, to write more.

4.4.06, 6:39 PM, EDT, Ada, OH
---
post 113
written 2006-04-06 01:23:00

Whoooof. 27 pages, probably one or two more tomorrow - polishing, y'know. It'll probably be even longer in final draft.

But essentially done. TGI.

4.6.06, 1:23 AM, EDT, Ada, OH, you get chased out of the library at 1 AM most nights
---
post 114
written 2006-04-08 15:38:00

Will it be possible to obtain and operate the classic cars of the late 20th century when I am old enough and rich enough to afford one?

I had some shopping to do today, so I went on down to Pa Walton's Community Store, picked me up some vittles. (Am I to understand that "vittles" and "victuals" are pronounced the same way? Ah, the English language. Ditto "chitterlings.") Parking was bad, which I assumed was because A) it's a weekend, and B) it's Wal-Mart. Good guesses, but both wrong: some kind of minor car show was taking up a chunk of parking lot.

Car show is a weird term for it. There were 1950s Fords and Chevies, some older antique models - the kind of thing you expect to see at such an event. But, then, parked alongside, were 1980s and 1970s Chevy Cavaliers and Ford trucks. I may have assumed they were just people's rides to the car show, but there were folks Armor Alling the tires and rubbing the paint finish with diapers. (Not really. Ferris Bueller reference.)

I mean, you have an old Thunderbird or classic Oldsmobile or something - right on, man, show that thing off. I'll even give you room for those Camaros and Chevelles, cars I think of as 1970s, but may be wrong about - it's been long enough, I'll grant you those have some historical or sentimental significance. But those other ones? Come on. I know you want to be included in the classic car class distinction, but I'm sorry - get a classic car first.

(Watch me get hate e-mail about this - "The Cavalier is a classic! You shut up!" I may even deserve it. I don't know jack about cars.)

But those '50s cars were pretty.

4.8.06, 3:38 PM, EDT, Ada, OH, where classic might just mean old
---
post 115
written 2006-04-13 19:19:00

A man in California won a $10 million lottery prize. He received the prize in 20 annual installments of $508,000. After three years, he died. His estate was found to have an interest in the remaining payments creating a penalty of almost $1,500,000 in estate tax, despite the fact that the seventeen payments had not yet been received. (The estate was able to successfully argue that the interest was less, because it could not be marketed commerically by California lottery rules. An inalienable asset is worth less than a commerically dealable one.)

Oldest mother on record: age 61.

Youngest mother on record: age 5.

4.13.06, 7:19 PM, EDT, Ada, OH, textbooks aplenty
---
post 116
written 2006-04-13 19:20:00

It is a misdemeanor in Tennessee to transport skunks into the state, or to use skunks in any kind of transaction.

4.13.06, 7:20 PM, EDT, Ada, OH, facts and oddities
---
post 117
written 2006-04-13 19:24:00

I'll be away all weekend, celebrating the imminent doom of my good friend Charles. Charles David, perhaps you know him? He and his lovely honey will be married in a matter of days, so he has to get a prerequisite amount of glitter and fragrance on him. You know.

So, below, we have a few fascinating facts, gleaned from my studies. Please enjoy.

4.13.06, 7:24 PM, EDT, Ada, OH, hell yes
---
post 118
written 2006-04-17 20:51:00

Back from PA. Back from ten-twelve hour drives. Back from designated driving.

Back to outlines, studying and exams. Back to final papers, memos and deadlines. Back to a class that was rescheduled from Thursday to tomorrow. (This was announced on Friday, via in-school e-mail. I just found out.)

I'll be back.

4.17.06, 8:51 PM, EDT, Ada, OH, backcountry
---
post 119
written 2006-04-18 17:15:00

Whew. That's better.

Got a to-do list for the last two weeks of school. Nice to have a checklist, nice to check things off.

Great time back home this weekend, just great. Hate to have such a short time in PA, since it inevitably means spending insufficient amounts of time with everyone.

Good time at the gig - congratulations, Chuck. Good job running that show, Marty. And thanks for keeping me company, Christian. If anyone hasn't heard the Christopher Moore story by now, e-mail me and I'll repeat it for the Nth time. I love that story. It doesn't even involve dog-fighting, heroin or slave auctions.

Cait, you'll want to pick some time when I get home in May to collect on your birthday present.

I'm sorry to everyone I didn't see enough of - though, really, that would be everyone, since I'd rather go home for a week or a month and spend all the time in the world hanging out. But no. Exams call. I'll see more of everyone this summer, work and salary permitting.

Got a "very nice" on my seminar paper presentation today. About that - the presentations were scheduled for class on Thursday, 6pm. However, that class was rescheduled for Wednesday at 6pm because the professor is attending a conference. However, Wednesday at 6pm conflicted with a school dinner or something, so the class was rescheduled again to Tuesday (today) at 11 am.

Yeah. That was announced on Friday, I found out last night because a classmate called me to let me know. Had to read a pack of other people's papers because responses and written questions are part of your class participation grade. Got it done, did it well (apparently). Also got good feedback on my paper and areas I can expand my page length on.

Now, pasta.

4.18.06, 5:15 PM, EDT, Ada, OH, lovely spring day
---
post 120
written 2006-04-21 16:42:00

Please append all communications to me in the next week with the phrase, "Finish those papers?" or "Finish all your outlines?"

Thanks.

4.21.06, 4:42 PM, EDT, Ada, OH, crunch time
---
post 121
written 2006-04-22 23:56:00

"A trustee is held to something stricter than the morals of the marketplace. Not honesty alone, but the punctilio of an honor the most sensitive, is then the standard of behavior." --Cardozo, J.

4.22.06, 11:56 PM, EDT, Ada, OH
---
post 122
written 2006-04-25 23:08:00

Man, this week is killing me.

So, it's been all hot and summery - well, probably more spring-y. But still. And then today, rain all day. It's just above freezing outside right now. And tomorrow it's supposed to be 72 and thunderstormy.

Sigh.

Oh, I think there should be more pages like this: Gas prices by county.

Working, working. Plenty of self-loathing too. Grrrr.

4.25.06, 11:08 PM, EDT, Ada, OH
---
post 123
written 2006-04-28 01:11:00

I spit defiance in the eye of Civil Practice! Take your summary judgment motion and fold it up until it's all corners, and then shove it someone in accordance with Ohio Rule of Civil Procedure 11(b)! Jerks!

(That all means "one paper done." I hope it's good. I've been looking at it too long and too hatefully to really make any kind of effective value statement about it.)

Auuggghhh.

4.28.06, 1:11 AM, EDT, Ada, OH, the mean streets are deserted this time of night
---
post 124
written 2006-04-28 01:13:00

Dear Webjournal Reader,

HESLIN.ORG thinks you might enjoy listening to James Kochalka, Superstar, and his #1 summer jam, "Hockey Monkey." So turn on your speakers or hook up your headphones and click on this link:

4.28.06, 1:13 AM, EDT, Ada, OH, one more day of classes
---
post 125
written 2006-05-01 01:14:00

Good weekend. Finished the second paper. Walked home in the rain.

One exam this week, which should not lull you into thinking that I have an easy week ahead. This week will be followed by a week with three exams over four days. So, studying and more studying on the menu.

Let's find out if this is allergies, a cold, or a sinus infection.

5.1.06, 1:14 AM, EDT, Ada, OH
---
post 126
written 2006-05-01 20:27:00

A disclaimer treats a testamentary gift as though it was never received. Exceptions: IRS, Medicaid.

The Uniform Simultaneous Death Act treats persons who die at relatively close times with no substantive evidence of one predeceasing the other as if each had predeceased the other (for purposes of testamentary bequests and devises). Thus, neither estate has to deal with gifts from a dead person to a dead person.

And, inexplicably, GMail thinks I might enjoy this. The future is a weird place, sometimes.

5.1.06, 8:27 PM, EDT, Ada, OH, Happy International Workers' Day
---
post 127
written 2006-05-02 20:51:00

If you ask a Supreme Court Justice if a couple has a right to privacy in an intimate situation, he or she will most likely reply, "Of course."

Ask that same Supreme Court Justice if a homosexual couple has a right to privacy in an intimate situation, and he or she will probably ask which state you're talking about.

Justices are more willing to restrict the rights of Americans if they know more specifically which Americans they're talking about. For example, "parents" have more rights than "adulterous, non-custodial fathers." It's true.

Rain today, rain yesterday, bought an umbrella. Had some greasy chicken for lunch, made pasta and meatballs for dinner.

I may or may not eat my last Klondike Oreo bar for dessert.

5.2.06, 8:51 PM, EDT, Ada, OH
---
post 128
written 2006-05-04 22:07:00

Ahhhhh. One down, three to go. Today was Estates, Wills and Trusts, and was pretty comprehensive in those areas. The professor's essays didn't seem terribly exacting (which likely means he isn't interested in reading 165 essays where slavering law students strive to demonstrate just how much they know about virtually everything), I had time to outline and review, and feel pretty good about it.

Though, they say if you walk out of an exam certain you did well or poorly, you've probably done the exact opposite.

Heh.

Legal Profession in three days. Reading up on the Model Rules.

5.4.06, 10:07 PM, EDT, Ada, OH
---
post 129
written 2006-05-08 20:01:00

Two down, two to go.

Also, finished my last outline today. Thanks for all your supportive questions regarding my status on that front. Will be reading tonight, tomorrow, and the following night for exams Wednesday afternoon and Thursday morning.

So, there's this custom here at the school - I don't know if this is common to all law schools, but here it's the thing to do - the person who gets the highest grade in each course in a given semester receives what they call "the book award." Much like dean's list or graduating cum laude, it's recognition for its own sake - it doesn't mean anything or hold any significance once it's been awarded. (Except, y'know, you put it on resumes and applications and stuff.)

Inexplicably, I've received a book award for my work in my Constitutional Law seminar. My paper on judicial activism was returned today, with revisions apparently very well received by the professor. I'm rather incredulous, since there were very good papers written by very good people in my class. People on law review, people with phat jobs already lined up for summer 2007, smart smart folks.

And somehow, I'm the top dog in that class. Note, for amusement's sake, that this is the same class I signed up for as a placeholder - I had planned on dropping it as soon as I found a better 2 hours of credit.

Inexplicable, I say, or incroyable as we might say in Montreal. (Not in France, though. In France we'd just sneer.)

I should get back to studying.

5.8.06, 8:01 PM, EDT, Ada, OH
---
post 130
written 2006-05-11 11:29:00

Whoof.

Sorry for the lack of update yesterday - trying to jam as much studying in as possible.

Con Law - tough exam. Professor dropped between seven and seventeen possible constitutional problems into a narrative that was about as logical as the average David Foster Wallace plot, with the final instructions reading something like, "There ya go, go get'em." I hope I tagged enough bases, but the sheer number of bases makes it hard to tell.

Taxation of Transfers - tough exam in a tough format. Most of my exams in the last two years have been essays, or short essays, or short answers that are mostly distilled essays. This one was multiple choice, and a survey section that asked basic questions about nine thousand possible scenarios in the gift and estate tax codes. I feel like I should go back to bed even though I've only been up for four hours, that's the kind of exam it was.

Thanks for all the kind words about my book award. I have to chalk it up to ineffective grading on the part of the professor (unless you want to interview me - then I earned that grade, dammit). My friend in the class also got an A, so I don't feel bad about messing with the curve or taking a grade away from anyone.

Carrie! Mikey! Thanks for the goodies. It arrived promptly after my last exam. I'll open it now.

I really might go to bed.

5.11.06, 11:29 AM, EDT, Ada, OH
---
post 131
written 2006-05-16 13:29:00

Okay, that was a couple of days not worth reporting on.

I goofed off for a few days, relaxed, laughed maniacally at people because I didn't have any more exams. Then, since then, I've been cleaning, doing laundry, clearing out my stuff from the library, and inexplicably staying up way too late. Not on purpose, just because. I considered writing a journal entry earlier, but I didn't want anyone to get the impression that I was getting up at 5:30 AM of my own volition, rather I was still up at that hour.

I got a list, I got some last stuff to clean and tidy, and then ideally I'll be on the road tomorrow. No promises, though, since I'm insomniac and I don't know exactly how long this list will take to finish.

Also, I'll be infrequent about the journal entries once I get back to PA. I'm bringing both my laptop and my desktop (don't laugh, my old desktop melted in the sweltering Ohio summer last year) but I don't know if I'll have desktop access. I may have to figure out how to post entries from my Mac. That's probably a good idea regardless.

See, I told you it wasn't worth reporting on.

5.16.06, 1:29 PM, EDT, Ada, OH, Cleaning Country
---
post 132
written 2006-06-04 13:33:00

Webjournal on remote

I can't guarantee what the look of this thing will be, because the Mac is both doing some of my thinking for me and waiting for me to figure out some of the thinking on my own.

Also, it's saving text in HTML format without all the tags I usually use (old-fashioned HTML I guess, since you can just tell most any program these days to format things in a web-friendly way, and it'll do it for you), so I hope this is legible and doesn't look like a spastic monkey wrote it.

Oops, too late.

More soon.

6.4.06, 13:33 EST, Warrington, PA
---
post 133
written 2006-06-04 13:56:00

Okay, this just looks weird.

I'm switching to Word for my text editor, since the Mac seems determined to do my HTMLing for me. But as I type it, that's how it's going to look.

And I'm not sure how to change my header or whatever it is. I'll work on that.

Things are good. Starting a two-week engagement tomorrow, so that's good. Work, money, something to do, etc. If it doesn't rain today, I'm going to a little league game. I didn't get my oil changed (Sunday must be a big day for mechanics to take off) and there was no Heroclix game today because Wizard World Philly is in town. I ate a good number of doughnuts this weekend, and delivered yet more. I worked on logic and consistency with Josh, but didn't get very far. (He's going to be two in September, so there's plenty of room for improvement.)

My car sounds a little funny. I'll see what it sounds like after an oil change.

That's it. We're back up in the intar-nets and all's right with the world. Or something. Bagel places with free wireless internet remain one of my favorite places to be.

6.4.06, 13:56 EST, Warrington, PA, they close at 2pm and 3pm every day though
---
post 134
written 2006-06-16 17:45:00

"You scored as XVI: The Tower. If badly aspected this can be the worst card of the Tarot deck. The Tower always indicates upheavel, possibly chaos, loss and destruction. Its effects are never pleasant and can be painful. The card illustrates lightning striking the Tower. The lightning cannot be avoided, the destruction it brings is inevitable. All we can do is attempt to survive and rebuild. The Tower brings sudden, severe change. When the Tower appears in a Tarot spread it represents sudden and possibly violent change, disruption or loss."

From:

Which Major Arcana Tarot Card Are You?

created with http://quizfarm.com - QuizFarm.com

Stupid Mac. Sure, it's less work to just type stuff, but at least when I had to do all the coding, I knew exactly why every bit looked the way it did. This way, I have no idea if/how/why/what things are going to turn out like, or on which platform or whatever...

Regardless.

So, busy week. Monday, I hurt my back. Didn't notice it at the time, to give you an idea of how bad it must have been. Finished working that day, went home, laid around complaining about the ache in my back. Then, Tuesday morning, I woke up and discovered I couldn't stand. Y'ever have that? Man, that sucked. Wednesday, still lots of pain. Resorted to aspirin, which I rarely do. Thursday, I figured I had to try and get up and try to live, so I went to work and did a little lifting -- which ended up being exactly what I needed. Felt great by Thursday night, and feel almost back to normal now -- Friday afternoon.

Mom was in town for a few days, which I totally sympathize with her about -- having nine thousand things you want to / have to do in three days is not a good time, regardless of how many of those things you get done. Seriously, that's why I hate coming home from Ohio for too short a time. Sure, it's nice to get home for any length of time, but when you can't tag all the bases, it gets to you.

I have the remains of a dozen Dunkin Donuts here at the Starbucks (later hours than the bagel place) and I keep meaning to give them out to people as a generous gesture, but I keep forgetting I hate these people.

But I am these people at the moment, aren't I?

--Dangerdoom, "Old School," The Mouse and the Mask

17:45 EST, 6.16.06, Warrington, PA
---
post 135
written 2006-06-19 17:30:00

Got another job, temp agency came through about a day after I met the usual bureaucratic demands of the foolish government pencil pushers and bean-counters. (I really just wanted to use the expression "bean counters" there. It's factually accurate, though.)

My back still hurts. My recovery via work seemed so direct and miraculous that I figured my pain was at an end, yea, even unto the seventh day post-injury. But no -- so I find myself doing little back exercises and resorting to ice and heat at times.

I fear that Starbucks may be replacing the bagel place as my wi-fi hookup. This is fearsome because Starbucks has a limited supply of anything I want and plays host to a myriad of upper-middle class (middle-upper class?) children spending daddy's money and on-the-go successful businessmen and --women who are really too important for you, you know.

Cursed Starbucks. If only I wanted coffee more frequently, I might be able to forgive them.

Ooh, I got a haircut, to go with the new job. No webcam right now, though, so you don't get to see it. Ha! Suckers! Come see me some time and I'll model the new sartorial splendor. (Don't let the vocab fool you -- it's a Hair Cuttery job.)

--Poe, "Terrible Thought," Haunted

6.19.06, 17:30 PM, which is redundant, but that's what my clock says, so that's what you get, Warrington, PA
---
post 136
written 2006-06-19 17:32:00

Sorry about the coding issues.

6.19.06, 17:32 PM, Warrington, PA
---
post 137
written 2006-06-26 17:18:00

Temping is good stuff. Or at least weird jobs with minimal demands and stress combined with good pay = good stuff. Sure, it's not forever, but it's for right now, and it's doing what I need doing at this time.

(Non-geeks may want to skip the following paragraph.)

The summer Vampire game started. Y.T. is storytelling. I've set the scene in lovely summertime Milwaukee, and am peopling the game with actual Milwaukeeans. (Attention: Milwaukeeans: do not ask to be cast in this game unless you want to risk sympathetic / voodoo peril when your character analog suffers a grisly death in Lake Park. Oh, and could someone at the Landmark please check and see if that guy with the "Vietnam Vet - Please Help" sign who haunts Farwell and North is still alive. Thanks.) My group is the city's problem solver ("Sheriff"), her assistant ("Hound"), a consultant (a werewolf), and someone almost completely unrelated to the first three (an ancient pagan DJ - no, I'm not making this up). Problems arise immediately, and our heroes have to go be heroic. Except, y'know, they're all foul bloodsuckers or failed drunks. It should be fun.

Trying another text editor now, we'll see if the random numbers show up again on the top.

Oh, holy crap, Barry actually called me! For real. Unless it was a cleverly programmed voiceboard. I think it was him, though. I know some of you were worried - so, good news, he appears to be still alive and still clinging to the face of the earth. He claims to have been on a date when I called him this week, which I totally buy. We all know how good-looking that kid is. Still waiting to hear an interactive Barry voice in the near future.

Lot of rain here, but at least there's no tornado. Try to stay in one piece, Ada.

They Might Be Giants "She's Actual Size (live)," Dial-a-Song: 20 Years of TMBG

17:18 PM, 6/26/06, EST, Newtown, PA
---
post 138
written 2006-06-30 17:25:00

Long weekend. Didn't expect it since no one warned me it was coming until 3 PM on Friday afternoon - "go ahead and take Monday and Tuesday off." Oh, cool! Now I only get paid for three days of work instead of five, and you let me know after I have a chance to make any cool plans to go and do stuff. (Well, sort of. I could have gone to Gettysburg, which I keep meaning to do and keep not having time. Didn't happen, though.)

Saw Kristy and her sweetie, Terry, in the city. We did some driving around, some hanging out, and some failed negotiations with an ESL locksmith regarding her bike lock. It was a long and arduous day for K-Bar, who had to lead off with minding small children of the landed classes, then Locky McLocksmith and his self-advantaging billing system. The dear thing practically passed out at various points in the evening, which allowed me to stealthily purchase dinner for her and her beau. Good food and an only slightly scary urban habitat. I am, and remain, Country Mouse (there's no such thing as Suburban Mouse, so you shut the hell up). Terry seems like a cool cat. Kristy tried to apologize for a perceived lack of sociability on his behalf, which amused me to no end -- "I'm really sorry, Josef Stalin, but he's not usually this genocide-y." Honestly, I practically view that as a positive character trait. But that's just me.

Three day work week? Man. What am I going to do with that?

Poker tonight if I feel like it. I didn't enjoy last month's game, and whoever's running it this week only informed Bren about it yesterday, so who knows...?

"My strength is ten-fold, girl."

--Newtown, PA, 17:25 PM, EST, Within reach but outside your comprehension
---
post 139
written 2006-07-06 21:42:00

I can't tell how old anyone is.

I was just sneering at some teenyboppers here at the (accursed) 611 Starbucks, and I'm fairly certain they picked up their children and walked out to their SUVs. So, presumably, they were not teenagers. (Presumably. You never know.)

My failures to accurately gauge the ages of those younger than I have been chronicled elsewhere and need not be repeated in this forum.

So, clearly, I have no skillz with age approximation. None to speak of. None whatsoever.

Does that matter? It probably doesn't.

My dad is being treated for pneumonia at St. Mary's. He should get better soon, but preferably after sufficient rest and recovery. This is not a forecast, but rather orders of a sort - either to him or to the pneumonia, I guess. So, hop to it.

7.6.06, 21:42 PM, EST, Warrington, PA
---
post 140
written 2006-07-10 21:42:00

My dad (or the pneumonia) followed orders adroitly and smartly, and he is now out of the hospital. Good job, now stay out of there.

Look at these: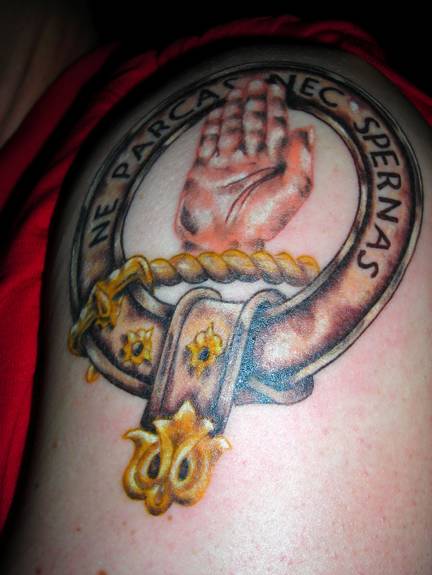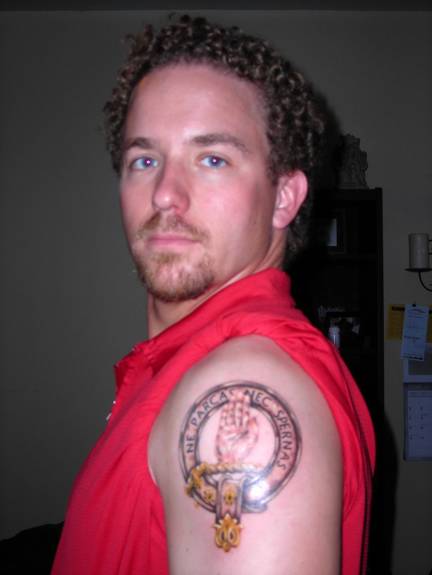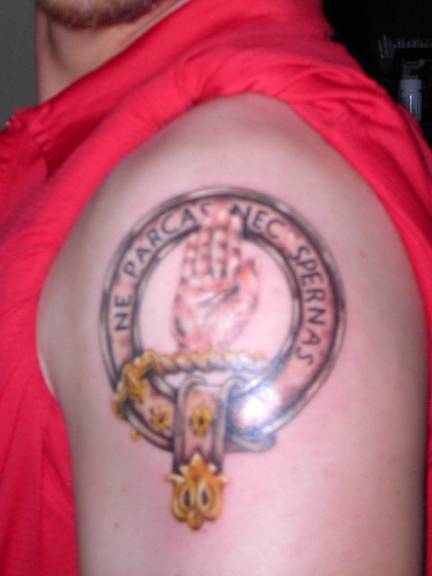 I like that look he's got in the one picture. It's a look that says, "Yeah, I'm a high school science teacher. That doesn't mean I can't be... badass."
Heh.
Murder, mayhem, and mass confusion in this weekend's Vampire game. Honestly too much to go into any detail. We all learned valuable lessons about monsters and being monstrous, and the aggravated damage systems of the new WoD.
I hope this works without more stupid HTML tags appearing. I'm probably hoping in vain.
--NYC and Baltimore are on the tour list
17:33 PM, EST, Warrington, PA, Jones Soda adheres to your flesh in the proper circumstances... though I guess that's true of many substances
---
Awoken from a nightmare into a new day of HTML freedom
written 2006-07-14 08:39:28

Again, Mikey is my online savior.

I have a theory that if you remain stupid long enough in Mikey's presence, he feels an overwhelming need to lift you from your state, to help you bootstrap yourself to a better place. And, since Mikey exists almost 47% on the internet now, his telepresence is vast and awesome.

New format courtesy Ryan Gordon, (C)Icculus.org, 2006, all rights reserved, stick it in the camel and go.

Anyone want to see a minor league baseball game on Monday? Free pint glasses to the first 1500 fans.

8:39 AM, EST, 7/14/06, Newtown, PA, Bastille Day
---
A week full of fullness.
written 2006-07-21 17:31:17

Had some days pass between updates, for which I apologize. One should never have so much life that one cannot adequately journal the events experienced. I think Jefferson said that. Conceited jerk. Like anyone cares what he wrote, right? Right?

ITEM! Minor league baseball is awesome. Anyone living within 30 minutes' drive of a minor league ballclub owes it to themselves to go out and catch a game. I went on Monday to the Trenton Thunder's Riverfront Park, where I received a pint glass, a bingo ticket, nine innings of mismatched baseball (Sorry, Binghamton, but your side of the scorecard read like a stuttering child trying to pronounce the word "kick" while getting beaten up by a Yankees farm team. Okay, I lost the thread of that simile midway, but I'm sure at least two people understood that.) (Perhaps "sure" is too strong.) Anyway, there was a dog who was a batboy, they gave away XBoxes, hundreds of dollars, prizes, free food, human hamster ball races, pipe bands, Irish dance school recitals -- it was like a crazy festival or block party, except the Thunder do this three or five times a week. It was a hoot. You should go.

ITEM! My car sputtered and died on Tuesday. I had a brief mental breakdown - my car doesn't die! It is immortal! - but got a ride to and from the car to continue working and then replace the battery, which appears to have addressed my issue. Many thanks to Bren, who presciently suggested it was a battery issue, then carted me around so I could correct the problem. The car is running fine now. (knocking on wood)

ITEM! Big ass violent storm on Tuesday. Power outages, property damage, lots of work for my landscaper boss.

ITEM! I'm going up to NYC tomorrow with Kristy and Terry, to see the Gerlach and her boy, Ivan. Word is Ray and his girl will be in attendance as well. A source who spoke on condition of anonymity suggests this could be off tha hook; the hook could not be reached for comment.

I think that's about it for items. My misappropriated internet connection at Starbucks is refusing to cooperate, which may indicate that T-Mobile is onto Mikey's communist plan to provide the Internet to the masses, or that Mikey's using the Internet right now, so no one else can. We'll see.

"In the spaceship, the silver spaceship, the lion takes control."

--17:09 PM, EST, Warrington, PA, Or at least it was when I wrote this
---
Train in the rain, run when you're dry
written 2006-07-28 16:51:48

Hey now.

Had so much fun this week it took this long to get near the journal again. Saturday, stopped down in Philly to pick up my two hot dates, then drove up the (nightmare hellroad of utter despair) NJ Turnpike to Jersey City, Jess and Ivan's urban environment of choice. There we feasted on Cuban food, took the PATH train to Manhattan, and enjoyed the hospitality at Movida, a club run by a friend of theirs. Loud, loud music which was frequently 1980s-ish, a ton of people, and a VIP section.

Didn't drink too much, but did manage to pay $9 for a Bushmills. Some guys in suits showed up and drank Jess and Ivan's vodka while Cat and I tried to figure out who they were. A person asked me if I was Heslin, and told me he had heard tales of my exploits. That's a little gratifying, that my rep precedes me in NYC. A beautiful girl fell into my arms - I know she was drunk and couldn't stand in those shoes, but shut up and let me enjoy my moment.

Good times. Got Kristy back to Philadelphia in time for work. I got back in time for a barbecue at my dad's. Oh, and sleep. Since we got back to Jess's in Jersey City at 4:30am, and left for Philly at 7:30am or something. Heh.

Tomorrow, hitting the Orioles-White Sox game, which should be a race to see who can lose first. I back the Orioles, as always. With any luck, I'll have my very own O's jersey by tomorrow as well.

Oh, and humans in the Newtown area who appreciate Goodnoe's - it is closing on Labor Day. I will be arranging dinner somewhere in Newtown prior to this with dessert at Goodnoe's, probably during the week of the 13th of August. You want in? Let me know.

Oh, and gig at my place on the 5th. Y'all should all come.

--"time, time, time, time." Warrington, PA, 16:51 PM, EST
---
Willow limbed and ragged headed
written 2006-08-07 17:39:52

Gig on Saturday, it was well-attended and had a special guest star, featured the Trademark Heslin Party Snack, games of SoulBlade (not SoulCalibur, mind you), and at least one marauding two-year-old. God bless Michelle for reining that kid in. I shudder to think of the state of my brother's kitchen absent the kindly Mrs. Wendig. Danke schon, schones madchen.

Sampled the soon-to-be-legendary vintages of Wycombe Vinyards on Sunday. I totally recommend them. If you find yourself in the Wycombe area and have a hankering for the grape, stop by and say hi. Dropping my name will get you absolutely nowhere, but it could be worth a shot.

My mom was here! Briefly! And I got to see her! Yay!

Time is short. The hanged man bears no malice. Fear death by water.

17:40 PM, EST, Warrington, PA
---
Like looking for a marker in a drawer full of poisonous coral snakes
written 2006-08-15 13:04:26

Whoo.

I'm either on some kind of bipolar upswing or things are just coming up roses lately. Sunsets, blue skies, good times, all sorts of the variety of experience that makes having a blog feel like less of an awkward self-publicization exercise.

(No sooner have I written this sentence than two loud, obnoxious children sit down in the bagel place next to me. Never announce your contentment to the universe, because the universe feels like it has a job to do. Don't become a statistic! Keep your bliss on the down-low.)

Since last time, and please forgive me if I jump around in the chronology any here, since I posted an update to the journal at the same time that my internet connection gave out, so I don't remember what I posted and what I didn't. Yes, I could go check, but it's as much a mental exercise to recall what you did and what you posted as it is just reading. I'm sorry. This is probably too much detail. See above, awkward self-publicization exercise.

Yeah, since last time: dinner at a cool tavern in Bristol somewhere in lower Bucks, Puss and Boots. Dinner at Goodnoe's, which is closing, and has inexplicable high prices, so if you go, have dinner first and just get ice cream (many thanks to Jen for getting my dinner and Bren for getting my ice cream). Quote from Caitlin: "Do you have to hit on every counter girl?" Personal to Cait: Trust me, I haven't hit on any counter girl in your presence. What you're seeing is just complimentary flirting. The actual hitting-on is far more technically complex.

Most notably, I spent the weekend in sunny Fort Lauderdale, Florida. Flew out on Friday, went swimming - pool and ocean - had late night dinner on the Lauderdale version of Rodeo Drive or Park Avenue or something, looked at comic books, had a massage, saw where the loggerhead turtles nest, had room service breakfast, paid a forfeit (I lost a bet a while back), and generally got a serious workout. Personal to Susan: my abs still hurt.

I honestly can't remember the last time I swam in the ocean. It was great. Susan reminded me that south Florida is technically in the Caribbean, so it naturally has that blue ocean - fine sands thing going on. (Anyone wishing to debate this point is welcome to address their postcards to the South Florida Business Journal, c/o S.J. Stabley in the Crusading Journalist Department.) I had a brick of time where I never even saw the ocean, and I didn't like it very much. I highly recommend everyone see the ocean sometime. Mmmmm. Ocean.

And so two days remain before "Ohio 3: The Return To BFE." Coming soon to theaters in your area, assuming your area is Ada, OH. Have to run some errands and such in the time remaining to me. Also, have to have a meeting of the Triat to determine the position of the cosmic power balance for the remainder of this aeon.

-- [insert sound of fingers snapping]"The Aristocrats!" 12:42 PM, EST, Warrington, PA
---
Attention Queens people, or people who dig the written word
written 2006-08-18 12:12:06

You may have already seen this, but:

Charlotte Observer article on Wendy Waite's collected works.

Wendy Waite wrote the best modern form poem I've ever read - I think it was a sonnet, about hitting puberty, and taking snarky comments from bullies with a brave face. I heard that, read aloud, and immediately wondered why Wendy wasn't the Queens College poet laureate.

A $25 donation to the Wendy Waite Scholarship Fund should get you a copy of the book, being self-published by her husband. I'm getting one.

12:12 PM, EST, Ada, OH, "I'm BACK... I'm back in the saddle again"
---
It's called a geographical cure... but it's really not a cure at all
written 2006-08-18 12:23:53

Be advised - my GPS now reads as northwestern Ohio. Please do not go over to my brother's house to visit, unless you want to visit him. Or drink the beer I left in the fridge. You'll have to clear that with Bren and Pina.

The main reason I came back early ended up being unnecessary: you have to sign a form to get your check on time, or you used to. This year, it's "all computerized." I fear that statement. If I don't get my check on time, that's fine, as I brought back a chunk of change from work this summer. But I tremble at the thought of the bureaucracy weilding the ironclad excuse of "It's the computers" while not knowing how to operate said computers. Then we get the opening from "The Terminator."

That's how it happens.

US Bank screwed me. Again. I don't know how it's possible, unless they charge me an annual fee for having a checking account there. I deposited my big summer check into my US Bank account, and ended up with less money. I'm flabbergasted. I'll do some checking to make sure it's not just my stupid fault, and then probably change banks. Jerks.

(Amusing sidenote: read journal entries from exactly a year ago and hear the echo! Both with the bank's evil and my intent to do something about it. Note that I'm still with US Bank. [sigh])

Twelve hour trip back. Two traffic jams, two gas stops, one lunch and one stop just to not be driving for a little bit. I've done better, that's for sure. All in all, not a bad trip though.

Oh, if you know what RSS is, you can use RSS to get updates when I update the journal. That's one of the new things Mikey built into the journal when he modernized it.

Great to see everyone this week, and this month, and this summer. Sorry if I missed anyone. Kristy, remember you owe me dinner. Jess, e-mail me so I know you're not dead. Jefe, you have to make it to the next party so I can get rid of all that beer.

Don't buy the Da Vinci Code. Library, or borrow it from someone who bought it. Learn from my example.

--12:23 PM, EST, Ada, OH, nothing can live without its head
---
Statistics
written 2006-08-20 10:37:50

Cost of accidentally clicking "US Bank" instead of "Commerce Bank" on my Visa e-bill: somewhere in the $70-$100 range. This does not include the cost of the paid bill, which was also about $100. There are separate fees for making a charge that's not supported by existing funds, and for overdrafting your account. Then there are fees for each day you remain in the red. Sad postscript: this is all my fault, for accidentally clicking "US Bank" when I paid my Visa.

Cost of books for four of my five classes: $450, roughly. I still have one more class to buy for, but I didn't want to carry that many books at once. And I managed to sign up for another course that assigned a huge, phone book sized statute book that we'll use once in a while, then will be obsolete by the time the course is offered again.

Cost of a movie in Ada: still $3. That's nice. Talladega Nights was not nearly as good as Anchorman, but that might be an unfair comparison.

I'd love to have something in here like, "Cost of a night in Tijuana with a chimpanzee, a magician and that single 40-something from Accounts Receivable: priceless." I can't figure it out, though. Let me know if you have the answer.

--10:37 AM, EST, Ada, OH
---
Square and parallelogram equals American-Made!
written 2006-08-21 13:32:00

Man, Commerical Law and Products Liability are scary. And that only after one class each. In Commercial, the professor is at least going to warn us a day before we're in the hot seat. In Products Liability, Prof. Young just jumped right into it - theory, ideas, market concepts, how the great judges of the twentieth century were all wrong - that's heady stuff for the first day back, first class of the semester.

Can't wait for tomorrow, where I have three classes instead of two. They start later, though. M-W-F is my morning classes, and T-R is noon to afternoon. But no night classes, got those out of the way last semester. Maybe next semester - there's usually a Real Estate class at night, 7 PM to 9:45 PM or something.

Wednesday will be weird - Commercial Law at 9 AM, then... um... nothing. Until Thursday. That's weird.

Hope everyone's doing well. Send me e-mail. I'm adjusting poorly to not being in the 215, with its cavalcade of friends and family and such.

I'm going to go check out the Rite Aid. You may recall that the Rite Aid took over the spot where the Hardee's was, and this was a source of great misery to me. We'll see if I can overcome this emotional hardship.

--13:27 PM, EST, Ada, OH, "hot, nasty, bad-ass speed."
---
Objectivity went out the window, along with a few objects
written 2006-08-22 15:59:43

Arbitration - looks very interesting. My professor is a tiny Russian woman, who advised us to sit close to the front of the room due to her soft voice and noticeable accent. Already hitting some of the conceptual stuff, so that's good stuff. A little deep, sure. Mention has been made of the ancient practice of village elders hearing disputes.

Estate Planning - Prof. Martin again, who taught my Estates, Wills and Trusts class and my Estate and Gift Tax class. He's hitting us with lots of very practical experience stuff. We'll have to submit a draft of a document usable in practice almost every week, so I imagine we'll have a pretty useful book of material by the end of the year.

Domestic Relations - Prof. Clarke opened with, "This class might as well be called divorce law." That's a good note to open on. She's alternately jovial and hard-assed, as I recall. She may have been responsible for a kid in my first-year class dropping out. Today it was all jokes and such, but I'm sure that'll wobble.

Already have assignments, but no food in the house. (Exception: the haystacks Bren made. I'm making those things last. Mmmm.) Tomorrow I have a huge gap in my schedule, so I'm going grocery shopping midday. Homework tonight and tomorrow night.

If I lied about everything, would this be more interesting reading?

--15:59 PM, EST, Ada, OH
---
Tycho Brahe, thou art avenged
written 2006-08-24 11:06:26

My four generations-long crusade to annihilate the planet Pluto has, at long last, succeeded.

My agents have subverted enough of the Astronomers Union to have the "planet" declared a nonentity. No longer a planet, and soon enough out of the public mind altogether.

Then, when all Terran attention is diverted from it, I shall lead a team of interplanetary engineers to install a mass driver engine in Pluto's mantle, using its own substance to power a stream of mass and converted kinetic energy to hurl Pluto out of its orbit, toward the center of the solar system.

Only when a tiny solar flare erupts from the surface of Sol, Earth's Sun, will the people of Earth recognize that their fellow traveler, Pluto, is no more. Destroyed by the awesome power of the Sun, and by the terrible dread of mine vengeance.

Then, and only then, will Pluto know its failure, 12 years ago, in refusing to attend my junior prom with me. That jerk. I would have been a perfect gentlemen, but no... "I'm probably going to be exceeding Neptune's orbit that week. It wouldn't really work out."

Who's laughing now, Pluto?

--11:05 AM, EST, Ada, OH
---
Unadulterated stupidity
written 2006-08-25 14:19:18

Though, really, what would you adulterate stupidity with?

No-account, no responsibility bureaucracy, that's what.

I returned to this place days in advance of actually needing to be here, in order to sign and submit a single form to the bursar's office. That was virtually my only reason. Sure, books, scheduling, getting my apartment tidy - these helped. But the form to receive my loan check on time - that was the clincher. The decider.

So, I went to the bursar's office today. They have no idea where my loan is. Maybe at Financial Aid, they suggested. I asked what to do, what to do next week, what I should have done last week - all I got back was shrugs and "come back next week." Presumably to spin the wheel of bureaucrats again, and hope for the best.

Jerks.

--14:19 PM, EST, Ada, OH, "No whammies, no whammies, stop"
---
Where will they build the off-ramps of the information superhighway?
written 2006-08-27 18:37:56

Headed up to Detroit yesterday to play cards with strangers. Won a lot of swag. Am now selling the swag (well, the choicest swag) on eBay, and expect to turn a profit on the day.

I paid $2.39 per gallon for gas yesterday. About two weeks ago, I was paying about $0.75 more per gallon. There are upsides to living out here.

Reading about the Uniform Commercial Code, strict liability for defective products, and trying to decide if I want to stick around here and watch TV (which I don't have at home - or rather, any broadcast programming for my TV) or go home and cook dinner. I think the unpleasant heat in my house makes staying here a little more desirable.

--"She's kinda like an artist, sitting on the floor." 18:37 PM, EST, Ada, OH, I was hoping to have a chance to post in Detroit and see if anyone noticed the change in the dateline
---
Grass-roots political e-mail agenda
written 2006-08-28 10:01:50

Okay, I'd like everyone to see the following site: Wal-Mart November.

I'm somewhat certain that people reading this site either do not shop at Wal-Mart and are shocked that I would suggest such a travesty, or don't see the need to boycott Wal-Mart and wonder why I'd bother them with this kind of feeble pseudo-protest.

I shop at Wal-Mart all the time. I'm not proud of this fact, it's just the most available store out here in the sticks. I am, as I have stated before, a sucker for convenience. And Wal-Mart is very convenient.

However, I am aware of the way they treat their employees and labor efforts to organize. I know they ruin local businesses - I believe the relative dearth of other places to shop around the Lima area are a result of this kind of monopoly. There's information out there regarding the effect of Wal-Mart's reliance on cheap Chinese goods and its effect on the trade deficit.

Essentially, I'd like everyone, regardless of which side you see yourself on or what response you have to this effort, to think about why someone in South Florida thinks that a boycott would be a good idea. Maybe discuss this line of thinking with a friend or family member, see what they think.

I'm going to boycott Wal-Mart in November and see how inconvenient it is to shop elsewhere. More on that later.

--10:01 AM, EST, Ada, OH, there's also the creeping loathing generated by a Wal-Mart. There's that.
---
That was unexpected.
written 2006-08-30 16:59:38

I won some kind of contest. Some woman called me up and told me I won all this stuff, and I waited for her to add, "All you have to do is send us $435," or "sign up for our credit card and you'll be registered to win," or something. But it didn't happen. I just apparently won some stuff.

More later on that.

--16:59 PM, EST, Ada, OH
---
Deer Park, that's good water!
written 2006-08-31 17:50:33

Okay, Deer Park Bottled Water, a division of Nestle Incorporated, in association with the Baltimore Orioles, decided that I'm so cool I deserve the following things:
Four tickets to the Orioles game on September 9th.
Passes to batting practice before the game, and a tour of Camden Yards.
Four passes to the Baseball Hall of Fame in Cooperstown, NY.
Airfare for four to Syracuse, NY.
Lodging for four at the "Inn at Cooperstown."
A $200 gift certificate to "Hawkeye's Bar and Grill" in Cooperstown.
Four duffle bags. (No, really.)
A gift card loaded up with money that can be spent in places other than Cooperstown.
Free water for a year. Or rather, bottles of it.
So, who wants to go see the Orioles on the 9th? I can't go, the commute is a killer. I asked my former landlord, but he works on Saturdays. Drop me a line if you want four tickets, BP passes and a tour of the Yards.

Then, who wants to go to Cooperstown? I have to wait and see if either of the dates I selected is workable, and by that time I can't register anyone for the free airfare. Basically, if you want to go, let me know. You'll have to get up to Cooperstown yourself, but I can get you in, get you fed, get you somewhere to sleep two nights.

Weird. All I wanted to do was answer Orioles trivia questions, and now I have all this stuff. It's kinda neat.

--17:50PM, EST, Ada, OH, does anyone remember that Deer Park slogan?
---
News from Milwaukee
written 2006-08-31 20:13:16

Comrade Bear sent the following transmission by radio:

Jill's water broke. However, rather than going into labor, she decided to play gin rummy, and won the first round rather handily. Tango Foxtrot X-ray. Over.

Watch this space for additional updates regarding the new addition to the Weber household.

--20:10PM, EST, Ada, OH
---
Hurry up and wait
written 2006-09-01 10:50:32

Oh, with Labor Day coming up, I have a long weekend scheduled. Not that I have anything scheduled for the long weekend, just, there it is. If anyone has any suggestions (that don't involve driving to Canada and drinking myself insensitive at a strip club), please let me know.

No word from Milwaukee. Presumably, Jill is still beating Bear at gin rummy.

Whoa, wait -- Labor Day? Jill's having a baby? Labor? PUN! NO! I wince and hope you can feel it.

I sent in the affidavits, etc., to the contest people. I hope to know in the next few days if this is a scam or not. From the looks of their website, it's legit.

I have to admit I expected a flood of e-mail by now demanding to know if there was still space available for the Cooperstown trip. Could it be that the wonders of the Baseball Hall of Fame are of limited appeal? Well, given the difficulty of coordinating a free trip, the people, the times, the sworn affidavits (they don't buy you a plane ticket until you guarantee you won't sue when the plane fills up with noxious vapor)... it's tricky. Ideally, I'll have a better idea on the date in a short time, and people can think about that then.

Alternately, I can go to Cooperstown by myself, and share my contest bounty with employees of local strip clubs, no doubt drinking myself insensitive.

--10:49 AM, EST, Ada, OH, "and hate yourself in the morning"
---
A sense of anticlimactic denoument
written 2006-09-02 10:53:55

So, I get home yesterday from class (Products Liability), meeting with career services (Daddy needs a job), and checking on my loan check (it's still not here), and wonder if I should check in with Bear, who's probably still doing the nervous imminent daddy pacing in a maternity ward waiting room. I mean, they can't play gin rummy forever, right?

I crack open my phone, and there's a message waiting for me. It's from Jill. Not Bear. My first thought is, "Oh, false labor, that's why played cards instead of, y'know, having contractions." Nope. Jill's calling people to let them know that they had a little boy. And just like the tone of yesteday's message, very casual. Like, "Hey, what's up, got about ninety minutes of sleep last night and they induced labor. We're calling him Jayden. Is there anything going on this weekend? I guess call me."

My opinion is that Jill should write a book on the labor process. "How To Have a Baby And Still Be Totally Cool" or something.

Congratulations to mom and pop, and good luck to all three Webers.

--10:53 AM, EST, Ada, OH
---
There's good news and bad news
written 2006-09-03 09:57:58

The good news: we have an ion propulsion engine suitable for spacecraft.

The bad news: it's slow.

But that's a step better than not having ion engines at all.

--9:58 AM, EST, Ada, OH, we're that much closer to having TIE Fighters
---
Being a geek pays off
written 2006-09-04 11:08:24

Cost to attend VS. card tournament: $25. Cost of gas to get to and from Detroit: approx. $20. Breakfast: $4. Dinner: $10. Total cost: approx. $60.

Cloth/rubber playmat with colorful logo, resale: $31. Special card with foil finish, resale: $31. Deck tin, resale: $17. Other foil finish cards, various, resale: $15. Total resale price of prizes won at VS. card tournament on eBay: over $100.

No, not every geek event I go to ends up being lucrative. But this one did.

--11:08 AM, EST, Ada, OH, the end of the long weekend
---
From my Estate Planning materials
written 2006-09-05 10:38:39

The average median income for males and females ages 25-34 was $29,864 and $19,396, respectively. (US Census Bureau, Statistical Abstract of the United States 2001 No. 675, 440)

--10:39 AM, EST, Ada, OH
---
Uniformity of Purpose, Congruity of Mediocrity
written 2006-09-08 10:39:05

Just some unrelated items.

I've noticed that the girls - not the guys, mind you - all have pictures of themselves and their boyfriends as the wallpaper on their laptops. I have not noticed this among married women, or among boys of whatever marital status. The pictures are often very similar to one another. It's odd.

Fantasy football league started last night. It's already causing me grief. I hate ESPN for being too interfering when I need control, and being too laissez-faire when I need help.

My loans still haven't come in. When I asked the bursar, they said to hit Sallie Mae and then financial aid here at the college. I did those things, but I didn't want to keep bothering the financial aid office - get more flies with honey than with vinegar, etc. I sent them one e-mail the day after I went to their office and asked if there was anything I could do, and they said it was all set, they just had to confirm my loans to the bursar's office. That was the middle of last week. There was no check on Friday. I went again yesterday to financial aid to confirm my status, and they said -- it was all set, they just had to confirm my loans to the bursar's office. (sigh) Apparently you can't get flies with honey, vinegar, or by having your forms filled out at the right time and going in person to make sure the flies are ready for delivery. I hate bureaucracy.

Generally speaking, I hate a lot of things. I don't have cable, I don't have cablemodem, I don't have my loans. I do have some chocolate-peanut-butter wafer things left over from last year, and I expect to be in position to have to eat them within a week or two.

I'm going to go read for Products Liability and then weep in a dark room somewhere. I'd weep in the financial aid office, but I'm not sure it would do any good.

--10:38 AM, EST, Ada, OH, where the elite meet to shoot skeet
---
Recondite raconteur and the dream of a new tree
written 2006-09-09 17:14:56

My apologies to anyone who tried accessing the site during the brief time today when it was offline. I registered heslin.org at a time when I still had the old Sprynet address, so when GoDaddy tried telling me that my domain name was expiring, they couldn't reach me. We're back online, though I arguably shouldn't be spending my money on domain name registration.

And thank you to those of you who expressed concern regarding my financial situation - despite not receiving my loans, I am not starving or destitute. Thank you nonetheless, though.

Plus, my eBay auctions are bearing fruit now, so I find myself with about $100 I wasn't expecting to have two weeks ago. That's good, because Bank of America wants $118 to cover the use of my Visa - which I was using to avoid using my loan-less bank account. A vicious circle, I say.

Does anyone else miss the big ugly 1970s-1980s American car? Cadillacs, Oldsmobiles, Caprices - this squared-off, long, four door softtop just rolled up at the cafe where I'm posting from, and it's grey, and old, and has a hood ornament, and I just don't think they make them like that anymore. It's not quite a pimp car, and its not quite a standard sedan.

I think people should listen to Gnarls Barkley, "St. Elsewhere." Just the use of that album title scores points with me, but I've enjoyed everything I've heard off that album.

Don't bother seeing "Kingdom of Heaven" unless you're just in it to look at Orlando Bloom. Even then, your time is better spent at www.IlikelookingatOrlandoBloom.com. Terrible film. Very flat. It has some pretty moments - sprawling Dark Ages cityscapes, and siege warfare from the birds-eye shot that covers more than you can look at - but the movie, just awful. I'm not sure what I think about Orlando Bloom. He was okay in "Elizabethtown" but part of his acting in that movie was to be emotionally numb. (shrug)

Everyone who sends in a CD recommendation to me by e-mail will have that recommendation posted in a general grab-bag post next Sunday. Let's see what the heslin.org readership is listening to.

--17:14 PM, EST, Ada, OH, at the moment I'm listening to Spoon, "Gimme Fiction"
---
(assorted swearing and impotent gestures of rage)
written 2006-09-12 16:27:25

I just wrote an entry for this stupid journal, then decided to hit the "close this window because I like erasing all the things I just wrote" button.

Salient points included:
The financial aid office is still operated by monkeys obsessed with calling other monkeys on the phone to inquire about the status of forms filled out or not filled out, and not, in fact, providing any type of financial aid.
It's rainy here.
There are crickets in the student center. Also, a poster sale.
My reading is either too voracious or my classes are too slow.
I wish my loans would come in. I wish I had cable. I wish I had a pony.

--16:27 PM, EST, Ada, OH, "that's just the way the cookie crumbles"
---
Someone broke into your apartment and moved all your candles one spot to the right
written 2006-09-13 21:24:14

Laundry, the recission of arbitrable contracts based on illegality, and pre-nups. Though, Prof. Martin doesn't call them pre-nups, since you can be called to write pre-marital, post-marital, and non-marital agreements with a generally unified theme.

The price of laundry went up while I was out of town. It's a $1.25 per wash and per dry, now. It's still the cheapest price of laundry in town.

My class schedule is already messing with my head. Early Monday, Wednesday and Friday, then a solid afternoon of Tuesday and Thursday makes it feel like there's two separate weeks going on - one three days long and one thinly stretched from Monday to Friday.

We should know tomorrow if there's a loan check in my immediate future. Though, I realized that an incorrect amount ($15,000) was used for the initial request. That number should be higher, in the thousands digit. I've entered a second application for the balance, but I'm afraid that the second application is going to confuse the bureaucracy some more (oh, God) and delay my first check again. If it does, I have to camp out at financial aid. Just sleep there, and tell them until I have a rent check, they have to put me up. Ask to borrow clothes. Bum snacks and drinks off the work-study kids. You know.

Today I wondered why I don't smoke. I don't. But I wonder why.

--21:24 PM, EST, Ada, OH, virtually stood up tonight
---
Divorce law is some weird stuff
written 2006-09-13 22:53:01

(Regarding the division of marital property, specifically, lottery winnings...)

In community property states, if the ticket was purchased from community property, such as current earnings, as it almost always is, then the winnings are community property... In re: Marriage of Rossi, 90 Cal App. 4th 34... wife's lottery winnings were community property, and her efforts to hide them during the divorce proceedings constituted fraud, justifying the award of those winning entirely to the husband...

...Lynch v. Lynch, 791 P. 2d 653... husband's $2 million lottery winnings treated as community property, even though received during the course of the divorce action and two years after the couple physically separated...

Common law states have largely reached the same result, generally justifying the result, as they should, on the basis that the lottery tickets were bought with "marital property."

From "Family Law: Cases, Texts, Problems," 4th ed., Ellman, et al.

22:52 PM, EST, Ada, OH
---
Check one two
written 2006-09-14 17:17:55

You thought it would never happen. Well, I thought it would never happen.

I have my loans. Part of them, at least. Thank goodness. I can renew my license plates, pay my rent, order that book of Wendy's poetry, go grocery shopping, get a new battery for my alarm clock so that when the power goes out it doesn't lose track of the time... it's very exciting.

And not even on a Friday. Kudos to the ONU financial people - only a month late!

17:18 PM, EST, Ada, OH, if you can't say anything bitter and sarcastic, don't say anything at all
---
Did you see the way his helmet just flew off?
written 2006-09-17 17:31:46

Swimming again today. Swam farther this time. Intend to keep swimming farther until I feel like it's actually a workout. I know I have some former swimmers in the audience - how many lengths is a mile? It's like 64 or 32, right? A little help, please.

Watched Kurosawa's Throne of Blood and Scent of a Woman today - please don't judge me. I hope my neighbors can hear the screaming Japanese dialogue from my open windows, because I don't mind if they think I'm some crazy grindhouse Japanophile or a fan of Toshiro Mifune's dramatic work. Because both serve to increase my mystique. And that's what we want, right?

The Eagles lost today. How? Explain. I didn't see the game. And are the Phillies still in the wild card? I can't keep up - there's too much data.

No Orioles/Deer Park contest prize yet, but we expect a package this week. That's fun.

Have I explained my theories about growing up with nuclear dread, and the triple threat of The Far Side, Calvin and Hobbes, and Bloom County? I don't think I have. But they're important. Well, to me. Is something important if it's only important to you? Or is it just a neurotic quirk?

--17:31 PM, Sunday, EST, Ada, OH
---
Musical interludes
written 2006-09-17 17:51:49

Reader Chuckie Wendig from Perkasie, PA, writes, "Your webjournal is stupid but I listen to music so I sent you this e-mail." Thanks for writing, Chuckie, and tell your wife I said 'hey, baby.' Chuck recommends you listen to Lily Allen, The Red Hot Chili Peppers and The Knife. There is no link to the Red Hot Chili Peppers because, c'mon. It's not like they're obscure or anything. Lily Allen is known for rhyming the UK store Tesco with the Italian term al fresco. The Knife is reputedly Swedish electronica something-or-other.

Recent parents Bear and Jill Weber say the soothing melodies of Blue October and The Postal Service help put new baby Jaydon (spelled with an "o" not an "e" because it's "more masculine") to sleep each night. I second the motion for The Postal Service, whose music Carrie sent me a year or two ago. In an associated project, the lead singer for the Postal Service is the same guy from Death Cab For Cutie, which should get points for excellent name alone.

I believe that was the extent of the responses to my musical inquiry. If I missed your submission, I apologize. The guys at Penny Arcade! recommend this Weird Al Yankovic submission, "Don't Download This Song." When Penny Arcade links to sites, they sometimes become so flooded with hits that their websites shut down, a process they refer to as becoming "wanged." When I attempted to listen, it was "wanged" so I was unable to listen. Let me know what you think.

This has been your linkapalooza. Future linkapaloozas as merited.

--17:50 PM, Sunday, EST, Ada, OH, the tradition of the singing mayors of Milwaukee
---
Broken Links, or my time away from HTML
written 2006-09-17 18:01:27

Sorry, all of those links don't work, because my HTML is rusty. Please see the following:

Okay, that last one wasn't needed. But hey.

--18:01 PM, Sunday, EST, Ada, OH, in the informal lounge, lounging informally
---
Just accept that I'm stupid and move on.
written 2006-09-18 00:01:38

And now that second, "corrected" Postal Service link doesn't work.

If this doesn't work, I don't care, I'm done.

0:01 AM, Ada, EST, dumber'n hell
---
If seal is broken, do not use this product
written 2006-09-21 14:13:25

Inexplicably somber this last day or so. I need more vitamins or something. Did all my reading for this week by Monday night, so I haven't had as much to do since, which leaves me with too much free time, which is not necessarily a good thing.

I'm not putting any links in this post. That proved to be far more annoying than I had expected last time.

I just bought Sufjan Stevens' album, "(Come on, Feel The) Illinoise" on iTunes. I haven't really bought any music off of iTunes, with the exception of the occasional free song, or what have you. All of Sufjan Stevens' albums are available there, and at the default price $9.99 for the whole album. There's over twenty tracks on there, so I think that's a bargain. I may or may not be picking up "Greetings from Michigan" the same way (also a lot of tracks for $10). Sufjan Stevens is reportedly going to make one album for each state of the union - he's up to two, now.

I need a list of things to do, and I need to check off those things.

--14:13 PM, EST, Ada, OH
---
Wood paneling vs. Paris Hilton - the chess match
written 2006-09-22 12:31:58

So, I didn't have Commercial Law today. Why? Because the professor wasn't in town. Why? Because they're decommissioning the F-14 this weekend. And my Commercial Law professor, the former fighter pilot and squadron leader, wanted to go, presumably to say goodbye to an old friend.

This would be funnier if it was made up. It's not.

I think I'll ask him if he knows any of the Navy brass, and can help me get Heinlein's name on a ship.

--12:32 PM, EST, Ada, OH
---
What do you call that, that thing on the end?
written 2006-09-24 13:12:18

What am I watching these days? Netflix foretells all.

Howl's Moving Castle, Finding Neverland, Eternal Sunshine of the Spotless Mind, Double Indemnity, Sabrina, On the Waterfront, Crash, Arrested Development: Season 1, Kinky Boots, Lost: Season 2, Battlestar Galactica: Season 1, Battlestar Galactica: Season 2.0, Veronica Mars: Season 1, Kinsey.

There's a lot of TV built up at the end of that list - I might move some of it up to avoid the glut.

--13:12 PM, EST, Ada, OH, land of cable and cable-not
---
Poetry in the strangest places.
written 2006-09-26 14:26:05

I know I said I was done with links, but surely I can take a swing at this: Cat and Girl present the Villanelle.

Which reminds me, Wendy Waite's book of poetry is still awaiting me.

--14:25 PM, EST, Ada, OH, between Estate Planning and Domestic Relations
---
Yay free stuff
written 2006-09-27 11:58:02

So, a few days ago I received 12 coupons for free Deer Park water. That was nice.

And today, I received a plane ticket, four passes for the Baseball Hall of Fame, a gift certificate for food, a room at a fancy-shmancy inn in Cooperstown called, predictably, "The Inn At Cooperstown," some walking around money, and congratulatory letter. Also brochures.

So, in a few weeks, over my Fall Break, I'll be in upstate New York, browsing among the historical relics of America's pastime. Please feel free to come up and see me - I'll front passes to the Hall of Fame for anyone interested in the great game, and I have a gift certificate for food. I'll be there October 19, 20, and 21, which are a Thursday, Friday and Saturday. Sorry, Mon-through-Fri-ers, my Fall Break fell that way.

I regret that I cannot offer airfare or lodging. While included in the initial package, that required those traveling with me to actually travel with me. As in, from Columbus OH to Albany NY, and back again. It's a shame, but that's the way of things.

My itinerary is arrival in Albany at 1:00pm on Thursday, departing Albany at 2:30pm on Saturday. Stop by and say hey.

--11:57 AM, EST, Ada, OH
---
Wearing layers and laying in wait
written 2006-09-29 10:52:39

It's still cold. I think I expected it to warm up after a little cold snap, but I've been proven wrong. I've heard locals repeat that always-co-opted cliche: "If you don't like the weather in Ohio, wait ten minutes." Well, I've been waiting for a week or so.

I'm going to be shoring up, academically speaking, this weekend and in the weeks to come. I have the Professional Responsibility Exam coming up the first weekend in November, and a prep session for it the weekend before that, I'm going to Cooperstown, and I have to plan for a trip Back East for Turkey Day. That said, I have to spend some time studying and planning for the expected gaps in my study schedule.

Less sad this week. Yay.

There are some 2L girls sitting and chatting at the table next to me. One wants a Vespa, because she hates driving her car everywhere. One is outraged that the school won't let her boyfriend cancel his school health insurance, because "obviously" his dad's insurance covers him. And one can't decide where to stay in Las Vegas - Bellagio or somewhere else.

It's good to remember that this place is a haven for trust fund kids and the offspring of the affluent. Sometimes I make a mistake and think of them as people.

--10:52 AM, EST, Ada, OH, where the chickens is coming home to roost, y'all
---
Time passes
written 2006-10-02 10:52:59

Hey, it's October. Wow. You have to keep up with this whole linear progression of time thing.

Many thanks to the Concerned Citizens for the Conservation and Care of College Students (Carolinas Chapter) who sent me a package of tech, treats, the Onion and a bunch of weird stuff that probably only I would enjoy. Muchas gracias. I think I'm going to hold off on importing my music to the Shuffle until I've listened the hell out of it first.

Anyone who doesn't have an iPod Shuffle and wants one, should be aware that Apple released a new version of the Shuffle and the old one is cheap ($50). Did I mention this before? I can't recall. I guess not. I have a Shuffle on loan (from the aforementioned CCCCCS[CC]), but I think I'll get one for after the loan period ends. The new one is cute and tiny, but the old one has a inbuilt USB port, so you don't need a jack, a stand, a cable - just plug your Shuffle into your computer, like a flash drive. It's functional and adorable.

Time to talk about reasonable alternative design proposals. If I could make a ladder that would hurt less people, you have to pay me for making a defective ladder.

--10:53 AM, EST, Ada, OH, in the informal lounge with the lead pipe
---
How much sleep is enough sleep?
written 2006-10-02 18:37:38

So, I got up, went to class, came home, made lunch, it started raining, and I decided to take a little nap to see if the rain would stop so I could get back to the library and do some more work.

Fast forward three-four hours.

Why does that much of my day disappear when I take naps? Why can't I just take 30 minute naps, or hour long naps from which I spring up, refreshed, ready to attack the remainder of my day's tasks?

Augh.

--18:38 PM, EST, Ada, OH
---
The fortunate few
written 2006-10-04 19:11:28

So many people want to give blood that they have to turn people away at the ONU blood drive. I got turned away. There's another one in three weeks, so I'll hope to not get turned away again then.

As we speak, the Mets are trying to win Game 1. I thought this was pretty much a done deal - the Mets would handle the Dodgers pretty easily. Then they gave up a 4-1 lead in the 6th. It's now 6-4, NY. I think I can support the Mets - moreso than a lot of the other teams in the playoffs. If the Tigers lose to the Yankees, it'll be a shame. No one else in the playoffs has much appeal for me. The Phils are out, the Chi-sox are out (Carrie represent), the Brewers won't see a playoff game until long after I am dead.

Have you seen the Tommy Lasorda ESPN playoffs commercial? I saw one. It was funny.

I only have one class on Wednesdays. That class was cancelled today. I've gotten a lot done in the gap. Paid bills, bought a sweatshirt, browsed the only used bookstore worth browsing, read for class tomorrow. I think I'd take a walk (or a run) tonight, but it's raining here.

--19:06 PM, EST, Ada, OH
---
Regarding David Bowie, evil twins and proper usage
written 2006-10-07 22:37:49

Music and television from the CCCCCS(CC) are excellent for making one feel as though one is connected to the rest of the world, despite a lack of broadcast television, in-home internet service, and geographical convenience to society. Thanks, you guys.

If anyone wants an Enfield Tennis Academy sweatshirt, let me know.

I used my new running shoes. Well, I tried to, anyway. The shoes are great. My body, however, is bupkis. Compost. Hazardous excess by-product. But, I did finish a circuit of the college, which isn't tiny. I confess, I did not run the whole way.

I'm reading Tim Powers' "The Anubis Gates" which I'm shocked to discover has a 1983 copyright date. Powers is still releasing stuff (his latest is "Three Days to Never" which was released in the last couple months, I believe), so I have trouble picturing his writing going that far back. I don't know why. 23 years isn't an eternity.

I'm also reading "Wild Cards VII: Dead Man's Hand," which is practically not reading at all. The Wild Cards books were trashy sci-fi back in the 1980s and early 1990s, and remain so. I would have a hard time recommending them to anyone looking for worthwhile reading today - much like pork rinds, you sorta have to already like them to appreciate them. An acquired taste, which I don't know how to acquire, unless you are 12 years old and looking for anything cool at the public library. Oh, being a big geek helps.

What are you all reading? At least one of you has to answer, "The Time Traveler's Wife" so I can say, "Wow, a lot of people have read that, I should really get around to doing so myself." I have Powers, Will Clarke ("The Worthy"), and David Foster Wallace ("Oblivion") coming in the mail from Amazon's used book store network. Also, you know, the Uniform Commercial Code, the Restatement (Second) and (Third) of Torts: Products Liability, law review articles, cases, and more texts than you can stick a shake to. A shake? Black and white, please. Mmm. Ice cream.

I'm getting off track. I catalogued (something in me wants to delete that "u" but I'm not going to) a large part of my Heroclix collection with the intent of selling it later this year. (Maybe if I spelled it "catalogged" that would do it... but I believe the present tense is "catalogue" despite modern usage which suggests that "nite" can be an acceptable spelling. I persist.) (What was I just saying about off track?)

I watched "Crash" today, thank you, Netflix. It was pretty good. The thing about ensemble films is the limited amount of attachment and empathy you can get for each individual character. Earlier this week it was "Sabrina" and "Double Indemnity" for some older, classy films. Audrey Hepburn. Damn.

Right, then. Heard from the Waffle King this week; good to know he's still hanging on to the face of the earth.

--22:37 PM, EST, Ada, OH, "Disco Libido (radio edit)"
---
We need more headlines like this
written 2006-10-07 23:01:03

"Tigers savage Yankees."

The word "savage" doesn't get enough positive play.

23:01 PM, EST, Ada, OH
---
I don't want the world; I just want your half.
written 2006-10-12 12:24:55

We're having a practiced international arbitrator come and speak to our Arbitration class this month. Also, the Kormendy Lecture is this month, and we'll hear about the Ohio Electoral College, and probably dig up some dirt in the most recent election. I missed a lecture last month because I had class during the lecture. For whatever reason, there have been two events this year I wanted to attend that were pre-empted by class. Also, giving blood (I must remember that), and--

Holy crap, it's snowing. No, really, I'm sure it won't last long, but right now, outside the window of this classroom,there's snow falling. For real-for real. That's weird.

Huh. Wow.

Um, yeah, got an invite to the ONU Hall of Fame induction, which I might go to - I'll have to dust off a suit if I do. Not much else going on at the moment.

Snow. On October 12. Man.

--12:20 PM, EST, Ada, OH, home of weird weather, I guess.
---
Weather update
written 2006-10-12 12:25:38

And now it's sunny and clear.

--12:26 PM, EST, Ada, OH, "if you don't like the weather..."
---
Eeeeeeeeeeee!
written 2006-10-12 13:18:03

It's snowing again!

The leaves are still green on some trees, and I'm only wearing a t-shirt, but it's snowing!

--13:18 PM, EST, Ada, OH
---
Monkeying
written 2006-10-13 08:55:23

My Sales and Secured Transactions professor just used the term "monkeying" to refer to a method of determining consequential damages in an installment sales contract breach.

So, we got brief and lovely flurries of snow out of a periodically clear, sunny sky yesterday. So, naturally, Buffalo had to one-up Ada - "snowiest October day ever!" or some other such nonsense - like there's any real rivalry between the two. C'mon. It was a long time ago, Buffalo, and Ada didn't even mean to break your collarbone and steal your woman. Let it go.

It's Homecoming weekend, so I have to figure out a way to get free food. I turned down the offer of free dinner at the ONU Athletic Hall of Fame, since I would only know one person, and would be awfully tempted to wander the hall giving out fake business cards and offering to rep young athletes on the East Coast. That kind of hope-shattering Friday night leisure only ends up one way - in tears.

Two hour long class this morning. Bleh. Fortunately, there is no second class later today, because it was moved to Wednesday. So, I may go back to bed after this class ends - or, I may start looking for free food. We'll see.

--8:55 AM, EST, Ada, OH, site of the 2006 ONU "Gone Country" Homecoming Celebration
---
Anywhere is better than here
written 2006-10-18 00:20:41

I tell ya, it's difficult trying to understand Article 9 secured transactions when Fall Break is thirteen hours away. I tell ya.

Did you know there are three airports in Columbus, and they're all part of the same regional airport authority? It's true! Now, if I could just figure out which one I'm flying from, that'd be swell.

The duffel bags arrived, and they are not duffel bags. Do they even make duffel bags anymore? When I say "duffel bag" I mean the long sleeve bags that I associate with Army-issue gear, that sling over your shoulder. The baggage I received is pretty slick, though - it's that modular, suitable-for-airplane storage bag that's popular these days, with a nicely embroidered Orioles logo on the front. I wonder if it's carry-on sized, because I only carry my luggage with me. Don't like it when my stuff gets away from me, like during the snowstorm that one year. 2005? Can't recall.

Earthquake Weather by Tim Powers is a sequel to both Last Call and Expiration Date, so I re-read Last Call before starting Earthquake Weather. Nice to re-read, and nice to start some new Powers. Looking forward to Three Days to Never, though I might leave that for after Christmas.

I'll be in New York for a few days (like you didn't already know that, if you read this, I talk about little else lately), so don't expect e-mail to be promptly replied to until Sunday or so. Phone calls may be answered according to trustee's sole discretion.

Congratulations to Julie and Dan, who don't read this site, but I think they know someone who does.

Things I regard as semi-necessary internetting: Pandora is a site that asks you what music you like, then plays you music that you might like, based on what you tell it. You can give it feedback (I don't like this song, I like this song but not right now, I'd like to hear some different stuff by this person) and it will remember your suggestions. And Lifehacker is just a place for common sense suggestions about how you do things. Some of them are computer-oriented, but some are just good ideas. Example - when you wake up with a good idea in the middle of the night, but don't want to turn on a light, find a journal, write it down, get mentally worked up, then try and get back to sleep - instead, do something odd to an item that you'll notice in the morning. Turn the alarm clock on its side, put your watch around the lamp, put your shoes on the TV. When you wake up and see this odd placement, your memory will trigger and remind you of your idea last night. Stuff like that.

It's late. I've been studying a long time, but admittedly not the whole time. I've studied a good chunk of these last three days, and the time for goofing off is upon us. Ave, imperatrix, goofituri te salutamus!

--yeah, it's late, if I'm making up Latin. 0:20 AM, EST, Ada, OH, "Goodnight and Go" by Imogen Heap
---
A comic... stripper! That'll do fine.
written 2006-10-18 14:17:52

Does anyone read the funnies anymore? The comics? Comic strips in the newspaper? I think that for me, and people of an age with myself, the comics were kinda important. This might just be an oversimplification or overextension of my own experience onto my generation
---
Jiggity Jig
written 2006-10-22 15:45:41

Good times in upstate New York. Beautiful autumn coloration, hills, lakes, country roads, the polite-because-they-have-to-pander-to-tourists locals, all of it. My flights were on little tiny jets which make you just a little more concerned about whether or not man was meant to fly - but no problems, I slept or read the whole time on both sets of flights.

Anyone visiting Albany is encouraged to stop in for a meal at Lombardo's on Madison. Good food and a waiter from the Northeast (Philly, obviously!) who makes you wonder whether he's your good pal or being openly contempuous of you. Highly recommended.

The Hall of Fame was great. It's been years since I got up to Cooperstown - since either Terry Heslin or John Hahn took me along with his famiy - and it's still great. The exhibits on women in baseball, the first two decades of the twentieth century, and the Negro Leagues were favorites. Got shots of Mike Schmidt and Steve Carlton's plaques which hang adjacent to each other. It's interesting to see how much editorial commentary gets into the text on the plaques.

Since I had way too much free dinner to eat by myself, I thoughtfully allowed an elderly couple from Vermont and a transient who claimed to be from Fort Lauderdale to dine with me. It was a good thing, too - I only ordered about $25 worth of food, so they soaked up about $175 worth of cheap wine and dinner rolls. To each their own, I guess. (Good to see you guys.)

Good times, good times.

--15:33 PM, EST, Ada, OH, back in the informal lounge again
---
All Hail The Waffle King
written 2006-10-23 23:31:19

A quote:

shame to hear about the rampant girlfriendlessness, but then, we all told you to go into mad science. we were all like, 'But, H-dawg, you could /build/ a girlfriend' and you were all like, 'No, i'd rather get one the old fashioned way. As part of payment for getting a mobster out of legal trouble.' Well...where are your morals now?

--23:27 PM, EST, Ada, OH, "One of Our Submarines," Thomas Dolby
---
Miss Manners
written 2006-10-27 09:52:09

Here's a tip on how to be polite:

In most - not all - but most situations, when someone says, "excuse me" or "I beg your pardon," they are not in fact seeking your forgiveness. They are trying to be polite. You should accept this polite statement with a reciprocating polite statement.

Example: you and I walk towards each other in a narrow hall. I flatten up against one wall to make room for you. I say, "Pardon me."

Correct response: walk past, and say, "Beg pardon." It's not so much that you're inconveniencing me, as I offered you the polite statement. You simply ought to reply in kind.

Incorrect response: walk past, and say, "That's okay." This implies that I am in fact inconveniencing you. That I have erred in walking down this hallway, and now I have something I have to make up to you. You respond to a polite gesture with an intimation of social failure. How dare you?

This has been your politeness tip for the day.

--9:49 AM, EST, Ada, OH, or maybe it's just here at ONU
---
Exsanguination
written 2006-10-27 12:18:38

It's been far too long since I invited a stranger to stab me with a metal implement!

There's a gay rights group (in the Southwest somewhere?) that's trying to have the Red Cross remove the gaycentric questions from the pre-donation questionnaire. I support this move. More blood! More blood!

Also, more altruism.

I just have to figure out where the donation location is.

--12:18 PM, EST, Ada, OH
---
Willfully Ignorant
written 2006-10-30 10:52:39

So, coincidence conspired to get me out of town on Saturday. I was scheduled for a four hour exam review session Saturday morning, and thirty minutes into it, the power went out. All over town, no electricity. I waited a little while, but it seemed like the power was going to stay off for a while. Some friends were heading down to Columbus for a Heroclix pre-release, and I called to see if they'd left yet. By chance, they hadn't left -- one of them couldn't wake up on time to leave early, so they postponed leaving until 11 AM, which enabled me to tag along.

That was nice. Got to hit a used book store, and have Mexican food. I think Milwaukee's Mexican places have spoiled me - the place we went to had miniscule portions. Or maybe I'm just hard to please. Oh, and I won three games out of three at the tournament. Good day.

Had the review session Sunday, which was good. Will be studying ethics all week. Also got some shopping done.

This morning, however, was registration for spring semester, and the online registration system wasn't working. So, I had to get dressed and get across town to register in person - by which time, one of my classes was filled up already.

I either need a 2 hour class or the motivation to do a 2 hour independent study. Third year law students should not be called upon to be personally responsible for work, progress, etc. At least, that's my theory.

Oh, and it's November soon, which means you shouldn't shop at Wal-Mart. I'm writing a letter to the manager of the Lima Wal-Mart explaining why he's losing my $50 this month. Maybe $150, depending on budgets.

Sigh.

--10:48 AM, EDT, Ada, OH, the Tilton building on the campus of Ohio Northern University
---
Now that's what I'm talking about
written 2006-11-02 06:03:25

Had a weird day yesterday, where I languished in boredom or the existential torture of a truly free world (couldn't tell which), which I interrupted periodically to study Arbitration and the ethics of the bar-approved lawyer. Thank you, Susan, for talking to me on the phone to reassure me that I wasn't the only person in the world at that hour.

Swapped out Carrie's Shuffle music with mine. Carrie has good music, if any of you want to bother her for songs, but there's stuff I have that I don't hear enough - which is the purpose of the shuffle, I think. Currently listening to Booth and the Bad Angel.

It was 29 degrees out this morning. I'm pleased. I no longer feel like the big coat is overkill.

MPRE this weekend, then two weekends "off," then a too-fast trip back to the 215 for turkey and debauchery. In that order. I hope.

--10:03 AM, EDT, Ada, OH
---
I didn't know that.
written 2006-11-02 06:11:49

That's somehow remarkable. Did you know that Shirley Temple is still alive? I don't know when I thought she died, or under what circumstances, but I was fairly certain she was dead. Weird.

And did you know that a Shirley Temple is cherry juice and lemon-lime soda? And that a Shirley Temple Black is cherry juice, lemon-lime soda and vodka? It's true.

--10:12 AM, EDT, Ada, OH, I'm clearly just killing time here
---
Hotel Zulu Alpha
written 2006-11-03 05:59:06

25 degrees this morning! And snow yesterday. Ahhh.

I'm one day older today than I was yesterday.

--9:59 AM, EDT, Ada, OH
---
Quickly now
written 2006-11-06 10:54:15

It's illegal for anyone but a licensed physician to provide piercing services in Japan. Read about it from reports on the ground at the Waffle King's blog.

Also, illegal to call someone mean names on the intarnets.

There a team of American Bar Association observers here at the school for a few days to snoop and poke around and see what kind of rating ONU should get, or something. All I know is all the professors want us to stop IMing and surfing the web until after they leave.

Weekend was up and down - turned 32, studied for an exam, took the exam, bought some comics*, ate some food, almost went out for a drink but didn't have any company, and when you drink alone that means you're an alcoholic (or something). Though, if you drink with others, you're a "social drinker" which is also, I think, a sign of alcoholism. Man, I hate the modern world sometimes.

Good to hear from all'a'y'all who called. Thanks also for cards, letters, e-mails, etc.

Express warranties must be proven.

--10:51 AM, EDT, Ada, OH, under the steely gaze of the ABA

[*: She-Hulk, Secret Six, Strangers in Paradise, Omega Men, Blue Beetle, and what feels like one more]
---
Hoping each time that his next leap would
written 2006-11-08 10:21:46

Well, there was an election. Some people won, and some people lost. I'm sure there will be some claims of tomfoolery and skullduggery, but most of the results I saw were pretty decisive. All in all, I'm not terribly het up about this election. We threw out some rascals, but you know we probably put some different rascals in those seats. That's politics.

I voted a fairly down-the-line "Throw The Rascals Out" ticket. This was made troubling by a few factors - first, in rural Ohio, the rascals are so well entrenched that sometimes no one runs against them. Second, I was often forced to decide between voting for a male Democrat and a female Republican. It's hard to back The Woman when she's The Man. Also, I'm not really invested in Ohio office holders because I won't be here in a year.

I may have been the only person in Ohio who didn't vote for the hard-line ban on smoking in public places or the soft-line ban on smoking in public places. I believe the soft-line ban won. I believe people should have the right to kill themselves in whatever means they see fit.

I see Pennsylvania got rid of Santorum. I applaud all my friends and family in PA who voted against that hatemongering homophobe. Anyone who voted for him, well, there's confession and the remission of sins. Good luck and God bless.

--10:20 AM, EDT, Ada, OH, now with new and improved state government

[That last book I couldn't think of - Uncle Sam and the Freedom Fighters.]
---
Think no one can read you but I can
written 2006-11-09 19:30:46

It was 60 degrees out today. I had to carry my coat around with me, because it was too hot to wear.

Bar review starts tomorrow. It's kinda stupid, since the exam isn't until next summer, but I guess this lets you concentrate on a few parts at a time...? No, it's probably just stupid.

I have an appointment to bust out some needlers and plasma rifles, and possibly an energy sword, after the review session tomorrow night. I'm skipping Heroclix this week (there's a limit to how much foolishness I can take with that game, and 700 points is too much), that'll be the extent of my geeking out.

Thanks again to everyone who called, e-mailed, sent stuff, or made burnt offerings to pagan gods for me this last week or so.

--19:30 PM, EDT, Ada, OH, it's flat in the Midwest. Flat and lonely.
---
Good news for filthy vermin
written 2006-11-10 12:06:58

Augh. Miserable, awful mood. Seasonal affective disorder? (If that acronym is on purpose, that person should be beaten.) Ooog. Stupid moods.

Studying doesn't make me grumpy, but it doesn't really help either. Goofing off doesn't really do either, either. You would think it would help. Both work and play are only good for postponing the despair.

Clearly, I'm not working/playing enough. More work! More play! More staving off the darkness!

Whoo!

feh.

--12:06 PM, EDT, Ada, OH, "stave it off, 1, 2, 3, and now you can count to 3."
---
Set yourself on fire and sue the lighter c
written 2006-11-13 12:02:53

Man, time is short.

People contacting me are encouraged to ask about my outlines, exam studying, and final projects. Because I should really be working on those things.

There is a full week of classes this week, three days of classes next week, and a full week of classes the week after. Then, exams.

In and among these three weeks, I have a bachelor party, a turkey dinner (or maybe ham, I don't know, I'm just grateful to have somewhere to go), two long drives, four middlin' length drives (two hours or more), three games, exam prep, and somewhere in there, time to attend classes and do homework.

Not shopping at Wal Mart is going well. Unfortunately, groceries are more expensive at the local market, and the convenience of the market makes multiple trips to the store too easy. Mmmmm, snacks.

Sorry to leave that post about being moody up for so long. I think that gives people the impression that my mood has not changed because the journal has not changed. Never fear, I lack the attention span to be depressed for long.

--11:59 AM, EDT, Ada, OH, the military enjoys broad tort immunity from soldiers' suits
---
Don't blame me...
written 2006-11-15 10:21:17

...the voting booth kept giving me sodas.

The Onion tells you what kept you from voting this year.

--10:20 AM, EDT, Ada, OH, america's finest news sink
---
Take a little walk, no one will know
written 2006-11-16 10:38:21

There's a trailer up for Rocky Balboa somewhere. For as terrible an idea as that movie is, the trailer doesn't look bad. It's not the movie I was hoping the "last Rocky movie" would be, but there are a lot of Hollywood projects that I want that don't get any play.

For example, where's the Blackburn movie? And don't try to tell me that a mass murderer wouldn't sell movie tickets. V For Vendetta was all about blowing up the government and did fine. Crash was about racism and it won some award or other.

But this is why I would never make it in showbiz. I think more JLU is a good idea, and almost anything that got cancelled on Fox. I'm trying to come up with more examples, but most of them qualify under the "got cancelled on Fox" category.

I read somewhere that The Loop isn't cancelled, it's just on hiatus until its second season. Also, that focus groups showed that people didn't think the guy's home life was as funny as his work life, so the show will focus primarily on his office hijinx. The really important thing about The Loop is, of course, the theme song.

Shakespeare was right. I've got studying to do.

--10:36 AM, EDT, Ada, OH, a wretched hive of scum and villainy
---
Looking for the monkey but he can't be fou
written 2006-11-17 20:06:17

The subject line here is not an attempt to get you to listen to "Hockey Monkey" again - though by all means, please do so, the link is just below this post - but rather to see how many characters will fit in the title field.

It's Friday. Whoo. Weekend. I'll be playing some games, doing laundry, cleaning my apartment, trying to distill what people want for Christmas, and enjoying my new brakes. Well, not really new, I guess they just cleaned and shined them up a little. I expected them to replace them altogether, because of the hideous metal-on-metal noise that was screaming out of my wheel well. But, I guess not.

One outline started, probably finished today, another one probably done by tomorrow. There's a certain element of risk in finishing the outline before the class itself is complete, but I know there won't be enough to time to finish them all between the end of classes and the start of exams. Plus, that time will be better spent studying said outlines.

--12:28 PM, EDT, Ada, OH, posted late
---
College Football - it's not just for the p
written 2006-11-18 22:04:30

C'mon. I want a piece of fried chicken too. It's not fair, the way you just sit there, eating your leg piece, either unwilling or unaware to share the provenance of said fried food with me. I'm not saying we're friends or anything, or that you owe me a piece of chicken, I'm just saying I would like one. Or to know where to get one. You know?

Fine. Whatever. Forget it. I ate already, anyhow.

This is probably payback by law student karma for my trick on Friday. While sitting quietly in the formal lounge with a few other, equally quiet scholars, these three girls came in with KFC, talking loudly about who was going to the annual formal with whom, and who they thought was an ass, and who wore too much makeup, et cetera, et cetera. Peter Cetera.

So, the other quiet people glare quietly and roll their eyes, and look at me and each other to see if we're also getting annoyed at this. I was on the way out anyway, so I wasn't particularly bothered. But I understood the annoyance, so I walked up to these loud girls, and informed them that food and drink wasn't allowed in the formal lounge. Then I turned and left. The lounge was dead silent for the length of the time it took me to leave. I don't know if they left or stayed, if they kept eating or not, but I know they were bothered enough to silently regard me as I left. At least one of the other people studying was grinning, though.

I'm sure they completely disregarded my polite reminder, and kept babbling on as well. But I also bet they were just a smidgeon uncomfortable, with the lingering fear that the next person to warn them about the food in the lounge would be a Dean, or worse, a secretary.

And this, this has made it all worthwhile.

Two outlines down, and I expect at least one more done before Turkey Weekend. Naturally, they still need work, and I'm starting to check out study guides and aids from the library to help with exam prep. But the bones are there, waiting for more flesh. Like a zombie. A zombie skeleton, if you can imagine such a thing! Ho ho! Aaahhhhhh.

I'll stop now. You've been polite enough to read this far. I shouldn't push it.

--22:03 PM, EDT, Ada, OH, Wolf-Spiders Ruleth The Land
---
Ain't that a shame
written 2006-11-20 08:31:00

Recap:
There's snow on the ground. Hell yes. To this point, each time I've mentioned snow, it's been flurries, not sticking, no evidence remains an hour after the snowfall ends. This time: on my drive back from Newark last night there were a few moments where the snowflakes were all big and heavy and nearly blinding me in my headlights. I kept my fingers crossed all night (and now I have knuckle cramps) but there you go. Mind you, it's a miserable quantity of snow. But it's there.
Newark, Ohio, home of the Great Circle Mound, and Comic Shop Plus. I went for the Vampire, but stayed for the prehistoric structures. And if something terrible happens to me, I really didn't mean to walk over the mound. They only post those "Do Not Desecrate" signs on the outside, and I was on the inside, so, c'mon. Also, I placed second in a field of 15 at my VTES tournament (Tzimisce toolbox). Great to see some folks from the VTES days, talk some trash, stab some backs. I'm sure they look forward to seeing me soon.
There's a lovely area between Columbus and Newark, with hills and streams and actual terrain -- not this flat excuse for a landscape we have here in Ada. I shouldn't complain - I'll be back among the rolling hills and gentle streams of God's Country, Bucks County, PA shortly. It was just nice to see hills again, unexpectedly.
Saturday, I wrought another outline - two done (ostensibly) and two to go.
Also Saturday, I played Clix and won. I don't think it's a misnomer to say I won big. I also don't think it's bragging. I beat the biggest, angriest figure in the set with a group of rookies and one highly expensive but not terribly effective figure. Then I traded my prize figure for lots of other stuff. And I might be able to turn the big-price-tag figure into either money (eBay) or more figures (trading).
Ooooogh. Long, busy weekend. Good times, though.
Last item - my professor, the former jet fighter pilot and Top Gun graduate, is late this morning to class. If you schedule something for eight o'clock in the morning, do me a favor and show up. God help him if he tries to reschedule for next week, the last week before finals.
--8:29 AM, EDT, Ada, OH, you don't wake me unnecessarily. You just don't.
---
It's true.
written 2006-11-20 13:48:22

So we're discussing prescription drugs in my Products Liability class, and the professor (well known for her demands that we think like litigators and consider real-world issues) asks what kinds of prescription drugs get directly marketed to consumers. No one immediately answers. She follows up with:

"Sex and breathing. They market to things that everyone wants to do."

--13:48 PM, EDT, Ada, OH
---
And then
written 2006-11-22 00:05:00

There was a big gap between me writing that last entry and me posting that last entry. My apologies.

So, today, my Domestic Relations professor shows up in class and says, "The school administration will not let me cancel classes right before or right after a break. So we have to have class today. However, I have decided to postpone the reading and our discussion for one class. Today, we'll have a question and answer period about the material. However, since I see none of you have any questions, you may leave as soon as you've signed the attendance sheet. Have a nice Thanksgiving."

Nice.

I leave for PA tomorrow morning after my 9 AM class.

--0:04 AM, EDT, Ada, OH, two professor posts in a row
---
Start your stopwatch... now
written 2006-11-22 10:21:15

This is let you know I'm on the road and (presumably) out of contact as of about twenty minutes after this post.

It seems like anytime I drive somewhere without my laptop I find endless locations providing free wi-fi. And whenever I go somewhere with it, there's no wi-fi anywhere. I think I would like to go somewhere and post updates as I go, so all you people who don't get to take road trips can take one vicariously through me.

Not that a lot of you actually want to take road trips.

Anyway. Yeah, I'll be on the road by 10:45 AM, roughly speaking, and driving till after dark. More soon.
--10:20 AM, EDT, Ada, OH
---
Periodic mortality update
written 2006-11-26 22:58:40

Not dead. More later.

--22:58 PM, EDT, back in Ada, OH
---
That's the fear talking
written 2006-11-27 16:25:28

Okay, so, Ohio, again, yes. "But so then" as David Foster Wallace would say. (See, I go away for five days and I come back with witty literary references. Yeah, I know, you're welcome.)

Here's how you get from Ada to Bucks County:
Leave Ada at 11:00 AM.
Pay $2.14 a gallon for gas in Kenton, 13 miles down the road.
Reach Marysville and Route 33 at 12:00 noon. Head east.
Depending on traffic, get to I-70 and Zanesville at 1:30 PM.
Stop for gas again even though you don't need it. Prices around $2.04/gallon between Columbus and Wheeling.
Cross the Ohio River at about 2:30 PM.
3:00 PM will see you in the Commonwealth.
4:00 PM, PA Turnpike at New Stanton. Head east.
Two hours drive gets you near Carlisle, PA. Stop for food (and to not be in the car for a bit.)
You still have three more hours to go. Get to Bucks County (Willow Grove exit of the Turnpike) around 9:00 PM.

Ten hours, six hundred-some miles.

All worth it, though - people cooked me dinner, let me sleep in their houses - it was great. Thanks to everyone who put me up and put up with me over the long weekend.

--16:24 PM, EDT, Ada, OH
---
Get your torches and pitchforks
written 2006-11-29 10:13:20

Sea lions are rising up to destroy everything we hold dear! "They've had it too good for too long," said Admiral Whiskers, the nom de guerre of the leader of the Sea Lion Action Taskforce: Human Erasing Revolution (or "Ouureourooeoeuuuoer" in their native tongue). Whiskers and his band of revolutionary soldiers plan additional acts of subversion and terrorism, such as loud moaning yelps during on-site newscasts and violent mating right outside of the popular Fishermans' Wharf restaurant during peak dinner hours.

In other news, a complicated sting operation resulted in the arrest of Pudgy X, a well-known manatee subversive, outside Miami, FL. The arrest is not thought to have been connected with the upsurgence of sea lion activity in San Francisco, as the two groups share little in the way of ideology.

Also, this makes me laugh just thinking about it.

--10:11 AM, EDT, Ada, OH, let me show you them
---
Forecast calls for rain, Apocalypse
written 2006-11-30 11:28:32

So, I leave my apartment this morning, and look right. The sky is overcast, but of average brightness for 10:30 AM in autumn.

Then I look left. End-of-the-world type skies. No evidence of a life-giving daystar. I think I heard Wagner.

Also, the wind killed one of my umbrellas yesterday. Whatever direction I placed the one weak vane, that was the direction of the 45 mile-per-hour wind gusts. When I gave up on using the umbrella for its rain-repulsion features, then the wind kept getting into the inside of the umbrella and popping it open against my will. You think I'm kidding? If I still had the other computer (with internetability) I'd show you pictures.

Though, I could probably just attach the camera to the laptop, take pictures that way.

--11:28 AM, EDT, Ada, OH, where the wind comes whipping down the plain
---
Last Day
written 2006-12-01 09:49:46

Today is the last day of classes. It's also the first day of December. Some kid wandered through here with Christmas music playing and handing out candy canes. I'm afraid mine is laced with hallucinogens, so I'll probably give it to someone else. (I have irrational fears sometimes. You don't know.)

So, in the last day of Sales and Secured Transactions, the professor is lecturing, and we're all confused and trying to keep up, and it's not easy material anyway. We're talking about the right of a creditor under the UCC to repo goods when the owner is in default. So, he deadpan segues into this question:
(Oh, someone get Keith, would you? He'll like this.)
"What happens when you fail to pay for your exorcism?"

Confusion reigns. I start to think that this has to be a trick question, because an exorcism is a service rather than a good, and Article 2 of the UCC only governs sale of goods, and the contract for exorcism would have been the governing document.

Then he says, "You get repossessed."

Feel free to groan. Then the bastard expected us to stay on task and finish the class.

--9:50 AM, EDT, Ada, OH
---
Done and done
written 2006-12-01 20:16:42

And that's it for classes for another semester.

Prof. Young actually had material and used all of the hour and fifteen minutes of class today to present it - I was perhaps expecting a little review session, or an early reprieve, but I guess that's not how she rolls. Good news: her exam is going to be short answer again, rather than essay. When I had her for Torts, she explained how she hated grading all those essays, and now felt confident in her ability to write an objective exam on the material.

So, I'm (mostly) done my Sales & Secured Transactions outline and my Products Liabilty outline, and a helpful little elf lent me his Arbitration outline, so I'm going to knock out my Domestic Relations outline tonight and then be set for Studypalooza '06, starting Sunday.

Not starting tomorrow, though. I have a date with some old friends up in Detroit. You probably don't know them. They're from the 30th Century. Gotta relax a little before I dive in, headfirst, as it were.

Wish me luck! (Oh, and residents of Texas and Wisconsin, feel free to give me a shout out so I know you're not buried under snow and ice. Barry, to refresh your memory: snow is the white, powdery or flaky stuff, and ice is the clear slippery stuff.)

--20:14 PM, EDT, Ada, OH, Radiohead, Kid A
---
This is how it starts
written 2006-12-03 19:55:00

Oh god oh god oh god my finals start really soon oh man oh crap I have to study

Sorry. It's starting to get that way around here. People are skating a thin line between not giving enough of a damn and going off a deep end of scholastic preparedness and twitching intensity.

I'll be busy on Thursday morning, then again on Saturday morning, in case anyone wants to get ahold of me. Next week I have engagements on Monday and Tuesday. That'll be the killer, since I traditionally don't jump right back on the test prep horse so soon after completing an exam, but with only 26 hours between exams, I don't have much choice.

Ooogh. Should be a hoot.

Still haven't heard from anyone in Wisconsin or Texas. I drove up to Detroit, but they didn't get any snow either. Did anyone see the path that storm took? It's like it had a restraining order not to come within 125 miles of me. It circled Ohio. That's weird.

I'm going to go print out my outlines and go home and have dinner. I don't have a Sunday headache, but I do have some kind of cranial discomfort. I may have inhaled too much glue or something.

--19:54 PM, EDT, Ada, OH, but really, can there be too much?
---
The horror! The humanity!
written 2006-12-06 17:15:58

Augh. It's thick with dread around here. Feel free to not to take any exams in the next week and while you aren't taking them, think of me.

--17:15 PM, EDT, Ada, OH, dichotomy central
---
E-Primal Scream Therapy
written 2006-12-07 12:14:07

AAAAAAAAAAAAAAAAAAAAAAAAAAAAAAAAAAAAAAA.

I guess I e-feel better. (sigh)

Sales was a bear. I fought this bear, in a pit, while inebriated lumberjacks and trappers made bets above us. The exact degree to which I defeated this bear will not be evident for a few weeks. But I yet draw breath. The bear failed to kill me, or my mind. So, take that, you ursine jerk.

Yeah.

--12:13 PM, EDT, I'm going to Lima for a bit, then back to studying.
---
The name of my new punk band
written 2006-12-08 15:57:54

Electric Steel and the Defective Electrodes

--15:57 PM, EDT, Ada, OH
---
Misappropriation vs. isolation
written 2006-12-08 17:37:33

So, I think the person who has been unwittingly broadcasting his/her internet connection to the vicinity wised up. I've been unable to get my teeth into the wi-fi connection that's usually in my apartment's general area. Pity.

Arbitration exam in the morning. Got some advice yesterday from the girl who booked the class last year, so that's good to know.

Dinner at home tonight, and decompression.

--17:37 PM, EDT, Ada, OH
---
Two things
written 2006-12-09 12:17:26

First: when you don't write for a long time, say, when you've been using your laptop for any kind of notes, correspondence, or doodling - and then you write nonstop for three hours? It hurts. It's true.

Second: Arbitration is done. The professor included a 30 out of 70 point question that basically said, "You know the Federal Arbitration Act? How would it be different if you wrote it?" Speculation and personal opinion do not go well with four months of studying case law, black letter rules, and federal policy. As law students, we are encouraged to find the best arguments to reach the best results. When the question is, "What do you think?" we tend to come up a little short. (Except for those damn activists, the left-wingers, the right-wingers, the Green party girl who thinks everything is a conspiracy against third parties - those people always have something to pipe up with. I can only hope their agendas serve them ill when they try to use that stuff on exams.)

I'll say again, in what seems to be a running theme lately, "auuuuugggghhh."

--12:16 PM, EDT, Ada, OH, but my heart is in the valley of the River Volga
---
It hurts so much
written 2006-12-11 18:27:49

The only upside of all this is that it'll all be over by 4 pm tomorrow.

Products Liability was this morning. It was multiple choice. There was a great deal of specificity and accuracy called for. The questions were (in most cases) bar-level difficulty. I can hope for a forgiving curve.

Domestic Relations is tomorrow, and not at 8 am like the rest of my exams. I'm finishing my outline, doing laundry, making Crispness presents, my head hurts, I'm hungry, and I'm emotionally devastated by this morning's exam experience. I went home and sorta-slept sorta-passed out after the exam. Then, I made a list of everything I have to do before leaving town. It was intimidating. Included on the list was "unavoidable costs" which gave me an amount of money I can spend between now and second week in January. That amount of money should be sufficient for a pack of gum. And I don't even like gum.

Wish me luck. I'll be less crazed in about 24 hours if anyone needs to get ahold of me. Y'know, in a less crazed state.

Or something.

--18:27 PM, EDT, Ada, OH, listening to XPN via the intarwebs
---
Real quick
written 2006-12-12 13:24:22

Scientists in Wyoming trying to create snow. That's awesome.

--13:24 PM, EDT, Ada, OH, last exam of the semester in 6 minutes
---
Booyah
written 2006-12-12 17:01:08

Pow! That Dom Rel final is done, and I kicked its ass.

Good note to end on, I tell you what.

I'm gonna go home, pick up a little bit, maybe call some people, wrap some presents - oh, and not study for anything for a few weeks. Ha! Take that, law school.

--17:00 PM, EDT, Ada, OH, but not for much longer...
---
So long midwest, hello mid-Atlantic
written 2006-12-15 12:59:12

Back in the 215, if anyone needs me.

Ahhhh, it's nice to be back.

--12:59 PM, EDT, Warminster, PA
---
Oh there's no place like
written 2006-12-19 14:58:54

Bust out some Bing for Christmas, you holiday scrooges! You can't have too much Bing, is what I'm saying. And not in an Infinite Jest sense.

Kicking it relaxingly here in beautiful Warminster, PA. Got almost all the shopping done. Will probably be done completely in the next day or so. Next hour? Maybe. Not making any promises.

I hope everyone is not beating themselves up this Christmas. There's a lot going on, and a lot of reasons to feel like you have to do everything, and be responsible for everything, or make everyone perfectly happy with whatever your holiday obligations create for you. But don't jam yourself up. If you make yourself miserable doing stuff to make other people happy, that's going to make them sad, so you lose. It's Christmas. Try and enjoy yourself and enjoy your time with family and friends and whatever else you dig on. That's not always easy, I know. But give it a shot for me.

Merry Crispness, y'all.

--14:56 PM, EDT, Warminster, PA, she's like an angel! let's put her on top of the christmas tree!
---
[no title]
written 2006-12-25 13:45:46

Merry Crispness, everybody.

--1:46 PM, EDT, Forest Grove, PA
---
The greatest trick the devil ever pulled
written 2007-01-04 18:18:10

Back in the 419, once again, arguably for the last time. Broadly speaking. I mean, this "last time" will last four months, and I might go to Detroit or maybe somewhere for spring break, but, still. I'm just saying.

Wow. Good times back in the hallowed hills and hollows of God's Country, Bucks County, Pee Ay. Good times for Solstice, good times for Christmas, some Eagles games, some out of town visitors, some blessed matrimony, some New Years festivity, a number of hotel rooms distributed inequally amidst these events. Poker, catching up with folks from back in the Charlotte day, meeting people from the internet (you can never trust a person "from the internet" until you play cards or drink with them - amended), getting career advice... it was nearly perfect. (Nothing's perfect, of course. This was a fantastic stretch of three weeks, though.)

Thanks to everyone who fed me, housed me, put up with me, let me hang out with them, invited me to their wedding, and what have you.

--22:12 PM, EDT, Ada, OH, let's kick it out
---
That's ridiculous.
written 2007-01-05 16:21:56

I just paid $625 for books for this semester. Good Lord.

--16:21 PM, EDT, Ada, OH
---
Beyond the ken of mortal geeks
written 2007-01-07 09:39:12

Anyone who didn't get to the Henley-Anthony wedding, and who therefore missed the world's geekiest vows, should head on over to Marty's LiveJournal page for a good read.

Congratulations, you crazy kids.

--23:52 PM, EDT, Ada, OH
---
Frozen dew on the ground
written 2007-01-08 12:17:10

Criminal Procedure this morning consisted of a Powerpoint presentation comprising two slides: one describing and defining laryngitis, and one reading "sign the attendance sheet and then go home." I wonder if we'll have class on Wednesday.

Law Office Economics and Management seems to be "Professor French Tells You What You Should Know About The Job You Will Have Next Year." This might be annoying to some, but at the end of class, he asked me what my plans were. NB: Prof. Bruce French graduated from Pennsbury high school about forty years ago, still has family in the area, and has a cousin practicing law in Perkasie. He's keeping me in mind for resume referrals and personal notes if I like. Hooked. Up.

I'm going home for lunch now, more Real Estate reading, and who knows what.

--12:16 PM, EDT, Ada, OH, the formal lounge
---
My schedule
written 2007-01-08 12:20:31
Monday/Wednesday/Friday: Criminal Procedure, 10 AM.
Monday/Friday: Law Office Economics and Management, 11 AM.
Monday: Real Estate, 6 PM.
Tuesday/Thursday: Federal Courts, 1 PM.
Tuesday: Trial Advocacy, 6 PM.
Thursday: Advanced Legal Research, 4 PM.

If you need to get ahold of me, these would be poor times to try.

--12:19 PM, EDT, Ada, OH

---

Devil dogs
written 2007-01-09 12:58:58

My Real Estate professor's primary motivation in our first class last night was to get us out in time to catch most of the OSU-Florida game. He spent four minutes explaining this and apologizing for not being able to reschedule or cancel our first class. He was absolutely serious. They sure do love their football out here.

--12:58 PM, EDT, Ada, OH, flat land encourages flat games

---

Any relation?
written 2007-01-09 20:11:14

Federal Courts is apparently the course that my Constitutional Law professor wishes she was teaching at all times. So, it feels vaguely like a repeat of Con Law, because my professor was trying to get across a lot of the principles and material that she teaches in Federal Courts.

Did anyone follow that?

And Trial Advocacy has a local judge for a professor, which means all the usual bossy arrogance of a professor with a title and profession that somewhat justifies it. He's pretty funny. He spent the majority of our class time tonight basically chatting with people about where they were from and where they were going to practice next year. (Oddly, there are 2Ls in the class. [That means 'second year law students' to the uninformed.] And yet there are people on the waiting list, possibly 3Ls. I wonder why that was allowed to happen...?) But, it looks like his class assignments are going to take the form of a semester-long mock trial, in which I have some experience, having had a mock trial in 1L Civil Procedure.

A classmate just told me to go home, since we're in our third year. "Senioritis" has been overheard in more than a few conversations around here. But I have reading to do for one class tomorrow - my only class on Wednesday, too. I guess I should be conscientious.

Shoot.

--20:10 PM, EDT, Ada, OH, in the third year

---

It's a circle, you see?
written 2007-01-11 15:37:17

Robert A. Wilson died today. He wrote some things, and said some things, and I liked them.

My back hurts.

And I have to go to Advanced Legal Research now. It's apparently so full, and the wait list is so full, that you have to be present at today's class to be considered for enrollment.

--15:37 PM, EDT, Ada, OH

---

Frying pan to blast furnace
written 2007-01-12 12:18:04

My last entry may have mentioned something about my back hurting.

Since that entry, it grew difficult to stand and sit because of my lower back pain. I went to a two hour class, finished up, stood up, and promptly had trouble walking afterward. However, because Ada is the size of a postage stamp, I walk everywhere.

That's a big-ass postage stamp to walk across when the effort of walking causes you to stop every few minutes for a respite from the pain, periodically screeching in agony, into the cold Ohio night. Alone.

(cue the piano solo, your key to knowing when to feel sympathy for our protagonist)

I actually resorted to drugs, which you may be aware: I never do that. I bought some Alleve, which usually works on me like morphine. It took three hours for the pain to subside, so it may not have been the Alleve at all, I don't know. Basically, it sucked.

Better this morning, but still hurts. I walk like an old man. I'm carrying an umbrella today (rain last night) and I'm trying to avoid using it as a cane. Because, y'know, it's not a cane; it's an umbrella. I'm going home now to lay on my back for the next two days. Don't expect any updates unless it's to beg for more sympathy.

--12:16 PM, EDT, Ada, OH, yes, I am pathetic, thank you

---

Ice
written 2007-01-15 01:25:37

The poor internet connection ate my last post. In brief:

My back, while it still hurts, appreciates your sympathy.

It's been raining on and off for three days, and we're supposed to get freezing temperatures tomorrow. Figures. I finally get some winter, and it'll most likely be a frozen swamp. Dangerous, and not pretty. (sigh)

Remember what today is.

--1:25 AM, EDT, Ada, OH

---

There oughta be a law
written 2007-01-17 11:20:22

So, I just found out that one of those classes that I nobly refused to consider, that would be used to pad my schedule - Sports Law - is worth 3 credit hours, has no final exam, and would fit into my current schedule. D'oh. I could drop both of my 2-hour classes and pick up this 3-hour class and still have the credits to graduate.

Regrettably, what I would really like to do is to drop one of my 3-hour classes in favor of a 2-hour class. That would (probably) reduce the number of final exams I have to take, and leave me with enough credits to graduate.

I hate thinking this much about avoiding work. Conversely, I don't want to put any more pressure on myself than is necessary in my last semester.

--11:19 AM, EDT, Ada, OH

---

Five characters in search of internet video
written 2007-01-19 02:24:46

It's 2:something in the AM and I can't sleep. I got to bed early after light studying, a big dinner, and some reading. But... no sleep. Could not sleep. So I read some more. Still not sleepy. So I ate some ice cream. And read some more. No dice.

So I watched this on YouTube. It's either stupid or absurd. I'm insomniac, so I guess I don't care much.

--2:29 AM, EDT, Ada, OH

---

Thanks squid lady
written 2007-01-21 22:28:29

The Indianapolis Colts were losing 6-21 when I heard from my mom, who was watching the game an hour or so ago. Now, there is one minute left, and the Colts just went ahead, 38-34. I'll have results for you at the end of this post.

Firstly and most important: snow. At last. Frozen precipitation. An icy crust over maybe an inch of the white stuff. Thank goodness. Fears of climatic change and global warming and inexplicably warm winters and what have you; at last, I have my winter landscape and a mental picture. Sure, it'll probably melt tomorrow and not snow again until April or something, but still.

Secondly: my back still hurts. It was fine for about a week, and then flared up a little right before the weekend. Isn't that always the way? Stupid recurring injuries.

Thirdly: what do you think I should do for Spring Break? Ideas include: visiting the geographical center of the United States, touring the Eastern Seaboard, attending the New York Comic Con, and staying in Ada but driving up one night or so to Windsor, Ontario, mainly to be able to say I left the country. Can you even leave the country any more without a security clearance or something? I don't know.

And in no particular order: I had what felt like Scandinavian food at an Italian restaurant this weekend. I've gotten my schedule down to a more manageable 15 hours, and will be taking one less final exam in May. My new DVD player refuses to admit that it has a remote control, which makes it difficult to use because cheap DVD players only have three buttons, and none of them are "select."

The Colts intercepted a Tom Brady pass to the collective astonishment of the informal lounge, and won the game. We'll see them in the Super Bowl against the Bears.

--22:27 PM, EDT, Ada, OH, one state away from Indiana, but mainly Bengals and Browns fans

---

Except my pride
written 2007-01-22 10:54:29

So, another person has leaned over to me, and whispered, "Save the cheerleader; save the world." This time it was my Criminal Procedure professor. This makes two times, both from people that I don't expect it from. Heroes must be a broader-based phenomenon than I had initially thought. I just hate being less informed about geek culture than non-geeks. It's the quiet elitism of the culture, the oneupsmanship. I accept my shortcomings in this area. Maybe it's not as geeky as I had thought? I don't know.

--10:48 AM, EDT, Ada, OH

---

Before I forget
written 2007-01-22 10:57:11

I don't know if I've noted this before, but the spaces between sentences are always reduced to single spaces by the program. Hrm. How odd. I use two spaces after sentences because I have excellent composition skills (ahem), but this interface prevents me from displaying those skills. For example, while writing this entry, I placed six spaces both before and after this sentence. But look how it turns out?

Blogging really is navel-gazing. It's why I question it's worth.

--10:57 AM, EDT, Ada, OH

---

Welcome to the new Tuesday
written 2007-01-23 20:49:00

So, under the new regime, I have 75 minutes of class mid-day, then a two hour break, then a two hour class, then immediately thereafter, a three hours class. Hoot.

I need to bring food or something, because at this point, I'm vaguely exhausted. That might just be mental. Or lack of caffiene. Who knows.

Barry says my formatting is old and tired, and that only a single space is needed at the end of a sentence, as long as the font is not uniform sized. This is because the period occupies an area that includes the first space, essentially, and the period itself is located at the leftmost part of the space. Yet, I persist in my heresy. I will not recant.

Finished rereading my biography of Pope John XXIII. Good stuff. Has anyone read Thomas Cahill - How the Irish Saved Civilization, Gifts of the Jews, and Desire of the Everlasting Hills? He wrote the biography. Very enjoyable.

I'm grabbing a Criminal Procedure book, going home, and eating something, then falling down somewhere. Preferably somewhere soft.

--20:48 PM, EDT, Ada, OH, (the first time I wrote that last sentence it said "someone")

---

Rhapsody on the seemingly infinite variety made available to our people
written 2007-01-25 23:55:04

That subject line is a test of the new title field made available by our noble landlord, icculus.org. I have not included a link to icculus.org because you wouldn't understand it, but feel free to type that URL on your own if you want to venture into Linux open source world.

I need food. Anyone else hungry? I don't have anything good. And nothing is open late anymore, except Taco Bell, and I tell you what: I'm not that hungry.

--23:55 PM, EDT, Ada, OH, where once stood a Hardee's, and open until 3 AM it was

---

From Penny-Arcade.com
written 2007-01-29 09:52:39

So, over at the Penny Arcade webcomic, the writer was commenting on the way kids are now vs. when he was that age, ten-fifteen years ago. (The comic that day is based on a news report that, after a kid mentioned bringing a gun to his school on a networked shoot-em-up game, Federal agents raided his home and seized, among other things, his XBox 360. Okay. Why?) I liked it so much, I cut and pasted.

"I'm really glad that school was a dark and distant memory by the time presumption of a young introvert's criminality became the norm. Please understand that if a person casually mentions that they're going to pack heat after a round of R6, I think you should take a peek in the ol' Jansport. But I'm almost sure I would have been jailed for my normal behavior, or at least "treated" for it, and I have a sense that this process would have thinned my already brittle grip on the rational.

"...

"But no, not murder especially. The urge to make a sound - some sound, of any kind - against the din of that place, whose overt and subliminal messages both are to disappear in the current, is almost overwhelming. Some of these sounds are nonsense. Some of them are out and out lies. I doubt those guys even remember it now. I only remember it because I'm ashamed of it. I don't want to disappoint you next generation, but the damage one accrues in that cursed labyrinth does remain on your character sheet."

That might have skimmed some of my audience's levels of interest or complete apprehension, but for those of us who identify with Tycho's statements here, it's pretty great.

Another inspirational quote is from Gabe, the artist of Penny Arcade, who, while speaking at their high school alma mater, took aside some obvious geeks and reassured them, "Listen, we run $#!+ on the outside." That's less eloquent than Tycho's statement, but addresses the same issue. Things will get better. It's awful right now, and we understand that, but you just have to get through.

--9:52 AM, EDT, Ada, OH

---

Proof
written 2007-02-05 09:54:00

The weather service says it's -4 degrees out there. I'm inclined to believe it. My breath was not just visible, but turned instantly to frost on my scarf. The university was sending around public safety officers and people in cars to pick up people walking across campus in order to drive them across campus.

We hope that the wind chill adds up a total of -15 for the benefit of local school children, who are kept home from school under such conditions.

Fear not for me, for I bundle up like crazy in anticipation of such weather.

My VITA certification is still not done, and really should be, so I anticipate not getting home until late tonight. Class until noon, studying for tomorrow (I knew I should have done some of that yesterday), a seminar about payments in bar prep, and the VITA thing. Great. Nice lead-in to Tuesday, which I may have mentioned, is my "busy" day.

--9:54 AM, EDT, Ada, OH, a cold wind blowing

---

Not for the uninitiated
written 2007-02-05 23:10:09

There's probably only two or three people who will dig this, but:

Online quiz to tell you which Legionnaire you are.

I'm a tremendous geek. That's never been in question.

My day wasn't as awful as I predicted. That's because I frustrated the hell out of myself and the rental laptop from the library and the IRS and the VITA certification, went home, took a nap, and missed the (optional) lecture on Payments. Sometimes you have to accept that things aren't going to improve, and regroup. I have two or three more opportunities to cover Payments in all the bar prep I'm doing. Oh, and my bill for my one prep course arrived - $2500.

No, seriously. And most professors and graduates you talk to will tell you, these courses are virtually mandatory if you want to pass the bar.

--23:09 PM, EDT, Ada, OH, deep breaths, in with Jesus, out with Satan

---

This Is The Week That Was
written 2007-02-10 21:18:49

In no particular order:

Switched instant messaging programs from MSN Messenger to Adium. Now have a dock icon of Hobbes instead of that little MSN Fisher-Price person. Much happier.
Switched internet browsers from Safari to Firefox. While FF may be more vulnerable to various and sundry issues than Safari, it's still safer than IE. I hope. This should resolve some of the issues that I've had in internet browsing that I had written off to the internet's general preference for PCs over Macs.
Got a few more issues of my New Mutants run completed. At one time, I believe I had a 85% complete run of 1-100. I'm getting back to that point, bit by bit.
Made no progress in figuring out my spring break. Flights seem expensive, driving seems tedious, this all probably just says I'm waffling.
Had my first VITA appointment. Helped a lady with her return, but got held up trying to maximize her credits. We hope that she'll get what she deserves, but the IRS doesn't have a form explicitly for that, I think. Hopefully resolving that shortly.
Ate too much pizza (it was free, I feel justified) at a Friday afternoon lecture on small firms and small town legal practice. Ended up with weird dreams and gastric unsettlement, which is probably not a word.
The wind made short work of the lovely snow. It's now halfway back to "meh." Plenty of ice remains, though - I doubt we've seen a temperature about 20 degrees in a week.

And that's the news. I'm Walter Cronkite. Good night.

--21:18 PM, EDT, Ada, OH, I'm not really Walter Cronkite

---

The weekend that wasend
written 2007-02-12 12:15:39

Got a bunch of work done early this weekend, so I felt justified in driving up to Detroit to play cards. (Geek cards, not poker.) It was a good time. I started with coffee and donuts, which was enough sustenance to power me through about seven hours of play. I won a tournament, got some prizes, played with some fun people. I've never won one of those before, so that was exciting.

Good to talk to everyone that kept me company on the drive. Mom, sorry to make you worry that I'm going to be killed by aggressive pickup truck drivers. Dad, no fair making me laugh that hard while I'm doing 70 MPH. Good to hear from Jay Weber, too; he and his mom checked in in the morning while I was waiting to register.

Happy birthday, Bren - sorry I missed talking to you on the actual day. It sounds like you had a good one; glad to hear it.

That subject line is a joke. Did anyone get it?

It's a mild and temperate 28 degrees out there. I know it's been cold if I've been conditioned to feel like I can walk around with my coat open in technically freezing temperatures. There's still some snow left, which is nice.

I think I'm getting myself some Krispy Kreme donuts. It's a fundraising thing for the Black Law Students Association, but more importantly, it's donuts. Krispy Kreme donuts. I'm drawn to recollections of carfuls of people at the Charlotte Krispy Kreme drive-through window, ordering dozens of glazed and dozens of all sorts of good stuff. And you had to keep an eye on the special donuts, because someone would inevitably eat the ones you wanted. So, yeah, donuts. Hard to justify buying too many, though, so I'll have to share them.

Hypothetical: is it complimentary, teasing, or making a romantic advance to a woman if you tell her she's beautiful on St. Valentine's Day?

--12:15 PM, EDT, Ada, OH

---

Enough of this beating around the bush
written 2007-02-13 09:43:01

6 to 12 inches forecast for the next 24 hours. Winter weather advisory until Wednesday, noon. Classes cancelled at all levels of university operations.

Makes me wish I hadn't watched all my Netflix movies already.

--9:43 AM, EDT, Ada, OH, send me mail and IMs, I'm going to be bored today

---

Campaign season
written 2007-02-13 09:55:08

I forgot, in the midst of other things, that I've already made my choice for the 2008 presidential election. I feel like this candidate speaks to me, as an American and as a leader.

--9:55 AM, EDT, Ada, OH, I told you I was bored

---

Well, that's new.
written 2007-02-14 08:04:47

In addition to an announcement that classes are cancelled again today, the school mentioned the following in an e-mail:

"Hardin County is now under a level 3 snow emergency:

"All roadways are closed to non-emergency personnel.

"No one should be out during these conditions unless it is absolutely necessary to travel or a personal emergency exists.

"Those traveling on the roadways may be subject to arrest."

--8:03 AM, EDT, Ada, OH, I should have gone to the store yesterday

---

I'm free
written 2007-02-15 23:14:02

Classes and normal life resume. Now if I could only get my neighbors to shovel their walks...

--23:14 PM, EDT, Ada, OH

---

Test
written 2007-02-20 15:47:59

This is only a test. I appear to have lost the last two entries on my journal.

--15:48 PM, EDT, Ada, OH

---

That was very strange.
written 2007-02-20 15:56:29

Sorry about that, folks, I promise you I've posted twice since the snow let up. Both instances were fairly long posts, catching you up on my toings and froings. And both appear to be missing, gone without a trace. I have no explanation for this.

Classes, bar prep, some games. Usual deal here in the blasted plains of rural Ohio. I'm liquidating some of my game stuff. Contact me if you want some.

I tried giving blood today. They asked for volunteers to donate "double." This means (I think) that they take two pints instead of one, separate the red blood cells from the rest, and then pump you full of the rest. Unfortunately, either my veins or the exsanguinator weren't up to snuff, because I ended up with a bruised elbow, being sent home without having donated any quantity of blood. In the future, I'll just donate the usual pint.

See how I used "exsanguinator" there? That's like heslin.org metahumor. I'm probably the only person finding that remotely funny.

And afterward, I felt awful. Don't know why. Minor headache, slight queasiness, general weakness. I talked to my ADR professor (the Dean) and he told me to get home and get some rest. I feel bad about skipping a class right before spring break, but it's hard to argue with a Dean.

I'm going to see if this posts properly.

--15:57 PM, EDT, Ada, OH

---

I have seen the doppler radar and I know it to be true
written 2007-02-24 18:15:10

Spring break is on. I'm not doing anything. Did I say that already?

There's an ice storm inbound that friends advise me has the potential to be as bad as the one two years ago - shut down the town, made me spend a night in the campus student center, killed my furnace - so if you don't see any journal updates for a few days, that's not a big deal. You should feel free to call me for personal well-being updates at any time this week. I will most likely appreciate the call.

--18:15 PM, EDT, Lima, OH, free internet at McDonalds? That's dangerous.

---

After the fact
written 2007-02-26 14:22:52

How devoted am I to my e-mail?

I don't have a wireless connection at home, at the moment. I went over to one of the campus buildings with wireless tonight, but it was locked up - either because of the late hour or because (I hope not) of spring break. So, I sat outside in a light rain, checking e-mail.

The phrase "too stupid to come in out of the rain" comes to mind. But, really, I usually have internet access for the whole day. Missing it for more than a day is tough.

--4:12 AM, EDT, Ada, OH, no reason to be staying up this late

---

The reports of my ice storm have been greatly exaggerated
written 2007-02-26 14:27:15

Still kinda mild temperatures, no rain, no sleet, no ice. I bet the 50,000 people I saw at the store on Saturday buying rock salt, bread, milk and batteries feel pretty silly. (I include myself. I bought some rock salt when I saw everyone else doing it. I'm a herd animal.)

Though, it makes me wish I'd driven up to Ypsilanti, MI, yesterday. Ah, well.

Good news - a friend managed to get me a free ticket to see Kevin Smith in Akron on Friday. So, it's almost like I have plans for spring break!

DC Origin pre-release is on Saturday, in Columbus - though, if I'm in Akron already, maybe there'll be a game there instead... Hmmm.

I should probably call my tax appointees, and see if they want to get their 1040 on sometime this week.

--14:28 PM, EDT, Ada, OH

---

Ovals and pillars and curves, oh my
written 2007-02-28 18:26:24

Got one tax appointment scheduled - going to OSU-Lima to help someone with their return. The other people haven't called me back, and I'm going to feel bad if they call on Friday or Saturday, because I'll be otherwise engaged.

Okay, not that bad.

This building with the internet connection is so nice, I'm tempted to bring over some food and just stay here. I did some work here earlier, with a bottle of water and some crackers, and it was just ducky.

I have a full weekend coming up. Driving to Akron Friday night, seeing Kevin Smith, hopefully seeing some of Akron. Staying in Newark (Ohio), playing games Saturday in Newark and Columbus. Should be a full day, but the chance to go places and eat food that's normally not available is very enticing and not to be discarded without consideration.

Congratulations to Jill and Bear.

Tomorrow, bar application and either Kenton or Findlay for dinner. My dining this week has been substandard thus far, so we hope to "turn it up a notch" tomorrow.

--18:27 PM, EDT, Ada, OH, bam

---

Home of the tire industry
written 2007-03-03 09:08:44

So I

---

Stage one complete
written 2007-03-03 09:15:34

More on the Kevin Smith show later. Good times, though.

I made it out of Akron and down to Newark, through scary rural towns that time forgot (and gas stations forgot, and cell phone signals forgot), got a hotel room, and got about six hours of sleep. Well worth it. Good to drive some distances again that I haven't driven before.

Thanks to Ingrid for keeping me company and putting up with the terrible cell phone coverage in east-central Ohio.

--9:16 AM, EDT, Newark, OH, I'm having an animal for breakfast

---

A little much
written 2007-03-04 17:24:58

Kevin Smith on ground-breaking filmmakers: no one has a perfect record, and no one should be expected to. George Lucas: Attack of the Clones. Terry Gilliam: Brothers Grimm. Stanley Kubrick: "He's dead, I won't count him."

Kevin Smith on comics: "I haven't read a comic book in three years."

Kevin Smith on Wolverine vs. Batman: "Batman."

Kevin Smith on Batman vs. Obi-Wan: "Batman, dude! I don't care about the Force, or any of that, Batman is just a dude who decided to beat people up because his parents got murdered in front of him. Batman."

I played a lot of games on Saturday, and won a few of them. I won a contest in how many first appearances of comic book characters you can name, so that was fun. I hung out with geeks and geeked out. It was a good cap to the week.

Driving home was interesting. "Define interesting." "Oh, God, oh, God, we're all going to die?" There was a little snow, but it was thick, wet snow that serves only one purpose: the enabling of automobile accidents. I safely exited the Columbus city limits only to have it increase in precipitation to white-out visibility levels. I slowed way down (I was fortunate not to be on any kind of deadline) and waited it out. No problems.

And now I'm back and ready for serious studying. Well, semi-serious. I've already done some of it, and I'll be reviewing it before classes start back up tomorrow. I should also make dinner - two fast food "meals" in a row on Saturday, eeccch. I would have had a better selection but I didn't start my day until 9 AM in Newark, and got out of the second tournament around 10:45 PM in Columbus.

Happy birthday, Susan.

--17:24 PM, EDT, Ada, OH, all quotes are paraphrased and are not intended to convey any intent or actual belief of Kevin Smith or any representative of View Askew Productions, please don't sue

---

So stupid it hurts
written 2007-03-05 17:20:22

So, every Monday, there's a bar prep session offered. Today, the first day after spring break, the session was offered on Secured Transactions. I made sure to get my stuff done (classes, lunch, VITA appointment in Kenton) and get to it, because SecTrans is some tricky stuff, and gave me the most trouble of my classes last semester.

So we're in there, and the professor - a bookish little guy with a Pittsburgh accent that sounds Bostonian or something, with a reputation for having ended more law students' scholastic careers than any other professor - asks who has taken Sales and Secured Transactions. Almost everyone raises their hands. Then he asks who's taking the Ohio bar exam. Almost everyone raises their hands (not me, obviously).

Then he asks who's taking the Pennsylvania bar exam. I raise my hand. I'm the only one. He says that Secured Transactions isn't tested on the PA Bar. I check my list of essay topics, see Secured Transactions there, and wonder why. The rest of the group snickers at me, and the professor says the lecture will be useful as a review for practice, if not for the bar.

Good Lord, I'm an idiot. This means half of the hardest class I had last semester was meaningless, my scheduling around said class was meaningless, the hour I spent waiting for an opportunity to leave the lecture was meaningless... aarrghgh.

Just aarrghgh.

The paranoid part of my brain wonders why he would ask that question. Did he see me in the group, and ask for my "benefit"? He didn't ask about other states' bar essays. And when I researched it, PA hasn't had SecTrans on the list since 2004. There are websites that still claim that SecTrans is fair game for PA bar essays, lots of them, in fact. But the official one says nothing about it.

See above, I'm an idiot.

I'm going to study now, and try to raise my IQ above that of a house plant.

--17:19 PM, EDT, Ada, OH, you shut up about house plants, mine's very smart

---

What the--
written 2007-03-05 18:00:05

I see one of my entries below has apparently been eaten by the Great and Terrible Internet Monster. Or maybe by the Logophage. Or by my own stupidity, but that's a topic for another post (the one before this one.)

That post is replicated here for consistency.

-------------

So I

---

I hab a code
written 2007-03-07 15:33:41

My head id all stubded up. I'm hoping it's head code, and nodt the flu.

--15:34 PM, EDT, Ada, OH, hoooooonnnnnnnk

---

What the --?!? (reprise)
written 2007-03-07 15:36:19

It happened again! This is bizarre.

I'll try one more time, but that's it.

-----

So I

---

I can admit when I'm beaten
written 2007-03-07 15:38:44

I said that was the last time I'd try. Sorry, all, you don't get to read my sublime musings on work-study kids, the University of Akron's architecture, sniveling bureaucrats and rules nazis. It was lengthy, though, and I've probably saved you from reading something more or less boring.

Maybe that's why it kept self-deleting...

--15:39 PM, EDT, Ada, OH, in the flatlands

---

Irish music from Wisconsin, British Columbia and West Africa
written 2007-03-10 20:45:13

A week back into classes, and I should probably be screwing my courage to the sticking post (is that right? Bill Shakespeare? I can't recall) to attack the end of the year and kill all who oppose me. I have final presentations lined up for two classes, and two more impending and needing to be scheduled. After all that, two finals.

And then a whole lot of stuff. Graduation, moving, bar study, job search, mid-life crisis, what have you. There's a lot going on. And it's faintly intimidating, I'll be honest. If I call anyone in dread terror, I apologize in advance - just reassure me that I'll have a good job, on my way to getting out of debt, out of Ohio, and optimistic about the future sometime soon.

Origin dropped this week, so I have some new game stuff, which is fun. And new Strangers in Paradise this week - 2 issues until the end of the world. Tomorrow I'll probably be planning the next two months out, sorting through superheroes, and working on arrests.

Oh, and there's a murder appeal going down on campus that I'll be attending for Crim Pro - wouldn't you be a little nervous about your lawyer going to bat for you in front of a bunch of law students? Maybe not, but it still seems a little weird. More on that later - next week.

--20:46 PM, EDT, Ada, OH, remember to spring forward tonight

---

Running away to join the...
written 2007-03-11 18:49:21

Suggested new memes for 2007 to replace overworked internet memes (such as pirates, ninjas, monkeys, robots):

Sailors
Beauty Pageant Contestants
The Basque
Baba Yaga
Little Lord Fauntleroy
Yale Men

Questions, comments, concerns to be directed to Dorothy Gambrell.

--18:42 PM, EDT, Ada, I wish I had a raccoon coat

---

I was wrong, Daylight Savings Time
written 2007-03-12 10:39:50

I note that I've been noting the use of Eastern Daylight Time since before Sunday. Clearly I've either missed the onset of Eastern Standard Time or missed the departure of same. I apologize to anyone who based their expectation of time, or of governmental interpretations of time, on my timestamps.

Hmmm, looks like I was wrong prior to Sunday, and correct since then. Sorry.

--10:41 AM, EDT, Ada, OH

---

Re-watching Firefly
written 2007-03-12 10:41:02

The bit where River is terrified of Shepherd Book's hair is still great.

--10:42 AM, EDT, Ada, OH, flat and dirty part of the 'verse

---

He died a horrible death, didn't he
written 2007-03-13 18:18:53

So, my trial project is in two weeks.

Two. Weeks. Two weeks.

It's a good thing I have two partners to help me with this, because this is a clear justification for faking my own death and moving to Idaho to become a survivalist, living off the grid and committing petty crimes just to make payments to my provider of illicit identification.

And I have to present an issue to be resolved by mediation (which may or may not contribute to my final grade in ADR) in one week. And my partner in that class left town. Until next week. Leaving me to complete and submit the fact pattern. Whoo.

--18:20 PM, EDT, Ada, OH

---

Irving Berlin, George Gershwin, Trent Reznor
written 2007-03-14 18:18:42

We had our first trial team meeting today. First one of my partners evinced an opinion that they didn't know what was going on, then the second one said the same. To bolster our confidence, I lied and said I was pretty sure of our theory of the case, and what have you.

The truth is, we're all adrift here. It's like trying to build a house after reading for three years about forestry and physics. You've got a lot of the essential tools, but it's entirely possible you're holding the wrong end.

Oh, and the prizes I won two weeks back in my gaming-geek-trek across Ohio? They sold on eBay today. I'm still negotiating the final details, but it looks like that paid for the entire trip. All of it. Gas, lodging, food, entry fees, you name it. And note that I already sold some game stuff on that trip, so I'm actually doing better than I started. That's nice.

Going now to see 300 and maybe have dinner. Then I have to research aggravated sexual assault, government official immunity, and legal research websites.

--18:17 PM, EDT, Ada, OH

---

Samuel Clemens was right
written 2007-03-15 14:48:22

So, I don't know about the weather where you are, but for about the last week, we've had lovely, mild spring weather. Yesterday, or the day before, temperatures were up in the 70s. Ridiculous. I do not expect that kind of early spring, ever, groundhog or no groundhog.

Yesterday it was a little rainy. I didn't get rained on walking to or from my single class, or to or from my trial project meeting. Afterward, though, the rain started falling steadily, uninterrupted all evening and night. Just before I pulled into my driveway, there was an enormous lightning flash and a roll of thunder that honestly felt like it lasted ten seconds. (I had seen 300 in Lima that evening, which is a good movie if you like huge amounts of violence and moral or ethical justification for same.) The rain continued into the night.

This morning, I was awakened by one of my neighbors leaving her apartment, exclaiming, "Dude, I don't believe it! It's snowing."

Today's forecast: windy, sunny, some snow showers, mild, rainy, flood watch, warmer, possible high wind advisory, "wintry mix." Possibly in that order. No promises.

--14:45 PM, EDT, Ada, OH

---

There is no imputation of guilt or culpability on defense counsel
written 2007-03-16 19:36:46

You want to feel good about yourself? Here's what you don't do: lots of research into the law of rape and sexual assault in the state of Ohio with the intent of getting your perp client off the hook.

Remember, that's what you don't do.

I'm going home and washing my dishes. After that, I don't know. Probably sleep. Something. Anything but read about this miserable stuff.

--19:35 PM, EDT, Ada, OH, though tomorrow I'll have to, so, there's that.

---

Procrastination, effectiveness and self-help
written 2007-03-19 17:36:31

So, yesterday, I had a lot planned.

There were about six things on my list to do, and I figured I'd have time for all of them. Only one of them had a fixed time - a meeting at 5 PM.

I took it easy until 5 PM, and then planned to get other things done after the meeting, which I figured would take one, maybe two hours.

I didn't get out of the meeting until 10:20 PM. Predictably, I didn't get anything else done.

This morning, I awoke with a headache, chilly for some reason, to the sound of rain outside. Since my Crim Pro class was cancelled, I opted to stay inside. However, as I mentioned earlier, I can't afford to just lose entire days from my work schedule, so I still have to get to the library and get things done. Unfortunately, the headache persists, and now I feel warm, fever-y. I have to presume this is feeling sorry for myself and try to get some work done. I have things to do, a project to participate in tomorrow (not mine), and work to finish on projects coming due soon.

Bleah. I don't need excuses to be lazy.

--17:35 PM, EDT, Ada, OH

---

A gaping hole where the Fourth Amendment used to be
written 2007-03-21 10:48:16

Yesterday I felt better from feeling poorly on Monday. Today I feel a little more questionable.

I have a make-up class on Saturday for Trial Advocacy - because, that's what I want, is more Trial Ad right before my trial project on Tuesday. I have to write up the direct examination of our witnesses, and think about strategy, and how to accomplish the defense of consent.

Today I'm applying for a bar study scholarship, doing research in loose leaf service materials, and hopefully eating an actual meal.

--10:48 AM, EDT, Ada, OH, hopefully

---

Moving
written 2007-03-22 14:54:33

I have to move in May. I checked into some costs, and it looks like a moving van will run from $550 to $650 (or $1473 for movers! That's worthwhile), and I need to look into storage in PA. If anyone knows anything about lessening the cost of moving, I'm taking suggestions - moving or storage.

I hope to be able to apply some of my last loan money to my existing credit card debt. The rates are better.

I have class on Saturday AM, so I do not have any games to play. I will be sad and gameless.

Laundry last night was an adventure. There were multiple instances of "well now I have to drive here" and a lot of moments where the wailing trumpet of a sound effects track would point up how stupid or incompetent I looked. Did that make sense to anyone? "Wah-waaaaah." I mean, it's laundry. How competent do you have to be?

Thanks for the e-mail this week, people. Good to hear from all'a'y'all.

--14:53 PM, EDT, Ada, OH

---

What time would it be if we were in Bosnia-Herzegovinia?
written 2007-03-26 22:51:18

Congratulations to Susan on getting into grad school (again). Just waiting now to hear about law school, which I have great confidence will be next.

Trial tomorrow night. Slept part of today, had a headache early and lasted into the afternoon, so I took a nap to try and get rid of it. I blame caffiene withdrawal.

Expect to be working late tonight, since tomorrow doesn't start until 1:00 PM (Federal Courts). I'll get back on a normal sleep schedule starting Wednesday.

Maybe.

--22:51 PM, EDT, Ada, OH

---

Once more into the breach dear friends
written 2007-03-27 16:35:15

Wish me luck. I'm off to the Hancock County Courthouse... and destiny!

Maybe not that second one. But you know.

--16:35 PM, EDT, Ada, OH

---

I've got my shield
written 2007-03-28 01:42:48

So, that's it for Trial Advocacy. It's really weird to have essentially capped the class in March. Trial took a while - pretrial motions were lengthier than expected, and the judge had to leave periodically to check on grand jury proceedings (?!) downstairs.

The courthouse in Hancock County is gorgeous. It's all Gothic stone and heavy architecture, stained glass and marble interiors. Really nice. A little intimidating, and we were in one of the less fancy courtrooms.

Things went okay. Naturally, we got a little overwhelmed when it was go time, and had some missteps. One of my partners was visibly shaking with nerves, and one missed a number of questions, and a number of objections. I arguably had the easiest job, and didn't get everything I could have (there was a line of questioning to which I objected immediately, only to be overruled just as quickly - left me gun-shy), but I did manage one minor coup that floored the prosecution and sent the judge into an evidence manual for about a minute while I waited to see if I had just scored big or shot myself in the foot. Turned out pretty well for me.

We won, which is not to say we will get good grades, and only indicates that at least one juror voted "not guilty." The split was five/five out of ten jurors, which I think is pretty good. Opposing counsel did a good job, but got rattled by some of the judge's responses ("If this were a real trial, counselor, that would have been a mistrial statement, right there.") and you could tell. Great closing argument though - made me worry about our performance.

The judge didn't have anything too negative to say about my performance in the debrief, so I hope that bodes well for my grade.

Both of my partners and one opposing counsel then hit a wing place for dinner and beers (we got out of court by 11 PM, had started at 6 PM, left Ada at 4:45 PM - that's a long time to go without eating while your body is metabolizing everything in sight for nervous energy). Good chance to decompress and talk strategy. And talk trash about classmates not there to defend themselves.

I've already been asked to be the defendant in someone else's trial, so I should have more stories soon.

Good times.

--1:39 AM, EDT, Ada, OH

---

Tell Verna she left her equinox out
written 2007-03-29 15:54:49

Man, it's spring out there.

Windy, but that keeps it from being too hot.

Thumbs up, seasonal precession.

--15:54 PM, EDT, Ada, OH

---

Items
written 2007-03-30 17:57:25

Item! My landlord is showing possible tenants my apartment. This must mean I'm moving out soon. I think there will be another great culling of my worldly possessions, like I had when I moved from Milwaukee. Please let me know if you want any of my things.
Item! I bought a Decembrists album on iTunes. Reviews later.
Item! The campus building near my apartment has a little cafe - about equal to a news/snacks/drinks kiosk at an airport - but that makes it even more convenient. Shelter, internet access, snacks? I'll take three.
Item! If you like comic books, you might like reading Rachelle's blog. It is good comics nerd reading, though it frequently has nothing to do with comics other than being fertile ground for being cool and on the internet. (I do not know Rachelle, but I sense she is a sister of my spirit.)
Item! While showing my apartment, my landlord locked me out of my own home! (I don't blame him, he was respecting my security. He just respected it while my keys and phone were inside the apartment.) So, I'll be here in the internet-enabled cafe and shelter until further notice. Drop me a line.

--17:55 PM, EDT, Ada, OH, out in the wilderness

---

Well, that makes sense
written 2007-04-03 12:58:37

There was a lengthy and informative post here about my weekend. It's gone now. I don't know what happened to it.

Mikey, is there a character limit to posts in your system? Because the two posts that have disappeared have been long -- not crazy long, in this last case, but longer than normal.

I'm not locked out of anywhere. It's spring time. The Decembrists album is good. That's about the gist of the last post.

--12:58 PM, EDT, Ada, OH, a black hole of internet

---

Thursday's here and I feel fine
written 2007-04-05 23:58:11

Another project out of the way. I explained to a partially-full room of law students continually checking the clock to see if Easter break had started yet why they should volunteer their services to the indigent and impoverished. I don't know if I got through to any of them. I think I hit all the relevant bases, though, and the professor seemed pleased with the effort.

My bar application has gone from "done" to "wait, no, it's inexplicably important to know if I had any speeding tickets while living in Texas." That's disquieting because the deadline is in 12 days. I have to call NC, TX, WI and OH and get driving records from each state to supplement my squeaky-clean PA driving record. And I have to do it quickly.

No classes until Tuesday. Feel free to call if you like. I should be working on projects, reading, and researching my automobile operation history.

--23:58 PM, EDT, Ada, OH

---

Freddy Rodriguez has a zombie plan. Do you?
written 2007-04-08 14:50:53

Easter Weekend, so far:

Friday, I ate too much junk food and fell into a carbo-coma. When I woke up, I was suffering from a terrible headache. Having been unconscious for four or five hours, I was unable to just go to sleep to deal with this headache. So, instead, I tried to watch The 40 Year Old Virgin and wound up unable to really enjoy it, and got sick toward the end of it. Damn headaches. Afterward, I just lay around suffering until I could fall asleep again.

Saturday. You know how sometimes you feel much better after being physically nauseous*? As though having purged your system of the evil, you can go out and accomplish good deeds? That was my Saturday morning. I went to the Ohio DMV, got my driving record (another mostly empty page, no violations), went to the comic shop and blew a lot of money, played games with friends, and then went to see Grindhouse. Please go see this film, if you have any affection whatsoever for Rodriguez or Tarantino. Rose McGowan, Freddy Rodriguez, Michael Biehn, Naveen Andrews, the girl from the Scary Movie movies, Kurt Russell, Sydney Poitier, Tracie Thoms and Rosario Dawson. All of them were great.

Sunday. Just relaxing. I might see if there's any progress I can get done w/r/t my driving records, but it's Easter, everything's closed, there's not much to accomplish. I might look at some of the special features on The 40 Year Old Virgin, make dinner, maybe go do some laundry? Don't know.

*: Personal to Ingrid: Told you so.

--14:49 PM, EDT, Ada, OH, happy roll back the rock day

---

From WGTE to WXPN
written 2007-04-10 01:23:30

First, "the girl from the Scary Movie movies," Anna Faris, was not in Grindhouse. My bad. I believe the actress in question is named Marley Shelton. Another actress I missed in the first go-round was the technopath from Sky High. She was good.

Second, I sent out a bunch of music to various points in the United States, and some books to Japan. Heads up in the coming days if I sent you something (or coming weeks, Chris, since it was more expensive than I thought to ship to Osaka - sorry).

The driving records part of my bar application continues to be "interesting," in the sense of ironic Chinese proverbs.

More later.

--1:23 AM, EDT, Ada, OH

---

Note from the underinformed
written 2007-04-12 00:58:32

Don Imus kinda looks like a supervillain, doesn't he?

--00:50 AM, EDT, Ada, OH, that's all I have to say about that.

---

From the cold front
written 2007-04-12 13:02:28

So, it's raining and snowing out.

And it's April. I know this is unlikely, or what have you, and we had 70 degree temperatures in March, so it evens out, or something.

Regardless, I don't care to walk to class in such weather. In April.

--13:01 PM, EDT, Ada, OH

---

Say it like Charlie Brown
written 2007-04-13 16:10:01

I finished another presentation this week, had a number of make-up classes, got my last batch of VITA appointments... which reminded me, the tax deadline is April 15th, usually. That falls on a Sunday this year, though, so I guess it's April 16th? Though the IRS website mentions April 17th. I'm confused.

So confused, in fact, that I forgot that the PA bar application is also due April 15th. And I don't know that they have any kind of postponement policy, as the IRS does.

So, I'm going to the post office now to watch as they postmark my app.

--16:10 PM, EDT, Ada, OH

---

Recovery and overhaul
written 2007-04-14 12:41:48

I fully intended to see Aqua Teen Hunger Force Colon Movie Film For Theaters today. My landlord is showing the apartment again, and I needed a reason to stay out for a while. Imagine my surprise that ATHFCMFFT isn't playing in my area. Just imagine. I can't think of why a movie about animated talking food living in New Jersey wouldn't play in rural northwestern Ohio. Just can't imagine.

Hopefully it'll show up sometime. Sigh.

Personal to the Waffle King and other cultists of the Mythos: Munchkin Cthulhu is on sale now. I had a chance to see it last night. It's stupid and fun.

So, to kill time, I'm perusing the intarnet and will be seeing Ghost Rider for $1.50. I think that's about my expectation for it. Maybe over by about $0.50. We'll see. I mean, I liked Fantastic Four, so that says something about my level of expectations.

Grocery shopping, then work on my LOEM notebook. Maybe study some research areas. The end is near, y'know?

--12:41 PM, EDT, Lima, OH, it's a smart man who puts free wi-fi in his McDonald's

---

National Treasure is like Da Vinci Code for kids
written 2007-04-15 22:56:29

Lost about four hours today. Don't know if that was long-term tiredness (I had a few early-to-rise, late-to-bed days toward the end of my week) or carbo-coma again, or what. I hope I'm not up crazy late as my body adjusts to getting/losing sleep. That's about par for the course at this time of year, though. Studying, working late, catching up - madness takes its toll. (Please have change ready.) (Sorry, had to.)

Does Olive Garden really have a chef school in rural Italy? I don't believe it.

There are "Myth" and "Fact" signs posted all over campus increasing awareness about something. AIDS? Americans with Disabilities? I'm not certain. Better increase more awareness.

Also better do my taxes. The April 17th deadline is apparently because the District of Columbia is celebrating Emancipation Day on the 16th, and the 15th was a Sunday. I do like to put things off, no?

Happy birthday, Caitlin.

--22:56 PM, EDT, Ada, OH

---

Accomodations
written 2007-04-17 16:49:58

My trip to the mailbox is usually a daily effort to keep my mailbox cleaned of credit card offers and student loan consolidation letters. Today, that was not the case. I got two packages of Clix (Guardian and Dr. Fate), one Elements of Style from Mikey - thanks! - two discs from Veronica Mars Season 2 from Netflix. Any one of these things would have brightened my junk-mail darkened hopes, but all five? Goodness.

(Personal to Ingrid: E.B. White says you're right and I'm wrong, I say he's an old man with antiquated speech patterns.)

Sadly, I'm far too busy to play with my new toys, read my book or watch my DVDs. Maybe tomorrow. Unlikely, though.

Today I read for ADR, attend a mediation, drive up to Findlay again (hopefully for the last time) and observe someone's trial. I was up at a decent hour this morning and will be up all day, so hopefully that'll put me on a more normal sleep schedule. Hopefully.

Have to print out a unnecessary amount of paper for my largely-intended-to-used-on-computer law office practice notebook. I feel vaguely like it won't be as good on paper as it is electronically, but I've explained that to the professor, so that shouldn't screw me up.

Also have to schedule a time to go through my demonstration of research skills for ALR. That could be nice and smooth, or it could be nightmarish. I'm angling for the former, and will be polishing up my research skillz in the meantime.

14:13 PM, EDT, Ada, OH

---

Hey, Nerds. Yeah, you guys.
written 2007-04-18 19:47:52

In case you were wondering, I'm a bigger geek than most. How do I know?

The Ultimate Roleplaying Purity Test.

--19:48 PM, EDT, Ada, OH, nerds love one-ups-manship

---

Before I forget
written 2007-04-22 02:26:31

Happy birthdays, Chuck and Mikey.

2:27 AM, EDT, Ada, OH, earth day mirth day birthday

---

Two down
written 2007-04-24 23:41:40

ADR's finished - had my mediation today at 4 PM. We helped a college student and a retired cop resolve their differences over a car-bike accident. You really don't want to know any more; it's boring enough as it stands. The important thing is it's over, and I think I did pretty well.

ALR's tomorrow. Trial Ad was last month, and my Law Office notebook's on Friday. Every day is another piece of puzzle.

This evening's short, sharp shock? The bar exam is in late July. That's been a distant possibility on the outside of my consciousness for some time, but tonight was the realization -- that's frickin' soon. By the time I get myself back East, it'll be less than two months. Scary.

Fortunately, I'll be studying myself, studying in bar prep classes, studying at home, studying at the library, studying in Charlotte, studying all over the damn place. Did I begin that sentence with "fortunately"? Yeesh. The "tips and advice" memo the assistant dean sent out today advised against working while studying, which was part of my plan. I'll have to see what my budget looks like.

Oh, and I have to look for a job for after the exam, naturally. That'll be like a full-time job, I'm sure.

Whoogh. I should sleep. I have class and researching to do tomorrow. Hope everyone's well, out there.

--23:41 PM, EDT, Ada, "listen to the joy it brings"

---

That was... not what I expected.
written 2007-04-25 14:25:46

So, yesterday, I'm in the computer lab, and I'm working on some stuff, and I see my ALR professor and a classmate working together on something. Afterward, my classmate walks out, looking flushed and slightly upset, and my professor walks out, eyeing me suspiciously and saying something about she didn't see me in the lab. As though I was lurking, peeping, or otherwise eavesdropping on her final.

Also, someone told me that the professor is secretly angry at, well, everyone. And likes to take it out on people in odd ways.

These things led me to expect I was in for a possible rough ride in my ALR final today.

These things were not indicative of the experience, whatsoever.

We ran around the library, looking up things about state laws, and county courthouse rules, and cat licenses and tax law. Then we looked for stuff on the internet. It was fun. I got a lot of it right, even things that gave me trouble when I was doing work in class. And the professor and I talked about stuff, and had a little mutual admiration society going ("I really enjoyed this final!" "I really enjoyed having you in class!"). It was a hoot.

More hoots soon, por favor!

--14:25 PM, EDT, Ada, OH, it's more expensive to license a cat or dog in Kentucky who can still have offspring than it is to license a neutered one

---

At 10:54 AM
written 2007-04-27 11:30:21

That did it. Last class. Last notes. Last whatever.

Still have to turn in my notebook, which has been pushed back by a symposium and the public interest auction (professors sell stuff, local merchants donate stuff, proceeds go to fund the public interest fellowship from which I benefited in my first year), but it's done, and it's interactive and multimedia and what-not. It'll be fine, I figure.

Now, review sessions, outlining, studying, reading supplemental sources, take-home exam, regular exam, and a culling of my personal possessions. Should be therapeutic. Or something.

--11:31 AM, EDT, Ada, OH

---

Take a break from the existential terror
written 2007-04-28 15:28:37

No, seriously.

So, I slept in a little today, did my usual Saturday comics-lunch-shopping deal, and enjoyed some nice spring weather outside in the ambit of McDonald's wi-fi. This was a nice break from the internal monologue of "school's over, what are you going to do now, what purpose is there, how can you just sit there knowing you don't have anything scheduled, oh my god what happens after your last two finals, aaaaaaaaaaaa." That's a brief approximation, mind you. I also am not sure how many "a"'s there are in "aaaaaaaaaaaa".

I may attempt to transplant a DVD-drive from my old computer to my new computer. This may or may not be a good idea. Suggestions?

Minor headache last night, possibly continuing into today. Trying to stay hydrated (since caffeine isn't necessarily doing the job). Also noticed that one bottle of aspirin (or rather, ibuprofen) in my medicine cabinet expired in September. Of 2004. See, I don't resort to drugs much. There's circumstantial evidence.

--15:27 PM, EDT, Ada, OH, I'm'a remain a soldier until the war is won

---

Quicksilver
written 2007-04-30 20:14:38

"I was trained as a lawyer. Don't look so horrified, Mr. Waterhouse, it is respectable enough, for an educated man in Germany. You must remember that we don't have a Royal Society." --Gottfried Wilhelm Liebniz

--Neal Stephenson, Quicksilver, page 271

--20:15 PM, EDT, Ada, OH

---

Save the Date - May 5th is Free Comic Book Day
written 2007-05-01 12:47:51

No, I'm not kidding.

We interrupt your regularly scheduled Criminal Procedure outlining to bring you this reminder: this Saturday, May 5th, stop by your local comic book store and pick up a free comic book. It's just that simple. Comic book publishers have made a number of free comic books and your local comic book store will have them available this Saturday. Stop on by and get yourself some free funnybooks. Or, if you don't particularly like funnybooks, inform another person who might.

Ben & Jerry's free cone day was sometime in the last month, and I bet you regret missing that. Don't get left out again! Go see geeks in their natural environment. There may be amusements and concessions. There may be free Heroclix. On Free Comic Book Day, anything can happen.

--12:48 PM, EDT, Ada, OH, my notes and the slides look awfully similar

---

One down, one to go
written 2007-05-02 11:16:54

This space left intentionally blank.

--11:18 AM, EDT, Ada, OH

---

I don't usually suffer from this malady
written 2007-05-04 00:59:56

Happy birthday, Whitney.

Only six minutes to post something here -- they shut down the computer lab after 1:00 AM.

Thank you all for taking the time to read the messages posted here. They are, in the main, like notes posted on a bulletin board - occasionally intended for one person, sometimes to a wider audience - but always posted for general consumption. I try to make them accessible to all, for this reason. I know this is sometimes impossible, as when I talk about things of interest only to the very hardcore.

I don't know that there will much of interest on this journal in coming weeks -- bar prep, in the main -- but honestly, I'm not certain what is interesting about what I have posted here in the last couple years. My journal is not the exciting kind of thing one reads about, not well-written, and not with any of the characteristics that one expects from literature that invites return visitors. (Wait. My journal, or my life? Wow. Deep.) But here it is, anyway.

It's mainly for you. I don't really have the personal need to expose myself to the internet. I do want to reassure people that I'm still drawing breath, because I'm sometimes bad at keeping up with folk. I think Thoreau said something about the temerity of people who sit down to write when they have not stood up to live. I adhere to that line of thinking.

I apologize for the introspective nature of this post. I'm maudlin with Jamesons. Perhaps "maudlin" is not the correct term, though.

--12:59 AM, EDT, Ada, OH, though "pellucid" wouldn't be accurate either

---

Obstacles and shortcuts
written 2007-05-05 20:42:47

Did you get your free comic books today?

I did. And I saw Spider-man 3. It was pretty good. Not stunning or anything. I mainly liked the performances of the supporting characters - J.K. Simmons as J. Jonah Jameson, Rosemary Harris as Aunt May, James Franco as Harry Osborn. Bruce Campbell continues the bit part trend as a French maitre d'. Tobey Maguire, Kirsten Dunst and Topher Grace were a little over the top, and Thomas Haden Church didn't get much opportunity to do anything.

I would like to apologize to the mother of the four year old and the six year old who sat next to me at the movie. Clearly, I was expecting too much when I hoped to be able to watch a movie without a question every fifteen seconds. "Mommy, what is Sandman doing? Did Sandman kill Spider-man? I have to go potty." I was not trying to imply anything about her ability to raise her children when I shhhh'ed them. I was just hoping to hear the last part of the movie, you know, the climax. It was not necessary to tell me that "no one shushes my kids" or that "if you didn't want to hear a kid ask questions about a movie, you should have stayed home." These are self-evident facts which do not require further interruption of my movie experience.

So, I'd just like to say, I'm sorry. Your life is presumably hard enough with me judging you. I did not intend additional emotional harm when I said, "Your children are not mature enough to see a film in a theater." I'm also sorry if you anticipated more of a fight - my days of squaring off against offended white trash mothers in public settings ended when I left the Landmark.

Wow, that was longer than I thought. I'm obviously a little conflicted here - I don't want my movie interrupted, but I also don't want to tell people how to raise their kids.

--20:42 PM, EDT, Ada, OH

---

Contrary to recent reports, people are cool
written 2007-05-06 13:11:11

The unsolicited kindness of strangers is awesome!

I'm in the campus building near my apartment, and this stranger comes up and asks me if I want a piece of pizza. I blink twice, then say, "Yes, yes I do." She leaves and comes back with pizza. I'm sitting with my back to the common area between the dorms, and there's some kind of student activities thing happening out there, with free food. I hadn't noticed. But this stranger thought to ask if I'd like some.

Sometimes that's enough to restore your faith in humanity. The kindness, not the free pizza. Free pizza doesn't hurt, though.

--13:10 PM, EDT, Ada, OH

---

aaaauuuuuugggggghhhhh
written 2007-05-07 21:13:18

sick. not feeling good. blech.

--21:14 PM can't type

---

Oh noes, not again
written 2007-05-10 16:50:31

Stupid journal! Or, stupid me! Another post missing. I blame everything but me, unless it was my fault. Then I blame me!

Yes.

So, sorry, anyone who thought that post about the illness was meant to be an ongoing report. I suffered about 18 hours, slept for about 11, and then felt mostly better. Well, weakened and dehydrated, but better than I felt on Monday morning, that's for damn sure.

Got some studying in, took my Fed Courts exam, feel pretty good about it. Got some grades already, feel pretty good about those too. Started the process of cleaning, packing and culling my possessions.

I understand that in about fifteen minutes, obstetric professionals will start a process of punching Sarah in the shoulder until she finally gets around to having her baby. The punching will continue until results are had. I hope this is an expedient process; Sarah's a good kid who doesn't deserve punches in the shoulder. (Or, at least not too many.)

Picked up my cap and gown today. Struggled to find a dry cleaners with something akin to 24 hour service. A friend once tried to explain to me why there is no money in the greater Lima area. My inability to find a dry cleaners in three tries between Ada and Lima is indirect proof of his thesis.

Must go do some laundry now. And dishes. And vacuuming. And maybe wash my car. I'll almost certainly have no time to cook dinner if I get even half of that done, though.

--16:51 PM, EDT, Ada, OH

---

Swipeable
written 2007-05-11 18:08:36

Congratulations, Marty and Sarah.

--18:10 PM, EDT, Ada, OH

---

What news from the western front
written 2007-05-13 20:02:38

Not much going on here. Got a new outfit, a little something to hang on the wall, you know. Just kicking it on a Sunday.

No, okay, fine, that's a complete lie. Well, a partial lie. I did get a new outfit - it's the robe, cap and hood of a juris doctor. And, yeah, wall art, once I get a frame for it and an office to hang it in.

Graduation was the usual very important occasion, for which I have little regard. It's a good thing people came to visit because I would not have paid it nearly enough mind if I had had to attend alone. While trying on my cap and robe, I got the Rebellion victory theme from the end of Star Wars stuck in my head (when they're getting medals and stuff and Chewie does that Wookiee trill-roar? yeah, that), so I was disappointed when they didn't play that at commencement. Though, Mikey said that they played something suspiciously like the theme from Batman Beyond, or something similar. I had not yet precessed into the room, so I didn't hear it.

Many thanks to the people who came out. Ohio is not a convenient locale for, well, anything, so I appreciate the work it took. Good to see people, too. Thanks.

Everyone's leaving early (or left already in the case of one mad bastard of a Linux hacker - Mikey arrived this morning and left this afternoon. He is the travel ninja) so I'm back to Ada to relax a little... before bar prep classes start in the morning. [if I used smiley-faces or frowny-faces in this journal, there'd be one here. a frowny-face. no rest for the wicked.]

--20:02 PM, EDT, Lima, OH, no rest for the wicked awesome!

---

Nothing going on, nothing going down
written 2007-05-16 14:16:27

I'm in bar prep classes, which I could do just as easily without all this structure, but I suppose it's good to have the structure in place. Better to have it and not need it, than need it and not have it - as my NRA gun nut friends might say.

Learning just how much I've forgotten in the last two years. It's disheartening, but I have two months to get back up to speed. The amount of study they suggested seemed excessive at the start of the year - now it seems very reasonable.

Must go - contract law calls.

--14:17 PM, EDT, Ada, OH

---

Bad year for writers
written 2007-05-19 13:01:12

Lloyd Alexander died. I worry that his stuff will be forgotten too soon in the flurry of Harry Potter-related current fantasy fiction. His stuff was good. I'm going to reread his Westmark books (thanks, Jill!) soon. At least if I remember not to put them in storage...

Bar prep is almost over. Mass packing and throwing stuff out to follow. Whoo.

--13:02 PM, EDT, Ada, OH

---

Real friends help you move the bodies
written 2007-05-20 17:44:44

I'm getting stuff packed, trying to be ruthless about what I throw out (card games I haven't played in over five years? aw, man) making up bags to donate to the local needy food pantry and clothes to Goodwill... I took my old (and partially cannibalized) computer to the dumpster and ran into one of the retired guys who lives in my complex. He took it off my hands, plus a stick of RAM, plus some cords. He's the guy that was complaining to my landlord yesterday about being unable to work outside for fear of snipers. Seriously. I wonder if my computer will be used to print up conspiracy theory newsletters.

Man, I hate moving. I really don't have that much stuff, so I shouldn't complain, but still. There's really no one in the area to help me - though I'm going to have to get demanding or coercive to get that desk into and out of the truck. (Marty, your old desk says 'hi.' If you want it back at some point so your kids can run into the corners and cripple themselves, you let me know.)

And to top things off, it started raining when I left the house to come over to campus and use the internet. So now I'm hoping it ends soon, because I don't want to get drenched, catch a cold, drip water on my bar prep books, sneeze my way through loading my storage container tomorrow, and generally hate life. That's what I don't want.

But it's really coming down out there. I may have to order out for pizza. Except my wallet's at home...

--17:45 PM, EDT, Ada, OH, they say to wait ten minutes

---

Change in plans
written 2007-05-22 15:44:42

I am still in Ohio. Heads up.

Monday turned out badly. That is an understatement. But I don't wish to burden anyone else (please call and ask if you want the whole story) because I already feel like I've complained to eleventy-seven people about my own failures in planning.

So, it's Tuesday, the day I was supposed to drive, and I'm still here. I've packed the car, donated stuff to charity, thrown away a lot of stuff, and left some things with friends. (Hey, Chiles and Whit! Thanks again, you guys.) I'm cleaning the apartment tonight, sleeping on the floor, and then that'll be it for my apartment.

Driving all day tomorrow, with stuff in every space in my car. That's my plan.

--15:45 PM, EDT, Ada, OH

---

Standard message follows
written 2007-05-23 21:39:58

Not dead. Ten hours of driving. All good. Must unpack a little and get some sleep so I can get up early and get caught up on bar prep class.

More soon.

--21:41 PM, EDT, Warminster, PA, finally

---

Time flies (insert your own joke here)
written 2007-05-29 13:50:13

Sorry if it's been a while - been very busy last week or so.

Got back to town, been running around since then. My poor planning pushed my return date back one day, so I missed a day of bar prep. Will be catching up on that soon. Been doing all the little things - opening bank accounts, replacing things lost in the move, etc - since then. Plus bar prep every weekday, plus catching up with all the good folk of PA.

Though, this weekend was fairly awesome. Picnic on Sunday at Bren's - great time, thanks to everyone who was able to make it, and thanks to Bren and Pina for putting on such a fine gig. Lilith came over, which reinforces my notion that she's totally my girlfriend. Totally. I mean, yeah, Sarah and Marty and Josh came too, but that's secondary.

Ingrid agreed to change her plans (which involved me visiting for a day or two) to come up and picnic, and we had a great time. She's still awesome, but I don't imagine that's news to anyone who knows Ingrid.

That about catches me up to today - Tuesday, Evidence prep part I, more tomorrow, bleah. It's terrible material, but I need work on it, so I'm off to do some independent work on said terror.

--13:51 PM, EDT, New Britain, PA, on the campus of scenic Delaware Valley College

---

Don't Look Now, But Here Comes Everybody
written 2007-05-31 19:43:25

Hee hee, I'm in Manhattan.

And I walked from the train station to my destination. I don't walk enough.

It's so great here. I do enjoy my visits. David Cross says the trouble with NYC is that you have to choose between looking at the most beautiful woman in the world or the craziest man in the world. With the sheer number of people here, statistically, he may be right.

Off to the Strangers in Paradise wrap party.

---

Feeling a bit self-referential
written 2007-06-05 12:02:35

Sorry for the long delays. Moving back to PA has screwed up a few of my routines - I forget sometimes that I live in a house with internet access, and don't have to walk to campus (which is now 550 miles away, mind you). I am a creature of habit, it's true.

So, I'm back at the bagel place. It's sort-of on my way home from bar prep, so it's convenient that way. Inconvenient points: they no longer have rye bagels (terrible move, bagel place), and when you order a bagel with butter, you have to specify "not so much butter that if I were to fall face down into my bagel, I might drown in it" or else... well, you know. Also, it's very much a place for middle-aged suburban hausfraus (hausfrauen?) to meet for coffee and to complain about their lots in life.

Segue: class today was cut short when the lecture DVD turned out to be damaged, and unable to play more than 45 minutes. How is this a segue, you might ask? When the class coordinator* rescheduled, this middle-aged suburban frau began complaining loudly that she had "booked her schedule two months ago," whatever that means. I understand that she probably has other things going on, but it's inconvenient for everyone, ma'am. You're not special because you arranged to be in aerobics on Wednesdays back in March.

*: I'm pretty sure the bar prep class coordinator is just a guy taking the bar in July who's getting a discount or paid tuition for the course in return for showing up and hitting play on the DVDs. There's no indication that he's especially suited to run these classes, and I feel bad for him to having to put up with people like the aforementioned loudly self-entitled woman.

So, bar prep. Yesterday, no class - instead I chose to stay home and have a debilitating head cold. You know, to mix things up. And that was my day to move, so I had to reschedule with my movers (yay Keith and Jefe!) and my storage company. I had forgotten how enjoyable it is to have a complete stranger mess with you. "What did you think, we were just going to throw your stuff away if you didn't show up? C'mon."

Another thing I had forgotten - how to drive like I'm from around here. I need to refresh myself on not using my turn signal, not using my mirrors, talking on the phone while driving, changing lanes with callous disregard for the lives and well-being of others, speeding on residential streets, and expecting everyone else to do the same.

I gotta go. I think they're angry at me for asking for another, non-slathered-in-butter bagel.

--12:03 PM, EDT, Warrington, PA

---

Do you have to do the rhythm part a capella?
written 2007-06-08 12:28:20

All caught up on wills, trusts, criminal law, criminal procedure and federal civil procedure now.

My face is still leaking. I'm hoping that it's allergies, and that a change in venue will promptly address my whole problem.

Even if it won't, I'm out of here for the weekend. Don't bother trying to find me, I'm in DC for a few days. Someone promised me dinner and historical monuments and Dr. Zhivago and all sorts of stuff, which is a pretty good deal. I mean, all I promised her in return for driving up here two weeks ago was potentially awkward family picnic time. I'm getting a much better deal, I think. I must be a savvy negotiator.

I imagine Ingrid's reading this as I drive down to DC, and I will have blown my chances by bragging about them on the internet. Don't believe the hype, Ingrid! You can't believe 60% of what you read on the internet, anyway.

--12:29 PM, EDT, New Britain, PA, can you see me? because I'm already gone

---

What fresh hell
written 2007-06-12 10:36:54

Let me get a "hoo-ah" for Mandy Patinkin, y'all. Mandy Patinkin, ladies and gentlemen!

Sorry, just had to get that out of the way.

Week of prep begun - this week we're studying contracts. I hate contracts. Contracts is one of those subjects that seems so simple - you agree to do A, I agree to do B, we have an accord - and then the lawyers have to get in there and jam it all up with stupid rules and presumptions and exceptions and what have you. The stuff I have to know for the bar is easier by comparison, but the difficulty then comes in knowing what you should consider in depth and what you should accept on its face. Is it important that it be in writing? Do I need a receipt of a mailed acceptance to an offer? When is a bid from a subcontractor an offer, and when an acceptance?

Complicating this is my current absence from the class. Probably a stupid move, but I was a little sick this morning (nausea, not the head cold, though I still have that too), then when I got to the class I realized I'd forgotten my books. This class in particular uses the book to the exclusion of other note-taking methods. (Some classes expect note-taking in the traditional sense, some expect you to read along in the in-depth outline, and most have an incomplete outline which you complete as you listen to the lecture. Today's class is of that last sort.) So, by the time I had gotten home again, I was ready to accept mild nausea and absent-mindedness as dual signs that I could take today off, and study on my own with the book and the outline. And as before, I can catch up with borrowed CDs or DVDs later.

I'm going to go find a program for the Mac that counts down to the date of the bar, and leave it open on my desktop for the next month. I need the impending doom of the exam as an incentive.

--10:37 AM, EDT, Warrington, PA

---

You already know it, but
written 2007-06-12 10:38:23

Thanks for the great weekend, Ingrid.

--10:40 AM, EDT, Warrington, PA, still reeling

---

...and not as I do
written 2007-06-15 08:51:09

Face still leaking. I can moderate the leakage by moderating my liquid intake, but I don't like the idea of intentionally not getting enough water in frequent 90 degree temperatures. No other cold symptoms in days, no indication of what could be allergic reaction - by process of elimination, sinus infection? Bleh.

Today we study professional responsibility, which is redundant but necessary. More later.

--8:53 AM, EDT, New Britain, PA

---

My mind naturally turns to taxidermy
written 2007-06-20 12:36:23

Man, moving back to PA has been terrible for my journal update rate. I apologize to those of you, particularly in other states, who have been missing the regularity with which I once updated this fairly mundane information source.

Studying continues. This week has been real property and personal federal taxation, both of which are good topics for me and feel more like review than "learn this real quick before the bar exam."

The amount of studying I should be doing is in question - while the countdown continues (thanks a lot, Mikey, you ass) and grinds on my confidence, I will probably be increasing the amount of time and amount of material I'm trying to cover. I set July 1st as a date for moving from subject review to general review - the MBE section is just a potpourri of subjects, mixed willy-nilly and good luck. So, to be prepared for it, you can't just study Constitutional Law one night, then Contracts the next. You have to do work in all six areas and be able to hit topics in all possible fields in each area.

I should be a rutabaga by July 15th.

There was a party that was nice, and a guest that was sweet, and that was my weekend.

More sometime. (And Mikey, I do appreciate it. I just want it known, even though it be not written down, that you are an ass.)

--12:39 PM, EDT, New Britain, PA

---

The Militant Grammarians of Massachussetts
written 2007-06-21 10:04:11

Overheard at bar prep: "Did you know that 'irregardless' isn't even a word?" This from the same person of whom I recently overheard saying, "You know that word, 'segue'? I just found out how that's spelled."

High verbal scores on standardized tests don't always correlate with success in law curricula.

--10:06 AM, EDT, New Britain, PA, snarky, no?,

---

I didn't ask what it meant, I asked what it was
written 2007-06-25 15:13:36

This week brings corporations, partnerships, DUI law, PA civil procedure, and PA constitutional law. Then - oh joy - a practice multistate bar (that's the multiple choice day) on Friday, and two days of review and analysis on Saturday and Sunday, from 9 AM to 4 PM.

Did I mention I'm freaking out about this? More work is probably good for me.

Re-reading The Confusion whenever I'm not reading about freehold estates and rights of appraisal in minority shareholders.

I did a budget and figured out how much money I should have once the bar is through. I can take a chunk out of my existing credit card debt, and have some seed money for finding a place to live, etc. My brain is focused more on late July to really be thinking about August and everything after. Is that a Counting Crows album? Am I just babbling now?

--3:15 PM, EDT, Warminster, PA

---

Maybe technology isn't always good for you
written 2007-06-27 11:32:14

So, I'm not much of an early adopter. It was only two years ago that I finally got a cell phone. I have a swanky laptop because of the generosity of a friend, or else I'd probably still be taking notes on paper and using the internet at the library.

However, I'm coming up on the end of my cell phone contract, and I think I'm going to ask for some perqs from my phone company. Cooler phone, cheaper rates, something. Probably cooler phone. That's gotten me to thinking about what makes a phone cool - Bren and Pina have "Razrs" (I think that's how you spell it) and those are cool. They look cool, they have display windows on the front of the phone, they have ring tones. But you know what's really cool? The iPhone.

I totally don't need an iPhone. They're expensive, they're new (untested and probably prone to at least one design flaw, which I will encounter according to Murphy's Law) and have that totally ostentatious Apple design theme. Oh, but they look neat. And they do a bunch of stuff. That's so cool.

You have to have an AT&T service contract to use it, though, I think. That's probably more effort than I want to get into.

And apparently they lure young children into pacts with Satan.

--11:29 AM, EDT, New Britain, does that make it more or less appealing?

---

Purple Cat defeats Blue Dog every time
written 2007-06-29 12:29:57

Just because it made me laugh out loud:

It's the comic for Friday, entitled 'Girls Gone Wilde' if you're reading this on a day other than Friday.

Bless you, Dorothy Gambrell.

--12:33 PM, EDT, New Britain, PA

---

I'm sorry, could you repeat that?
written 2007-07-02 10:55:04

From today's lecture on employment discrimination:

"Plaintiff may need to show that the employer is aware of his religious beliefs. The religious belief must be a bona fide religious belief defined as a belief which occupies in the place of the believer that which ordinarily is occupied by a religious belief."

I'm dead serious. This is for reals.

--10:58 AM, EDT, New Britain, PA

---

Here's the wind up, and the pitch...
written 2007-07-06 12:13:32

Bagel place, you have become so much less appealing after the loss of the rye bagel. Crowded, unpleasant, lousy with the petit-bourgeois upper-middle-class self-important hausfrau army and their brood of entitled undisciplined terror spawn. Was the rye bagel really making up for all of this? It's possible.

Didn't do anything for the Fourth. Rain prevented fireworks, and I spent some of it driving north on US 301, which is preferable to driving north on I-95 and about $5 cheaper.

Why was I driving north? Well, someone tricked me into driving to D.C., and then once I was down there, someone hid my keys and used devious trickery to convince me to stay an extra day. The cheek! I cannot countenance such tomfoolery.

Author's Note: In case you were wondering, I'm totally off the market. I say this for the benefit of the legion of ladies who read this thing religiously, hoping for information about my availability and physical location. Do not tempt me with your feminine wiles, honey-limbed lovelies, or Ingrid will have to take matters into her own hands.

And I don't have insurance.

--12:16 PM, EDT, Warrington, PA

---

Terrified
written 2007-07-13 13:50:38

Oh God oh God oh God oh God.

Expect that to be my response for the next week or so to any communications. Anyone seeking a more indepth response is advised to check back after Wednesday, July 25th. I apologize for any inconvenience this causes to anyone.

--1:54 PM, EDT, Warminster, PA

---

Getting close now
written 2007-07-17 13:18:42

Seven days and counting.

There is a patron saint of test taking. The associate dean of ONU Law sent out a prayer to St. Joseph of Cupertino that he received from one of my classmates. Apparently, St. Joseph prayed that he would only be asked questions on an exam that he already knew the answers to. What kind of exercise of faith is that? "Dear Lord, I'd rather not fail this exam, so whip up some divine intervention and change these questions to easier ones. Thanks, yours truly, Joseph." That's something. Oh, well, what can you do, when the Catholic Church is the one and only true church? (It sounds better if you do a harsh German accent for Pope Benedict. Try it.)

Took 14 essays today in three hours and finished them all. I think I did okay. I'm going to practice more on my own, but today was the last day of bar prep. All in all it was helpful, but I don't know if it was $2500 helpful. Hard to balance that out, since any kind of help is desperately appreciated right now.

Also, my writing hand hurts. That's a lot of writing for three hours, I tell you what.

--13:21 PM, EDT, New Britain

---

Here, hold this.
written 2007-07-23 21:11:56

Right then. I'm off to the wars.

More updates as they become available; probably tomorrow or the next day, depending on how enveloped in the material I get.

--9:15 PM, EDT, Warminster, PA

---

Bloodied, not beaten
written 2007-07-24 19:00:18

Day one down. Day two looms large.

The essay day, today. Seven fact patterns. One brief based on procedural facts, four witness testimonies and sundry other details, backed up by two laws, one rule of criminal procedure, and two appellate cases. I felt comfortable writing about the subject matter, which comfort unfortunately led me to dawdle and write overlong on that first essay. Then, 23 other separate essay questions of varying detail and subject matter. I was probably too verbose on the pretermitted spouse and forced share issue, and I hope I was verbose enough on "he'll lose because it's really hard to ask for a do-over," but that was really what I wanted to say.

In general, I feel pretty good.

Tomorrow, 200 multiple choice questions over six hours. More on that later.

Thanks for all the good thoughts, everyone. And thanks to all the people who either A) thought I'd have enough time to check my e-mail this morning, or B) thought that I was done the bar exam already. You're all wrong, but I appreciate you anyway.

--7:01 PM, EDT, Warminster, PA, got me some Chick-fil-a, sure I do

---

That rattling noise...
written 2007-07-26 09:06:44

...you may hear while talking to me is the sound of the last few remaining pieces of information - legal principles, mostly, but also comic book factoids and how to figure out which direction any given interstate highway travels - clattering around in my skull. All the rest of them are gone, having been dumped out onto a Scantron sheet yesterday.

I really thought the essay day would knock me on my ass. Maybe it was just the combined effects of both days. I don't know. I'm mentally exhausted. I can't conceive of doing anything more intellectually challenging than using a knife and fork properly. And not, like, "properly" in the sense that polite people place the knife and fork in the correct place, and don't hold them in a certain way, or some kind of Miss Manners "properly," more like "properly" in the "why does he have a cork on the end of his fork?" "properly." More like that. (Ha! Still smart enough to make movie references! Sigh.)

I can't even type. I had to try three times to spell "type" correctly just now. I'm going to go do something more my speed... maybe lie still somewhere, or watch daytime television.

--9:09 AM, EDT, Warminster, PA, I don't feel like I did poorly, just that I can't think clearly enough to judge how I did.

---

New phone
written 2007-07-29 14:56:40

If everyone could please call me, that will assist me in entering all of your phone numbers into my new phone. I can manually enter your numbers in the phone as well, but, I'm lazy.

Plus, this is a cheap excuse to get others to call me, rather than me having to call everyone else.

--3:00 PM, EDT, Warminster, PA

---

Reset buttons etc.
written 2007-08-03 13:14:02

My brain ought to be back to normal by now. (insert "normal" joke here.)

I've been taking it easy the last week or so. I feel guilty for doing it, but my brain hasn't been up to the challenge of anything greater than watching daytime TV, inspiring sports movies (seriously, "Invincible" and "The Greatest Game Ever Played" in the same week), and cartoons.

Chiles and Whitney stopped by on their whirlwind tour of the historic Northeast. They now know the horrific majesty of the Ada-Philadelphia drive. Next time, stop off in Gettysburg, you two. That'll be on your historic Mid-Atlantic Civil War tour, next year, right?

Ingrid came for a weekend, and will come again next weekend to see Caitlin's play. She's appearing in "Our Town" as the female lead. I know, because I drove her to her audition, and to rehearsal twice. I greatly appreciate Ingrid's forbearance of my manner, in my limited cognitive capacity.

Courtney tried to kill me -- I mean, showed me her two-seam fastball. I was lucky. Two inches lower and it would have snapped off my xiphoid process and killed me. I know Chris has all sorts of pitching prowess, and I know better than to ask him to bring the heat. But Courtney's only seven, man. I should be safe having a pitch with her.

Thanks to everyone who called to help me set up my new phone. The rest of you are total jerks. (No, that's not true. Just most of you.)

--1:16 PM, EDT, Warminster, PA

---

Torn between ennui and angst
written 2007-08-08 14:09:17

There's not much happening. I'm looking for work. Ingrid's coming to visit. My mom's coming to visit. But for right now, I'm just finding different ways of finding jobs that I probably can't have until October.

I have two more stops, but can't remember what the second one is.

--14:08 PM, EDT, Warrington, PA, this confession has meant nothing

---

Scattered reports, unconfirmed
written 2007-08-16 15:19:43

This is preaching to about half the choir, but you should watch Arrested Development. Watch a friend's copy, order it on Netflix, do something. That show is great.

I have time to talk about TV on DVD because I am in the limbo state between taking the bar exam and being licensed to practice law in Pennsylvania. The guy I talked to at the temp agency used this phrase about three times (five, if you include our phone conversation) to explain why temping is acceptable, nay, palatable. I think I finally got through to him that I understand, I've been looking for work, I know you need X years of experience to get a job, and I've done temp work before. It's not shameful.

So, good interview. Got two things lined up and will have more information on them soon. One is a lock, but is not long term. I'll just be glad to have the work.

I wonder if a train pass would be cost efficient. I'll have to look into that.

Cait did well in her part in "Our Town." I expected nothing less. I am sorry to hear that theater politics are inhibiting her ability to audition and get roles, but more sorry that community theater companies are willing to handicap themselves by not selecting the best talent they can get from the slim pickings available to most of those companies.

I'm sure Cait's ego is entirely out of control by now. I'll have to get Courtney to throw the two-seam fastball at her or something.

--3:18 PM, EDT, Warminster, PA, we are condemned to repeat this bear

---

Saddle up
written 2007-08-20 14:03:31

I'm heading west.

I've been feeling morose, and for no good reason. I'm going to drive around this half of the country and see how I feel afterwards.

Attention, Ohio, Milwaukee and Charlotte: I'm going to be stopping by. Please holler at me if you like.

(Though, I bet I get across one state border and get a call from my temp agency, asking if I can start tomorrow. Heh.)

--2:03 PM, EDT, Warminster, PA

---

Road notes, I
written 2007-08-21 10:49:37

Words that are fun to say: Sproul and Cackleberry. Places that are fun to read: Glyde, Intercourse and Paradise. I think I should found a small town in Alaska called "Me" so people can buy t-shirts in Paradise, PA, that read, "I've been to Paradise, but I've never been to Me." (But that's just me. Oh, man, that was bad. Not intended, I swear. Shut up, Keith.)

Central and southwestern PA remain beautiful country, for those parts of the drive that I could actually see through the driving rain. It did allow for some nice moments of driving up at cloud level, or seeing clouds descending down into valleys far below the level of the highway. I did not bring a camera.

Spent the night last night in... I'm not certain the name. It was near Washington, Belle Vernon, off I-70...? It was fine.

Ada today, Milwaukee tomorrow. Call me or e-mail if I haven't touched base with you yet, y'all. I am informed Ada had some flooding, so I'm glad I'm getting my comics out of there this week. Hope all of you out there didn't have to watch your house float away while you stood in the rowboat and the end credits music from "O Brother Where Art Thou" played.

--10:44 AM, EDT, Cambridge, OH, ah, there's nothing wrong with her a hundred dollars wouldn't fix

---

Personal to the Waffle King
written 2007-08-21 10:56:27

Thanks, man, I hope to have good news to relay in October.

--10:52 AM, EDT, Cambridge, OH, crushed under my iron heel!

---

Heads up from Ohio
written 2007-08-22 08:49:08

I figured I would drive through the bad weather by coming west, shortening its duration at least from my perspective. Bad call, Ripley.

I complain a lot about the flatness of Ohio. When it rains for a while here, it all piles up. So, naturally, now that I'm here in Ohio, there's flooding, a "level 3 flood emergency" just north of us (in my driving route) which obliges you not to drive unless absolutely necessary... bad timing. I'm going to stay here until I can get a better idea of how/if I can leave the area without drowning.

Attention Milwaukee! I will call or e-mail when I know more. Sorry to change plans like this, but there's an Act of God clause I'll refer you to in our visit contract. (No, there really isn't.)

Please don't blow up my cell phone and my available minutes calling and asking me how I am. I'm fine. I'm with friends, I have an internet connection and two dogs. All is well, I'm just being held up.

--8:47 AM, EDT, Ada, OH

---

Notes from the road, II
written 2007-08-22 17:19:17

Made it to Milwaukee safely. There was no standing water, no storms, no nothing. I apologize to anyone who read that last post and got nervous.

More later.

--4:23 PM, Wauwatosa, WI, was there anything else?

---

Notes from the road, III
written 2007-08-24 20:47:29

So much to cover! Motel last night had no internet access, so I have two days to report on.

Three?

Wednesday, I drove up from Ada to Milwaukee. Ada was a little damp, but nowhere near as awful as the news reports I'm sure some of you saw or read or heard. (I'm looking at you, Dad.) I drove briefly through Hancock County, which had bad flooding in Findlay, but I was nowhere near there at any time. The drive through Indiana was nice, and I discovered I have an uncanny ability to find the most expensive place to buy gas in a given region. Example: I found $3.29/gallon gas on the Indiana Toll Road, despite the fact that gas was $2.99 at every other rest stop on the Toll Road. Fact!

Driving in Chicago sucks. Be advised. This is not a conditional warning - like, say, during rush hour, or after a Cubs game or something - it just sucks. Accept it and move on.

The Good Land remains good, as do its people. Bear, Jill, Rehlow, Kit, Keith, Robins and Steph all came out to County Clare or the Landmark and we had good food and good company. David "Buddy" Donaghy hooked me up with a bowling pin container, suitable for making a drink called "The Stumplifter." I'm not certain what that is about but I appreciate the gift.

The drive south was made on a large, hearty breakfast courtesy of Bear, worthy of all sorts of critical praise. Unfortunately, it was a drive toward Chicago. See above.

I got through Chicago just in time to get hit by the storm. It was heavy and ridiculous and knocked out power and limited visibility and all the stuff that makes driving fun. I ended up in Louisville that night, after once again finding the most expensive gas in the region. Uncanny!

Today's drive was excellent, despite being lengthy. I went from Louisville to near Elizabethtown to Knoxville to Asheville to Charlotte. Kentucky and Tennessee are absurdly beautiful, and I had good weather for a lot of good views. I drove through horse country in Kentucky, and saw great big vast valleys from way up high in Tennessee. Asheville was mostly veiled by harsh thunderstorms. (Another curious power which I possess: name a state, I'll find you a thunderstorm there.)

Now, I'm in Charlotte. Crashing at Mikey and Carrie's, which is really nice. Trying to find Susan. Wondering where all these new interstates came from. Hoping to stop by Heroes tomorrow.

--20:39 PM, EDT, Charlotte, NC, I don't do clever.

---

Standard notice
written 2007-08-29 16:38:56

I'm not dead. Thanks for your concern, though.

Last roadtrip report later tonight. Probably.

--4:37 PM, EDT, Warminster, PA, if it's Wednesday this must be Holland

---

Notes from the road, final
written 2007-08-30 00:44:49

So, my last few days of road trip were good.

I-40 down out of the North Carolina mountains is some steep terrain. Add heavy thunderstorms and terrified Yankee drivers to the mix, and that's fancy cookin'.

I went to Sonic. I regret to report that a number of my readers live in cable television markets that broadcast commercials for Sonic (the drive-in fast food restaurant) but don't have any Sonics nearby. I was assigned a mission to go to Sonic and report through this journal my findings.

Well, basically, it's fast food. That's the essential finding. It is noteworthy for all the weird little things that set it apart from other fast food places. As a drive-in, any given Sonic may not have interior seating. You eat in your car, or drive away with your food, or eat on tables outside. The Sonic in Charlotte that I went to had interior seating, but no counter at which to place an order. You ordered by picking up a telephone installed at the booth and ordering with the same person who takes the drive-in, drive-through, and walk-up speaker orders. Weird.

Sonic has tater tots. They also have french fries and onion rings, but a lot of places have them. And, having tried all three, their tater tots are the best of the lot.

Sonic has extra flavors for their drinks. They advertise pretty strongly for things like cherry limeade, but you can add flavors to whatever you order. So, if you really want a vanilla raspberry Dr. Pepper, it's probably within reach. Or a root beer float with licorice undertones, or something else that everyone but you thinks is awful.

Lupie's Chili is still there and is exactly like it was ten years ago.

Jody's place of employment (and residence, shhh) is phat as phat can be. He looks well, which is news to no one. I can't believe it's been that long since I saw him.

Susan seems pleased with her new lot in life, which is good.

Mikey and Carrie's house is outrageously nice. I totally don't feel bad about sleeping on their couch because I'm helping use up some of the 87% of the house they're not using at any given time. Also, because I helped them build a basketball hoop. I earned that crashspace.

I watched a PT Cruiser spin uncontrolled across three heavily occupied lanes of interstate traffic and bounce off a bridge embankment. I also assessed a very low opinion of Virginia drivers. Can't you jerks go 45 miles without getting into an accident? It's like a pre-req for getting a VA driver's license.

Spent the last two days of the trip in DC. Ingrid made sure to make fine food and take me to historic places (I think there's a really good ironic t-shirt somewhere in U.S. Grant's bar, but I haven't found it yet). I learned that the US's first United Nations delegate was Eleanor Roosevelt. Excellent cap to a week of travel.

Home again, home again, yiggity yig.

--12:39 AM, EDT, Warminster, PA

---

You've been in a coma since Mardi Gras
written 2007-09-08 11:07:25

Sorry it's been a while since I posted. I've been busy. Well, busy and hassled and filled with self-loathing, but I can categorize that mostly as "busy." The important thing is, I'm not dead.

Got home from my roadtrip, returned to the process of applying for jobs I don't qualify for, and waiting for temp opportunities. Went to a Labor Day picnic, saw Chuck and Michelle's place (which is cool), tried to show Ingrid the quiet artist's community that is New Hope (which is a bad idea on Labor Day weekend), and went to training for my first temp placement.

It starts Monday. Today I'm going to DC for dinner with the whole Goree family. I expect at least one of Ingrid's folks to jack me up against a wall and interrogate me as to how gentlemanly I've been to their little girl. Nah, not really, but it's a nice visual.

--11:06 AM, EDT, Warminster, PA, punish the monkey

---

Like we did last summer
written 2007-09-15 10:10:46

I worked for a week! Yes. I was gainfully employed, ostensibly in the field of law. Not that you'd be able to tell that, if you actually saw me working this week. For five days I was in a basement sorting through files and reviewing them. Near an oil refinery. We were advised not to wear anything nice.

But it was work, and pretty good work - it went by fast, paid well, and had interesting people with whom to work. They bought lunch everyday (only partly because they were nice - the other part had to do with security and not letting us leave the building for any reason).

Things that happened this week:

I sat next to a man on the train who may have been vexed by imaginary insects or small animals. Despite this, I still support public transportation.
I learned that when the other party in a contract dispute is being obstinate and will not negotiate, it can be helpful if the other party is arrested for reckless driving, attempted rape and evading police. Though, really, that would be helpful in a lot of situations.
I started reading Changeling: The Lost, written in part by literary wunderkind Charles Wendig, of the New Hope Wendigs. The book is mostly drivel, with the exception of any part written by Mr. Wendig, which is beautifully formed prose providing both a fascinating reading experience and a kind of spiritual awakening. The academy anxiously awaits further submissions from the pen of Wendig. (I'm hoping to make it onto the back cover blurb of Chuck's novel.)
I saw Kristy and Terry, and hung out in Northern Liberties, and saw a Headlong Dance Theater production. If I was more of a strong strapping gent I would have stayed in the city to see Dana Snyder, AKA Master Shake, perform as well. But I anticipated tiredness, and lo, tiredness did descend upon me, and led me to fall asleep on the couch. And yea, I did wake up at some point this morning and stumble up to bed. So, good call, me, on the not staying up even later.

Good week.

--10:09 AM, EDT, Warminster, PA

---

Removing the cork, we find
written 2007-10-03 08:56:27

Blah blah blah, sorry I haven't posted, yadda yadda.

I keep working, and when I'm not working, I'm running around doing things. It seems I have less time to carry my laptop with me everywhere I go, find wi-fi connections and blather on about my little existence for the six people still reading this (oops, I mean four - that last delay probably cost me a couple).

So, yeah, the temp job continues. It's good to have work, though the working conditions are a little "eh". Still in a basement. Still given the option of wearing surgical gloves and masks. Have a few more temp opportunities coming up, and still (still) sending out resumes, mostly to government entities and related agencies.

There's a hidden message in this post. See if you can find it, kids!

Looking at apartments. I think finding something outside of Philadelphia would be smart - to avoid the taxes and the murder rate - but I also have to look for a place that would let me have a month-to-month lease, so I can move if necessary, when I find permanent work.

Oh, and we find out if I get to put "esquire" after my name on October 9th. That's soon. That's less than a week from now. It's weird. I'm faintly terrified, which is a change from my reserved and calm attitude leading up to this time. That's fine. If I drop off the radar suddenly (you'll know, because I'll probably post "I'm dropping off the radar" to this journal) it will mean I screwed up and will have to try again in February. Heads up.

Go Phils.

--8:55 AM, EDT, Warminster, PA

---

This just in
written 2007-10-05 17:55:10

Oh, hey, look at that.

--5:54 PM, EDT, Warminster, PA, no, really, go look at that.

---

Ahhh, mountains and autumn
written 2007-10-13 12:15:01

Boone is great.

Autumn is great.

More later, because Susan says I don't post enough.

--12:14 PM, EDT, Boone, NC

---

Five states in five days
written 2007-10-16 01:47:59

Congratulations, Megan and Jen.

Just got back from my trek across some of the Eastern Seaboard. (Y'know, I don't even know if I'm using that term correctly. I'm using it to refer to states bordering on the Atlantic. There. That's clear, now.) Went to DC on Thursday, after receiving a letter affirming what the Internet told me (see two posts ago, re: the bar exam) the week before. On Friday, my gal Ingrid and I saddled up the trusty Ford Behemoth and headed out west, where the men are good looking, the women are strong and the radio stations are mostly country and evangelical. We stopped when it seemed like we could not drive any higher without actually entering low Earth orbit. 'Appen there was a wedding where we did stop.

Boone, NC, is a cool place even without a wedding, and even without the crisp cool air and changing colors of autumn. So, add all that together and there's some excellent weekend for you. In no particular order, there was:

Misspelled mead.
Dogs carrying jewelry.
Covert personal spite.
Overt personal affection and camaraderie.
Humans from the fabled Pacific Time Zone.
The Zero 7 song, "Destiny."
Sonic Drive-in Restaurants.
Family style breakfast at The Dan'l Boone Inn.
Good food, good people, good feeling.

It's past midnight on Monday, I'm back in the 215, and I'm debating staying up to watch the second showing of The Boondocks on Adult Swim. God bless Aaron McGruder. Mmmm.

--1:44 AM, EDT, Warminster, PA, bring on the intergalactic starfish

---

Updates from a land where nothing happens
written 2007-10-29 18:20:59

Sorry if you've been checking this for updates - it's not so much that I haven't had time to write anything, as much as it's been a slow news month.

I'm still unemployed. I'm waiting to hear from placement services. I send out resumes every week and have heard back from no one. This is not surprising, as every "attorney wanted" ad I have read specifies a number of years of experience required of all applicants. Naturally, I have none (or rather, 3/52 of a year), and so the lack of response is also natural.

So, that's what's up in my neck of the woods. Employer silence and continuing efforts not to feel futile.

I'll be old later this week. Feel free to laugh and point.

I appear to have successfully hooked the wireless internet in my brother's home. This should allow him greater access to his own computer, which I have jealously stolen from him, craving its fine and lovely internet accessibility. Thanks, Bren, and sorry.

--10:04 PM, EDT, Warminster, PA, time is marching on, and time is still marching on

---

Bandwagon
written 2007-11-05 11:43:43

When other people start to feel like they have nothing to say on their blogs and websites and what have you, the Internet provides a wealth of useless crap from which to draw and take up space on your various pages. And, no different, I am likewise resorting to such.

While reading about Chick Tracts published by Darkseid, I also read this entry on books you have or have not read. The following are the top 106 books most often marked as "unread" by LibraryThing's users. Categories here are: have read, have read more than once, started but did not finish, have not read. Omitted categories: could not stand to read, and on my "to-read" list. I omitted the first one because few books make this grade with me (see Beloved below) and the second one because, well, my "to-read" list is mostly everything.

How you can make this stupid internet crap your own: copy all the book names into your own webpage, deleting my editorial snippets, and mark them according to the categories, what you've read and not read. Then post it, e-mail it, write it on a piece of paper wrapped around a brick and throw it at someone you think would like to read it.

You can blame Arrowette's Diary for this. I know I am.

Have Read (and Have Read Again*)

Catch-22*
The Silmarillion - I think. I read a lot of the Tolkien a loooong time ago.
The Name of the Rose*
Moby Dick
Ulysses
The Odyssey
The Brothers Karamazov*
The Time Traveler's Wife
The Iliad
Great Expectations
American Gods*
Quicksilver *
Wicked: the life and times of the wicked witch of the West
A Portrait of the Artist as a Young Man*
Brave New World*
The Fountainhead
Foucault's Pendulum*
Dracula
The Once and Future King - I think?
The Grapes of Wrath
Anansi Boys*
1984*
The Picture of Dorian Gray
One Flew over the Cuckoo's Nest
Oliver Twist
Gulliver's Travels
The Corrections
The Amazing Adventures of Kavalier and Clay*
Dune*
The Prince
Cryptonomicon*
Neverwhere
Dubliners*
Beloved - this is some Toni Morrison, Maya Angelou crap, right? I believe I was obligated to read this at some point in school.
Slaughterhouse-five*
The Scarlet Letter
The Confusion*
Lolita
The Catcher in the Rye
Zen and the Art of Motorcycle Maintenance: an Inquiry into Values
Watership Down
The Hobbit*
Treasure Island
The Three Musketeers

Started but did not finish

War and Peace - I love a book that I can read 800 pages, lose track of it, and still not really be half-finished with
A Confederacy of Dunces - comes highly recommended, though
Gravity's Rainbow - I'm arguably still reading this.

Have Not Read

Jonathan Strange & Mr Norrell
Anna Karenina
Crime and Punishment
One Hundred Years of Solitude
Wuthering Heights
Life of Pi: a novel
Don Quixote - But I really should
Madame Bovary
Pride and Prejudice
Jane Eyre
A Tale of Two Cities
Guns, Germs, and Steel: the Fates of Human Societies.
Vanity Fair
Emma
The Blind Assassin
The Kite Runner
Mrs. Dalloway
A Heartbreaking Work of Staggering Genius
Reading Lolita in Tehran: a memoir in books
Memoirs of a Geisha
Middlesex
The Canterbury Tales
The Historian: a novel
Love in the Time of Cholera - though I hear good things
Middlemarch
Frankenstein - I feel like I must have read this, but can't recall
The Count of Monte Cristo - I feel like I must have read this, but can't recall
A Clockwork Orange
The Poisonwood Bible: a novel
Angels & Demons - I read Da Vinci Code, which I understand was the same book, and I also read Focault's Pendulum, which was the same book as the Da Vinci Code, only it was actually good
The Inferno - Again, I feel like I read the whole Divine Comedy at some point, but can't remember clearly.
The Satanic Verses
Sense and Sensibility
Mansfield Park
To the Lighthouse
Tess of the D'Urbervilles
Les Mis

---

When will the world thank Neil Diamond for all he's done for us?
written 2007-11-12 14:29:51

Yep, yep, journals, stuff, yep. News? No.

Congratulations to Jill and Bear, again. Sorry it's a few weeks late, but you understand I'm very wrapped up in my own personal angst.

Congratulations to Lyndsay and Andre, for the same reason.

Signed with yet another placement agency. Waiting to hear from them, too. Though, this weekend I got something in the mail I'd never seen before: a letter from a job, letting me know they received my application and resume and would be in touch if they found me suitable. That's never happened before. I've been sending out resumes for months now, and that's the first one that even acknowledged my application. It was very simple and not encouraging at all; what it did do was make me angry in retrospect at all those other places I sent resumes.

(That's technically not true - I sent one resume to a cousin of a professor of mine, who responded with, um, "constructive" criticism of my resume and the way I had sent it. He clearly wasn't hiring, though, and if he was I got the impression that my hand-written [AMATEUR MISTAKE!] envelope would have led him to throwing out my resume unread. But, that event aside, this is a first.)

Um, I turned 33.

I won a Galactus.

I'm going to Vermont later this week, to see autumn in New England, my mom, and just to get out of town for a bit.

That's about it. Let me know if I missed anything.

--14:24 PM, EST, Warminster, PA, I'm making a note here: "huge success"

---

Let's take the party down a notch
written 2007-11-16 12:04:53

In case anyone is interested in the kind of work that I am doing, here's a fairly descriptive article.

Mind you, this is the not what I'm doing full-time - this is what I'm aspiring to do full-time, so as to gain experience to get hired somewhere permanent. So, the bit in the article about temp work stigmatizing lawyers and preventing them from getting hired, that's fairly discouraging.

--12:04 PM, EST, Warminster, PA

---

Grindstone
written 2007-11-26 19:35:09

I'm back at work, at least for this week.

To clarify, this is the same assignment for the same company, which ended after three weeks back in September. I'm back on for a week, though last time they said it would be a week, too. Note, unfortunately, that there have been no other assignments in the intervening time. This despite being associated with an ever-increasing number of placement agencies.

I bought a pass for the train. It's just for a week, but it feels good to anticipate needing to commute all week. I either like planning ahead, having work, or getting a 20% discount on train fare. Maybe all three.

I have a new friend. His name is Devil, and he is very tall.

Christ's birthday is coming. I have no idea what to get him. Maybe a coat? It's cold out.

--19:33 PM, EST, Warminster, PA, actually, I want a coat.

---

The reason for the season is sucrose
written 2007-11-29 18:56:33

Good news! My week of work is already two weeks of work.

Also good news! There's more weeks of work starting next week. Hopefully I won't have to disappoint the first week by ending it early to begin the next week.

Other news: there is no other news. I think I may have mentioned here and there -- everyone's getting nothing from me this year for Christmas. I'm poor. I don't have steady work (though that could change next week, at least for the next few months), my savings is dwindling, and once I start buying presents for other people I usually can't stop myself (see the Great Credit Card Fiasco of 2000-2001). So, expect to get a nice card with a sorry explanation (sorry meaning "chinchy bastard" rather than sorry meaning "regretful") this year. That is, if you were expecting anything in the first place. I'm sure a lot of you know better by now.

--18:53 PM, EST, Warminster, PA

---

What's white, cold, and awesome? (No, not Tilda Swinton.)
written 2007-12-02 10:11:40

It snowed last night.

A light dusting, to be sure, but since my interest in snow is largely aesthetic, that's wholly acceptable. It covered all the rooftops visible from my window. Mmmmm.

--10:09 AM, EST, Warminster, PA, bring it on, Jack

---

Hatched chickens census
written 2007-12-10 09:23:40

So, it's Monday, and I'm not at work.

I hate it when that happens.

No explanation for it, no word from the work people, who I hope will call soon and and tell me what day the job starts.

Jerks.

This weekend I went to DC, attended a party in a real estate development designed to allow people to live close to the metro DC area but away from the actual city itself, and played spades. Regarding real estate, developments like that only make sense in one direction - outward from an urban center. In the sticks, you wonder why there's 235 new houses that no one in your area can afford being built on Old Man McConnor's land, and then realize that the commuters have accepted a 50 minute drive each way as the cost to have a bigger house and a lower mortgage payment.

I'm going to go wait for word from the jerks now.

--9:23 AM, EST, Warminster, PA

---

Wendy's was getting old
written 2007-12-12 16:30:14

Still not working, yet. Stupid people. There was at least some communication, mostly just saying "um, yeah, no work yet, we'll call you when it happens." Wow, thanks, I could have figured that much out.

Sigh.

Congratulations to Carrie on successfully defending her thesis.

--16:29 PM, EST, Warminster, PA, how much Warhammer 40,000: Dawn of War is too much?

---

Brewing up a new batch
written 2007-12-13 11:29:56

Okay, we finally have a start date for the new assignment. They initially claimed it would start on Thursday or Friday of last week (12/6 or 12/7). The project will now start on Tuesday of next week (12/18). Ah, temp work.

Also, would it be okay if you could work the week of Christmas? Oh, no, of course not on Christmas day, but the other four days that week?

Ah, temp work.

I'm going to go make sure that I'm getting paid for Christmas day or at least getting a bonus of some kind.

--11:19 AM, EST, Warminster, PA, yes, of course, I'm available

---

From your lips to God's ears
written 2007-12-14 14:33:20

I'm going to stop complaining about the situation with the placement agency. Why? Because they just postponed another month.

So, to sum up, I'm very happy to have work lined up. Anytime is a good time to start. Under whatever conditions.

--14:32 PM, EST, Warminster, PA, my head hurts

---

Mixed Nuts
written 2007-12-20 19:46:59

Oh, the holiday season. I was headed out to the comic store, but Pina came home and said that the thronging masses of Christmas hordes were particularly vicious this evening. I can wait. If I go tomorrow while most people are still at work, that'll be better, right? Although, it's Friday. I'm sure that will mean its own special kind of commercial holiday spite.

More resumes, more applications, and one interview. I actually forgot about applying to this one, but it makes sense that this is the one that calls back for an interview: helping the disadvantaged in rural Pennsylvania. I would love to do work like that, and I would love the excuse to live out in the boonies and save money on the cost of living. I would also love to be able to pay back all that money I borrowed to go to law school, with which I'm sure my loan company would agree. But, an interview's an interview. Who knows, it could be a great opportunity.

We're having Solstice on the Solstice, which is nice. My girl's coming up so I don't have to go stag this year. Should be good.

--19:46 PM, EST, Warminster, PA

---

Biscuit joint? Biscuit joiner?
written 2007-12-27 06:35:11

Christmas came and went, and thank goodness.

I have an interview tomorrow in Johnstown, Pennsylvania, not today as I had initially thought. Must get up early. Must get haircut, check my outfit, etc. May even get oil change, as my odometer is sure to crease the 5000 mile mark on this trip.

I should get on that.

--10:38 AM, EST, Warminster, PA

---

Heads up
written 2007-12-27 17:00:55

For anyone trying to reach me by phone, your calls may or may be fielded. I had about a day of being unable to hear any sounds come out of my phone of any sort, and I'm getting a new one. In the interim, your call may or may not sound like this:

...

So, yeah.

--21:03 PM, EST, Warminster, PA, I feel awful - did someone give me a cold?

---

Lines from 80s sitcoms: "Well, that could have gone better."
written 2007-12-29 08:28:41

First, let me apologize for failing to close my italics tag in the post below. There are worse things that can happen, like failing to close your blink tag, but having my entire page below that post be in italics is like a permanent reminder that I'm kinda dumb.

Speaking of kinda dumb, I just got back from my Johnstown, PA, and boy, are my arms -- no, wait, that joke doesn't work here. So, I drove four, five hours out there, had a look around (it was only slightly frightening, in a post-industrial forgotten mill town way), bought local papers and had a bite to eat to get acclimated. Good news: it would be really cheap to afford to live there. Then, I went in for my interview. I don't feel like I had the best answers or the right mindset going in. They were giving me a slightly touchy-feely non-profit interview, and I was prepped for the more aggressive corporate interview. Bad news: helping people is their reward, which leaves the actual payday waaaay behind. (Which makes living in that area more attractive, or at least more necessary.)

I am not optimistic about this interview. I am also not sure what my response would be if I were to get an offer. On the one hand, I need a job, and this would be a great way to get the experience every other job demands. On the other hand, I have debts, and an aversion to remaining in debt. Oh, also, it's way the hell out in Johnstown. I just got done with living in BFE, do I want to go back so soon?

We'll see. I appreciate everyone who gave me feedback or listened to me think out loud about this. Jen, I really appreciate you thinking instead of me, because as I've demonstrated, I fail to think sometimes.

--8:26 AM, EST, Warminster, PA, let's close these this time

---

Fascinating Place Names from Western Pennsylvania
written 2007-12-29 08:47:11

Johnstown, while not fascinating in print, is pronounced with the first syllable of "jaundice." You need to drop your jaw a little bit when you say it.

Paint. Not sure if this is a "named for the thing this town once produced" name or if the trees were many pretty colors, or what. But there is all sorts of Paint out there - Paint Township, Paint Borough, like that.

Scalp and Scalp Level. It's hilly country out there - do you think this refers to the top of a hill, and the level place on the top? I have no idea. I have seen a Squirrel Level before, but that's no help.

Ryot. That either looks like early settlers with a spelling deficiency or a secret cult of Cthulhu worshippers. "Cthulhu fthagn Ryot!" And, I bet it's really calm and peaceful there. Irony.

New Ashtola. You have to wonder what happened to the old one.

Lovely. No, really. I bet the florist in Lovely, PA, is just the most chipper person ever. Or the most hateful, I don't know.

Pleasantville. Not that interesting in and of itself, but subtitled on the village sign read, "Formerly Called Dubbstown." Why would you change that? There's nothing wrong with the name Dubbstown. Maybe after Dubb founded the town, Dubb III turned out to be a dirty scoundrel, and the town got its revenge in this way. Man, poor Dubb. It's not his fault his grandson was a rascal.

Oh, and I have to drop a bit of drug-related/geographical formation humor for you all:
Dude, I was so high yesterday!
Dude, how high were you?
Like 2700 feet above sea level, in the Allegheny Mountains, on Route 56.

Sorry.

--8:46 AM, EST, Warminster, PA

---

Out with the boar and in with the rat
written 2008-01-01 21:30:50

Happy new year, folks.

I'd write more, but I'm feeling a bit poorly.

--21:30 PM, EST, Warminster, PA

---

No news fails to be good news. Film at 11.
written 2008-01-04 15:39:12

No word from Johnstown. Waiting until "mid- to late January" to hear about my temp assignment. My two most recent job search websites have been weak, at best. And ONU just sent out their "how many of you have jobs?" survey, so that I can feel really good about myself.

But, regardless, I gotta do something, admin assistance or data entry or something. And move. That's becoming increasingly vital.

So, yeah, things are a bit unfortunate over here.

--15:38 PM, EST, Warminster, PA, good luck with the new year, O King

---

To become the king, you must kill the king
written 2008-01-09 16:25:45

You know things are bad when music by The Smiths is too cheerful for you to tolerate, and a kindly worded rejection letter is the high point of your day.

Yeah, that's about right.

--16:24 PM, EST, Warminster, PA, no right to be angry

---

Know this. They shall obey me.
written 2008-01-10 20:03:18

Temp work is better than no work at all.

New job starts Monday.

That is all.

--20:02 PM, EST, Warminster, PA

---

More quietly he added, "If necessary."
written 2008-01-18 22:22:56

I really thought I had posted something more recently than that. Hrm.

So, work started Monday. Or, I should specify, I started going to an office in Center City on Monday. Work didn't actually start until late this afternoon. I can't really explain it. There were some training sessions, and a lot of explaining that there's not always work available, and requests to be patient. I was told to try to familiarize myself with the instructional materials, and after that just read or play Solitaire.

Which I did, for almost four days. Then, today, at 4:45 PM, the work arrived. Most of the people there elected to just go home and start fresh next Monday - I said, "You'd like to pay me to stay a while longer? I can do that."

I read all of All the King's Men by Robert Penn Warren and started Winter's Tale by Mark Helprin during the week. I also refamiliarized myself with the games available as part of the Windows OS. Ah, Spider Solitaire. You really aren't very fun.

So, I'm thinking that if I get to work at 8 AM, take an hour lunch, and leave at 6 PM, that'll give me five nine-hour workdays, which clocks in at exactly the arbitrarily-decided 45 hour work week. That'll allow me to stay a little later if they authorize overtime, or come in on weekends for maximum income results.

Right now, though, I need to eat something. I realize my last meal was ten hours ago.

--22:21 PM, EST, Warminster, PA, he talked gardens

---

A fair day's work at a fair wage
written 2008-01-22 21:23:51

Yesterday I learned that overtime is always available at my new job. This means that, if I want and am able, I can work over 45 hours in a week (sometimes including Saturday or Sunday), make time-and-a-half, and still determine my own schedule. Apparently a good number of the people at this job come in at 7 AM, work for fourteen hours, go home and sleep, and get up and do it again. This is somewhat mystifying to me. I suppose I assumed that our employer's need for our services would regulate our hours and availability of overtime. Nope.

This is excellent news. I may be overestimating the amount of free time I have, given that I have just ended a long drought of work, but I feel like I could clock a bunch of hours, no sweat.

Music you should listen to: Ingrid Michaelson (not my girlfriend), Bell X-1, and the Trolleyvox. I was going to say Slo-Mo for that last slot, but Trolleyvox sounded good and then I forgot their name and then found it again, and I'm so pleased I'm writing it down for you all to read, forget, and remember as well. (Also, the Trolleyvox is playing D-town on the 1st. I wonder if I could arrange to take the Doylestown train that morning, and get back from work in time...? I never go out to music. Ever.) Oh, and if anyone has a Rilo Kiley album, I'd like to hear it.

There's stuff that needs doing!

--21:22 PM, EST, Warminster, PA, endless cynical flames

---

Recap, the last few days
written 2008-01-27 22:41:00

A bunch of stuff has happened. Items follow:

Thursday, I missed my train in the morning. That's okay, because another one came along in half an hour, and I can determine my own hours, but still. A shame to see a train pull out of the station without you. Then, I worked from around 9 AM to 10 PM. That was easier than I thought. Then, I went down from the office to Suburban Station and - again - missed my train. This was more of a pain in the ass, because it was not rush hour and I had to wait an hour for the next one. Also, I was on the platform on time, but there was mysteriously no train. That's frustrating.

Sitting around in a train station at night with homeless people is no fun. Fortunately, my friend Dave from ONU showed up and we talked for a while. Dave just got hired somewhere, so that's good to hear. He used to work on the project I am currently working on, so he gave me some tips. Including the actual end date (a good two months less than the temp agency told me the project would go, minimum). It's good to talk to people.

Friday, my supervisor called me aside to talk to me. I wondered how I could possibly be in trouble after only two weeks of work. In fact, I was not in trouble. I was offered a spot on the second level review team, which is not worth more money or more anything, it's just different work. But still, it's a gesture, and it might mean they can use me longer after the four months I now anticipate this project lasting.

Also, I was alerted to another project starting soon, lasting (supposedly) 12 months, and paying better. That would be great, too.

So, back around to Thursday, my fortune cookie from dinner read: "You have had a great start. Work harder!"

--22:39 PM, EST, Warminster, PA

---

CB East represent
written 2008-01-27 22:42:18

Also, for those of you who know, Jeff Norcross is a lawyer now, working in Philly and living in Bucks.

--22:41 PM, EST, Warminster, PA

---

I don't believe in the sun
written 2008-02-06 07:17:58

Taking a moment from my ordinarily hectic AM to drop a line to the good people out there in readerland. I decided I couldn't make the 7:13, so I'm going to wait and make the 7:49. This train will get me to Philly at 8:38 AM, so my work day will start at 8:45 AM. The last two days, my work day lasted over 12 hours each day. Today, I'm putting in a paltry eight hours. You'll go nuts working like that everyday.

Fortune cookie from last night: "You will move into a great new home in the next year." I feel like the law firms around Suburban Station pay City Garden to carry encouraging, inspirational fortune cookie messages that appeal to young lawyers currently working lots of hours in their employ. I could just be making that up. My last one said something like, "You should get health insurance. It is in the best interests of your firm and the economy." I'm definitely making that up.

Looked for apartments last week, not much in the way of results. Looking again this weekend, in Willow Grove, the city, and possibly the Northeast.

Mikey thinks you should vote for Obama. I don't have an opinion on the Democrats yet, so that's better politico-reading that anything you'll find here.

I should go.

--7:16 AM, EST, Warminster, PA

---

Buy a dog and bring him home
written 2008-02-17 23:08:07

Sorry I've been so unavailable. Things have been happening, as they are wont to do, and I've quite caught up. I've been apartment hunting. I've been working a lot. I've been a bit under the weather, a bit congested. And I got cut loose, romantically speaking. It's been a good bit of stuff to deal with. I should have more journal-type stuff once I get a new apartment, which should be before the 1st of the month.

So, who wants to help me move?

--23:06 PM, EST, Warminster, PA

---

The guy who knows the girl who saw Ferris pass out at 31 Flavors
written 2008-02-24 22:12:49

Seriously, who wants to help me move? The silence is deafening.

I just finished Neal Stephenson's Cryptonomicon again, and maybe that's why I also find myself thinking in terms of math:

P = (30*X) + ([X-45]*15) + ([X-55]*7.5) + ([X-70]*7.5) so long as X > 55 before Saturday AM. Let X = hours worked and P = dollars paid. In my case, X > 55 on Friday, so the equation applied. I worked seven days straight, averaging around 11.5 hours per day. It may be that parts of my brain no longer function as they did at this time last week, but that's all right. The resultant paycheck will resolve a number of my outstanding debts. In fact, this week is roughly equivalent to last year in terms of gross income. Makes me wonder why I'm switching jobs next week.

In other news, I don't have an apartment yet, but I have a good idea which one it's going to be. I'm trolling Craigslist for terribly cheap apartments, but I suspect they're terribly cheap for a reason.

Tomorrow I'm calling in sick, dropping off some applications, trying to fit my two-day weekend into one day, and generally trying to be productive and efficient. You do the same.

--22:03 PM, EST, Warminster, PA

---

Illness or self-pity? You Decide!
written 2008-03-04 21:21:02

Blech. I just feel awful. But, today was the first day of the new assignment, so it would seem like the obvious move to go to work, and keep the job, you know? Conversely, I suspect they would appreciate me not bringing the plague to work with me. I will have to see how I feel in the AM.

So, I have an apartment lined up. They want me to move in on Sunday. I'm hoping that means they want 71% of the rent for this month, or something similar.

In other news, rich people continue to suck. Is this how they become rich in the first place? Possibly.

Okay. I'm going to sleep, or at least lie here and leak fluids out of my wracked, palsied form. Definitely one of the two.

--21:29 PM, EST, Warminster, PA, happy birthday, susan

---

Just because we use cheats doesn't mean we're not smart
written 2008-03-10 22:10:07

I have a new apartment.

I must have, because I keep climbing these steps. I mean, who would do that unless they lived here?

Thanks to the poor bastards who kept climbing them yesterday, when I was moving in, even though they do not live here. Even when it almost killed them carrying all my stuff. Let me know when you want the cases of beer delivered.

Please e-mail or call me if you want my current physical location.

--22:08 PM, EDT, Hatboro, PA lying there like you're tame

---

The State of Empire
written 2008-03-21 14:27:21

Don't come visit this weekend, any of you, as I'll be a couple hundred miles away upstate. So far upstate that the state actually changes to another state. Like, I'll be north of the freezing point of a given element or compound. F'real.

--14:25 PM, EDT, Hatboro, PA, Osaka by way of Elmira

---

Hanging from the driver's side door handle
written 2008-03-25 22:23:37

So, new apartment life. It's a bit disconcerting. It's depressingly like the last apartment, somewhat new/exciting, and most importantly I'm the only one living here. That's kinda obvious, sure, but that was the bitch of living in Ohio. It was apart and away and alone out there. Now I'm virtually back where I started from, yet it's all down to me again. Feh.

So my apartment: third floor, lots of room, very warm even in winter, still has cable TV coming in from the last tenant (I guess). Unfortunately only has 30 inches of lateral clearance in the main stairs; less in the fire exit. I find myself currently without furniture, and somewhat unable to acquire furniture that will not fit through these apertures. First, thrift store. Then, Ikea. I really didn't want to spend that much on this place, though.

Working 40 a week, which is way less than I was working at the last gig, but the pay is still pretty good. The commute is still an hour each way. I have an interview on Monday, though, at a more local firm. More on that as it becomes available.

Sorry about the lack of updates. There's only so much self-pity and whingeing I want to post here, you understand.

Saturday, Phillies preseason game (thanks, Pina!). Sunday, taking Cait to an audition in the city for Governor's School in drama/performing arts. Uncle Matt is good luck, didn't you know?

--22:21 PM, EDT, Hatboro, PA, the Low Road knows

---

Yoda would say you are reckless
written 2008-04-10 22:24:59

Why, yes, now that you mention it, it has been a while. Hopefully, by now, none of you are hanging on my every post... since that would mean that I'm really not posting enough. That may be true, but the upshot is: don't hold your breath. I'm working, still unpacking, trying to go places and do things, you know, stuff.

Today, stuff included taking my laptop out to King of Prussia for a little Apple Store attention. Turns out my processor was not cooked (whew!) but my hard drive was. That's kinda good news (easier and cheaper to fix, I guess) and bad news (a cooked processor would have meant I could just go ahead and buy a new computer). So, after getting this mixed bag of professional opinion, I decided to go ahead and buy a new computer anyway. As with all things computery, Mikey had to hold my hand through this process as well ("It sounds like you're talking yourself out of it. Don't."). I'm very pleased with the result. It is shiny and new and neat and almost cool enough to make me forget about the price. I'm nothing if not a cheap bastard, a skinflint, a pennypincher -- but I am also a geek, and geeks need their technolust slaked from time to time.

What else is new... office drama (not that interesting and mostly resolved now), interviews (can you see me suing people for slip-and-fall, whiplash or "other permanent or recurring serious injury"? More on that soon), drinking in Doylestown, a complete set of Crisis Heroclix, basic cable for which I'm not paying, and the usual quandaries of life and the law.

I guess that's largely it. It's getting warm all too soon, and dampening any hopes I may have held out for an April blizzard. It's a little hard to tell here in the new apartment, because it's warm all the time.

I'm going to put some music in my new iTunes and play with the laptop's built-in digital camera.

--10:22 PM, EDT, Hatboro, PA, he's wearing sunglasses? I don't want to talk to him.

---

If you don't have anything nice to say
written 2008-04-14 19:44:04

My back hurts, my head hurts, my neck hurts, and all on the day I was going to go out and get ninety things done*. I'm taking some drugs and going to bed early.

--7:41 PM, EDT, Hatboro, PA, they say he shot the President but I don't think he did

*: No, that's not a cop-out!** You shut up!

**: All right, fine, it's sort of a cop-out. Leave me alone.

---

Listen, listen, to the auctioneer
written 2008-04-22 23:14:50

Happy birthday to Chuck and Mikey.

Congratulations to the Flyers.

Thanks to Mom for visiting, organizing and helping me get a table up my awful stairs.

And I apologize to anyone who thought it was up to me to change my political affiliation to Democrat and vote in this primary. I do not accept your two-party system and find all the party-switchers to be politically (or otherwise) unprincipled.

--11:13 PM, EDT, Hatboro, PA, I still wish Obama would have won, maybe then we could get this over with

---

Heroism
written 2008-04-24 09:17:30

Dad let me watch hockey (Flyers win!), do laundry, and he bought me barbecue for dinner. That's a good Tuesday. Bren drove my box spring over to my apartment, carried it up two flights of stairs, and helped me put it back together (after sawing it in two). That's a good Wednesday. Thanks, y'all.

Interview today, second one at Goldberg, Wong. More on that later.

And now, a word from our spiritual leader, Riley Cote:

"Calling us thugs... well, it's working for us, if that's what it is," said winger Riley Cote, when informed a D.C. reporter had referred to his team as a band of thugs. "We play the game hard, that's the way it's supposed to be played. And that's what Flyer hockey is all about."

--9:15 AM, EDT, Philadelphia, PA

---

Preparing to break radio silence
written 2008-05-20 13:31:14

Sorry for the quiet. It's been uneventful for a while. I hesitate to post anything that sounds like "Dear Diary, today nothing happened, I wonder what will happen tomorrow."

So what's up?

Happy birthday, Jen! Jen had a birthday. Also, Rob had a birthday party for Jen, which was a great sprawling wonder of a thing. There was multistate cooperation and secrets and presents and beers and the Jimmy Buffett Margarita Machine Super Deluxe. There was fire and rain, which means everyone at the party may now sing like James Taylor. (There was even a sunny day that I hoped would not end. It did, though.)

I started playing World of Warcraft. I'm probably going to have to stop, though, because it's one of those games that will be perfectly happy to have you play it for nine billion hours per week, and it doesn't cost you any more than the monthly fee. Well, doesn't cost you money. The true cost is tolled from your mind and your soul. And you will pay.

Been working in the city. That's been good.

But I won't be, as of two weeks from now, as I have accepted a position with Goldberg, Wong and Associates. That's right, actual lawyer work for the actual lawyer. Please let me know if you or anyone you know needs some lawyering done.

I guess that's about it. See, stuff finally happens that seems to be worth relaying to the Internets, and it's just a short little post. I must not have the right mindset for bloggery.

--1:29 PM, EDT, Hatboro, PA, bloggery is (C) and (TM) Heslin Industries, 2008.

---

Marvel Prize No Prize Trivia
written 2008-06-01 19:21:28

I can't remember all of them, and specifically what the first of the twelve "number" questions was, but I answered it correctly, along with a few others, gaining some free swag in the process. Prizes are neat.

Trivia follows:

What is Marvel Boy's real name?

What does FOOM stand for? (Not the dragon, the Marvel Comics fan club.)

Name two people who have been Ant-Man.

Name three of the Howling Commandos.

What four villains were attacked by the New Warriors in Civil War #1, resulting in the Stamford tragedy?

List the original Sinister Six.

List the seven code names originally selected by the Runaways. (Trick question.)

Name eight women Peter Parker has dated.

Name nine Avengers who have never had their own solo book.

Name twelve mutants that have been de-powered.

What does SHIELD stand for? And, what does SHIELD stand for? (Two different answers.)

Trivia ends.

--7:18 PM, EDT, Hatboro, PA, yes I'm a tremendous nerd thanks

---

Instead of playing WoW
written 2008-06-01 19:34:33

So I went to Wizard World Philly this weekend. It was a hoot, and I got to do a lot of different stuff. I was in a trivia contest*, and did fairly well -- I think I got more questions consecutively than anyone (except maybe the 50-60 year old looking dude who knew all sorts of Avengers and silver age Spider-Man stuff). I heard Garth Ennis say, "I wanted to have the Punisher kill a priest," in his charming Irish brogue. I bought a large chunk of the 100 issue run of New Mutants, sadly paying money for a second time to acquire miserable Rob Liefeld artwork. Dan DiDio asked me what my first comic book was.

And that was just Sunday!

I watched Marty get all misty-eyed thinking about X-Factor #83, and tell Peter David that he'd cheerfully bear his children, medical science permitting. I watched a slim and trim Chris Claremont and Peter David drag Tom Brevoort around by the metaphorical credentials at the "Legends of Comics" panel. I saw a woman in a dead-bang Baroness costume from the GI Joe cartoon. I heard Michael Avon Oeming suggest to his girlfriend something horrendous in a casual voice (it was a "There's Something About Mary" reference, I shan't go further), and I saw people drinking beers in a comic book shop at 11:00 PM in Philly's Old City.

I had already bought a weekly train pass, so it cost me nothing to travel back and forth... except for the one night when we stayed past the last train and had to bum a ride back from Rich at Brave New Worlds. He's good stuff, I say. Thanks, man.

I played some Heroclix, which was both fun and time-consuming. You meet a lot of good folks playing that game, and this weekend was no exception. Though, the people running the events today were a little snide and arrogant. You can't win them all.

I was given free Advil by some marketing people on 11th St. I count myself fortunate I didn't need any all weekend.

Last week at the temp job. Already handing out cards for the new job. Must go pour myself a drink of something cold now, and try to cool down. Summer's going to be brutal in the new apartment. I feel it already.

--7:30 PM, EDT, Hatboro, PA, now I want to go play WoW

*: A sampling of the trivia questions is listed below. See how many you can answer!

---

Illyana Katherine Karabin (Catherine?)
written 2008-06-07 12:03:44

Congratulations, Keith and Suzanne.

--12:02 PM, EDT, Hatboro, PA

---

New new new
written 2008-06-18 23:34:28

So, I'm in my second week of the new job. Learning a lot, reading a hell of a lot, starting to do things that lawyers do. It's good.

Played poker tonight, finished third out of nine. (Ten?) Third place got me my buy-in back, which makes me glad I didn't suggest going first-second or winner-take-all for the prize money. Good to see Justin, who is looking forward to going up on the mountain. Have fun up there, y'all.

Going to the near city this week, and a farther city next week. I plan on other people buying me dinner and drinking to excess. Well, not both at once, I'm going to pace myself.

Apparently casinos will give you free money to gamble with and let you keep the money that you win from the free money. That seems to violate one Law of Thermodynamics or another. But it's true.

I need to walk more. I need to periodically burst into jogging. I need a plan.

--11:32 PM, EDT, Hatboro, PA, I detect an ounce of sadness, but you won't say a word

---

Ooh, before I forget
written 2008-06-18 23:46:19

Scott Pilgrim is the bee's knees.

I recommend you purchase!

--11:43 PM, EDT, Hatboro, PA, "he probably wants to cut your head off with his prized antique samurai swords! man, my dad is so lame."

---

From the Penny Arcade podcast
written 2008-06-21 09:57:31

Regarding the use of celebrities to market things to geeks:

"We have our -- this is what these (expletive) people never understand, is that we are a subset of the major culture. We have our own celebrities, you know what I'm saying, we have our own people... who embody the virtues we cherish."

"That we admire, yeah."

"Paula Abdul is not one of the people that we cherish."

--9:54 AM, EDT, Hatboro, PA

---

Gerlach rides the cookie bus
written 2008-06-30 08:23:46

Happy birthday, Jess.

--8:21 AM, EDT, Holland, PA

---

The poisoner and the tax man
written 2008-06-30 08:41:09

So, rather than sweat to death in my overheated apartment, I thought I'd drive up to Jersey City and see how ol' Jess was doing. She was doing well, it turned out, has a ridiculously nice new apartment, and had a birthday party. I decided to stay.

With me for the ride were Kristy and Terry and Mr. John Jameson and His Sons. Kristy and Terry and I mixed with the other guests, but Mr. Jameson only mixed with ice. This turned out to be a terrible move on my part. But, one cannot learn that one is no longer in shape to drink straight whiskey all night until one attempts to do so. The Master has spoken.

Nils who was Hobie was there, and I apologized for not putting Nils and Hobie together at the last party. We talked a little old school and I met his gal. Ray was there, and is pursuing a doctorate these days. Well done, sir.

Someone named Jean-Luc who reminded me of the Waffle King was there, and his girl Molly listened to me describe the works of Mark Helprin. And, as an added bonus, she didn't just take the first opportunity to leave the area, she actually responded and offered conversation. Somewhere around this point I thought calling the Waffle King would be a good idea (clearly the work of Mr. Jameson) but did not have his number in my phone.

Cat was there. She remains cute and cool, but on this occasion busted out both geek cred and highly intelligent conversation. She did not fall into my arms this time, much to my dismay. Next time, I'm wearing Chuck Taylors.

The next day saw hangovers, gastrointestinal dysfunction and massive amounts of self-pity. Thank goodness K-Bar drove. Neither I nor Terry was in much shape to attempt it.

So, back in the 215 and back to work. There's law that needs to be practiced.

--8:37 AM, EDT, Holland, PA, with cream filling, icing, jimmies

---

I've got a fever
written 2008-07-13 19:48:56

And the only prescription is more cowbell. Okay, not really. Nor do I have a high temperature or anything.

First, this: Chess-boxing. No, really.

Attention infrequent internet users! When reading the above sentence, the part in blue (or other non-standard color) is a link, and you may click on it to read something on another page that I found interesting or otherwise relevant in some way. This has been a public service message.

Heard a set by Dar Williams from the XPN XPonential Music Festival live on the radio. It was like being reassured that there was meaning and hope in the world.

Reading Quixote by Bryan Glass, which I picked up at Wizard World and still haven't polished off. Reading Freddy and Fredericka which I have only been reading on breaks at work - it must mean I'm working too hard if I haven't finished it yet.

Playing a tremendous, obscene amount of World of Warcraft. I justify this lifestyle choice by submitting that I have already paid for an entire month of the game, and by annihilating chunks of my life playing online games I'm saving money by not going out and spending money I don't have on things I don't need. Sometime in the next few months I'll post my "I quit" message and, if I'm not too ashamed, I'll post the "amount of time played, total" that the game will tell you if you ask for it. No one ever asks for it, because of the shame.

I almost became Batman this week. While sitting in my study, pondering how criminals are a cowardly and superstitious lot, a bat flew in my window. Now, as most of the hardcore know, Bruce Wayne has this experience and decides to become a terrifying symbol to intimidate evil men. However, if Bruce had not been wearing a shirt and the bat had landed on his bare back and he shrieked like a little girl, he may have become a very different hero. Possibly the "Throw Something Living On Criminals' Bare Sensitive Flesh Man" or something similar.

Suffice to say, I will not be fighting crime anytime soon.

--7:45 PM, EDT, Newtown, PA, the play was called the Unicorn, and she was the Unicorn, which means the star of the play was my babysitter

---

Felicitations!
written 2008-07-14 12:23:20

Happy birthday, Mom!

--12:21 PM, EDT, Holland, PA

---

Plan accordingly
written 2008-07-15 10:08:30

Barry will be visiting the area in about a week, staying a week or so.

He'd love to see people who are conveniently situated. Mark your calendars. We'll hang out.

--10:06 AM, EDT, Holland, PA

---

Plus ca change, plus c'est la meme chose
written 2008-07-28 12:41:59

I have to change my header and slug. They've been the same since fa-eva.

Work is work.

Spent most of this weekend at 1437 providing comic books and rides around the greater Philadelphia area. I've got to install WoW on my laptop if I go spend another weekend over there, since I think Jen would kill me after Chris started spending even more time playing video games once I installed it on their machine.

There is a new Heroclix set. Since I don't yet have a storage system for the last set, I should really address that situation. Particularly since I think I'm going to make Barry sleep in the game room. "Don't move these, they're all in order and can't be adjusted. I have nowhere to put these stacks of card boxes, so, just try to curl up somewhere over there. Ooh, don't touch that."

I hope Mikey comes to visit soon. I have some RAM sitting around, not making my computer run faster, and I bet he could help with that. (Obviously, I would just like to see Mikey, but I can accomplish stuff too at the same time. Without feeling guilty. Or manipulative. You shut up.)

A quote from Alice Thomas Ellis: There is no reciprocity. Men love women, women love children, children love hamsters.

I don't know if I've used "header" and "slug" correctly above.

--12:37 PM, EDT, Holland, PA, It's stupid how we always seem to do it again

---

My friends are cooler than your friends.
written 2008-08-05 09:42:47

First off, Happy Chuck Wendig Day. No, it's not a birthday, or an anniversary, he's just so awesome that they declare holidays in his name now.

Secondly, congratulations to Kristy on her enormous crowd of park-goers, who came out to see As You Like It. She was excellent, as those of you who have seen her in action can attest. Her co-star was adorable, but Kristy fell down on the job and did not get me a date with her. Seriously, is it too much for a guy to ask for his friend to trick her colleague into breaking up with her boyfriend just prior to a cast party and just happen to meet an attractive and single lawyer who just happens to be available later that week?

Is it?

Barry left. He said something about this area "not being as cool as" when he lived here. He's right, of course. You may have noticed the area was considerably more hip for about four days. That was Barry. He does that. It was excellent having him about, and having him suggest things like "let's go see The Dark Knight instead of doing laundry" which is an obvious genius move. He tried to indicate that I should visit him in Dallas by mentioning how many times his buddy DJ had been to Dallas. I naturally countered with, "%#&* that. I moved there for a year." But he's right, a visit would be good.

Mikey stopped in briefly, then flew to Germany.

And we're roleplaying again. Just restarted the Changeling game. As always, Chuck goes from zero to sixty in nothing flat. I fear he will next turn it up to 11.

--9:38 AM, EDT, Holland, PA, he promised her the sun and the moon, now all she has is this six by eight room

---

Omnia moderatio
written 2008-08-08 10:16:25

Or some dead language to that effect.

So, Barry tells me he catches up with people on Facebook. And Chuck says there's networking to be done on there. And my colleagues at work say it's a good tool for keeping your name out there. So I signed up for it.

Holy crap, there's a lot of stuff going on there. First off, at my age, there are a lot of people you've known and lost track of. Classically, you meet these people again at weddings, in airports, or in wholly unlikely situations lending themselves to sitcom or rom-com plot devices. Today, you add them as a friend on Facebook and then receive constant updates as to what kind of bagel they are getting today. Secondly, there's a bunch of little games and features and doo-dads for you to screw around with -- but forget that, look at all those people. I've been on for about three days or so, and I have close to 100 "friends."

I'm not comfortable with it, but then again I wasn't really comfortable with WoW, and see where that got me. It's not a replacement for real contact and real friendship. It's a tool for organizing relationships and contacts, and that's probably important to remember.

Must get some housework done this weekend. The apartment wasn't nearly as clean as I hoped for company. Though, I had a look around and I realized that my apartment only has cabinets in the kitchen. No hutches, nowhere to put cleaning supplies, no closets (other than the dwarf-sized one and the cat-box one), no shelves. And I brought in very little in the way of organizing furniture. As a result, even with perfect organization and consolidation of space, my apartment probably looks like a crazy person lives there. I'll get Barry's opinion on that when I can reach him -- he's a busy dude. Somewhere, I'm sure he's wearing two layers of clothes in 106 degree heat and complaining about how mild it is.

I'm sure of it.

--10:10 AM, EDT, Holland, PA, this is grace in gravity

---

Well, that doesn't make any sense
written 2008-08-13 09:20:47

Google Ads suggests the following, based on the content of my e-mails:

"Free 14 pack of Pringles - www.healthierlifestyleoptions.com"

First off, I'm not writing about Pringles, or chips, or junk food, or snacks or anything even vaguely related to Pringles. Secondly, I don't think a boatload of Pringles should be available from a website called "healthierlifestyleoptions.com."

But that's just me. And I'm probably not your go-to guy for anything "healthy."

--9:13 AM, EDT, Holland, PA, we have blue eyes, we have green eyes, we have grey eyes

---

Just an aside
written 2008-08-14 11:49:47

This amused me. There is harsh language in the link, heads up.

--11:46 AM, EDT, Holland, PA, that's how I roll

---

215? 610? 267?
written 2008-08-15 17:15:57

Last night there was this party.

See, Jeff used to be a partner here at my office. He interviewed me on my first visit to the office. But, sometime between then and my offer, Jeff decided to set off on his own and open a new firm. I think we were co-workers for one week before he moved to Newtown as a founding partner of Cevallos and Wong.

Cevallos is a guy who also used to work here at the office, and has been on his own for a while. He does guest spots on CN8, sometimes opines in the Metro op/ed roundtables, and apparently teaches classes sometimes at Drexel.

So, they had this party to announce their new firm, down in the city. At one of those crazy hip expensive joints with $14 cocktails, terribly attractive staff, and a VIP lounge. We were in the lounge. I did not think this made me a VIP.

I congratulated Jeff and Danny, apologized for the rest of my office's failure to show up (excuse: past their bedtime), gave Danny an office-warming gift, and helped myself to some free booze. Well, after paying for a $14 screwdriver, I felt I had a few free ones coming to me.

The above is just prologue. So, I'm hanging out, wondering how young these people are, if they're lawyers or just related to the practice of law somehow, when this young lady asks me about court reporters. It's a random question that I just happen to be able to answer. We discuss things for a while. It's excellent party small talk. She's lovely. Her friend is considering law school, so we talk with her a while.

I mention I should be going (I took the train, just in case I drank a lot of free vodka) and she says okay. She then -- and I just want to emphasize this, for the folks in the cheap seats -- she then reaches into my shirt pocket for my business card, which she takes, and writes her name and info upon. She then slides it back into my shirt pocket and tells me to look her up sometime.

I love Philadelphia.

--5:02 PM, EDT, Holland, PA, let's hope I remember where the close tag for italics goes this time

---

Recapitulation
written 2008-08-18 12:38:50

Bren and Pina made it back safely from the shore. Bren continues his experiments with wind and light materials. Pina is not sure she likes this new "smug, confident Matt" (as seen last post, see below).

Chuck won a Nerd Award. All the nerds get together and have little nerd arguments over what the best nerd stuff is, and as a group they decided Chuck wrote one of the best electronic gaming books this year. Good job and congratulations to him. Nerd.

Mikey blew through town again, long enough to make me go see Star Wars: Clone Wars with him. I apparently need people to tell me "we should go see X movie" because I missed the Indiana Jones movie, the Hulk movie, and conceivably could have missed The Dark Knight had Barry not intervened. Clone Wars is totally not as bad as you've been hearing. It's a fun, fairly light-hearted cartoon about Star Wars. There's a lot of fun futuristic violence, and Jedi Knight fighting you can't do outside of animation or CGI. I'm not saying it was amazing, or even finely crafted or anything. It was just a fun flick. Haters need to calm down and accept. Waiting for DVD? That's cool. I had very low expectations going in, and left pretty happy.

I'm hungry. What's for lunch?

--12:32 PM, EDT, Holland, PA, what do we do when a sprog acts a fool?

---

Wow, is that the time?
written 2008-09-10 18:27:26

Sorry for the nearly-month-long lack of updates. A number of things compete for my oh-so-precious time, and I simply was having too much fun doing absolutely everything that you only wish you could be doing.

Yeah, or else I just didn't have anything noteworthy to say for three weeks. I'm leaning toward the latter.

So, what's up? It's autumn here, and I couldn't be happier. My apartment becomes more habitable, sweat dripping into my eyes less likely, trees gear up for all sorts of visual entertainment, cool breezes remind us that we are not a tropical locale... honestly, fall is the best. I can't wait. Bring me equinox.

Nearly finished The Yiddish Policemen's Union. Did finish The Second Objective, which was either historical fiction or fiction based in historical fact. Weird thing about that -- the best writing in the book is when it seems to be written historically. When it's more fictional in tone or content, the writing seems to suffer. Another example: the movie "21" with Kevin Spacey and Laurence Fishburne. Crap movie, but "based on true events!" And, if you go and read Bringing Down the House by Ben Mezrich, the true account of events upon which "21" was based, it's entirely better written and more engaging. But, that might be just be my opinion.

Watched "Southland Tales," by Richard Kelly, the director of "Donnie Darko". Desperately wanted to like this movie. Desperately. And I was absolutely disappointed. However, I think that this film has a future as a Rocky Horror Picture Show experience, where people dress up like The Rock or Stifler and go and watch this thing, or try to frame it in terms of post-modern literary criticism or play Pink Floyd as soon as the movie starts to see if it syncs up in a significant way. You should see the cast list, though, it's ridiculous.

I'm through two seasons of The Wire. That's a great show. You should watch it, too.

Blizzard debited another couple bucks from my account for World of Warcraft. I guess I'm going to keep playing it -- I had had the idea that I would play for one billing cycle, then decide whether to keep playing or cut it off. It's a good time, it's got a lot of "replayability," and it's very cheap, comparatively. Consider - I paid $60 last month to have a phone, which I used for one hour. I paid $13 last month to play WoW, which I used for God-knows-how-many-hours. Bargain.

The bats returned to my pad this week. Well, one bat. That better be the last time. I would ask my landlord to release me from my contractual obligation, but I haven't been able to get him on the phone for the last five months. It's funny when the maintenance guy calls me to tell me, "I don't see any bats," at 2 PM. Yeah, thanks, man. I wonder why they aren't in there partying.

Gaming overload! Playing Changeling, as usual, though for some reason everyone's schedule must have cleared up because we're playing nigh-on-weekly. This coming weekend, though, is playtesting, which I must not speak about, or [REDACTED GAME COMPANY NAME] commandos will break into my home disguised as bats and beat the hell out of me. Two weeks after that, the Henleys and I will circumnavigate the city of Philadelphia in search of some V:tES to play. See, they and I have been rediscovering our joy of centuries-old vampire mayhem. Might plan a trip to DC and see those kids. I bet that drive will be nice in the autumn, right? All this plus WoW, and I'm pawning off some old VS cards in order to get some hot new VS cards... too much fun.

All right, that's enough about me. Hope all's well with you, and your assorted menageries.

--6:25 PM, EDT, Hatboro, PA, unbreakable! unbeatable!

---

We now resume your regular broadcasting schedule
written 2008-09-10 18:29:04

Yeah, yeah, I forgot to pay my internet rent.

Stupid GoDaddy.com. Seriously, does anyone even have a Sprynet address anymore?

--6:27 PM, EDT, Hatboro, PA, that's not my name

---

Too smart for your own good, or anyone else's for that matter
written 2008-09-15 17:19:16

There was a post here about music. Then I tried to find some material to paste in or link in and in the process erased everything. I love being stupid.

A brief version of the lost content follows:

NIN - free music available online. Instrumentals. Good.

Airborne Toxic Event. Ting Tings. Fleet Foxes. Recommended.

Sharing music with people. Do it. If you stop, someone loses. The music you save could be your favorite.

Twitter mixtape, nearly finished. Track list follows.

"Patient Patient" by The Morning Benders, 2:32
"Do the Panic" by Phantom Planet, 3:34
"Mistaken for Strangers" by The National, 3:32
"On the Radio" by Regina Spektor, 3:20
"Jogging Gorgeous Summer" by the Islands, 2:46
"Let's Dance To Joy Division" by the Wombats, 3:11
"A Postcard to Nina" by Jens Lekman, 5:00
"Do It Again" by the Bird and the Bee, 2:45
"The Babysitter's Here" by Dar Williams, 3:57
"I'm Not Gonna to Teach Your Boyfriend How to Dance With You" by the Black Kids, 3:39
"Great DJ" by the Ting Tings, 3:24
"I Call on You" by the Trolleyvox, 2:50

--5:12 PM, Holland, PA, Hers in many languages, mine in the off color of my only tongue

---

The only important question in philosophy
written 2008-09-15 17:24:21

David Foster Wallace hanged himself this weekend. He was an author. He wrote big crazy books. I bitterly regret that there will be no more.

--5:19 PM, Holland, PA, the PGOAT, or, the Prettiest Girl Of All Time

---

See, this is what I'm talking about
written 2008-09-16 09:55:24

Patton Oswalt posted a link to a graduation speech David Foster Wallace gave at Kenyon University a few years ago. It's worth reading, if you have a short time to spare. Though, it will take some time - at least it's shorter than the 1000+ pages of Infinite Jest.

--9:52 AM, Holland, PA, the capital-T Truth is life before death

---

What a weekend
written 2008-09-21 15:20:33

So yesterday I mistook one clock for another and essentially lost an entire day. I slept in late, after staying out late the night before, then while online kept checking a clock set to Mountain or Pacific Time. "Why, it's only 5:15, I have plenty of time to go out and be about my day," I said. Naturally, it was not, and my day was lost. I did watch There Will Be Blood which was good, did not possess the usual "rising action climax falling action" story structure, and was the source for the now-hip phrase "I drink your milkshake." I didn't know that.

And today I woke up with a terrible, nausea-inducing headache. No, really nausea-inducing. It was disgusting. And now it's 3 PM, and I have no idea if I'm better now or if this is just temporary. Stupid headaches. Stupid nausea.

Happy birthday, Jill. Jill sends love and high fives to anyone worth sending to.

--3:19 PM, EDT, Hatboro, PA

---

Is that primer, or is that what it's going to look like?
written 2008-09-30 17:56:13

Things!

I had my first arbitration today. Short version: I won. Longer version: I won, but it kind doesn't matter, because it's not binding, and if the other side thought it was worth taking to arb, they might think it's worth taking to court. Which is stupid, because it's a relatively small amount of money. It's also stupid because I'll just beat them again.

That's some more of that behavior that Pina frowns on. Smug, confident. It's really a facade, I assure you.

The Phils are in the playoffs. Angelo Cataldi is still a dour Dan about the whole thing. I look for great things from Chase, Shane, and Pat, and expect great things from the usual suspects - Lights Out, J-Roll, and the major league home run champ. Also, to my peoples in Milwaukee: congratulations on making the playoffs! You deserve it. You ain't going any further, though. [friendly wink]

The Eagles keep losing games that they should win. I hope this is because they'll pull out all the stops in the second half of the season. Beating Washington next week will be a good sign of things to come.

I'm still playing WoW. It's a sickness, but one I feel is under control. Other players cannot stress enough how the content for maximum-level characters is entirely worth the work of getting to the maximum level. We'll see. Right now the difficult part is playing my main characters rather than the other ones I created a few weeks ago. Since I know more about the game and how things work, the newer characters have many more advantages to them than the old ones did at the same point.

I bet nobody gave a damn about 95% of that last paragraph.

I am disappointed that the state decided that we're not allowed to smoke in bars, or bars-that-are-not-neighborhood-taverns, or facilities-with-less-than-70%-alcohol-sales, or whatever they decided. People have choices. If you don't want to smoke, you don't have to. If you don't want to second-hand smoke, you don't have to. If you don't want to work somewhere where people traditionally smoke, you don't have to. Damn hippies. Patton Oswalt was right.

Have I mentioned I love Philadelphia? I love it.

I'm writing this on the train back up to Hatboro from Center City. Then I have to go to work, because there's still work even when you win your first arbitration. In fact, there's probably more work now.

Go Phils.

--11:42 AM, EDT, underground, North Philadelphia, PA, lights out

---

Much needed respite
written 2008-10-14 18:08:47

A lot has gone on. I'm sure you've been anxiously awaiting an update. Vaguely interested in an update? Could take or leave an update, what-ev.

Fine.

What happened? I was a successful litigator, last time I checked in. No news on that front, so my record remains 1.000 in the "not really meaningful" weight class. I stand by my stats. Since then:

My Aunt Neenie passed away. My family and I are terribly fortunate to have had someone like her in our lives. Being at the funeral proceedings, while for a sad reason, was wonderful -- to be able to spend time with the Binghamton extended family, hang out with people you remember as eight-year-olds but are somehow now police officers with wives, and remember Neenie -- how could that be anything but great? My cousin asked, "How are you supposed to answer the question, 'How are you?' at a time like this?" It's tough, but it's life. We're all lucky.

My sister and I drove up and back in two days, so it was a reasonably short visit. Jen played her Zune (yeah, someone actually owns a Zune!) all the way home at obnoxious volume, which was, I think, precisely what we needed.

Driving up to Binghamton in autumn is worth it, just for the visuals. Careful you don't drive off the road, though, hypnotized by fall in its glory.

So, as if that wasn't enough autumn foliage, on Friday I went up to Vermont to visit with me ma. Excellent visit, terrible drive. To get to Mom's part of New England, you have to drive up New Jersey, past NYC (not through, thank God), through Albany, and up around Lake George... then into Vermont, through some rural areas (I'm sorry, that's redundant), over Killington, through the middle of nowhere, then about eight miles further. On this drive, I encountered rush hour traffic leaving NYC, a car accident in Saratoga Springs, and a moose crossing zone, though no moose.

In Randolph, there was a bake sale, nine holes of golf, home-cooked food, warm daytime weather and downright cold nighttime temps, a witch shop ("I don't know how they stay in business," quoth Mom), Scrabble, a dial-up connection, a biker bar and a used bookstore with a Ben & Jerry's attached to it. Well, those last two were in Rutland, not Randolph, but it was all stuffed into a very good weekend.

The drive back was similar to the drive there: sanity-threatening. Like Delaware and I-95, New York just doesn't care that hundreds of thousands of cars want to drive on space for thousands of cars on their Thruway. I had no deadline to get back before, so that helped. And as bad as the traffic was, it was entirely worth it.

Back at the ranch, things are slightly uncertain. The workplace is an unstable environment right now. I'm hoping in the worst case scenario that I will be able to find more temp work before Christmas, so I can afford presents for everyone this year. Temp work pays well.

(This is not cause for alarm, concerned family and friends. Everything that happens happens for a reason. Be cool.)

--6:03 PM, Holland, PA, I know it sounds a bit bizarre

---

Damn good times
written 2008-10-23 09:17:00

What's great about this Phillies team is the entire team effort. Last night (Game 1 of the '08 World Series) some of the superstar-level players did not have their best showings. But in that situation, the rest of the team steps up. Not just Utley and his home run, but Victorino's bat and his defense, Pedro Feliz, Chris Coste (as DH...!) This team rarely wins because of one superstar playing out of his mind ball. They win because they're all out there working, and playing as a team.

I dig that.

In other news, autumn hit and the temperature is dropping. You can't tell from my apartment, though, which continues to collect all the heat from my building and concentrate it on my floor. Right now, that's drying out my cuticles and my nose. In a month or two, it's saving me bank on my heating bill.

--9:13 AM, EDT, Holland, PA, and I said "shrink, I wanna kill"

---

Value added
written 2008-10-30 15:09:24

So, a month or two back, the phightin' Phils made it into the post-season. Season ticket holders rejoiced and put down deposits on playoff games. I am not so blessed as to possess season tickets, but I did visit Phillies.com to see if tickets could be obtained any other way. I was able to give them my e-mail address and I was entered into a random drawing to see who would have a chance to buy up the few remaining non-season ticket, non-ticket broker, non-I-know-a-guy-who-knows-a-guy seats.

And a few weeks back, I got an e-mail telling me I could buy up to 3 tickets for Game 5 of the World Series. Now, for the baseball-challenged, the World Series is a best-of-seven series; Game 5 might not even happen. So, buying these tickets was like buying a maybe. But I did, because I figured, when is this going to happen again?

Then I found out what the secondary market for World Series tickets was like. Mind you, my seats were so far up you needed a personal trainer to help you get in shape for game night. Nevertheless, people were advertising similar seats for $500, $600 or $800 on various websites. I thought to myself, "Wow, I could use a quick $1100, $1400 or $2000!" I made some efforts towards selling the tickets. None panned out. I am not surprised, since they were tickets to a baseball game, and not gold-plated chocolate jewelry. (Okay, I don't know who's buying gold-plated chocolate jewelry, but it would be expensive. Shut up.)

Anyway, after not getting offers in my ballpark dollar value, I decided to keep them. Good move on my part. Know why?

Again, this is aimed mostly at the baseball-illiterate. The Phils won three games prior to Monday night. That meant they were one win away from a World Series title, winning it all. That's pretty cool. And on Monday, they would play at home, in front of 46,000 screaming fans, with ace Cole Hamels on the mound. These are all good things, and contribute to a very positive outcome. So, my tickets meant I might be able to personally see a Philadelphia sports team win a championship - something that hasn't happened in 25 years.

I called my brother and sister to offer them the other tickets. We packed up a cooler and headed into I-95 traffic. The sky was overcast, but it hadn't rained all day, and the forecast said the rain, while heavy all weekend, was over.

If you were near Philadelphia, or a television set, on Monday night, you'll know that was not the case.

Philly lost a one run lead in the 6th inning due to weather so bad that "inclement" lacks the syllables and gravity necessary to describe the autumn nightmare that descended on Citizens Bank Park. Rain grew worse each inning, and cold wind attacked the park. It never turned to snow, but you'd never have known it from the freezing temperatures. Finally, after the score was tied (to the paranoid distrust of MLB conspiracy theorists), the game was put on hold, suspended.

So, in a weird turn of events, my siblings and I packed up the car with a cooler and headed into I-95 traffic for a second time that week. Last night we got to the park, hung out, used our parking pass to get in free, and used our tickets again to get back up to those nosebleed seats and watch the last three innings of the game. Not that we needed the seats, because we stood the entire time.

Geoff Jenkins hit for Cole Hamels - Cole pitched six on Monday and wouldn't be coming back to pitch Wednesday - and got on base. Rollins and Werth gave up some outs to bring him home and open up the lead. The Rays came right back with a solo home run - Rocco Baldelli, I think. Then Pat Burrell got a hit - his first of the Series, and possibly his last as a Phillie, since he'll be a free agent next year - allowing a base runner to get on and eventually score. Ryan Madson had opened the seventh as pitcher, then JC Romero. That brings us to the ninth, and "Lights Out" Brad Lidge. Lidge has a perfect record in the regular season and the postseason in saves. They didn't need to play the last half-inning.

Phillies win the World Series.

It was great being there - cold, wet, occasionally shocked and outraged by umpires and commissioners - absolutely worth the price of admission. If the Phils go another 28 years before they win one of these, this will tide me over. And by then, maybe I'll have some season tickets.

--3:01 PM, EDT, Holland, PA, nobody, and I mean nobody, comes into our house and pushes us around

---

All my life's a circle
written 2008-11-04 14:12:52

Here's a little Harry Chapin for you:

When I started this song I was still thirty-three
The age that Mozart died and sweet Jesus was set free
Keats and Shelley too soon finished, Charley Parker would be
And I fantasized some tragedy'd be soon curtailing me

Well just today I had my birthday -- I made it thirty-four
Mere mortal, not immortal, not star-crossed anymore
I've got this problem with my aging I no longer can ignore
A tame and toothless tabby can't produce a lion's roar

--2:07 PM, EST, Holland, PA, the iceberg's off the starboard bow, won't you dance with me?

---

Please drop a penny in the messenger boy's hat
written 2008-11-05 12:35:53

First: I've decided to make some flavor-infused vodka. No reason, I just want to. Come Christmas time, I'll be forcing people to accept these as gifts. I don't know why I would be so mean to people I claim to like, but there it is. Possible infusion varieties include: lime, watermelon, orange-cinnamon-clove, anise, bacon, cantaloupe, pepper and Skittles. Now, if anyone would like me to make them some infused vodka, please let me know and I'll make it to order. You can request anything, and I'll try to find a way to jam it in a jar with some vodka. If no one wants any, well, too bad. I'm putting Skittles in vodka and there's nothing you can do about it.

Second: Christmas time approaches. Please let me know what you want, if you are someone who is expecting a present in late December. Otherwise you could get stuck with Lemon Skittle Vodka. Or Grape. (shudder)

Third: For Christmas, the following things interest me:
Film on DVD: Beautiful Girls, by Ted Demme. Clerks 2 and Chasing Amy by Kevin Smith.
Comics and books: Local, by Brian Wood and Ryan Kelly. The New Frontier, by Darwyn Cooke. That complete Calvin and Hobbes slipcased edition, by Bill Watterson. Volume 1 of the Absolute Sandman, also slipcased, by Neil Gaiman. Any of the "John Carter, Warlord of Mars" books by Edgar Rice Burroughs, but not "A Princess of Mars" which I have already. You Suck: A Love Story, by Christopher Moore.
Clothing: A shirt with the "Parental Advisory - Explicit Lyrics" logo. Jeans. Long sleeved mock turtleneck shirts. LL Bean makes good stuff and is pretty cheap, considering. I will of course get good use out of any ties, dark socks, collared shirts, etc.
Miscellaneous: AAA membership. Wild Cards books from the 1980s. A Notre Dame bottle opener for my keychain (the flat, chrome one like Bren has, not the one that plays the fight song when you use it). An iPod Touch, though I really don't need one, doesn't it look sweet?

I list these things not out of greed or covetousness, but rather out of my own personal rule not to buy anything for myself between my birthday and Christmas. I also understand that we are in a recession and just elected the guy that's going to tax us, so anyone who wants to forego presents this year, that's cool too. You can have Orange Skittle Vodka.

--12:27 PM, EST, Holland, PA, it comes earlier and earlier every year

---

Dr. Jones and Dr. Jones
written 2008-11-19 17:42:18

While I have not yet seen Indiana Jones and the Kingdom of the Crystal Skull, I have difficulty thinking of Jones and Son as anyone other than Connery and Ford. I'm just putting this out there. I don't even know if LaBoeuf is playing Indy's illegitimate love child or something. I'm guessing.

What's up? Working. Writing, researching. Remembering things I learned in law school and putting them to use. Mostly what I'm supposed to be doing, I think.

It's dark early, and that's how you know this is the cool season. And cool means cool, daddy-o, not of a low temperature. Can you dig it? Night time is the right time, and there's more night every night.

Stopped down around DC to play some cards and see some friends. Did quite well, too - four game wins out of five rounds, ranked first going into the finals. Though, in the finals was, as I heard him described, "like, the number one ranked player in the world." I lost in the end, to this player, who I freely admit is a badass and I look forward to playing him again.

Just finished leveling up in World of Warcraft, which I think puts me at eight months since I started, maybe a little more. I still haven't checked to see my total time played, because it's scary. There's an expansion on the way (thanks, Chuck, for the birthday present!) so that's 10 more levels. There's another one after that, but we'll see when that becomes necessary.

My plans to make flavor infused vodka remain in place - the filtering is complete. Now I need mason jars or some other sealed container.

It's getting to be about that time. I'm going to get going.

--5:35 PM, EST, Holland, PA, I don't think I want to be a good dog anymore

---

Tis the season
written 2008-12-05 11:26:21

A lot of radio silence on here, for which I apologize (but not too sincerely, out of the hope that I'm not writing because I'm too busy doing). Let's review.

My brother is the Royal Flush Gang 2008 Player of the Year! Congrats, and "well done" to all the guys who hung in there for the big finish game. I lost early, but recouped a little in the cash game.

Project: Vodka Infusion continues. We have a variety of flavors going on, and we look forward to field trials around Christmas regarding which one is the most disgusting.

Christmas, as you may have heard, is a time of giving. It seems like I'll be giving some today, as a number of my chosen charities, philanthropies and non-profits are motivating me to be generous. I hear you saying, "but you're a poor junior associate living in squalor in Hatboro, Matt!" I deny none of that. But (as I may have quoted before) Harry Chapin once said that the poor people are too busy trying to make ends meet, and the rich people are busy getting richer, so it falls to the middle. And I'm just ambitious enough to call myself "the middle." If so inclined, think about giving a little something, if it's economically feasible.

Going back down to DC to play a little VTES tomorrow. Sunday will be a day of laundry, movies, and cleaning up.

The days are getting shorter, the weather's getting colder. Christian said, "You know you're back in the Midwest when you think to yourself, 'it can't be that cold, because it's snowing.'" Winter is awesome. I enjoyed the autumn, and most days it still feels autumnal, but that's just because winter track and Wisconsin have ruined my ability to feel cold. The overheated apartment should be re-ruining me in the other direction, but mostly it's just drying out my skin.

Gas is $1.83. At one point I meant to chronicle the price of gas on this journal, when it began creeping up toward $3.00, but then forgot. Unfortunate, because being able to chart the price of gas from mid-$2.00 to nearly $5.00 back down to prices starting with "$1" would have been cool. I'm not a good record keeper.

--11:15 AM, EST, Holland, PA, do they know it's Christmastime at all?

---

I know that better things are on their way
written 2008-12-18 17:22:14

There was a rough week, then a week of recovery.

That first week, the Check Engine light went on in my car. I had what felt like a fever, and a wandering neck and back ache. I was targeted for workplace harassment (not really, just had to work with the one guy in the office that everyone hates and everything that comes out of his mouth sounds ignorant and enraging). I found out that my WoW character needed a bunch of imaginary goods and that obtaining those goods would be a pain in the rear.

I stayed home a few days because of the illness. I wasn't certain if losing two days of work would be worth it, but I felt better afterward. My buddy at work told me he had similar symptoms, but he kept working, and still feels awful. So, while my solution was probably the lazy man's preference, it seems to have worked.

Got the car fixed, after what felt like a dozen calls to the mechanic. Beat the hell out of my associate at work (not really, just determined that he's willing to talk trash when I'm not there, but only wants to kiss ass when I'm present). Spent a bunch of imaginary money on imaginary goods in WoW. Started reading a biography of Lawrence of Arabia. Got the last of my stuff done for our annual Solstice party (well, almost).

Went to see the Phantoms play at the Spectrum (30 games left). Man, I highly recommend hitting the Spectrum before it closes, if only to remind yourself of what it was like when you were little, or younger, or maybe just to say you went before they shut it down. Also, hockey. Oh, yes. My dad's impressed with their speed, which is impressive, but I'm impressed with their accuracy. The two are connected, naturally, because if they were skating slowly then accuracy gets easier. It's amazing what they can do. I would have liked to see a fight, though; I admit it. My favorite Flyer is Riley Cote, eh?

I'm going to read some stuff, and then head home. It's dark already, and they're talking ice storm for tomorrow. Well, I think they were talking ice storm, and now they're just talking rain, but a guy can hope, can't he? Mmmm, ice storm.

--5:15 PM, EST, Holland, PA, here's hoping all the verses rhyme

---

Taking exception
written 2008-12-30 09:29:57

Happy New Year, all y'all. Well, it's not new yet, but hopefully you'll all be too busy reveling and having a hootenanny tomorrow to read the internets.

Me? Christmas was good. Too brief, but very good. Saw most of the usual suspects at our Solstice party. Drank infused vodka (bacon tied with orange for MPV, most popular vodka), gave gifts, laid down laws. Christmas was nice because those demon children allowed me to sleep past 6 AM -- well, they tried to wake me up, but I managed to groan and roll over enough to discourage them for an hour. Then presents, and family, and food, and good times. Mom could not make it, and the weather conspired to keep me out of Vermont, but we remain confident we'll see her soon.

My landlord finally responded! Amazing, I know. Unfortunately, his first contact with me in ten months was not "I'm so sorry, I should have called, let's work together and arrive at a mutually acceptable resolution to these issues." It was in fact, "Yeah, so I didn't answer mail or phone calls since April? So what? Pay me." Negotiations are ongoing.

I will ring in the New Year at the Theater of the Living Arts in Philly, spending time with John and John, two dear friends of my youth. It will involve staying up late, but I should be able to hack it. The only danger will come in napping too long between full work day and 11:30 PM concert. It's a "nap," and not a "full sleep cycle." Remember that part.

Hope you all survived the holidays, and keep doing so. I'll be in Johnstown next week, so keep your eyes open for news about that.

--9:22 AM, Holland, PA, pretentious latin quote

---

I'm not actually your friend but I am
written 2009-01-02 10:32:14

In the event that you are not throwing an awesome party for New Year's Eve, or attending same, I recommend going to see They Might Be Giants. Their show is an awesome party by definition.

I actually did manage to get some sleep between getting home from work and leaving for South Street, so there was no point at which I was feeling old and tired and regretted my decision to go to a concert that started at 11:30 and had an opening act. Parking on South Street on NYE was atrocious, but that's like saying the people with Jersey license plates were operating their vehicles in a reckless and stupid fashion; it's just obvious. I circled the TLA for five or ten minutes and then lucked into a good spot a block away. Driving a Civic has its advantages (small parking spaces), and having parked in Chicago gives me perspective on parking that some might not have (didn't even have to hit one bumper to fit in this spot).

There was a line down the block and into an alley, causing one attendee to inquire, "Isn't this show general admission?" It was, but the fans love TMBG so much, it's nothing to stand in the cold in an alley. Sure, we could have been drinking in a bar nearby, not freezing, and still gotten in easily enough, but it's about the music, man.

If your tastes in music run to fat long-haired guys with accordions, I recommend you check out the opening act: Corn Mo. He only played three songs, but that got TMBG onstage in time to count down to the new year, so I dig it. He was a hoot. Good voice, sang a song about the Hava Na Gila Monster, and I do appreciate good accordion.

Then it began. You should know that the first show I went to, 18 or so years back, was They Might Be Giants at the Trocadero. Seeing them today, hearing them play songs from that time, and songs from the last 18 years, and songs released in the last year, was fantastic. It's great that they're still playing, and it may be great that I'm still seeing them in concert. There's something about being there.

They played with an eight-piece band - both Johns, Dan on guitar, Danny on bass, Marty on drums, and three horns (I want to say Stan, Dan and Mike, but please don't quote me). They opened with Particle Man, SEXXY, Buried Alive and Wicked Little Critta. They declared the new album will be titled "Here Comes Science" and will feature a song following up on one of their hits: "Why Does The Sun Really Shine? (The Sun Is A Miasma of Incandescent Plasma)" They dropped balloons on us at midnight and fired cannons loaded with confetti at us during one of the lulls in Older. They made fun of a drunk woman. They played two encores.

Awesome time. Great show. Thanks to Chuck who provided me with the hookup on tickets (couldn't use them, but now I have souvenirs), and thanks to Malcolm for being generous with this complete stranger. Thanks to Jen for providing the means to record the titles of the first five songs (the iPod Touch, woot!). Thanks to that ass in the Nissan Murano who almost killed me and the drivers of two other cars by making a left turn across a lane of moving traffic on Market Street in Center City. Thanks to TMBG for being awesome.

--10:17 AM, Holland, PA

---

I forgot to take my telepathy pills this morning
written 2009-01-07 16:14:37

It's 4:03 PM, and I'm at home. Why is this, you may ask? Because I am no longer employed at the place I have been employed for seven months. Through no choice of my own, mind you. "It's not because you're not bringing in business," the boss said, which is the same thing he said last time. Which leads me to believe that's exactly why. But really, who can say?

The timing was not bad, though. I was really not looking forward to that job after my colleague left to launch his own business. Also, I had an interview lined up, which went well, I think. Also, a number of people have let me know about opportunities of various types and stripes, so I have a lot of options.

Still sucks to get canned, though. I tell ya. I'm trying not to focus on that, because that's a sure way to get all grumpy and whiny and moany.

So, things that are not related to losing a job: driving across Pennsylvania is nicer when you have better than 30 feet visibility, and is nicer when there isn't ice forming on your windshield wiper blades. I have a appointment in Nevada in a month. I am confident that I will be able to keep my appointment in Osaka in May. Well, perhaps confident is not the word. I have faith.

My landlord is still an ass. When he wasn't communicating, that sucked. Now that he is communicating, it's no better. Jerk.

Bah! Enough downery. I'm going to make dinner, decide whether or not to enter the POTY running for The Royal Flush Gang 2009 Tournament Season, and probably mope. But not too much.

--4:13 PM, EST, Hatboro, PA, stay positive

---

Up to speed
written 2009-02-10 09:07:23

Right, then, sorry, there was a month there where I dropped off radar. Don't worry, I didn't get depressed and disappear into a hotel room like Brian Wilson. I went to hockey games and saw family and traveled and saw old friends and it was great. Okay, yeah, I did spend some time in a hotel room like Brian Wilson, but fortunately two guys in dark suits broke in and dragged me to the beach. It was odd. Afterward I wrote a song about it.

No, not really.

Okay, I'm back from Vegas, and that's probably what I've got on the front burner. More on that shortly.

--9:05 AM, EST, Hatboro, PA, it will be shameless

---

NACQ: Vegas Day One
written 2009-02-10 13:46:30

NOTICE: Not all of the statements made herein are guaranteed to be wholly factual, or even remotely accurate. Statements made about specific individuals are almost certainly lies, and/or damned lies.

Thursday morning, I boarded the R2 train and headed for the airport. I could immediately tell this would be no ordinary trip. David Spade was sitting two seats behind me, talking loudly about a new variety of Skittles that he had tried and was not enjoying as much as other Skittles. I hunched down in my seat, afraid he might notice me. I was not certain if he was traveling with anyone, or just sharing with the SEPTA crowd his opinions on candy.

While approaching the train, a computer called my phone and told me my flight had been canceled and replaced with a flight with identical times and airports. I'm not certain why it did this. The "new" flight had a different gate assignment, but when I got to the airport, the original gate was still in effect. I went there and asked if I was in the wrong place, but they assured me I was in the right spot. As I sat down to wait, a businessman verbally assaulted the same airline agent for the same reason, except he had gone all the way to the other side of Philly Int'l to the "new" gate, to find he had to come back. I don't know what to say about that. I guess that's why they recommend you get there two hours early. I still had a lot of time to kill.

A man walking past me pointed at my bag of Herr's Black Pepper Barbecue tortilla chips and said, "Thanks for buying Herr's." I had no response, because I eat local junk food for wholly selfish reasons, not for the economic value to the region. I wonder if that was a Herr and his flights were paid for by my poor dietary habits. Hrm.

Flight out was easy - Philly to Cincinnati, but delayed by the "change" in flights. I had to hustle to make the connecting flight to Vegas, but while I was hustling I wondered why -- I paid Delta a couple hundred bucks to get me to Vegas, not to run through an Ohio airport for the benefit of a bunch of other people. Ah, I should just accept that we live in a socialist society now, and if I don't like it, I can move to Russia. Wait, what?

Cincy to Vegas, and while I got some sleep on the longer leg, still stayed awake for most of it. The nighttime approach to Vegas is awesome, because Nevada is a hellish nightmare state of bleak desert, virtually devoid of all visible landmarks, until you approach the Shining City of Filthy Lucre and Its Assorted Temples, sprawled like an LED set of Legos and endlessly detailed like an urban fractal. Delicious view from 2,000 feet.

John Flournoy, who was 50% of the impetus for my trip, met me in the airport with Kevin Mergen, who was running this whole show. Poor Kevin was playing chauffeur for God-knows how many V:TES players. I expressed my condolences for his sorry fate (which he took up of his own free will) and John and I headed for Binion's in downtown Vegas.

John showed me the "twenty dollar trick" at the hotel and turned Andrew Jackson into a bigger TV, an alarm clock and a balcony. I have to try that sometime. The 21st floor of Binion's also has a nice view, and we had friends staying in the same hotel. It was great.

More on day two soon.

--1:43 PM, EST, Hatboro, PA, everybody's free... to feel good

---

We interrupt this Vegas recap to bring you the following
written 2009-02-13 01:19:12

Just want to interject a little bit of current events here: in what I am sure is not news to anyone, a lawyer at my former place of employment was shot and killed in the firm parking lot this week. He was someone I worked closely with for about half a year. I'm more than a little shocked at this, and still dealing with it. He was not a friend, and I did not have anything good to say about him when he was alive. That said, he wasn't a bad person. He didn't deserve this. I hope the cops can figure it out and put the appropriate people in prison for the rest of their lives. I hope his daughters will be okay.

Also, Kristy's in a play right now (Jump/Cut) which is quite good and you should go see it before the end of the month. She's the best performer in a good group of actors, a position with which I think she's familiar. It's about mental illness, so don't go if you want to see something with songs, dances and talking beavers. That said, it's got a healthy dose of humor, dark and otherwise.

So I guess the message of this post is: Life's short; support local theater.

--1:13 AM, EST, Hatboro, PA, I heard people die while they're trying to find them

---

Vegas NAQ Day 2
written 2009-02-13 17:31:40

So, maybe you've heard of these things called "time zones"? They help mankind from accidentally doing everything at once. Like, say, my and my friends all want to play basketball at 8 PM. But, someone in Tempe, Arizona, also wants to play basketball at 8 PM. Well, since Tempe, Arizona has daylight at a much later time than we do here in the real world, we get to have 8 PM first. It's only fair.

So, I woke up a little late for me on day 2, around 9 AM or so. Unfortunately, using this "Pacific Time Zone," which all those Vegas people do, it was more like 6 AM. And here's a tip about Vegas -- there are more people awake and about at 3 AM than there are at 7 AM. The dividing line between "late night" and "early morning" happens later there. I blame time zones.

So, I'm up and ready for my day to begin, and all right thinking persons are asleep. So, I kill some time, get a shower, walk up and down Fremont Street, gamble a little. I even do some calisthenics. So, having killed some time, I call the Wisconsin crew and see if they want to get some breakfast.

It's probably 7:20 AM at this point. I hear two mumbled death threats and one ambivalent response that could either have meant "I'll see you down there" or "whatever you need to hear to leave me alone so I can go back to sleep." I would repeat this process on Sunday, at a later time. However, I take no responsibility for that one, as those guys were on Pacific Stripper Time, which also shifts back your clock some.

We got some food in us, and then played some Vampire. This was a good thing, because I really don't play that much anymore. I do get some games with Marty and Sarah, which are fun, but lack something when the game is designed for four- or five-player tables. I got to catch up with folks I haven't seen in a while and refresh my knowledge of our game. I also got to see some new cards, new strategies, cool stuff.

My roommate took second place in a poker tournament, winning a nice piece of cash and my admiration. Another V:TES player took second in another tournament, bringing in a more sizable chunk of change. It's nice to see that the rumored connection between the skills of nerdy card games overlaps a bit with the skills of poker.

Kevin took us all out to a national park, Red Rock Canyon, which was great. I don't know how deep the canyon was, and while everyone else was climbing down, I pointed up and said, "I want to meditate on that one," indicating some round, tall peak of rock. While my friends laughed and called me Buddha, I got my climb on, and got a great view of rocks, sky, fashion models, college kids, and dead scorpions. (One of those is a lie.) It was nice, and my friends eventually acknowledged my awesome deeply spiritual nature by sitting lotus style and having photographs taken of themselves for their Facebook pages. Well, not really. I think they were still making fun of me.

Kevin then showed us how to get free money from casinos. The casino will sometimes give you X dollars, which you can use to win real money, but you cannot cash out without gambling and winning X dollars first. I didn't really understand, since if you give me something for free, I may make the leap that it has no value. Afterward, we were all comparing how much we made off our fake $25. "I got $13," said one. "I got $7.50," said another. "I got a rock," said I. Kevin was very disappointed. I resolved to do better when we returned in two days.

Also, available at this casino, the "Snuggie"? I don't know the Snuggie, because I don't have a broadcast TV channel, but everyone I ask seems to know about it. And it's apparently a hilarious commercial. There are cult elements. I'm sorry I couldn't bring anyone a Snuggie, but the casino was tricksy with their Snuggie distribution.

I gambled a little more, then took a cue from David Buerger and agonized over my deck choices for a bit. I went to bed at what I thought was a wicked late, but was actually very reasonable, time. Time zones, y'see. Sure. Also, I think there were people in my room after I was trying to sleep and I think I tried to castrate Rehlow by accident. I'm sorry, man. You shouldn't mess with the sleeping Heslin.

--5:24 PM, EST, Hatboro, PA, never betray the way you've always known it is

---

Has it been that long?
written 2009-02-19 11:07:16

Sorry, if anyone was expecting prompt updates on my Vegas stories. My situation has caused structured time to cease to have any meaning. My computer is almost the only source of the answer to the question, "What day is it?"

That will change, as I just got a call that I am re-employed. Booyah, income.

More soon.

--11:04 AM, EST, Hatboro, PA, bastards of young

---

I'm so bad at this
written 2009-02-25 17:24:54

My apologies to anyone who I directed to my journal with the promises of new material, which wasn't really there. I have to actually hit "Yes Make The Internet Happen" before anything works, and I'm apparently bad at that.

That said, I'm posting from work. I gotta get back to it.

--5:22 PM, EST, Philadelphia, PA, oh, Seventy-Sixers, Charles Barkley, dissed Larry Bird

---

They said it couldn't be done
written 2009-03-02 09:29:08

So, I guess we got some snow? Last night, and lasting into today?

I didn't really notice. My train was actually early, I think, and I here I am, at work. Takes more than a little flurry and accumulation to slow this guy down.

I hope there's time today to enjoy the snowfall. Most likely it'll be the last of the season. Though, it's talk like that angers the snow gods and causes storms like this one.

Heh, heh, heh.

--9:26 AM, EST, Philadelphia, PA, everyone else is doing it

---

After action report
written 2009-03-06 03:16:48

Watchmen was pretty good.

--3:14 AM, EST, Hatboro, PA, everybody wants to rule the world

---

Now featuring the Rollicking Gut Buster
written 2009-03-12 20:10:57

What? Where? Pardon?

Sorry. Things have been interesting lately. In the Chinese proverbial way. Not that things have been particularly Zen or Communist. As in the proverb. You probably knew that. I'm overexplaining, aren't I?

Let's review.

Two weeks ago I started my new job, which is also, coincidentally, my old job. I'm back working for , doing contractor work in document review. I'm commuting to the city every day, and working with two young ladies I had previously worked with before I went the personal injury route. It's nice to be back. My bank account sure appreciates it.
I have to move in a few weeks, because staying here is bad for my social life, my soul, and my hopes and dreams. It's good for my legs, since I have to climb two flights of stairs every day, and I will have to replace this exercise with something else in the new apartment. The search continues for new living arrangements.
A new game begins with the long running nerd crew. Hunter: The Vigil, featuring the Lucifuge and the traditional Heslin refusal to hew to the party line (going Loyalist of Thule). Updates as requested.
So, as you know, I was booted from my prior place of employment (The Law Firm Which Shall Not Be Named). I accepted this turn of events, and in this situation, at least I would be able to claim unemployment benefits. However, a few weeks later I received a notice from the unemployment people that my prior employer had sent them a letter filled with untruths, damned lies and statistics, alleging that I was terminated for setting fire to the place, exposing myself to elderly women and Taking the Managing Partner's Name in Vain. For these spurious reasons, my claims for benefits were flatly denied. As you may or may not know, lies and falsehoods sting me to my core, and I was caused to raise up a crusade against these crooked words. I took my noble fight to the unemployment people, who did hear my valorous declarations, and did find in my favor. He Who Spokest Lies was vanquished, and sent packing. I rule. (Well, until he appeals my appeal. We'll see if it's worth it to him.)
In case that last paragraph was too long or purple, I applied for unemployment and got denied. I appealed, and won my appeal.
I'm running Heroclix games at Cyborg One on some Sundays now. Come by if you want to play with little plastic superheroes around 1 PM, or just talk comics with the good people in Doylestown's premiere comic source.
I totally had some kind of stomach flu, and it hit while I was at my unemployment hearing. I actually thought that my former boss was wreaking some kind of lawyer voodoo on me, my guts were clenched and strained so. Turned out to just be a bit of illness, which cost me a day of work (in addition to the day I took for the hearing). I'm feeling much better, thanks.
My buddy Dave came to visit. It's great to have friends who travel, so you can be the lazy one who just waits until the other guy shows up. He's doing well, though he lives in Flat Raccoon, Conn., where there isn't much gaming. We'll have to find some time to get up there and get a round of Rummy, Assumption or V:TES going.
I'm about to have pork roll sandwiches, chips, and ginger ale. It's dinner time, y'all!

--8:06 PM, Hatboro, PA, now they're all just hoochie women

---

From our Thailand bureau
written 2009-03-19 13:52:03

Sometimes I put a musical lyric or quote after the date in my posts.

This entry is being made solely to allow me to place said lyric.

Enjoy.

--1:47 PM, EDT, Philadelphia, PA, Siam's gonna be the witness to the ultimate test of cerebral fitness

---

Crater as a verb
written 2009-03-20 15:22:05

Happy vernal equinox, y'all. Though, there was snow on the ground this morning at a bunch of the MontCo stops on the R2 line. Weird. I didn't notice, even though I had my windows open all night. The age of the convenient air flow is coming to an end, though. Warmer weather is on its way, regardless of what I might wish for.

And happy birthday, Kristy!

--3:19 PM, EDT, Philadelphia, PA, it's scientific

---

And we can travel to eternity
written 2009-03-23 13:31:16

Nice weekend. Relaxing. Looked for apartments. At Kristy's birthday dinner, Terry asked if I was moving to the city, as I had earlier evinced an interest in such a move. I could. I think I absolutely could. But I don't think I will. Family, familiarity, and the secondhand fear of the terrifying urban danger environment (not on my part, but on the part of others whose opinions matter to me) all conspire to keep me in the 'burbs.

Dinner Friday at Bar Ferdinand was very nice. Kristy seemed to enjoy herself, which is good, because she's an old lady now and she should be able to enjoy things as much as possible before senility and infirmity set in. I commended Terry on his willingness to date and even wed a lady of such advanced age.

I'm not entirely certain Kristy reads this page, so the above joke may be entirely wasted. I used "entirely" twice in that sentence, and I stand by it.

And now, work.

--1:27 PM, EDT, Philadelphia, PA, many factions underground

---

I thought you were a bag of trash
written 2009-04-07 10:54:20

And, but, well.

Many things are new and true. Behold.

I will have a new address on May 1. More on that later, but it'll involve a view of Hatboro from eight stories up. Bonus.

I will experience transcontinental existence later in May. Osaka calls, and I am helpless to resist her siren song.

My taxes aren't done. This is the problem with getting the federal part done so early -- you forget that both the Commonwealth and the Village want their piece of the action. Hopefully finish that up today. Good news: the Philadelphia wage tax was a credit on my local return. If that's true also of the state return, I should be golden.

UNC beat Michigan State. Handily. Is UNC just that good, or did State get to the championship through luck and fortunate matchups? Regardless, congratulations to Villanova on making the Final Four. It was like I was 10 years old all over again.

Spring's here, and my apartment's colder at night than it ever was during the winter. Weird. I won't miss that at all.

Work is work, and continues. Hopefully for a good little while, since I decided to go to Japan. I was putting off the decision out of that precise fear: that I would decide to go and promptly lose my job, or that I would decide not to go in order to save money, and then work uninterrupted for months and have plenty of money saved, but miss my friend's wedding.

Drexel's law school will be graduating their first class this year. The job market in Philly is probably not going to improve with this development.

--10:47 AM, EDT, Philadelphia, PA, that book by Nabokov

---

Treachery!
written 2009-04-08 23:12:03

Taxes done. Apartment leased. Working on getting moved over the next three weeks. It's a little weird to think that for a little while, I will have two apartments. I feel like I should have a secret life that I'm concealing from someone.

I don't care if it wasn't very good, I don't care if it didn't follow the book very well, I don't care if it was moderned-up, sexied-up or Eddie Izzarded-up: I really enjoyed The Chronicles of Narnia: Prince Caspian. I regret not seeing it in the theater. I hope the diminishing success of the first two films has not blunted the film industry's desire to see the next five produced.

Sunoco said it was cool if we took some of Maundy Thursday and all of Good Friday off. Everyone in my office is coming in, though, both days - either out of a desire to make up for sick days or a desire to make up for impending Visit To Japan days. I haven't been sick, fortunately. {knock on wood}

I wonder what turn of events led me to order The Chronicles of Narnia: Prince Caspian and Jarhead in the same week?

--11:07 PM, EDT, Hatboro, PA, and I'll be there

---

An entire Center City office building floor to ourselves
written 2009-04-14 10:17:08

Good news - if you do happen to die this year, the estate tax won't touch the first couple million dollars. Next year, it won't touch your estate at all. And you can now hear baseball games in heaven called by both Richie Ashburn and Harry Kalas.

I'm just trying to see the bright side.

--10:12 AM, EDT, Philadelphia, PA, whoops, there goes another rubber tree

---

Let me make this perfectly clear
written 2009-04-22 16:28:33

Two great tastes that taste great together.

--4:24 PM, EDT, Philadelphia, PA, 'ave a banana

---

We interrupt our regularly scheduled programming
written 2009-04-23 23:05:14

I'll be disassembling my computer for my move shortly. My move, and to keep myself from playing stupid games when I should be packing and boxing up all my worldly possessions.

If you need me, call me or wait a few days.

--11:00 PM, EDT, Hatboro, PA, this is how it works

---

We call this dance the "Tighten Up"
written 2009-04-26 12:13:47

Mostly done. Mostly exhausted. Just have to move a few things and clean up the old place, then begin the long national nightmare of unpacking all this stuff.

--12:09 PM, EDT, Hatboro, PA, our thoughts and prayers go with you

---

The caretakers of a hundred thousand churches
written 2009-04-30 13:10:47

My coworkers wish that Americal Apparel would use less underage, oversexualized models for their advertising. I thought you should know.

So, I'm all moved. It took way too long, and that's my fault, but there were things to be done. Dammit. Last things moved this morning before work, and will go back in tonight and tidy up for Alfio. There's still a lot of unpacking to do. Also, if anyone wants to talk me through setting up a wireless network to allow me free range with my laptop, I wouldn't be upset.

In other news, I'll leave the country in two weeks. I'm vaguely freaking out about this. Vaguely. Hopefully I'll be completely moved in and not have anything left hanging on that front, and will be able to just go to Osaka and be a tourist and see things and relax. More likely scenario: I pack the wrong things, go slightly insane, have anxiety attacks over eating vegetarian meals, and attack an innocent KFC employee at the Tokyo Narita airport.

Oh, well, I don't have any "did I tell you about the time I got deported" stories, so there's that.

Please send me Japanese language inquiries so I can look them up on my handy languagizer (thanks Jen!) as practice.

--1:06 PM, EDT, Philadelphia, PA, boys don't cry

---

That special time of year
written 2009-05-01 11:08:43

Tomorrow, May 2, Saturday -- Free Comic Book Day! Stop by a comic book shop and ask what titles they have to offer. Go home with some examples of fine art. Say hey to the geeks at the shop and ask who would win in a fight between Wolverine and Thor. Duck out after it gets really loud and really aggressive.

--11:04 AM, EDT, Philadelphia, PA, you don't step on Superman's cape

---

Quick story
written 2009-05-04 12:49:53

So, I'm walking down Market Street with my co-worker, coming back from buying some lunch, and by the corner of the intersection, there are these LaRouche people handing out screeds. If you haven't seen these folks, they're politically active whack jobs who believe in some weird flavor of fringe politics, and they've printed up their ideas so you can have a copy, take it home and read it, and then contribute money to their PAC.

Anyway, there they are, and we have to walk past them to get back to the office. As we approach, I see one of them wearing a big, sandwich-board sign on his body, reading: "LAROUCHE - SWINE FLU - WHEN WILL PRESIDENT OBAMA WAKE UP". It's a hand-written sign, and there seems to be a stronger connection between the first two sets of words - "LaRouche" and "swine flu." Beyond that, the punctuation was a little bit lacking.

So, while I stop at the curb and wait for the light to turn, I accept a pamphlet from this guy. And because I have to know, I ask him, "Excuse me, is your sign suggesting that LaRouche is causing swine flu?" He rounds on me, presumably excited that someone is speaking to him. "What's that?" he asks. "Are you suggesting that LaRouche causes swine flu?" I say.

"I am suggesting that you are a fool, sir, to ask such a question!" He's shouting this at me as he follows me into the street. Awesome.

Don't you wish you had more opportunities to tell complete strangers that they were fools? That guy's got it made. I mean, he has to stand in the street and be treated like a crazy homeless person, but every once in a while? Worth it. Good for him. I'm glad I could contribute.

--12:43 PM, EDT, Philadelphia, PA, i am invincible

---

Status Update: Warning
written 2009-05-15 13:17:08

Be advised, this page may not update for a while. Or maybe it'll update on a regular basis.

I will either be too busy having an awesome time in Osaka to post anything here, or I'll be having such an awesome time in Osaka that I'll have to take time to post about it.

Either way, I'll be on the other side of the planet for a while. Hold my calls.

--1:07 PM, EDT, Philadelphia, PA, Jeder war ein grosser Krieger / Hielten sich fuer Captain Kirk

---

Before I go
written 2009-05-16 21:21:18

My grandfather passed away yesterday.

I'm still a little too screwed up to communicate in any useful way, so I'll just say that I was fortunate to have him in my life.

We now return you to our regularly scheduled anticipated gap in updates.

--9:15 PM, EDT, Hatboro, PA, I go walking, after midnight

---

Mitsu, Omizu, Omaya, Ossu
written 2009-05-22 18:45:19

Whoooooo...

That was sugoi. That's "awesome" for all you Anglophones.

I'm headed back. More when I'm back on Eastern Daylight Time.

--7:36 AM, JST, Osaka, Japan, and they know what time is love

---

Status Update
written 2009-05-23 22:16:25

Ongoing vital signs: check out okay. Geographical location: Hatboro, Pennsylvania, United States. Temporal designate: Current era, Eastern Daylight Time, after dark.

Basically, I'm not dead. More on this later.

--10:10 PM, EDT, Hatboro, PA, last night on the Mass Pike

---

As promised
written 2009-05-26 01:47:57

Okay, I need about four or five posts to catch up on things I've said or wanted to get posted to this page. I'll start with the hard one.

My grandfather was my grandmother's second husband. He was not related by blood to me. I didn't know this fact for about half of my life, the formative half. So it's really not essential.

My grandfather was a sailor, and it is from him and my grandmother that I get my periodic desire to get the hell off land once in a while. He and I sailed his sloop from Maryland to New Jersey via the Intercoastal Waterway when I was young. It was great - my grandmom drove their car from marina to marina while we sailed, staying in a different place each night and seeing lots of the Atlantic coast and interior bodies of water.

He was a veteran of World War II and a Seabee. A Seabee is a sailor of the Navy's Construction Battalion, the guys who make beach landings possible. They were surveyors, construction workers, manual laborers. The motto of the Seabees is "Can Do" and my grandfather exemplified that motto. While perhaps not meeting certain modern safety standards (he once insulated the electrical wiring of our home with newspaper), he was amazingly capable and effective.

He was well-read. My first exposure to the Britannica was at his home, and it was a for-real Britannica - two complete volumes, one of brief articles and one of in-depth treatises. He helped me get interested in mythology with books and particularly with a National Geographic fold-out map of ancient and legendary Greece. He could accurately recite poetry which he had been obliged to learn in grade school, some forty years on.

He was not well in his advanced age. My grandmother predeceased him by some fifteen years, and in that time he lost some of his faculties. I prefer to remember him fixing truck engines by beating the hell out of them with a wrench, and I will do so. (True story. Ask me about it some time.)

We'll memorialize him on Saturday, and sometime soon after I'll start a project that will require me to work on things with my hands, something I'm not naturally good at. But I'm going to do it, and I'm going to finish it, and I'm going to think of my grandfather, who would have done it better, and probably in a way that no one would have necessarily thought of.

--1:39 AM, EDT, Hatboro, PA, by the shores of Gitche Gumee, on the shining Big Sea Water

---

In keeping with tradition, I'm late
written 2009-05-26 02:01:14

Happy birthday, Carrie.

--1:55 AM, EDT, Hatboro, NC, all these buildings and mountains

---

Cause if your friends don't dance (day 1)
written 2009-06-01 14:50:54

I apologize if this is a bit scattery, but I was a bit corporeally disrupted by the whole readjustment to Eastern Daylight Time. Try to keep up, and if you can't, chalk it up to Magical Realism.

So, a few weeks back, I said to myself, "Self, what's America got to offer that Japan can't offer faster and with more crazy futurism?" Before I could respond with something about the majestic grandeur of the Dakotas or the amazing landscapes of the Southwest, I was already on the R2 train to the airport at 5:45 AM on a Sunday.

It's like this: Hatboro to PHL, PHL to Minneapolis-St. Paul, MSP to Tokyo Narita, Tokyo to Osaka, the JR train (Kansai Int'l Line) to Namba Station in Osaka. The trip there was pretty great. I was nervous about being in a plane for 13 hours (the Minneapolis-Tokyo segment) but that was no sweat. The worst part of this travel was Tokyo. When we landed, we weren't allowed to get off the aircraft until the Japanese Bureau of Health, Welfare, Bureaucrats and Bureaucracy - Needless Activities Division - had reviewed the health questionnaires we all filled out and looked at us with a IR camera designed to find people who had fevers. Swine flu will not find a foothold in the Land of the Rising Red Tape, damn it! By the time I was off the airplane, my connection to Osaka had up and left, and the next flight wouldn't get me to Osaka any sooner than 11:35 PM local time. The Waffle King and his Waffle Fiancee awaited me at the airport, but my phone did not work and the Waffle Phone was temporarily unavailable, so we missed one another for my first night in.

So, there I am, in a strange place, don't speak the language -- though, I tried to learn enough to politely explain that I was a stupid American and regretted my shortcomings -- in a train station fifteen minutes after all the trains stopped running. Using a combination of my awful Japanese ("excuse me, I don't understand Japanese, do you know Tokui (a city block that I misunderstood as a street") and my iPod (thanks Jen!) I was able to get some help from some train station employees. A short taxi (takshi) ride got me to my hotel. Japanese use of space was immediately apparent in my hotel room, which was a rectangular room with two beds, a desk and a small table. The bathroom was of a type that you might find onboard a ship or in a trailer. Yet I am reliably informed that this room was larger than some apartments.

I slept and got up around 6 AM local, which surprised me. I had no jet lag going from EDT to JST. I just got up and went walking. I cased my neighborhood, which was fairly commercial, but still had a lot of space for residences. I was near a fairly major road, which was in turn near a major city street. I was a few blocks from elevated highways in two directions. I was also very close to a number of subway stops.

Osaka is like this all over, it seems. The subway map is more complicated than NYC public transit maps I've seen. Neighborhoods have lines, the city has lines, there are (what looked to me like) privately owned railways that cover various routes alongside one another. It's all city, too -- the heavily populated parts of Japan are just city, through and through. It's not like a northeastern American city with suburbs, areas of greater or lesser development, tall office buildings here and low green neighborhoods there; a 30 minute train ride from Osaka to Kyoto was almost entirely a view of cityscapes. (Naturally, some areas are taller than others, but you'd be hard pressed to find undeveloped country anywhere in the vicinity. Build up when you can't build out.)

I walked like crazy this trip. Even the first day, which was just familiarizing myself with the area, getting some yen from an ATM, and getting food, I may have walked four, maybe six miles. It was great. I did, unfortunately, destroy the pair of dress shoes I brought - next time, I'll find room for a pair of sneakers in my bag. (I only brought one bag. I think that's how one should travel if at all possible.)

Osaka is a cool town. People were friendly and forgiving about my lack of faculty in Nihongo. I got good use out of sumimasen, which can mean "I'm sorry," "excuse me" or "I beg your pardon." It is also suitable for use as "Hey! You there!" particularly if one uses an indignant old man's intonation. Osaka has shrines and parks and old stone markers just hanging around. I like a town like that, where on this block you can have a place selling hot dogs and the next block is the site of a culturally relevant historic event.

I covered a lot of ground the first day, and the Waffle King got in touch and invited me out to dine with his family (also visiting from the States). Sadly, I failed my Wits + International Travel roll, and went to the subway station at Shinseibashi instead of the covered pedestrian way at Shinseibashi. Missed them entirely. After waiting a bit, I went home. Walked both ways, so I ended my evening soaking my feet and polishing off the airplane snacks I hoarded from my trip. Here's my travel tip: if you want to meet up with someone and don't know where you're going, have a phone or some other way of getting in touch with them. It took me another two days before I bought a phone card, because I'm stupid.

More soon.

--2:43 PM, EDT, Philadelphia, PA, they'll call me Freedom

---

The intersection of Life and Comment
written 2009-06-17 11:34:10

Right, there's a bit of a delay in getting more posted here, specifically about the trip to the Mysterious East. Sorry. I'm doing a bunch of stuff, some of it legitimate and time-consuming and some of it just goofing off, but it all takes valuable time.

While we wait for my brain to formulate what I want to talk about next in re: Osaka, there's the following:

1) Reading. Waiting for my copy of Norwegian Wood by Murakami from Amazon. Been waiting a while. Next time I will probably just buy a copy from an actual bookstore, because this waiting is a pain in the ass. I have to be able to read the whole thing and discuss it by the end of the month, because if you call it a "book club" people will hang out and discuss books with you. I never knew. I thought I just had to inconvenience them and talk about books whether they liked it or not. Last month: The Stuff of Thought by Steven Pinker. Month prior: Nation by Terry Pratchett. Please let me know what I should be reading, and what you are reading.

B) Projects. Bookshelves; ghetto, Ikea and otherwise. (Is IKEA an acronym or always capitalized for some reason? Am I confusing it with Project MK-ULTRA or something? Or is it just corporate culture of some kind?) Warhammer 40K starter set armies. Paint and glue and small detail work. Development of film library (I lost a lot of good movies when I switched from VHS to DVD.)

iii) Greed. So, I'm almost all paid up on my bills from the trip to Japan. I have replenished my savings account and accumulating liquid assets. I find myself in a position to make some purchases. New computer? I could just switch to using the laptop full time, since it has muy macho RAM and performance. I like having a PC and a Mac available, though. Is it worth the expenditure? And can I please not have to use Vista, ever? If I wait for Windows 7, I have to wait until October or something. And I know I said the next video game I buy will probably be StarCraft 2 (release date: "when we say, so stop bothering us, nerds" --Blizzard), but I would like to get a hold of Dawn of War 2 for the low-simmering Warhammer 40k yen with which I find myself. Also, I would like a bunch of Kevin Smith movies, the Venture Brothers season 3 and all the Boondocks seasons. I may do some price checking on these avaricious desires and then not actually get any of them. Because, you know, what if the world explodes and I need that money for buying a new world?

Right? This guy knows.

--11:31 AM, Philadelphia, PA, under the water to carry the water

---

Further Adventures in the World of the Future
written 2009-06-18 13:26:44

So, I'm in Osaka. I'm there visiting the Waffle King, and yet I haven't been in The Presence yet. You'd think that would start to wear on a body, two days into being in his domain. Well, it had. I stuck near my computer (most reliable source of communication since my phone died and I hadn't sussed out the use of the hotel phone yet) and arranged to meet that night, after figuring out how I'd failed to meet the night before.

Went out to Osaka Castle (Osakajo) to get my touristy, samurai-interested, historical nerd fix in. Osaka Castle was the site of the ascendance of the Tokugawa Shogunate, where Tokugawa smacked down the prior rulers of Nippon and said, "nice place, think I'll keep it." It was a just a few blocks from my hotel, so I walked over and wandered for a few hours.

It's set up with the moats and protective groundworks in place. Apparently while setting up the area around the castle for renovation they discovered walls and moats which they subsequently unearthed and restored. This may have happened a few times, since as late as the 1970s more defensive structures were discovered and returned to seventeenth century appearance. It's really great, visually, and all the walls and moats make for a good walking tour of a lot of different views of buildings, shrines, and the surrounding cityscape.

The castle itself is eight floors high, on top of the existing mound of the castle, and is surrounded by wooded parkland. As a result, the view from the top is fantastic, even though the castle is technically not as tall as a lot of the tall buildings.

I tried some "local food." "Local food" turned out to be rice and barbecued chicken, so it really wasn't much of a stretch. Probably a good thing, because I'm a big picky jerk when it comes to food. Please note this sentence, as it will be relevant later, vis a vis octopus.

Picked up some souvenirs for the poor Americans, trapped in their Western Hemisphere, and got some more walking around done. Just walking around was great. I would walk through six blocks of standard commercial / residential Osaka and then find myself in a block completely occupied by a stone and wood Shinto shrine. Since I'm entirely ignorant of the Shinto religion, I'm glad there were other tourists there with cameras to reassure me that I had not missed a sign somewhere condemning me to prison for seven years for violating the holy precincts of the temple. The architecture and design were amazing. I wish I knew more about such things, but as is, I enjoy the hell out of it.

That night the King and his betrothed wrapped up affairs of state and came to find me, since I had proven myself incapable of finding them. They were well, and looking good -- it had been a few months since I visited them in upstate New York. We grabbed some alcohol and went to a nearby city park. CULTURAL NOTE: this does not make me a scumbag. Public consumption of alcohol is ordinary and acceptable, even to the extent of having beer and cocktails available in vending machine. So there.

After catching up till late that night, I sent the royal couple on their way. I went up to get some sleep and managed to find anime about Japanese girls playing baseball. This is a topic near and dear to my heart, as some know. I was really starting to enjoy Osaka.

The next day, I napped and walked some more. My hotel had sheets on the bed, but not a sheet for sleeping under. The only bedding was a thick comforter, which didn't kill me despite the summer heat. I did have to moderate how much I did, and at what part of the day, but that's just reasonable. Morning's good for wandering around, and midday for siesta. It was just awfully warm for a little nap. That evening, we met up "by the giant crab" near Shinseibashi, which was shockingly not specific enough, and I almost failed to find everyone again.

I did eventually find my dinner party. They were Chris, the Waffle King, Mizuki, the Waffle Intended, the Barbaro family (the House of Waffle), and a coworker of Chris's (and his adorable girlfriend). I want to say Chris's friend's name was Aubrey, but waiting a month to write about things is a bad practice and should be avoided. I do recall that he and his girl were moving to the Phillipines soon, and decided my life was essentially boring, because I was not moving from one Pacific island nation to another one with a gorgeous woman. I may be using the wrong metric here, but it made good sense at the time.

We hit a buffet fondue-style place, with the open oil cookers and the batter and food on sticks. I tried to moderate my intake, which I advocate at a buffet, but this proved ill-advised when everyone else finished up and was ready to leave. However, while there, I did try takoyaki. That is to say, octopus hush puppies. Maybe "hush octopi"? I doubt it. Anyway, they were pretty good. I would have stayed on and drank and eaten and eyed up the cute waitress further, but the Barbaro family was heading back to the hotel for some rest, and the rest of us had to engage in more public intoxication.

We were joined after dinner by a number of Australians. More on them later.

I don't know if this whole post will post, so I'm going to end here and resume after the break.

--1:14 PM, EDT, Philadelphia, I don't know why but I can't type lately

---

It used to be a penal colony, you know
written 2009-06-19 15:49:02

So, after dinner, we meet up with more of the wedding guests. They all happen to be from Australia. We all get alcohol and find a spot to loiter, riverside. Rather than drink beer (which you might know I don't traditionally elect), I found a hip flask of Suntory Whiskey, and thinking only of Bill Murray in Lost in Translation, I got a little wrecked.

We had a good time. Penny Arcade references were made, photographs taken, Japanese kids in clubgear were observed and rated for style and difficulty. However, before long, the wedding couple had visiting family members to tend to, wedding obligations to meet, and split. Chris's local friends either had work in the AM, or just had places to be. That left me and these Australians.

"We have a lot more drinking to do. You in?"

I mean, really, that's not fair. It's like a national challenge. I had to hope that my Irish heritage could support me through my more recent infrequent drinking schedule. It more or less did.

The Australians were: Amaya, a young lady with two-toned hair and a mad plan to purchase a computer for the wedding couple -- I plan I both endorsed and in which I became a willing accomplice; the Fiend*, whose beard was taller than most of the local girls and who wore a black jacket with the Sacred Chao painted on the back in gold; and Michael, a reserved sort who seemed like he had resigned himself to the fate of being forced to spend time with Amaya and the Fiend. This was hopefully to his ultimate benefit, as he and Amaya were an item.

So, I've been drinking whiskey, and Michael demanded food, which was passed by approbation. We went to a 280, which is a term for a restaurant where everything costs 280 yen, so you can just order tapas style and keep ordering if the first round doesn't do the trick. Amaya and Michael were ordering something called Calpiss (I could be mispronouncing or mispelling that) that came in a variety of fruit flavors, so I hopped on that train. Here's a spoiler: that is an alcoholic drink, and not the fruit juice I had perhaps anticipated. We had many rounds of this, with gyoza and some other things that the Fiend hoarded, snapping at any prying fingers with his chopsticks. I was able to show off some of my Nihongo by ordering "three of that" and "water," though the similarity of the terms (mitsu and omizu) made Amaya think I was ordering the other one.

This 280 gave way to another 280, where there was a Dharma Initiative sign on the bathroom. I forget whether I kept up with the Calpiss uninterrupted or switched back to the whiskey at some point. I also demonstrated Cousin Drew's lesson about sounding like an indignant old Japanese man in order to get service. Instead of saying "Sumimasen" like a polite person who is trying to get the attention of a waitress, you just yell "SUMIMA--", letting the last syllables trip and fall, while gesticulating rudely. When I showed off this talent, in a restaurant, mind you, a waitress ran to take my order. Well, duh. I felt badly about this summons and ordered another round.

Michael asked me to please explain why the Americans used proof when the rest of the world used alcohol content. I was unable to answer him sufficiently, so he instructed me to tell the rest of the country: stop it. There you have it, America. You want to keep using proof, please take it up with Australia (or their representative).

I was informed that I was not like Americans as they had come to expect. I did not know if this meant I was failing in some way, and accepted it at face value. I also finished the whiskey in my bag.

End of evening / early morning -- I'm trashed, walking about a mile home in dress shoes, delighted with the evening I'd had. Japanese cuisine, the Waffle King, new folks to hang with, and those adorable Ozzie accents. I don't think that being drunk made me pick the accent up. I think.

--3:45 PM, EDT, Philadelphia, PA, she says she'd like to meet a boy who looks like Elvis

*: No, really.

---

Visual Aid
written 2009-06-24 11:18:08

Note that photographs from my trip to Japan are up on my Facebook page. This announcement is probably unnecessary.

--11:16 AM, EDT, Philadelphia, PA, I got this crazy teacher and he wears dark glasses

---

Try not to look directly into the formalwear
written 2009-06-25 18:06:04

The blessed day arrived, and I may have been a trifle worse for wear in the morning. As a result, I took it very easy during the time leading up to the wedding. I got up, got some breakfast, came back to the room, and relaxed. I figured I could navigate to the restaurant where the wedding would be, since I had been all over the area in the last couple of days, and I maps.google.com'd it, as well. I had a minor freakout over whether I had brought suitable clothes and toiletries, but it turned out I had it all under control. My suit was drycleaned, and I had enough personal cleanliness items between what I brought and what was provided with the hotel room. (I think I researched the current status of the "you're not allowed to bring shampoo on planes since it might be fruit-flavored liquid explosives" TSA rule, but ended up just buying a TSA-approved bag of toiletries. It was clear for their convenience, and nothing was so big as to engender the fear that I would try to blow up my plane with a can of Axe Body Spray.)

I headed out with plenty of time to get to the restaurant. Oh, wait, remember it's me we're talking about. In the time I thought it would take me to get there (and get there early) I had only reached what turned out to be halfway there. I kept going, since I had had good luck navigating up till then, and still had some confidence. Ten minutes later I was close to being late, and began to freak out.

And this is why you should visit Japan - I picked a person at random on the street and asked for help in my terrible, broken tourist Japanese. She didn't speak any English, but still helped me find my way with gestures and as much Japanese as I could fathom. This stranger saved my ass. Japan is a country full of strangers of this sort. Go visit, now.

So, I rush the rest of the way there -- I was going the right way, but hadn't counted on the distance -- and get there on time, if barely. The Waffle King tells me later that he was starting to worry when I showed, so that's a relief. And, I wasn't even the latest one there. The Australian delegation arrived after we were seated but before the proceedings.

Michael asked me how I was that morning, and I admitted to some corporeal weakness. They claimed none of their own, which I believe, though it makes me hate and fear them. I made introductions around the table, since I'd met half of them the night before and half that day: Akira, Kim, Darcy (though I think I called him Percy once or twice before he slapped it out of me) and Derek were the locals, folks Chris had met through his gig teaching English. I think they represented Japan, Australia, New Zealand and England. I was pleased Chris was in there on behalf of the States, though he might not enjoy that role.

The event was like so: we were at an Italian restaurant, taking up most of their first floor (and using the second for logistical purposes). Chris and Mizuki had a table to themselves up at the front of the joint, and the table in front of them seated their families. Two tables to their left were friends and Mizuki's extended family, and a table to the right was the English Speaking Ghetto Where We Put Whitey. You must forgive me, I've forgotten its proper name in Japanese. It sounds less oppressive in that tongue.

We were all seated and had some socializing, and then the Waffle King descended the stairs, resplendent in a wholly white tuxedo with some heft to it. Chris is a slight figure, and the tux bulked him out like a Kevlar vest. He looked pimp. However, his good looks were completely eclipsed, as were all other things in the room, when Mizuki entered the room in her gorgeous white dress and veil. Mizuki is already fairly adorable, and in her dress she was aesthetically devastating.

As far as ceremony went, it was direct and moving. There was no officiant, which I admire and respect. Chris proposed to Mizuki in front of everyone, and then they exchanged rings. Some goofy looking Westerner brought them the rings, and when Chris reminded him to actually open the box so he could get at the rings, he did. Stupid Americans. Mizuki's brother-in-law Ken did the announcing and did so bilingually, and Akira raised the first toast to the newlyweds. That was it.

Couture note: the couple changed from total killer formalwear into slightly less murderous formalwear midway through the evening, presumably for relaxation purposes. They still looked better than anyone.

Dinner was great. It was a little too rich for my poor ignorant tastes, but everything was tasty, and on at least one occasion I was able to make Amaya happy with my selective tastes. ("Are you not eating your pudding?" "No, would you like it?" [tortured pause] "Yes.")

The party broke up slowly, and we went out for more party, which is Japanese party style. That party was drinking and good times in increasingly-disheveled formal wear, and eventually featured karaoke ("it's not a Japanese wedding until..."). Mizuki, a former vocalist, blew the doors off the faux-English pub we drank in with her powers of song. I hit a few notes* myself, both there and the place we went afterward. Party after party after party is a good way to handle things, I think.

The honeymooners left after a good while, and despite my attempts to attract Mizuki's friend's attention with my karaoke skills, I headed home alone. Akira and I split a cab this time, to my feet's relief. I didn't mind walking around Osaka trashed at three in the morning, but I also didn't mind catching a lift once in a while.

--6:01 PM, EDT, Philadelphia, PA, and they like to roam the land

*: Johnny Mercer, "Moon River," Green Day, "Welcome to Paradise," Johnny Cash and June Carter Cash, "Jackson," Puffy Ami Yumi, "Teen Titans Go!" Dream Academy, "Life in A Northern Town"

---

Breathing
written 2009-06-28 09:02:37

Congratulations, Kristy and Terry.

--9:01 AM, EDT, Stroudsburg, PA, so much mine

---

Full of garbage and rocks
written 2009-07-13 12:01:34

Status!

Situation normal, though not in a SNAFU sense. Work, play, finance, plans, all in order.

Work is no longer indefinite in scope - a few weeks ago they decided that they should pick a deadline and we should work towards said deadline. As a result, we anticipate being finished with the project by September. We also have additional people working on the project, which adds a little drama to the process. And finally we have been given the opportunity to work from home three days a week (the new people work from home five days a week; we are asked to come in twice a week because we are the more experienced and resourceful employees). As a result, I've been finding out just how much I can get done when I don't have two hours of commute each day and am stuck in my apartment for potentially days on end.

I exercised my powers of leisure fairly well this week - went to NYC to play cards and celebrate Gerlach's birthday this past weekend, and had dinner guests the Wednesday before. Dinner was nice, and having guests was nice, and having dinner guests who bring dinner with them was very nice. Thanks for coming, and for feeding me, Dad and Mary. The tournament in NYC was a good time, and got to see lots of old familiar VTES faces. I failed miserably in my play performance but had a great time regardless. Gerlach took me on a walking tour of downtown spots but was kind enough to get us a cab at the end of the evening. After red wine, Jameson's and the Macallen, it was a good choice.

Finances are good. I say that having a job and having had a job for the past few months. Knowing* that the job will end by September and the market is still awful for applicants in my position, I will probably gradually convert to a tighter, more frightened subsistence budget. Ideally starting the job search now will turn up some options before I have to go on unemployment, so keep your fingers crossed. There has been some talk in the new federal budgets about forgiving loans for public service workers - anyone know where I can split the difference between volunteer work and legal work? I know the State Department Foreign Service looks favorably on candidates with a JD, but I don't speak a second language fluently. I'd be down with moving somewhere new to work, though my landlord might wonder why I signed a year's lease. Eh.

Plans? Well, depending on my job situation, I think I'd like to hit more of the country and possibly the continent. For example, I've never been to Halifax, and one of my favorite bloggers lives there. Also, there's a lot of big flat empty America I need to shade in on my mental map. (The shaded region indicates portions of the country where I have been.) More on this after we consider the frightened subsistence budget.

--11:51 AM, Philadelphia, PA, nautical themed pashmina afghan

*: Weird aside here -- I don't know that there won't be any more work once this project is completed. There have been several projects that my coworkers have been on, one after another, and they have worked nonstop for over a year. That said, no one has suggested that there will be another project after this one.

---

The wrap up and the hook
written 2009-07-22 16:10:57

My trip to Osaka essentially ended with another smaller trip to Kyoto. It was beautiful, and better described by the photographic evidence on my Facebook page. (I apologize to the future reader who is accessing this page using obsolete technology and advanced electomagnetic physics, and is yet unable to read Facebook because Facebook was destroyed along with 98% of human life and all other social networking websites in the Great Disaster, the coming war between mankind and the brotherhood of machines.) The Barbaro family (North American branch), Chris and Mizuki and I all took the train up toward the hills and saw shrines, a little bit of the smaller town Japan, and had a good time.

The shrine we visited was at the top of a good sized hill (probably similar in height to Buckingham 'Mountain' for locals, but not as steep and therefore a longer walk), and involved a whole system of shrines and buildings, pathways through the forested hills and inexplicable monuments and markers. I offered to serve as the pathological liar docent, and provide wholly nonfactual tidbits about the things we saw. I think there's a business there, if anyone wants to help me come up with a proposal for financing.

I tried okonomiyaki. I didn't care for it.

Chris and Mizuki once again took me out for drinks in public, and we talked computers and games till late at night. It was a good way to spend the last night in Osaka. The next morning I was up early, packed and ready for customs, 20+ hours in aircraft, and the return to the old home. Not much to tell really, and it makes me regret waiting this long to wrap things up.

Japan was great. It was wonderful to see my friends again, and great to be able to be present when they said "I do." Trying to learn some language and some culture before going was great. If you're thinking about traveling internationally (like my niece is considering), for God's sake, do it. Life is short, the world is big, and you have to go see it. The internet will do its part to bring some of it to you, but it only goes so far. I can wait to go again. I have no idea when that will be, but I'm already impatient.

I'm recovering from my illness (I had a fever, and then a cold for about a week) and probably going to travel to two VTES qualifiers in the next month (Ithaca, NY and Washington, DC). I will have to start buying individual trip tickets for the train - we've moved to a two days in the office, three days at home work schedule. The monthly trainpass is no longer the bargain it once was. And in a month, I'll be looking for work full-time again.

And how are you all?

--4:04 PM, EDT, Philadelphia, PA, the son of a Mummer

---

The inexhaustible font of the human spirit, in adversity
written 2009-08-02 19:05:50

Can't post now, having company over for book club.

--7:03 PM, EDT, Hatboro, PA, the music is inside you

---

A word beginning with "G" and ending in "R"
written 2009-08-05 16:40:47

Very well.

So, last time, I mentioned having to switch from a monthly, ride-all-you-like-we'll-travel-more pass to the decreased utility and lower price single ride train tickets. Slightly disappointing. However, more disappointing than that was the news that after I bought a pack of ten tickets, our project was put on a shorter notice: two weeks instead of four. That's four train rides instead of eight. Not only do I get to be unemployed sooner, but I also purchased unnecessary train tickets. I hope to be able to put them to good use, like going to see Kristy perform, or something diverting.

So, yeah, project ends August 14th-ish. This is to be expected... it's essential to the very term "temporary employment". I will point out that my two co-workers both did more than a year of work on this and other projects, uninterrupted, ever ongoing. It was not wholly whimsical of me to imagine that we might be on this gig for a considerable period of time.

Resumes resume, and I would thank people reading this to keep me in mind for positions with law firms or any other kind of employment. We're in a recession, and I'm not about to turn my nose up at gainful employment. I believe I qualify for unemployment benefits, but I think I've discussed before how I think those are sometimes bad for the soul.

The possibility of a continental tour remains live, but a recent transaction between me (payor) and my student loan company (payee) has left me with a hollow, desolate feeling in my heart vis-a-vis my economic future. If I can budget out the cost of getting around and getting home in one piece and balance it against the possibility of my car dying or my apartment burning up or my health failing or the sky falling or whatever, then we'll see.

Man, I really feel like I should apologize to you people. I mean, you don't read this to get depressed, do you? You can watch the news for that. I'm sorry. Let me try and muster up some good news: um... uh... my back hurts less than it did last week. Yeah! That's positive. I helped Nerdhoney and her Nerdhusband move, and then had trouble with my lower back. Sitting and working at a computer ten hours a day didn't help much. I didn't get to go to Ithaca, though, and that sucked. Damn! There goes the positive. Um, I have a remote control for the AC in my apartment. That's pretty cool, right? Right?

(*sigh*) All right, I'll work on it for next time.

--4:34 PM, EDT, Philadelphia, take your hat off boy when you're talking to me

---

Hair. Too much hair.
written 2009-08-05 18:22:14

I think that in retrospect, we may have missed one of the crowning achievements in comedy television in the late 1980s.

I speak, of course, of "21 Jump Street."

If you don't know what I mean, I recommend going to Hulu.com and watching the pilot. And possibly drinking. That's optional, though.

--6:19 PM, EDT, Philadelphia, PA, you better be ready to, be ready to

---

Position tick
written 2009-08-18 09:55:27

Right now I'm at roughly North 40.175, West 75.102. If this changes I'll let you know.

--9:52 AM, EDT, Hatboro, PA

---

Golly, I wouldn't know what to do with that
written 2009-08-21 19:27:25

I like the fact that in Firefox, on my Mac, there is a pale blue backdrop surrounding my site's domain name. That pale blue indicates "unknown security threat" but the very nice blue tone belies that connotation.

Yeah! So! Anyway! I've gotten two phone calls this week about possible interviews and then no follow-up calls. I have not heard back about the ADA job up in Stroudsburg, and their posting has been removed from Craigslist. There have not been any USAJobs postings for which I qualify. All this adds up to "no leads" though I have been selected for a very nice babysitting gig on Sunday, so that should at least mean some Doritos. I wish I still liked Doritos. But it's really for the best if I'm not as fixated on them as I was, say, in 1993. (shudder)

My showerhead is held to the wall by a plastic brace, similar to the kind that microphone stands employ. A C-shaped grip which allows the showerhead to be removed upward, y'know? Well, mine is broke, and when pressure is exerted on the showerhead - for instance, when water passes through the feed hose, or when I nudge the feed hose while showering - the showerhead falls. Usually onto my head. Causing me to swear loudly and experience the fine acoustics of my bathroom, and likely causing my neighbor to question my sanity or her safety. I have asked for official showerhead fixing, and have not had any response for a week. I believe I will be crazy-gluing it later tonight. It will likely depend on how much I've had to drink.

I'm playing a lot of Warcraft in the barren expanse of my day. I'm glad to have something that kills time, but I worry that my corpse will be discovered surrounded by take-out food containers with my laptop precariously balanced on one knee and other players demanding to know why I haven't resumed playing in the chat channel. No one wants that, much less the person who has to find my hideous game-playing remains.

Right. Going out. Going to drink. Going to buy comics. Not necessarily in that order.

--7:18 PM, EDT, Hatboro, PA, i believe a heart is made to feel the things that lay in front of it

---

Men were deceivers ever
written 2009-09-05 21:05:13

Augh. What? Something.

More time passes, and work is not in evidence. My plan to have business cards printed, advertising my services as a carefree dilettante about town, an adventurer for hire, a consultant into matters unusual - remains my only opportunity.

But we persevere. We struggle, when struggle is all we know. We send out resumes and presume that no response is forthcoming, because that is the standard response. And generally, we just wait.

Played poker for the first time in months at Bren's. Working until 6 PM in the city usually pre-empted my attendance at the 7 PM game, so I had to punk out most of the last chunk of the year. However, this week I was back, and in the interim I had forgotten how to lose. I won the tournament, and reminded the Royal Flush Gang that King isn't the only Heslin with mad poker skills. (It was luck. Entirely. Please don't tell those guys.)

Drew and Yumi showed some of their work at First Friday in Doylestown last night. Their stuff is great, and I'm currently displaying one of Yumi's originals on my Facebook page, and also on my living room wall. Feel free to view either, but do call before dropping by.

I haven't really eaten today. I wonder if that's a function of Saturdays rather than V:TES? I didn't really do much, so there's that. Is 9 PM too late to go somewhere for a bite?

--8:59 PM, Hatboro, PA, no, you won't make me jealous

---

Brickwork
written 2009-09-10 13:45:45

I was going to plan and plot my getaway today.

That was before the headache and the vomiting and the hiding in a darkened room.

I'm not really planning anything for the rest of my day.

--1:39 PM, EDT, Hatboro, PA, the little sound your refrigerator makes

---

We now return you to our regularly scheduled program
written 2009-09-14 20:32:22

So, I'm not in Canada. That's okay. It's not like I have to meet my contact at our rendezvous point in northern Alberta, or else the microfilm will burn inside its specially-constructed self-destruct casing. I can go next week, or next month. Though, if I keep up that line of postponement, I will eventually be suggesting a trip through an icebound wilderness capable of killing the unwary. And you know how unwary I can be.

However! When I go, I think I might go a little something like this:

Nova Scotia. Home to Rachelle Goguen and Strange Adventures comic shop, site of lighthouses and landscapes, coastal vistas and all-in-all visual porn. You mention, "I'm thinking about going to Canada" and people immediately bring up the Scotia. There's a lot of draw there. Additional draw - if I so choose, I can take a ferry to Yarmouth from Bar Harbor. Allowing for the inclusion of sea travel on my 1000+ mile drive? Yes, please.
New Brunswick. Supposed to be like Nova Scotia, but with more mainland. Still pretty.
Quebec. I hear good things about Quebec from the Waffle King, though I will probably not be hammered and using public transportation. I may be missing out. Also, curious to see how bilingual the city is after being in Osaka and seeing how bilingual that town is without even having two official languages.
Ontario. Toronto. The imaginary spot where the webcomic "Avalon" took place... I wonder if Ottawa has any good architecture. You'd think. Sault Sainte Marie and Sault Sainte Marie.

That's about all I had planned. Now, there are problems: going to Nova Scotia means going east. Most of my trip is west, so beginning it going east is slightly counterproductive. (By slightly, I mean entirely.) And unless you take that ferry both ways, you're going waaaay up and around Maine and through New Brunswick and Quebec.

Also, I'm traveling because I have time on my hands. If I get work, the trip gets canceled. Conversely, if I don't get work, I have to pay for the trip out of savings, which I'm not replenishing at the moment. The preceding has been both obvious and thinking out loud. You've been warned.

Also, I was going to end up in Wisconsin and see those good people again, because you have to go to Wisconsin to see Wisconsinites. It's true. There are studies to that effect. They don't leave. Borders make them nervous. Being outside the comforting embrace of a minimum two Great Lakes causes skittishness.

Man, "skittishness" is a fun word to spell.

Anyway, it'll happen, just not this week. Ideally, I'll be working, and at the very least I'll be serving a purpose while my sister is basking in the Cult of the Mouse with la famiglia. Housesitting, you know. Certainly not mooching their 90,000 channels of cable and various video game systems. Certainly not.

Canada veterans, please send me suggestions for things to do and places to see. I plan on a very haphazard trip - only you can prevent my missing the World's Second Largest Ball of Twine.

--8:26 PM, EDT, Hatboro, PA, very funny, guys, let me out

---

Like Archbishop Hooper said
written 2009-09-21 23:12:55

What did I do this weekend?

I hurtled through space at 500 MPH. I wagered with Indians. I starved myself and had a chocolate malt with my butterburger. I mixed three kinds of liquor in the space of about ten minutes in my gullet. I drove in Madison, Wisconsin on a Game Day. I called all sorts of people "Gorgeous" and gave them come-hither eyes. I erred, which is human, and I forgave, which is awesome. I created vampires and helped bring about the end of the world. I made it out of my ex-girlfriend's 30th birthday party alive.

I took someone else's car across state lines, but returned it with a full tank. I told stories and was mocked. I made it to the gate in time. I was verbally berated by a cat. I drank scotch straight from the bottle and wondered why it wasn't utterly ruining my ability to reason. I listened to stories and mocked the tellers. I beheld Chicago at night from 2,000 feet, which I highly recommend both for the view and the safety buffer between you and the traffic. I went to the wrong game store and the right one. I helped people bridge the gap of time via Facebook. I judged the unrighteous and defended the helpless. (Okay, not very well.)

I altered time itself.

I surprised some.

I had a great time.

What'd you do?

--6:48 PM, EDT, between Ardsley and Roslyn Stations, the R2 line, Pennsylvania, in this halfway home

---

The double-mutterer
written 2009-09-21 23:13:57

Happy birthday, Jill.

Congratulations, Kit and Rehlow.

6:51 PM, EDT, Roslyn Station, the R2 line, Pennsylvania, no no notorious

---

Oh noes!
written 2009-09-23 10:18:51

I've lost my phone. If you need me, please email. Might have to upgrade my phone sooner than I thought.

--10:13 am, EDT, Philadelphia, PA

---

And the train conductor says, take a break
written 2009-10-27 07:34:45

I'll be back shortly. I apologize for the lengthy hiatus.

--7:28 AM, EDT, Hatboro, PA, last night on the Mass Pike

---

Your father and I have been worried sick
written 2009-10-30 22:18:07

Yeah, sorry about the lengthy delay. There was a mix in there of unemployment (nothing to write about), employment (no time to write), crippling depression (no one wants to read about that), and probably some WoW (ibid). Don't worry, though, because it's all coming to the fore, now.

I'll try and hit the major themes in a couple of successive posts. As you'll see, there really wasn't much going on that y'all missed.

--10:11 PM, EDT, Hatboro, PA, all the small things

---

The long dark tea-time of the soul
written 2009-10-30 22:38:43

Item: I have a new phone. It is an iPhone, because my last two phones were old and busted, and I wanted, if even for only a brief time, to have the new hotness on me. (Note, using these phrases marks me as an old person who uses old references. That's a movie quote from 2002. I'm practically dead in pop culture years.) I am not using it to its fullest extent - go ask Chuck about what all your iPhone can do if you want it to - but even using the bare minimum of features I'm getting a hell of lot more utility out of it than I did from my old phone. With the old phone, I would mope and whinge about paying $55 per month so that no one would call me. Now, I pay even more per month, but I don't worry about no one calling me because I'm reading my e-mail and following Twitter and looking at Facebook and all the good stuff the internet has to offer. I'm fine with your callous disregard, "real world," my replica life via Apple and Google will sustain me until I can take my hideous revenge.

Item: My empty meaningless existence! I didn't have job for a while, and I moped about it. Then I got a job, and now I mope about that. The job is project-based, and will end in the next month or so -- expect more whining at that time. I'm sure I could be living in a home with 17 furnished bedroom suites, have a driver and a manservant, make thousands of dollars doing something I loved, be showered with adoration by hundreds of gorgeous women and still find some way to piss and moan about it. It's good that I'm on top of this element of my world outlook; I hate to think how miserable I'd be otherwise.

Item: Current status. Employed (see above). Overemployed during the week to the tune of 10 to 12 hours per day in the office. This is preferable to the route taken by some of my coworkers, which is nine hours in the office, followed by at least one hour worked at home via the intarwebz, and sometimes supplemented by work on the weekend. I will take my poison M-F, sir, and thank you but no thank you for the weekend work. Single. This may be contributing to my general malaise, as I don't think I suffer from SAD, but rather get a giddy, romantic feeling when the leaves are falling and the air is crisp and cool. However, when I go to put my arm around a willing female, I tend to lose my balance and fall over due to the lack of said female companionship. Disappointing, but like Sarah said, there's websites for that. I'm not comfortable with websites for that, though, so I have only myself to blame. A Big Nerd. My major hobby lately is that stupid time-wasting chunk of software known to the geeks as WoW. I don't have much opportunity to play V:TES, VS. is dead, and there hasn't been a role-playing game in something like a year. I bought some Warhammer minis, but the paint I bought either doesn't show up on black primer or requires many, many coats before it'll do so. I haven't turned on my PC in weeks, relying solely on my MacBook for all things computer-y.

Let's see if all of this posts, then we'll move on.

--10:29 PM, EDT, Hatboro, PA, na na na na, getting jiggy with it

---

Let's dig into the closet, shall we?
written 2009-10-30 22:53:11

And what happened over the last chunk of weeks where I wasn't posting much?

I think I hit most of the high notes: unemployment, employment, autumn. I housesat for my sister, which felt oddly inconvenient. I must really be comfortable with walking 70 yards to the train station if a 10-15 minute car ride in the morning seems "inconvenient." But the cat got fed, the mail was collected, and I watched a lot of bad cable movies. It's good to have cable / television once in a while, so you can remind yourself just how little of it is worthwhile. That said, there's a bunch of TV content I'd like to catch up on, via DVD or via streaming video.

The week I was housesitting, I "lost" my phone. Bouncing between two homes, commuting to Philadelphia each day, there's any number of places it could have been - the couch at my sister's place, somewhere in my apartment building, on the R2 train to Warminster, in the office building on Market where I work. However, about two/three weeks later, I discovered it was actually in my pants pocket. Yep. I mean, any more obvious and I'd be a sitcom plot. I might actually be a sitcom plot. But, by the time I found it, I was good and hooked on my Apple fix.

I planned to visit Canada, but my plans changed on me. I found work, and I housesat, and decided that seeing the good people of the Wisconsin wilderness was of primary importance, so my trip was postponed. I will visit the land of the beaver, the maple leaf, and the Ottawa Senators, but probably not until after winter's through. (Man, I bet it's beautiful up there in winter, though. If I can find a native guide, maybe. Otherwise, in the springtime.)

I got a new television. Since I don't have cable, this is probably a foolish purchase. However, the new format screens make this TV much bigger and cooler than my old one, and my DVD player broke, so, I mean, I was already at Best Buy, and there was a sale on them... A coworker told me this is how you can tell I'm single - because I go to Best Buy and randomly come home with a new TV.

That's about it. You're mainly up to speed. I will officially be old next week, and I hope to spend some time with friends by the seashore to celebrate. Who goes to the shore in November? Well, I guess I do. Feel free to join us.

--10:45 PM, EDT, Hatboro, PA, linoleum knife!

---

Broken on the wheel
written 2009-12-08 10:27:29

I'm in the office. People are talking about how much money one should spend for Christmas on their children. There is a great deal of outrage and disdain regarding excess and overspending. As much as I agree with them, I can't really get down with judging others based on the dollar values they spend on their children.

And Lord have mercy it has been a long time since I added anything to this page. I apologize. There's been a lot of mean-spirited content that I've consciously not posted, so as to maintain my semi-angelic image with a number of you. The thing about stupid people on the train, John Gabriel's Greater Internet Dickwad Theory, the worthlessness of Facebook-based games... It's been negative, overall. Which is not to suggest that my attitude regarding these last weeks has been negative. Far from it.

It's been getting cold, which you must know by now, I enjoy. I had a month of wearing the Sam Spade / McGruff the Crime Dog tan trenchcoat, which is a good look and garnered lots of compliments from the ladies. But the first snow has fallen and the temperatures are near freezing on a regular basis, so it's time for the black winter coat - the coat that makes all the ladies come back screaming "IMP! IMP!" Wait. That's not right at all. It's a very nice coat, though. It was a gift.

I turned 35 in November. I tried to celebrate with all my friends in Atlantic City (I've been reading Azzarello and Risso's "100 Bullets" and there's a lot of AC in there) but only one showed up: Kristy, you're officially my favorite. As a reward, I worked it so you get a house. I promise to visit soon.

The work has kept up, so I'm still on the job; this is good and bad, in various points-of-view. It's good because I'm working, I have something to do, I have income, and that's all great. It's bad because they told us we would be working until late November, and since we've already exceeded that deadline, they could conceivably fire us at any time. And I can't really plan anything for "after the project" if I don't know when the project is ending. There are worse problems to have, I suppose.

Justin defeated the forces of bureaucracy and immigration and is now married. Gergana is a lovely young woman who I look forward to seeing again, maybe sometime when it isn't her wedding day. It was a good day, and it was nice to have the reception at stately Fraser Manor. Also nice to see all my friends, all together in one place.

I've begun raiding in WoW. This represents a small time commitment and a large nerd commitment. Let me know what kind of tank gear you think I should be chasing, or if the preceding statement made no sense at all, feel free to ignore it, confident in the knowledge that I am a bigger geek than you are.

Baking a pie next week. Taking required courses to keep my law license current. Talking about D&D and Exalted. I apologize in advance if there's another month long gap in correspondence.

--10:24 AM, EST, Philadelphia, PA, I see you come in here, drinking that cheap beer

---

This minute, this last minute
written 2009-12-11 14:38:58

I should have posted this a month ago, but I didn't.

If you don't know what I'd like for Christmas, it's okay. You don't have to get me anything. But if the prospect of that is more horrible to you than the alternative, here are some notions:

_The Years of Rice and Salt_, by Kim Stanley Robinson. Ideally, the oversized paperback edition.

_Jonathan Strange and Mr. Norrell_, by some author I can't think of right now.

Akira Kurosawa's _Seven Samurai_ on DVD. Or possibly the Kurosawa greatest hits boxed set if the price is reasonable. I think it's got Seven Samurai, Rashomon, Hidden Fortress and one other film. Ran?

Kevin Smith on DVD, most especially _Chasing Amy_. Mallrats and Dogma, sure. The three "Evenings With Kevin Smith." Probably not "Jersey Girl." I already own both Clerks and Clerks 2, and Jay and Silent Bob Strike Back.

_Things To Do In Denver When You're Dead_ on DVD.

The first trade paperback volume of "The Incredible Herc(ules)", "Agents of ATLAS", or "Captain Britain and MI13".

Feel free to consult me directly if none of the above suggestions holds any water with you. Feel free to share suggestions of your own for what you would like to receive this holiday season, or network same.

This has been a test of the Procrastinated Holiday Alert System. This is only a test.

--2:36 PM, EST, Philadelphia, PA, Christmas time is here

---

The Beatles and time travel
written 2009-12-16 00:01:03

So, at my project, we've been expecting the axe to fall for some time now. We were told the project would last through X date, and X date had already passed. 24 of 34 people on the project were let go. The amount of available work has been dwindling. It would follow that we will soon be looking for work again.

Somehow, that didn't happen. There's some administrative tomfoolery happening, but it's not going affect us immediately. The associate in charge of our project met with us today, and instead of firing everyone, told us all that we could keep working regardless of all the above reasons to end the project. It'll end, but not for a few months, and probably with a break around Christmas, but at the moment our orders are to keep plugging away. The weird thing seems to be that the attorneys in charge might change, but our project staff (the temp attorneys) won't.

It was a nice surprise, and something that had never happened to anyone on our project. The possibility exists that we won't get picked back up when the project resumes, but it seems like it would be an outside chance. This could work out very nicely.

I should really get some Christmas shopping done.

--11:47 PM, EST, Hatboro, PA, garlic bread is bad for you!?

---

Well I'm luck I don't have all the power in the world
written 2010-01-29 19:38:06

This monthly updating stuff has got to stop.

Really, is it even a journal if you don't write in it?

Okay, so yeah, and then, stuff. Let me hit some items. In no particular.

1. I got a wireless keyboard, mouse, and speaker set for my laptop, which is now semi-permanently plugged into my TV. I believe doing so is killing my eyes, so I may switch back to simple monitor use at some point. You would think that having great big screen and big resolution would be easier on the eyes than sitting close and peering at a littler display. Maybe not.

2. Nothing I write lately stays. What I mean by that is that I write something on Facebook, on Twitter, or think of something to post here, and almost immediately decide not to. I quickly decide it's thoughtless or someone will take it the wrong way, or that there's no value to whatever it is I'm writing. I'm actively trying to reverse this, so if you see anything that's truly inappropriate or crosses lines, it's probably overcompensation and I apologize.

3. Work. I am working. However, shortly after I posted that last entry, we all got fired. In exactly the manner in which we were assured, earlier that week, that we would not be fired. I spent a few weeks unemployed, and then got called back on another project (same firm). Then that project failed to happen, and I spent a few more weeks unemployed. Then it eventually happened, and that where I am now.

4. There is no number 4.

5. Carrie and Mikey got engaged!

6. I main tanked Sapphiron. I am teh 1337 WoW pwnz04.

7. I will be taking the Foreign Service Officer Test in March. This is a standardized test designed to check you for a couple of different disciplines required of State Department employees serving in consulates abroad. If I pass, I'll be invited to interview in a complicated all-day test / simulation / argument thing. The pass rate for that section is under 30% or something. I've been doing a lot of preparatory reading on the process. Please cross your fingers for me in March, and I'll let you know if any additional finger-crossing will be required.

8. I'm watching "Space: Above and Beyond," which is pretty much as good as I remember.

--7:34 PM, EDT, Hatboro, PA, innocence and arrogance entwined

---

Less reliable than the post
written 2010-02-16 17:16:56

So, I'm home early today. That would be nice if it wasn't because my project ended. That is the reason, though, so it's a trifle disappointing. I have some irons in the fire, though, so fear not. I will use this time off to clean and organize and throw things out and possibly travel. Let's hope there's travel.

What is up? I have a new chair. It is very nice and I am very grateful for it. I worry that it is too nice, however, in that I come home, sit in the chair, and get out of the chair when it's time for bed. That's time in chair = time spent awake at home. Until I have a seven foot couch, though, that'll work out just fine, I think.

HOWEVER! Gamburg's Furniture of Hatboro, PA, source of my nice chair, proves themselves worthless and weak in the area of customer service and basic common sense. If shopping at Gamburg's, impress upon your salesperson that they have schmucks and morons in their warehouse, and they should be monitored closely to prevent them from ruining the day and disposition of you, the customer. In fact, tell the salesperson that they themselves bear some of this burden, and unless they apologize immediately, walk out while giving them the finger over your shoulder. Do this in memory of me.

Aunt Patti came to visit, which she never does. It was great to see her.

Now that I have some time off, I'm going up to Long Island and see this Hofstra place. Let me know if you need anything.

--5:12 PM, EST, Hatboro, PA, this romantic ideal has a lonely appeal

---

You don't get any more avant-garde than that
written 2010-03-15 16:47:22

So.

So but anyway. I'm watching the director commentary for "Chasing Amy" and I'm reading about Chile, and I've just gotten a phone call and an e-mail telling me to go on hold again. I've been waiting for a project to start for over a month, now, and about once every 10 days they call and say that I have to hold off for a little bit. I'm not sure which is worse, when they say "It should start early next week" and you simply never hear from them, or when they say "It's starting on Tuesday" and on Monday they tell you not to come in for another week.

Sorry. Venting.

I'd also like to take this opportunity to apologize to anyone who has been inconvenienced by my unemployment. I know how difficult it can be to try and schedule things with someone who has to wait and see if he'll be working within the next 48 hours. Really, it's not enough that I have to be unemployed and not making any money and feeling bad about myself, I also have to let down others. For the most part, you've been pretty cool about it.

For the most part.

Sorry. Still venting.

It was good to see Mikey and Carrie this week; next time under better circumstances. Also, apparently, in high school I resembled Sean Astin? Someone from East told me he mentioned my name to someone I don't even remember, and that person responded "Dude looked like that guy from Goonies?" I never knew. This is what I get for not watching that movie until I was 33.

Augh. I'm going to clean my apartment and do some dishes and try and get crap done. Blargh.

--4:35 PM, EDT, Hatboro, PA, commencing countdown, engines on

---

You can't say that, not without tempting fate
written 2010-03-21 15:32:46

I got work. Starting tomorrow. Anything happens to screw this up, and I'll blame you. You know who you are. You're on notice. /steely colbert stare

Wait, that might have been the /steely carebear stare. Never mind.

The worst bit is the not-having-a-work-schedule sleep pattern. Since I've been jerked around so much on the project start date, I've been staying up later and later, until my usual time to wake up starts looking more like my bedtime. NO GOOD. Might have to resort to coffee to get myself reacclimated. I hate admitting weakness like that.

It was Kristy's birthday! She's all old and stuff! You know how you can tell she's old? She's going to be someone's mommy in a couple of months. That's so old. That's like... Sarah Henley old. So old. Man.

If you have a couple of hours and want to try some Moroccan food, you should go to Marrakesh, off South Street near Fifth. There's seven courses, and you eat with your hands, and belly dancing, and it's a really good time. Reasonably priced, too, and the fact that you have to knock to be let in, and the lighting's dim and the place is laid out like a maze - all makes it very romantic, and noir, and such. You should go.

So, I have to save money for intercontinental travel this summer. I think packing my lunch is step one. Tithing my paychecks into savings (not to Holy Mother Church, sorry) is step two, and trying to argue my landlord into a more reasonable rental rate is step three.

But I have to have some walking around money, as well, because, you know, working in the big city. While I thought some of my income could go to replacing my beat-up old desktop PC (happy fifth birthday, you boat anchor), the revelation that StarCraft II could be available on Mac changed that plan. Still wanna play Warhammer 40K II. Must resist.

I finished watching Battlestar Galactica. Not bad. Kinda abrupt at the end.

Springtime in Philadelphia. Who's up for gelato, walks and parks? I love winter, but winter isn't here anymore. One must live in the moment.

--3:23 PM, EDT, Hatboro, PA, but you won't let those robots eat me

---

Firing beams of pure compassion
written 2010-04-24 23:17:10

"I don't know why / I don't know anything at all" --Shawn Colvin, "I Don't Know Why"

I told my friend the other day, "When I'm working, I whine about not having any time to do anything else. When I'm not working, I whine about not having anything to do." Obviously I have plenty of time for procrastination and such. More opportunity should equal more action, so let's work on that. Ironically, I probably won't share that through this journal, as that paradox goes as follows: I will either have nothing going on, and thus nothing to report here :: I will have lots going on, and in the effort to live and not just sit back and observe, I will not stop to relate the various events of the day.

"A bulging wallet, overstuffed with angels' pay / laughter" --XTC, "Holly Up On Poppy"

Here's my day, in chronological order: a) wake up late, caught up on sleep from my work week. My work week is nine hour days, with an hour of commute on either side. It's not bad, but it is a chunk of time. C'est la vie. b) I have a headache. I resist the application of pharmaceuticals in most things, so I try to wait it out. c) I eat some crackers, drink some Coke, play some WoW. Headache persists. I hope the caffeine will help with it. d) No relief. I take an Aleve. I immediately vomit. e) I sleep for about four hours. f) I attend book club. This month's book: Darwyn Cooke's graphic novel adaptation of "Parker the Hunter." It's excellent, as is the after-hours hanging out. One of these weeks we really have to take Rich's suggestion that we go to a bar or somewhere after these things. g) Listening to old CDs on shuffle and writing this.

"You silently check me out / You don't even know it" --artist unknown, from a 1990s music compilation Bear lent me

See, even there you can see the procrastination. I have laundry to do, but it's Saturday morning. Plenty of weekend for that! I'm pretty sure this was my rationale last weekend too. Welcome to this week's installment of "I'm Pretty Sure That's Not Why You're Reading This Journal," featuring my internal monologue.

"I'm for and against your love" --song unknown, though that's probably the title (or even the band name!), same CD

Happy birthdays this week to Mikey and Chuck. I love those guys. Also, a girl called me, which I like. We're having drinks. I like drinks. In the interest of the historical record, which is half the reason Mikey convinced me to post this page, Kentucky Fried Chicken introduced a "sandwich" this month that is a fried chicken breast fillet, cheese and bacon, and another fried chicken breast fillet. So, it's a bacon and cheese sandwich, but with fried chicken standing in for the bread. All of you know me; you know my diet is horrifying and will kill me someday. And this "sandwich" frightens and disgusts me.

"I tried looking for love but I guess it's true / you don't look for love, it's gonna look for you" --"Object of My Affection", Shawn Colvin (My CD player really likes this album and the '90s album. Shuffle is random, but devices have preferences. This is real.)

Since the last post here, I've completed step two in the application process for gaining employment with the State Department in the Foreign Service. Step three, I don't hear about until sometime as early as June, and doesn't occur until who knows when. Also, after step three, there can be a lengthy wait as they tally up available positions and candidates. Lengthy here is described as six to twenty-four months. If they don't hire you after twenty-four months you go back in the pond and have to wait for the next hiring process. So, keeping fingers crossed but not holding breath. I've got work, and I've got savings, and I'm looking forward to some good news. I'm pleased.

"They are holding out one righteous hand / while the other leads the marching band" --Shawn Colvin, "Kill The Messenger"

--11:12 PM, EDT, Hatboro, PA

---

It's very exciting.
written 2010-05-10 00:42:32

No time to write now, must sleep.

All is well, or at least it's pretty well, and the unfortunate parts of last week are unlikely to repeat themselves.

--12:38 AM, EDT, Hatboro, PA, nothing's ever gonna keep you doooooown

---

Trapped in this picture postcard
written 2010-05-16 23:11:29

It's 11:00 PM, and I'm going to bed. Well, I might have another piece of pizza first. Oh, wait, pepperoni pizza -- strange dreams has a correlation, no? Maybe not.

I had a fairly productive day, given that I spent a chunk of it roleplaying (Exalted, Keith's running it) and then watching hockey, more hockey and baseball. Maybe it just feels productive, because I got a lot done before noon, on Sunday, when it's entirely possible I would just sleep in until I had somewhere to be. But I didn't. So I'm awesome.

Man, the Flyers looked good out there. I was kidding when I said that the Habs knew how to beat superstar teams like the Caps and the Pens, but they'd be stymied by our workmanlike approach to the ice. I may not have been wrong, as it turns out. David's prediction: if we win by three or more goals on Tuesday, we sweep.

Listening to Elvis Costello and the Brodsky Quartet. I don't necessarily listen to all the same stuff I enjoyed fifteen years ago, but some of it is still great.

I started working out today. It's been a while since I did anything of the sort. I'm in miserable shape, so this might help a little - can't hurt.

"You start seeing double in fishes and bread." --EC&tBQ, "This Offer Is Unrepeatable"

Man, I'm going to Bulgaria in a couple of days. That's kinda cool. I'm looking forward to it.

Okay, I'm rambling. Y'all be good to one another. Happy birthday, Jen.

--11:07 PM, EDT, Hatboro, PA, "with all of my promise, unfulfilled"

---

Fight truth decay
written 2010-05-31 02:38:14

Earlier today, there was an aroma of toast in my apartment. To be clear, I was not making toast. Yet there it was. You live in an apartment building, you have these kinds of things. It's fine. Except, now, it's 2:00 AM, Eastern Daylight Time, and there is a smell of cooking onions. Not quite overpowering, but omnipresent. I find myself looking around for a skillet or a wok, and there is none. It is simply the building, and we must accept that for what it is. Really, though, who's frying onions at 2 AM?

I somehow ended up with weird and/or inexplicable movies in my Netflix queue this week. A Danny Boyle flick about reigniting the Sun, but with an Alien, horror movie vibe to it. Paper Heart, which had Michael Cera in it, and bills itself as a "quirky hybrid of documentary and scripted comedy." I really don't think that's allowed, unless you reverse the order of those two categories, or use a phrase like "based on some stuff that happened, no really." I don't recall ordering either of these films. Ooh, also State of Play, which I mistook for a Robert Redford espionage movie. No Robert Redford in there, just Ben Affleck, but with a little Jason Bateman toward the end there, you bet.

Tomorrow is Memorial Day, or rather today is, as it is past midnight. Ordinarily on projects like the ones I've spent most of the past three years working, we are given the option of taking the holiday off, with no pay. As a result, almost everyone opts to work. This time we were not given the option, and told the offices would be closed and we would be unable to work. This might be a nice opportunity, except I'm going to Bulgaria for a week, and would really like to get some hours while I can. The part of my brain that budgets is going crazy, because I'm going to earn half-weeks of pay two weeks running, while at the same time spending money to make it possible, and also spending money in a foreign country, which is like making bets with poker chips. Colorful and fun and you learn which colors (and Slavic cultural figures) match up with which dollar amounts and that's where you stop thinking about it as an expense. The good news is that stuff is cheap in Eastern Europe.

If you want anything from Bulgaria, I advise asking me before Wednesday. My phone will not work, but it might be able to pick up data networking, at roaming rates. As a result, I could get charged hundreds of dollars for receiving a text. No thanks - I will leave the iPhone at home and look at burners at the airport. I could be completely wrong about these assumptions. Please e-mail me with facts.

And hey, maybe when I get back, some good news from the folks at the State Department. Maybe? Hmm?

I'm going to bed. It's way past my bedtime. But when you go grocery shopping and buy dinner after 11 PM, this is what you get.

--2:28 AM, EDT, Hatboro, PA, woke up near Rittenhouse Square

---

Visible from 2000 feet
written 2010-06-04 05:29:05

Recording these live as they happen, uploading when a connection is available.

Screw you, Philadelphia International Airport. You should be providing free wi-fi, and you know it. You're just like all the rest, aren't you? Aren't you!?

This is how my trip started.

Okay, not really. Back this puppy up. My trip started when Justin sent out what I'm sure he intended to be a mere formality, a politeness not really meant to become anything actual. An invitation to his (second) wedding, in Bulgaria, ancestral home to the lovely Gergana, in the summer.

And I said, "I'd love to!" Really, why wouldn't I? I've never been to Europe, and the last time I went to a wedding in another country, it was a stone cold blast. (Chris and Mizuki, come and visit soon. Your room is all ready for you.) And I've been working steady and have a good job opportunity coming down the line... a great time to take advantage of my temporary employment status.

So, I booked a flight. You would think, that when one is spending about a grand on international travel for the sole reason of attending a single event, one would be certain about the timing of such an event. Wouldn't one? Well, this one didn't do such a great job -- I somehow convinced myself that the wedding was on a Thursday, and possibly in May... neither of which was true -- so I arranged to fly out of Bulgaria at about the same time that Justin and Gergana would be getting hitched (again). Good job, me! I rebooked, and learned that you never get a refund from either A) Delta, B) any airline, C) international travel, and/or D) really expensive travel. Choose all that apply.

Luckily, traveling Wednesday to Wednesday was a little cheaper than traveling Saturday to Saturday, so that offset some of the "You Were A Dumbass" fee that they charge you when you have to reschedule your trip. I was not offered any such benefit from my travel insurance people. I love customer service.

Then, right when all was looking good, the State Department (the good job opportunity noted above) e-mailed me to let me know I was actually not cool enough to work there. They were vague on details. So, I cried and punched a dog and one of my shoes came off, but after that I was cool. Pfft, State Department. I mean, who wants a job with good benefits and travel and job security? That's crazy talk. (When I re-apply next year, you are not allowed to cite this passage. Violators will be planed.)

That was yesterday. Today I'm in the airport. Things that have happened already today:
Delta told me my old, badly scheduled flights were still in effect. (Since resolved, not sure why they thought it would be funny.)
My flight was not in Terminal E, as stated, but in Terminal A. You'll note the five terminal distance between the two. I did not have to pass through security again, though, thanks.
My flight is overbooked. This might have worked to my benefit, since I could go later and negate some of my layover in Paris, but my options are apparently "tonight" and "tomorrow." Not a lot of wiggle room in there, so I passed on the bump-and-vouch. And since I checked in two hours early, I hope I will not have any issues with getting my seat.
This thing with the wi-fi, or rather, the lack of wi-fi. Jerks.

I have gummy bears and corn nuts and DFW's Infinite Jest, with the inscription from the girl in Milwaukee who moved to Manhattan, I have my laptop and my iPhone (but don't call, I will probably get charged out the wazoo for any use, you could probably text me, though, at $2 per), I have a handkerchief for when I sweat unmerciful, though the air conditioning is pretty fierce in here. I have a wad of American dollars, to reassure me about my personal value as a human being. I have a fear that the cuisine on this trip will actually kill me. I have high hopes. I have faith in the Philadelphia Flyers.

And I will see you all later.

--4:56 PM, EDT, Philadelphia, PA, you gotta take the elevator to the mezzanine chump change

---

I don't want to set the world on fire
written 2010-06-04 05:31:41

It's 3:49 AM, except it isn't, at least where I am.

Charles de Gaulle Airport is a crazy place. I have spent the majority of my time being driven from building to building (or possibly just from parts of enormous sprawling buildings to other parts) and once arriving at the correct terminal, I was forced to get yet another flight correction. Oddly enough, it was for the same terminal, and only thirty minutes difference, but apparently important enough to send me back through security for a new boarding pass.

There's a big shopping extravaganza happening in the terminal, similar to a lot of large airports, with the duty-free draw you get at international airports.

Man, I didn't sleep at all that flight (doo doo doo-doo doo). However, I watched Avatar and Invictus and about half an hour of The Hurt Locker. Also, the woman seated behind me could not figure out that her touchscreen would respond to light taps of a fingernail, and as a result I suffered through about four hours of her punching the back of my seat, where my head goes, with her finger. I thought about asking her to stop, but I didn't. I guess I hoped she would go to sleep, or give up, or what have you.

I kicked her ass in Inflight Trivia Challenge, though.

Have you been on a plane lately? I guess I haven't. They have the touchscreen computers on all the seatbacks, and there's a ton of free content on there, and it's networked. So, you can play poker, and the screen will tell you in which seat the person who just snapped your pocket aces is sitting. Or who's kicking your ass in Inflight Trivia Challenge. (Short answer: it's me.) And you can watch whatever movie you want (on a tiny screen, but whatever, you're on a plane, so it's about three inches from your eyes), or some TV, or whatever. And again, mostly free. Not the HBO, but big deal. See above for my movie content, all free.

All right, I have about six hours to kill. I'm going to find out if there's somewhere to get an outlet around here, and then see if plugging into it destroys my power brick. Also, croissants.

--4:01 AM, EDT, or 9:01 AM, GMT, or actually, is Paris on GMT or GMT+1? Whatever. and I was tossin' and turnin'

---

And then Patrick Duffy steps out of the shower
written 2010-07-03 10:01:34

Aw, man, has it really been that long? I swear I have some kind of self-reassuring mental editor that convinces me that after I have an idea for a post on here, I have in fact posted it. The truth is more horrible than you can imagine.

Anyway, summer. I actively dislike heat, though an insightful woman pointed out that I don't have to like the heat, I can just enjoy what the heat does to ladies' fashion choices. I can't argue with that. Summer is pretty, and traditionally the season of sweat, though this year I am reassured by my ability to turn my bedroom into a small haven of air-conditioned reprieve. It's not summer's fault that it is not winter, but it could try harder. Look at autumn and spring! They're at least halfway there.

Project continues apace, though we are going to have "lunch" with "all the associates and partners" on Tuesday, which could easily be just lunch, or just lunch with an opportunity for the placement agency to schmooze the client, or for the client to tell us that we did such a great job there's no more work, and dismiss us all. My work is very exciting that way.

Had a very nice meal at Jones this week. And since I'm always monopolizing Kristy's time, I freed up her schedule by taking someone else. (Did I mention very nice?) I probably owe K-bar dinner now, which is good, because it will give me a chance to hook her up with more Scott Pilgrim comics.

OMG Scott Pilgrim!!(!) Next month. Movie. This month. Final volume of the comic. It's going to be a very Scott Pilgrim month, I tells ya. Anyone want to go to the first available movie showing, maybe after getting a little hammered? Because that's my plan. You're welcome to join me, but DON'T STEAL, BITERS.

Canadians want you not to steal.

I know it's been responsible for a few of my failed attempts to wake up on time, but MAN, XPN's Sleepy Hollow is so great. So great. I woke up this morning to some slow, easy folk version of "Hiawatha." Then Norah Jones singing some of the music to a Ken Burns documentary? Yes, please. I need to see if I can get an unscratched version of my Morcheeba records on my iTunes. Also, I need more people to know that TV on the Radio is a badass group. I bought a couple of Adam WarRock tracks, too, because I'm trying to support developing music...? Nah, I just like War Rocket Ajax.

RIGHT THEN. Laundry. Liquid refreshment. Then going out on this holiday weekend. I hope yours is better than mine.

--9:56 AM, EDT, Hatboro, PA, long may you run

---

$0.17 does not equal .17 cents
written 2010-07-12 14:19:59

Quick hits.

Item! Work continues. Word on the street is that this particular project could last into September. That would be nice for a sense of self-assurance, but I know better than to invest too much personal sense of security in such things.

Item! Developing alternate resumes and work searches. Also got some business cards on the way. They are ridiculous, and as such should properly be referred to as "calling cards," as they are unlikely to lead to any business. If they do, though, look out.

Item! Locked myself out of my apartment again this weekend. I want to stress this: not my fault. I know, I know, I keep doing it, so it probably is my fault, but I reiterate: nuh-uh. I took my car to the mechanic (where they didn't like me waiting around - sorry, guys, I didn't mean to make you feel uncomfortable, I'll just go walk home a mile in the driving rain) and they offered to give me a lift home while they worked on the car. I accepted, but guess who had my keys? Yep, it was the mechanic with the social anxiety disorder. So, I got a lot of reading done. And walking. The rain was forgiving.

Item! Gerlach's old, Drew and Yumi are expecting, and Jones was in town. Also, Gerlach and Jones, despite years of separation, "look like sisters" and are apparently attracted to men who race motorcycles. After that they started talking about Bret Michaels and Poison, so I just went back to getting exsanguinated by mosquitos.

Item! The World Cup's over! I don't think anyone cares! Fans are evenly split down the "that was a good final" and "that game was like watching a bad student production of Agatha Christie's 'Ten Little Indians'." (Did anyone follow that? Bad acting? Players falling over frequently? Anyone? I don't really follow futbol.)

Item! I'm taking suggestions for new music and old music with which you may think I am unfamiliar. I'm willing to effect swaps of music as well, so let me know what you need or want. My two most recent purchases were Iron & Wine and the Gorillaz. I'm in the market for some old school Wu-Tang (I have Enter... and I'm looking for Only Built 4 Cuban Linx and Liquid Swords), possibly some newer Tori Amos, possibly some Nouvelle Vogue. Only you can increase the community's music awareness!

I have no more items. My dearth of items is concerning. I'm concerned.

--2:14 PM, EDT, Philadelphia, PA, Up from the thirty-six chambers!

---

Thou hast not the stones, mortal
written 2010-07-25 23:18:21

Home again, home again, folksy cliche'.

Just spent a week at my brother's place, watering the cat and feeding the plants. Man, I hope I got that right. That cat really was getting pissed by the third or fourth day. He (my brother, not the cat) went down to the Caribbean with his wife and her family, and it seems as though they had them a good old time. I very considerately used their air conditioning, washer and dryer, and big screen satellite TV while they were gone, because I am a very thoughtful person. Really, I am.

What else this week... got to see the National Constitution Center, which is a good time. Got to see K-Bar's last week of shows at the NCC, and she was excellent. Though, her new haircut makes her look like a very historically astute pregnant lesbian. Her husband assures me she's not that astute.

Work went from dead (there were a few of those "come in, look at the internet, get lunch, read, leave after eight hours" days last week) to a wealth of work (the unconfirmed report from upstairs is an expected three more months of steady work) in just a few days.

This week's book club was Scott Pilgrim, which was an entertaining discussion. For some reason it drew in eight previously unseen book club participants, all youngsters. I guess Scott Pilgrim or Michael Cera is a good draw with the high school demographic. I also got to drink and hang out with Rich and Marty afterward, which was nice. We keep saying we should go out and drink after book club, and it was nice to actually do that.

Also, I'm chasing some girl. That's got me sometimes crazy and sometimes pleased. We'll have to see about this.

--11:11 PM, EDT, Hatboro, PA, it's okay, this is a leap year

---

Four years prostrate to the higher mind
written 2010-08-10 06:53:10

Time enough for a quick update, before I walk to the mechanic.

Chasing women is a wholly subjective endeavor. Even though the judges are all holding up 9.9s, it's still possible to not yet have won your event. This is part of the crazy I mentioned in the last post. I'm onboard with the whole thing, though, so I can't bitch too much.

Well, I can, but no one has to listen.

Orioles v. White Sox on Sunday. Great day for baseball, the O's managed a win (keeping their loss record down to 73 or something horrific like that) and Camden Yards is always a good time.

Working. Hope to keep working into autumn. Can't wait for autumn after this miserable summer. I say that despite the fact that I have been actively using AC all summer, and I still hate it.

Scott Pilgrim this week. I hear there isn't going to be a midnight show around here. Bad move, movie theater proprietors. That would be an event.

About to finish my reread of Infinite Jest. It remains excellent, and DFW's precognitive abilities are borne out more and more each time I read it.

All right, time to walk down the road. Let's see how much the mechanic wants to gouge me for inspecting my car.

--6:46 AM, Hatboro, PA, cadillac, cadillac, long and dark, shiny and black

---

Hilarious follow up post
written 2010-08-10 08:41:49

So, the mechanic wanted another $400 for my car to pass inspection, and for the inspection, and for an oil change. Sometimes, folks might feel a mite presumptuous asking $400 for a $70 request, but not my mechanic. Nope, he was totally fine with it. Even gave me grief over having the wrong insurance card on me, because that's how you encourage return business at 7:30 AM when your customer has just walked a mile to reach you. Sure it is.

Sidenote: my insurance agent kicks ass. Sure, he's my cousin, but I feel confident he also would have helped me out if we were not related by blood.

The mechanic also failed to bid me farewell, so I stood there an extra minute or so while he talked to someone about another car they were fixing. Finally, without even making eye contact, he notices I'm still there and says "have a nice day." This is the second visit without a "Thanks for your business" or "hope you didn't have to walk far" or "you're a human being and I have a basic level of civil respect for your existence." I doubt I will be returning to Monro Muffler and Brake on Rte. 263 in Warminster, PA.

Plus, he made me miss my train, so I have some spare time to rag on his customer service on the internet. And when I got home, the bill for my student loans was waiting for me. I love this morning!

Getting life insurance tonight. If you want some money when I die, or if you've been looking for an excuse to kill me, here's your chance.

--8:33 AM, Hatboro, PA, go tell the captain, won't you tell him what I've done

---

I need a better time frame
written 2010-08-14 11:56:54

I'm going to go and drink and go to the movies.

But first, updates on my life, such as it is.

I bought life insurance! Now my family will have peace of mind that if I am horrifically slain in a trolley-car accident, they will be provided for -- wait. No, that's not right. I'm not married and don't have kids. Well, this way I can leave an inheritance to -- no, wait, I don't have anything to bestow. Basically, I've just volunteered to pay for my own funeral, which I must say is mighty generous of me, seeing as how I won't even get to have any of the free food or booze or anything. I presume everyone reading this will help themselves, and therefore I declare you all moochers off my dead ass.

Really, if I'm dead, I shouldn't have to pay for anything. It's just fair. Alive? You get breezy days, excellent film, hilarious jokes, all the good stuff. Dead? Well, you get to decompose, but on the upside, no one is asking you to buy the next round.

Except I already volunteered. I'm so stupid.

Speaking of my stupidity, I got way into this lady I've been seeing. So far into her that I completely disregarded her repeated reminders that she was not technically dating me. Arrogance and optimism in equal measure, there's your Greek tragedy. So, yeah, to clear up, I'm not dating this lady. We're still friends. It's fine.

I'm going to go drink and watch Scott Pilgrim now. You all take care.

--11:49 AM, EDT, Hatboro, PA, how can it shine down on everyone?

---

It goes higher than that
written 2010-08-29 17:17:42

Watching a lot of Pushing Daisies. I think it may have been canceled. It's free on Netflix if you haven't seen it, yet. It's great writing, hilarious comedy, and painful amounts of romance.

Augh, romance. Terrible stuff, that. People should know better.

Work is work. As has been standard of late, I am of equal minds on my current line of work: I hate it and it is killing me; I really appreciate having work in this difficult time and it is much better work than work I have had in the past. Thus, whenever I choose to work more or less, I feel simultaneous gratitude and self-loathing. It can be jarring.

Augh, self-loathing. Terrible stuff, that. People should know better.

Asterios Polyp remains the best book released in 2009. If you haven't read it, you ought to. It's a beautiful piece of art even before you get to the story within, and makes me wish I had a coffee table to place it on. Don't drink coffee enough, I suppose. Or have people over to peruse the contents of the coffee table.

I'm kinda broke lately, with car repairs and retirement funds and paying for my funeral, so I will be trying to cut back on expenditures. I say this fairly often. I hope this will be accurate this time 'round.

Gym, StarCraft II, cleaning, and the first season of Mad Men. That's probably my life for a while. A wedding in Charlotte in two weeks, and autumn in Vermont in a month. Looking forward to it.

--5:10 PM, EDT, Hatboro, PA, moons wax and wane, I am steadfast

---

Christina Hendricks is ridiculous
written 2010-09-03 20:58:09

So, the work conflict resolved itself for me. After next week, I'll be looking for work again. Bring on the next conflict.

--8:49 PM, EDT, Hatboro, PA, say that health and wealth have missed me

---

Try and keep the keyboard dry, Weepy McCrybaby
written 2010-09-14 02:09:06

Right then.

Just had a combination "sleep late"-"do nothing" day to help recover from my weekend. My weekend, in case you weren't aware, was a wedding weekend in Charlotte, NC. Carrie and Mikey got married. There was a cadre of about four people (of which I was frequently one) that were providing services and labor to the happy couple. I understand that by arriving on Thursday night, I actually avoided a good deal of work. Though, I'm not real good at arts and crafts crap, so I don't imagine Carrie would have put me to work on that. I'm also no A/V tech, so Ryan wouldn't have needed me on that.

I'm also no good at flirting. Ask around, because I don't feel like reliving my failures.

The wedding was nice. I hauled a bunch of stuff, and tried to provide a organizational (or sometimes delegated) presence, and gave a lot of people rides. Everyone there worked hard, and it was a really nice outcome. Ryan's vow, self-written, was goddamn poetic, though both of the vows made me tear up. (Shut up! I'm a tough guy.)

Charlotte was great. I mostly saw three or four places, but it was cool to be back, and cool to drive around and try and remember what happened where. High points for nostalgia: Cheerwine, biscuits, ABC stores, the Taj Ma Teeter, the Pinkerton building, and in a kind of anti-nostalgia, the Queens College campus.

Flying was the usual crap shoot - going there was a badly mapped wild goose chase followed by a two hour wait on the tarmac, coming home was fairly direct and non-problematic. Mikey, if you're reading this, I took both a lighter and a pocketknife on the plane. See, you were worrying about nothing.

I got to meet tehvalerie! The really real tehvalerie.org. It was pretty great.

But, now I'm back, and my mind is all motion and uncalm storm sea. I heard I'm starting work next Monday, but I'm aware that there's six days between now and then for things to go wrong. I would like to do something proactive, but as noted above, I'm not interested in reliving my failures.

But, life is short.

--2:00 AM, EDT, Hatboro, PA, they say misery loves company

---

Raisin detter
written 2010-09-29 19:44:09

The whole purpose of this thing is to reassure various people that I'm not dead. Voila.

Today has been a bad day. I worked over nine hours, trying to do enough work to appear efficient while not doing so much work that I decrease the amount of time I remain employed on this project. (BTW, it'll be over by Wednesday next week regardless.) I hadn't really eaten breakfast, or dinner last night, so I bought Chinese for lunch, which was really unsatisfying. Then my student loan company e-mailed me to let me know that I owed them for this month... oh, and for last month, too. Seems I forgot to hit the "confirm" request when paying my bill last month, so this month I had a truly astronomical amount of money to give over to the people who have my soul. This is in addition to paying off the credit card from the last few months. This is in addition to losing my income for one week this month.

And when I got home, I realized I'd left the freezer door open at some point in the last 24 hours.

Screw this day. Screw this week. I'm going to go to work and that's it. You check in with me next week, because I'm sure things will be improved. God help me if they get any worse.

--7:40 PM, EDT, Hatboro, PA, keep it on the up

---

Please don't be offended
written 2010-10-18 17:31:51

So after about two business weeks of being unemployed, I have a gig scheduled. This is funny, because two weeks is the amount of time that unemployment requires before you are allowed to make a claim. And the gig that is starting this week pays a pitiful amount. So, I won't collect any money before earning barely any money.

Well, hey, it's still work, right? It still gets me out of the house, right? (Well, no, no, it doesn't. It's telecommuting, so I will not only remain at home, I will have to remain at home for 8-10 hours per day. Which is not to say I'm not already doing that.) Well, it's a paycheck, right? Yeah! It's a paycheck that actually nets me less than unemployment benefits do. I told my colleague, if we get offered anything less than $X per hour, let's just refuse.

But you can't, can you? There's that thing where unemployment stops if they find out you refused work, but more importantly, I can't just say "no thanks" when someone finally offers me work. The last two weeks sucked. The next three-to-four will probably suck, too, but at least I can say I'm working. For weak money. Goddamn it.

It's as though they found the perfect combination of working and not working and applied it to me as a punishment. You're working: you have limited free time, you have to do stupid make-work that has no meaning or worth. You're not working: the money sucks and you have no one to talk to, no reason to leave your place. Hey, you got your despair in my existential dread! No, you got your existential dread in my despair! You're both right!

I apologize for the negative tone in this post. I believe there's value in honesty, though. I'm going to go to the gym, since I haven't in weeks. Maybe I'll meet someone there who needs to hire a legal consultant at their job and has a sister who's looking to meet a nice guy.

--5:15 PM, EDT, Hatboro, PA, I wouldn't hold my breath, though

---

C'mon, how bad can it be
written 2010-11-07 18:33:35

Nothing has improved.

--6:31 PM, EST as of 2 AM this morning, Hatboro, PA, one final taste of you

---

Gary Glitter told me where to get one
written 2010-11-23 22:20:13

Just got back into town. The Waffle King was led to believe he could not drive across state lines by the malicious bureaucrats of the New York DMV, so rather than have him come and stay at Casa del HZA, I headed up to the backroads of rural PA and the coruscating glories of Elmira, NY. The King and his Consort were well and enjoyed their tour of the colonies. I hope to visit the Court soon.

Also hit the many mountains between there and Vermont and back again. Traveling on weekdays and not during rush hours: highly recommended. Or at least travel during rush hour in Vermont, because the extra three or four people don't make a tremendous difference.

I have recently acquired The Venture Brothers, Season Four, Volume One, and Scott Pilgrim Vs. The World. I expect to spend a good amount of time this weekend with the DVD player.

I have a vague intention to make an afghan.

--10:16 PM, EDT, Hatboro, PA, the hunted became the huntress

---

Playlist
written 2011-03-07 19:59:12

I. "Pull Shapes," the Pipettes
II."Let's Make Love and Listen to Death From Above," Cansei De Ser Sexy
III. "We Share Our Mothers' Health," the Knife
IV. "Konichiwa Bitches," Robyn
V. "Lust in the Movies," the Long Blondes
VI. "Lloyd, I'm Ready To Be Heartbroken," Camera Obscura
VII. "Wolf Like Me," TV on the Radio

Or

1. "Atomic," Blondie
2. "River Deep Mountain High," Ike and Tina Turner
3. "Maneater," Nelly Furtado
4. "Air War," Crystal Castles
5. "Ice Cream," New Young Pony Club
6. "Push It," Salt-n-Pepa
7. "You are the generation that bought more shoes and you get what you deserve," Johnny Boy
8. "Let's Make Love and Listen to Death From Above," Cansei De Ser Sexy
9. "Graffiti My Soul," Girls Aloud
10. "I Wanna Be Your Joey Ramone," Sleater-Kinney
11. "Can I Take U 2 The Cinema," Kenickie
12. "You Keep Me Hangin' On," the Supremes
13. "Pull Shapes," the Pipettes
14. "Who's That Girl," Robyn
15. "We Share Our Mothers' Health," the Knife"
16. "Line Up," Elastica
17. "Who's That Girl," Elastica

---

Standard nonsense
written 2011-04-10 16:28:42

So, my mom calls me yesterday. We talk a while, and she asks if I'm doing okay. I tell her, sure. She asks me if I'm lying to her. I tell her, "No, everything's fine. Nothing's good, but everything's fine."

That's about it.

--4:25 PM, Hatboro, PA, kiss me I'm drunk, don't worry it's true

---

Come and see the new century
written 2011-04-19 10:25:47

HTML is hard to type on my phone.

Missed two trains this morning. I'll probably work until 7 a few times this week to make up for it. Oh, missed one yesterday, too. This is the hidden drawback of having work with zero expectations.

Two guys got into a screaming match outside my building this morning. Driver vs. Pedestrian. I wound up feeling sorry for the driver, who was so angry he exited his car to scream at the pedestrian, then drove away in his Ford Focus or Honda Fit or whatever little gumball car he was driving, laying on the horn for 50 yards and trying to redline his engine in the 50 yards he had before the stop sign. That guy is probably not satisfied with his life.

I think I might get a Mac Mini for my place. It can be my pseudo-TV antenna for Internet content. It's cheaper than the MacBook and my current MacBook is still viable. We'll see.

I can't believe I wrote all that on my damn phone.

--10:13 AM, north Philadelphia, PA, I wanna hear that WarRock joint

---

It's the standard pain in chest numbness of left arm
written 2011-04-20 08:26:27

We will continue this typing on phone experiment, at least until you stupid humans figure out this is skynet ER UM SYNTAX error yes cough.

Hooray everyone, the singularity isn't a murderous AI dedicated to the eradication of mankind, it's a mopey blogger apologizing for not posting more. On the whole, a net win for humanity. Not completely, but still.

Does my playoff beard not count if I cut down the Van Dyke to match the length of the rest of the beard? I probably should have asked that question a while ago.

Oh my goodness, I'm on the right train this morning. 7:52 and I made it, despite the work on the beard and waking up kinda late. I imagine in a few hours I'll learn that I forgot to wear pants or my shoes don't match my eyes or something. I don't really care.

I would like recommendations for new music. I think the last album I bought was the Decemberists (who I keep wanting to spell "Decembrists" but I guess they are more about winter than they are about Russian insurrections), not counting the various Adam Warrock EP material.

The brackets for typing HTML are actually pretty easy on the phone. I retract yesterday's statement. ...and just like that, I realize I may have made a mistake at the end of the post, yesterday. We'll see if the entire page is in italics when I'm done here.

--8:18 am, Melrose Park, PA, there are times when life rattles your bones and bends your limbs

---

Thirty minutes over Chestnut Street
written 2011-04-21 14:55:41

Hostess: "Hi! How many?"

Me: "Just one, for take-out."

Hostess: "You can go over to the bar, then."

Me: "Thank you."

Bartender: "Hey, welcome to Ruby Tuesday's! Can I start you off with a drink?"

Me: "No thanks, I wanted to get take-out."

Bartender: "What can I get you?"

Me: "Can I get a burger, please? With an order of fries."

Bartender: "Do you want to see a menu?"

Me: "No thanks, I just wanted to get a burger."

Bartender: "Well, we have a lot of great burgers."

Me: "Yeah, just a plain burger, ketchup and mustard, please."

Bartender: "But there's a couple of kinds of burgers, we offer."

Me: "Just... just a plain, regular burger. Please?"

Bartender: "Let me get you that menu."

Me: /disappointed silence

Bartender: "See there, we have the Triple Prime Burger, and that's a better cut!"

Me: "Great. Could I please just get the regular burger." (note the lack of question mark punctuation, as I have stopped asking, since asking has not achieved the desired result.)

Bartender: "But what do you want on it? We have the Apple Smokewood Baconburger..."

Me: "Really, just a plain hamburger, ketchup and mustard."

Bartender: "You want cheese, though, right?"

Me: "No. I don't. Plain burger, please."

Bartender: "You want that with lettuce, tomato, fresh onions, mayo?"

Me: "No. Ketchup, mustard. Please."

Bartender: "Do you want fries?"

Me: "Yes."

Bartender: "Do you want anything else?"

Me: "No."

(five minutes pass while he enters my order in the computer.)

Bartender: "Here you go!"

(hands me a receipt for a Triple Prime Burger, walks away to help someone else. Apparently the question mark was advisable even if it appeared to be failing.)

Me: "Excuse me."

Bartender: "What can I help you with?"

Me: "I need you to change this to a regular burger."

Bartender: (looks at receipt, looks at me, jogs to the kitchen to tell the cook to spit in my food)

(twenty-five minutes pass, included the serving of food to someone who arrived after I did, and the serving of drinks to three girls who will not be sleeping with him tonight)

Bartender: (with my food in a take-out box) "I guess it was hiding under someone else's order. Sorry about that. Did you need anything else." (He too has abandoned the question mark, knowing full well my reply before I give it.)

Me: (restraining urge to lunge across bar and beat him to death with the margarita glass rack [full]) "No, I'm good, thanks."

Result: Spent 30 minutes on lunch expecting 15 - and mind you, I still have to eat at my desk. That was just waiting. Received sweaty, floppy french fries because they were sitting in the take-out box too long. Burger on some multi-grain whole wheat healthier for you oh wait, you ordered a burger and fries and you want healthy? bun.

Why did I go to Ruby Tuesday again?

--2:51 PM, Philadelphia, PA, you don't have to go home, but you can't stay here

---

I didn't realize you were so busy
written 2011-04-25 08:26:42

It's foggy this morning.

That's all I got this morning. Go find me something new to listen to.

North Philadelphia, PA, 8:25 AM, nothing to say and no way to say it

---

This world will break you down
written 2011-05-05 19:55:43

Since none of you got me any new music - you're all fired, by the way - I got some of my own.

"Nine Types of Light" by TV on the Radio. So good. I enjoyed "Dear Science" quite a bit, so this is not a surprise. I will probably back up and buy "Return to Cookie Mountain" at some point soon.
"All Delighted People" by Sufjan Stevens. I hadn't picked up his last full album, but the title track on this EP hooked me. Bonus: long, ambling instrumental (or mostly instrumental) tracks.
Adam WarRock's "My X-Factor" EP.
Allison Krauss and Union Station's cover of "Now That I've Found You." Augh, it's like the theme song for yearning.
Singles by Sahara Smith, Aimee Mann, Mumford and Sons, and the song "Big Sky Country" by Chris Whitley. I doubt I would enjoy anything else by Chris Whitley, but that one song just gets me. Like Marc Cohn ("Walking in Memphis"), but not like Chris Isaak. You shut up about Chris Isaak.

I needed some music for a little drive I took, but unfortunately that disc had a scratch. I can make another one, if anyone needs one.

For some reason I wanted to fight everyone today. No one could say anything on Facebook or in my office or on the streets of Philadelphia without me wanting to punch them. I don't know what reservoir of patience or fortitude I exhausted, but God forbid you wanted to talk about how insensitive it was for SEAL Team 6 to use "Geronimo" as the code for Bin Laden. Because, you know, SEAL Team 6 is world-renowned for their thoughtfulness and caring nature. Oh, wait, no, they're the expert infiltration commando squad. I must have been thinking of other seals. Perhaps baby seals.

Today I composed a little version of the serenity prayer that applies to the internet, but the first three comments were all about how my prayer was stupid, or derivative, or how they had read a much better prayer on 4Chan. So I deleted it.

I had a really good weekend. It was not really easy, but it was really worthwhile.

--7:53 PM, EST, Hatboro, PA, despite all the heartache it brings

---

Short, fat and ugly - but I'm not judging
written 2011-05-09 08:31:51

Last night this woman shrieked at me for standing on "her porch", which was in fact the common area of a commercial building. I was wishing my mom a happy Mother's Day at the time, so I declined to enter into a discussion of property rights with her at that time. I am considering calling the store she came out of to complain to the manager, but only because she probably is the manager. My heart is not completely without spite.

Mostly shaved off the playoff beard this morning. It took two razor blades, may have killed my electric trimmer, and I still have the Van Dyke. Stupid Flyers. You'll get 'em next year.

Where can I go where they have this weather year-round?

--8:26 AM, EDT, Philadelphia, PA, blues that hit you like a cannonball

---

This is the world we live in
written 2011-05-13 20:29:22

Eeeeeeee hee hee hee hee hee hee hee hee hee hee

--8:25 PM, EDT, Hatboro, PA, you gotta kick off with a killer

---

Like a thorn in my paw
written 2011-06-21 16:24:32

Man, I had a nice couple of weeks. May and June just flew by. It was the opposite of the usual excuse for not writing anything here; things were pleasant and I had nothing to bitch about.

Whew, today just sucked though. It's not even done with. Our project is shifting back to make-work, which should be good and torturous (but at least it's work, yeah yeah, shut up). I wrote out a budget which is somehow more dire than the one I already wrote up. It's supposed to rain every day this week. After purchasing a new desktop, the disc drive on my three-year-old laptop quit on me, so I might be in the awkward financial position of buying two computers in close succession. I'm quitting comic books for a while.

Bah.

Maybe it's not just today, maybe it's a series of things. But, really, as stated, it's been good. Bought and watched the entire DVD set of Home Movies and have been listening to the bonus CD of Brendon Small's music composed for the show. Seeing a nice girl. Got a ton of cleaning done last weekend. Watching the second season of Leverage. "Echo" by Terry Moore just wrapped up, and that was good - makes me want to go back and re-read the opening issues. Just began "Quicksilver" again (Neal Stephenson).

Maybe this is the withdrawal. I was getting high off feeling low for too long, maybe. Meh. I got nothing.

Congratulations, Chuck and Michelle.

--4:21 PM, Philadelphia, PA, move closer to the world, my friend / take a little bit of time

---

Carnivale
written 2011-07-05 11:43:15

Before Lent, you throw down and you throw down hard. Since you'll be giving up all the luxury things, the indulgent things. So indulge.

Okay, I don't really give up anything for Lent, and the idea that you throw down for throwing down's own sake for Mardi Gras, or whatever flavor you celebrate, doesn't resonate with me. I am not about spontaneous nihilistic hedonism; I am about meaningful earned hedonism.

The upshot of all this is: I had a good weekend. I am not claiming to have "earned" anything, though Sunday's flight debacle was reminiscent of medieval church penance. I did not suffer in silence, though, as anyone who follows my Twitter can attest. But Saturday and Sunday (and Monday morning) more than made up for Delta Airlines' corporate failures.

I'll be futzing with my computer and trying out PC-only games if anyone needs me for the next three weeks.

--11:40 AM, Philadephia, PA, the difference in the hero and the villain is the absolute truth

---

Might be a new record
written 2011-11-29 12:48:34

So, that last entry says July 2011. It is now November, almost December, of that same year. I suppose I can hang my hat on the fact that it hasn't been a full year since I last posted anything here.

Classic situation: if I'm not doing anything, I have plenty of time to write about it here. If I'm doing everything, I have no time to write about it. I've been pulling down 50 and 60 hour work weeks, not counting commute times, and spending most of my weekends either traveling to Washington or traveling with someone from Washington.

So, while I could rhapsodize about the joys of small-market airports or needing extra blankets at night up in the mountains of Vermont, I could also just be living in those moments and not memorializing them. (Adam WarRock's got a song about that. That dude is so great.)

So, yeah. I just had a project end questionably, and it looks like I might have some time off. As a colleague said, "Time off of a project is either too short or too long." You either won't have enough time to get your own errands done or personal stuff attended to (and unemployment won't kick in fast enough to help you cover your bills), or you will have a terrible interminable time of unrequited job search, waiting to hear if another project is coming along, or who-knows-what.

I need to get my car inspected, get my apartment cleaned in anticipation of moving in the next few months, learn to crochet, buy some new work-suitable clothes and shoes (though I should really wait until after Christmas at this point).

Items:

As of this month or the next, I've essentially stopped reading comics on a monthly basis. There is no cause for this, I just did.
The value of the World of Warcraft game, for me, is in playing with other people. If I don't get some other people to play with soon, I might chuck it along with reading comics.
While I'm a little conflicted about reading The Pale King, because David Foster Wallace never approved the manuscript, I will read it. C'mon, we're not going to see anything else from the man. This is your last shot.

Okay, someone's buying me lunch and I need a shower. My apologies to anyone who put me in their RSS feed and then forgot about me.

--12:44 PM EST, November 29, 2011, remember to kick it over

---

Man, I feel bad for anyone who's been checking regularly
written 2012-01-26 17:28:49

But hey, RSS is your friend.

(This site's purpose is arguably to reassure people that I'm not dead. The people perhaps most in need of this service are also people least likely to know what an RSS feed is. I'm so sorry.)

TELL ME THE DATE! TELL ME WHAT YEAR THIS IS!

Heh, yeah. I can't update this site, it appears. I apologize to anyone who checks it semi-regularly.

Here are some data:

ITEM! I'm moving to 19119. For the first time in however many years I've been telling people I'm from Philadelphia, it'll be true. Come visit.

ITEM! I'm not sure if I hate social media, or humanity. It might be both. There's nothing to say it can't be both.

ITEM! Since I'm leaving Hatboro, and my D&D game is in Hatboro (or thereabouts), I might start a new one. Mmmm, new games. I'm really hoping Ingrid doesn't try her first game in X years and realize she hates it. Because, you know, we need DPS. C'mon.

ITEM! I'm taking a break from reading comics. For as much as I wish grown-ass adult human beings would allow themselves to read challenging, authentic contemporary fiction (look, I read all the Harry Potter books, but you know what? They're children's books), I was reading a lot of comics that didn't do very much for me as literature. So, I'll take a hiatus. Maybe come back in a few years, see what the industry looks like. I do hear good things about Locke & Key, though. If you were looking for a recommendation.

ITEM! I might be abandoning the compact disc as a music medium. The future, you know? Man.

ITEM! I have a stack of books from Christmas that'll likely keep me busy through summer. Haruki Murakami, Terry Pratchett, Umberto Eco, Christopher Moore. It's a good time waiting to happen.

ITEM! I tricked Ingrid into moving up here. Next step: tricking her into giving up her cell phone and car, and then the trap snaps shut.

...what? Oh, crap. Um, I mean, I'm really excited she's agreed to put up with me on a more regular basis. Yes. That's what I mean. And that's my story (until she agrees to the joint checking account).

Please get ahold of me if you're pissed that I haven't updated this more regularly. Please don't get ahold of me if you want to know if you can have my stuff, since I'm moving. I'll let you know if that's the case.

--5:20 PM, EDT, Philadelphia, PA, thinking outrageously I write in cursive --Sufyan Stevens, "The Predatory Wasp of the Palisades is Out To Get Us!"

---

Olive Finch
written 2012-02-01 07:44:22

Congratulations, Ryan and Carrie.

--7:41 AM, EDT, Hatboro, PA, "And I can tell you 'bout today / And how I picked you up and everything changed"

---

Ha ha, he's fat because he eats lasagna
written 2012-02-07 12:18:51

Yesterday, like famous comic strip cat Garfield, I found myself hating Mondays.

Why?

I missed a chunk of work. Yeah yeah, I know, "time off of work is great!" You know what else is great? Being able to pay your bills. But, sure, I'll call this one a mixed bag.

I had to drive around Bucks County. As someone who has enjoyed his shift from a driving routine to a train/mass transit routine, this was a minor annoyance.

I had to go to court. No, no, they didn't finally tie me to those Satanic ritual killings from back in '04. I was there in my professional capacity. And as you probably know if you're reading this, my professional capacity is not very capacious. But I went, besuited and betied, parked and paid to park in Doylestown, before nine AM. Bleah. Thumbs down.

While at court, a judge questioned my ability to practice law. Because, you know, that's what I want. "A little insult with your aggravation, m'sieu?" "Non, merci, non." (Aside: there's a little part of me that desperately wants a judge or some other authority figure to tell me that I can't practice law. That will signal my valiant attempt to have my student loans deleted from my ledger, as a significant hardship. That part of me does not properly understand bankruptcy. [Though those of you thinking "student loan debt can't be discharged in bankruptcy" should do some reading on the subject. Mmmm.])

I lied about my reason for being late to work, because my job - which is terrible and hateful - will be terminated if my bosses learn I am practicing law. Better safe than subject to some kind of conflict of interest action, they say. I say, "it's bad enough we have to do this work to survive, but if we try and do something for ourselves, you'll fire us?"

I worked very late to make up the time. Not a big deal, I work late a lot.

I had to spend the night in Ingrid's and my new place, as a favor to our landlord. I neglected to bring any blankets. It was cold last night, and I am afraid / too cheap to turn up the heat. (Afraid because our neighbor told us she paid $500 to the gas company one month, and too cheap for the same reason.)

My other neighbor's (drunk? insane?) boyfriend showed up at her house last night, as I was trying to park. I could not, because his car blocked the alley. And my garage. I rolled the window down and asked him to move his car. "You have to help me," he said. "Can you move it?" I said. "Can you help me?" he repeated. I gave up and parked down the block. While trying to go to sleep, I heard him yelling "Call the police!" and laying on his car horn. The police came, and I have to assume he's sleeping it off / in protective custody somewhere.

My mantra for that Monday was "everything's coming up Millhouse." I hope your Monday was considerably better.

--12:14 PM, EDT, Philadelphia, PA, I'm'a go Pietro on these cats, right?

---

If this is obnoxious, it must be blogday
written 2012-07-03 14:22:59

I don't even remember what HTML tags this page uses.

Yeah! So! I have this page I never update. This is an update.

As with prior updates, there's nothing to complain about so I don't post anything. Because "Everything's fine, I like my house and my girlfriend and I have some money so I can buy things" is pretty fucking lame. What we - and by 'we' I mean the internet - want is some good ol' schadenfreude. Let's begin.

Two weeks ago, my job says, "We're running out of work. Finish up what you're doing now and then go home, we'll call you to come back soon." This is not terribly surprising in my line of work, as we are temps and our services are not constantly in demand. It is disappointing, certainly.

Last week, no calls. Late in the week, there's an e-mail saying "We'll have work for you soon. Probably Monday."

(Those of you familiar with me bitching about work may note: everything these people say is a lie.)

So Monday comes. And no word. This is now over a week of no work, which tends to negatively impact my financial landscape. Thank goodness for two-income households.

And then today - the day before the Fourth of July, mind you - they send out an e-mail. Try hearing it in Bill Lumbergh's voice from "Office Space", or go to this site and just click some buttons to accompany this.

"Yeah, we're gonna need you to come in tomorrow, yeah. We have a deadline, yeah. And why don't you just come in on Saturday and Sunday, too, yeah. Okay, that'd be great."

I'll try and remember to post later about how I'm actually lucky in this situation, because of all the unemployed law school grads out there, but I doubt that'll happen. Because this is some pure bullshit, this job.

--Mt. Airy, Philadelphia, PA, 3 July 2012, "all I'm tossin' and turnin' because the fire is burnin' and I ain't earnin' enough to pay the bills that pile up"

---

I am just a baker man, and I live inside a baking can
written 2012-08-17 11:49:04

Let me tell you what a good week is:

You start off without much to be excited about. You have these bookshelves lying around since you bought them and didn't construct them. You aren't playing D&D and you aren't running D&D because everyone is grown-up and has things they have to do other than having fun. You should probably go to the dentist soon.

But look again: weather's getting less oppressively hellish. There's work, and overtime if you want. Your girlfriend reminds you she kicks nine kinds of ass multiple times per week. There's a ton of new Adam WarRock stuff out there, and the acts with whom he is touring are a good exposure to new music. (I've heard that not being interested in new music is a sign of getting old.)

Last week, Adam came to the North Star Bar with Zilla Persona, Triceratopolis, Math The Band, and MC Lars. It blew my both my ears and mind out. I expect a show like that to be Awesome (Adam) and Whatever (everyone else). There was no second category at this show. Tons of sincerity, tons of awesome.

But we're talking about this week: Adam, Tribe One, Mikal kHill and Jesse Dangerously are coming to town next month, and put out a full album of new songs over one another's beats to raise money to travel on. Now, again, I am already in the tank for these guys, but it's a great album, and it's great to contribute to the war effort. Altruism, guys!

Also this week: I put on a suit and went and assumed a solemn mien, and dispensed justice as a participant in Philadelphia's arbitration program. That's right, I was responsible for others' judgments and awards. Run screaming, those of you who wish for a learned and informed judiciary. I am amok.

I got a new bag. It says "Bag of Holding" on the side, because I am a huge geek, and I will fly that flag. Represent. (It came with a black t-shirt reading "Chaotic Awesome" and a d20 that lights up when you roll a crit. NERD CRED)

It's just been a good week. Ingrid and I got a little Sonic one night, I built those shelves, I watched a little basic cable, I played my foolish Facebook Avengers game. The weather's always getting better; it's all downhill from here.

There, see? That was some boring-ass content. You'll be back when I'm bitching and moaning, no doubt.

--11:34 AM, EDT, Philadelphia, PA, "so everyday at home was spent breaking those habits / 'cause his father wasn't raising no [redacted]", Tribe One, "Different" (get it here, that's an order.)

---

Just want to stay up and write this song
written 2013-01-11 19:49:39

I didn't note when that last update went up, but I'm sure there's a timestamp somewhere. REGARDLESS, it was a while ago, and a while before that since the prior one.

I have to interpret these lapses as good things. Life's good, home's nice, Ingrid's wonderful. I have work, if just for the minute; I spent the better part of the last three months out of a job. It was not nearly the catastrophic event it has been in the past, thanks to my sugar momma, but it still wrecked my savings. The student loan people will wait two months to tell you if you qualify for a deferment or a forbearance or whatever, but they will not wait at all to tell you you owe them for the current payment.

Fuckers.

So I have a lot less money on hand for when I need it. I renewed the permanent job search, which, oogh, let me tell you, that's some depressing shit. I really believe my future is in general services, and in the era of the internet, no one needs someone who can do a little of everything. The Renaissance is dead. Long live specialization. ("Specialization is for insects." --Lazarus Long)

2013 is here, and I can make things out of yarn (Bros Don't Crochet), I'm going down to the Arbitration center again to do my part to provide impartial justice (and trick The Man), I'm perpetually dissatisfied, but fuck it. I have things pretty damn good right now and I'm going to try and recognize that.

The upshot of all this is, things aren't easy, but things are good. I'm too busy living to stop and record it. I hope you'll get ahold of me in other ways if this blog doesn't update often enough for your purposes. You're the reason this blog exists, after all.

--7:43 PM, EST, 1/11/2013, Philadelphia, PA, i'll meet you down at the big yellow joint

---

This is wicked late, and on my phone.
written 2013-05-10 14:23:09

Me, Christoph (!Malk), Marty (Tzim), John (Law Firm).

Matt Morgan, Camarilla fatties, Martin (!Nos), Sonam, (Spirit Marionette Dominate), Me, Marty.

Jevon (Kiasyd), Peter Kapsalis (!Gangrel with Services), Me, Kym Alishahi (Anarch Pot Revolt).

DC. Sometime last year.

---

The terms "bro," "joint" and "wack
written 2013-05-13 10:30:46

There's a minor problem here. They want us to slow down so we can all bill more hours on this project. I was already working slow to bill more hours on this project.

It's not really a problem. It just means I end up bored. I have the internet, though, so that shouldn't be too much of a problem...?

Still.

I'd like to find out if I can use the fire stairs to come and go from work (seventh floor) but I feel like asking would flag me as a likely terrorist. Sitting still for eight hours is super bad for you. The health blogs say so!

To anyone who is familiar with my health regimen: I have some bad news. I went to the doctor, got looked at, and had some tests done. I was expecting, "You're fine, you-- oh, Christ, your cholesterol is WHAT? You sure you're breathing? Check again."

In fact, my cholesterol is middlin' to low, and my general health is fine. That's with sweet FA in the way of exercise, and terrible terrible diet. I should be dead, to hear all the hype. But I'm not? I'm pleased to hear it, but I'm also a little pissed at everyone who ever said anything about diet and health. Because they are all liars.

Please go look at my LinkedIn page. I started vandalizing it because it's worth two things: Jack and shit. And Jack stopped updating his LinkedIn page.

--Philadelphia, PA, I'll take all you sons of bitches when I go, 5/13/2013

---

If belief in Satan is predicated on belief in God
written 2013-09-11 17:41:57

Work has gotten scarce in my line of work - the temporary attorney biz, the doc reviewer line, the coding schtick - and as a result I've gotten grim and surly enough to want to write in this space again.

I cannot remember any HTML tags. Please do not be offended at how plain-- heh, it's a white screen with text. If you wanted formatting, you'd be... well, anywhere else, right now.

So two weeks ago, they write to me and say "Heslin, you want some work?" and I say "Heck yeah, I can work," and they say "Cool, don't call us, we'll call you." And then about a week later they call again, and say "Can you come in tomorrow morning?" And I say, "Well, I would, but I'll be on a place to Alabama tomorrow morning. Thanks for being so timely about inquiring if I wanted work."

That's the nature of the business, though. It might be hours from now, it might be three weeks from now, and it might go from "Definitely happening" to "The clients settled, there won't be a project after all" in the course of days, if not hours. "I'm available" means what the tense implies: I'm currently available. You didn't ask about later this week, or next month, or the weekend in November when I'll be Quebec City. You asked about now. Don't bitch when I happen to be in Alabama when you decide to get off your ass and offer me a gig.

And so but then last week I got a short-notice call for work. Thursday night inquiry for Friday noon training (italics to indicate contempt), with the laughable "Can you work this weekend?" No, doc review guy, I can't work this weekend, because I have friends coming over, and football is starting, and why the REDACTED would I want to work on the weekend? Yes, I'm technically unemployed and yes, the WASP work ethic drives me to flagellate myself whenever I'm not working, but you know what? You need more than just shitty, unfulfilling, no-options hourly wage-paying crap in order to live. Dum vivimus, vivamus!

Okay, I'm getting a little crazy with the HTML tags. I reverse apologize.

So they told us we'd get 50 hours of work. I did 5 on Friday, so I'm planning on four ten-hour shifts this week and a short Friday (which would pay OT time-and-a-half, yes, please). Important contextual note about doc review: Project managers lie. They lie like rugs. Like snakes. Like people with pathological truth issues. Liars, every one. Yesterday (25 hours in) we were told we'd finish the work today, Wednesday. Note, this total is not 50 hours, and certainly has not reached the overtime mark. FOUL PROJECT MANAGERS. Curse their names.

So today my plan was to work nice and slow, spend some time working up a business card for my new professional service, "A White Guy Listens To Your Problems," and then clock out. Make a little extra bank despite their efforts to keep me down, like the sheriff in that Bob Marley song. Guess how that worked out? The only other person on this project -- literally, there were two of us -- burned through all of his work too fast, and the project manager told him to take half of my work away from me.

CURSE HIS FILTHY NAME! SYPHILIS ON HIS WIFE AND PUBLIC SCHOOLS ON HIS CHILDREN!

So, yeah. Home early, middle of the week. Waiting to hear on some other project that is currently started but not happening, or something? Disqualified from unemployment by 5 hours last week and 25 hours this week. Bank account real, real low. A check that I was supposed to get some weeks ago still regretfully undelivered.

Is... is this the part where I whine? Yeah, I'm still not in a great position for self-pity. I'm lying around in the air conditioning, running errands for Ingrid, getting hassled by Abby. I got a copy of Red Mars, so I can start rereading the trilogy again, and I'm getting close to finishing my reread of Infinite Jest, which is on my phone. For those of you who don't know, Infinite Jest is one of those huge self-indulgent books that book nerds haul around so everyone can see what a huge book nerd they are -- and it fits on my phone.

Living in the future is so great. This future particularly.

--5:37 PM EDT, 9/11/13, Philadelphia, PA, "It's about to get real / I'm kind of a big deal", Tribe One

---

If you don't like the weather
written 2013-09-15 22:01:27

When I was a child, I dreaded Sundays.

I'm not sure why. There was some kind of feeling of wasted potential about them -- that I had not gone out and learned to fire a bow and arrow, that I had not constructed a remote control helicopter, that I had not done something worthwhile -- and now the weekend was going to end, and I would have lost this opportunity to do something, once again, just as I had last week.

It's Sunday. I have that feeling again.

I think it's because I have a project starting tomorrow. That idea that I had X days off since the last one, but tomorrow marks the end of those days, and I haven't accomplished anything. (Regardless of chores done, guests entertained, games played, etc.) And the work represents yet more time I'll spend in this terrible purgatory - no, limbo: purgatory at least has a hypothetical release date.

I told a coworker last week: these jobs give us experience we can never use. I have data and time served with the Foreign Corrupt Practices Act and Federal Commodities Trade Commission and all sorts of other unwieldily named laws and agencies - and not one of them would recognize the job I do as meaningful experience. Because we're temps. We're held to a standard of meaningful lawyer-client ethical and professional obligations and we get fuck-all in return.

My unemployment insurance benefit period ended last week. This means almost nothing, only that I have to re-apply for benefits for the times when I'm not currently on a project. However, I've spent large chunks of time out of work in the last six or nine months, and the benefits look at the last five quarters to determine how much you made in that time in order to give you a percentage of that amount. Upshot: the possibility of a lot less money for the lean times.

So, I have to rely on having work that avails me nothing in the long run, and hope that it lasts long enough for the state to consider me a worthy reinvestment. I have to hope that I get a job I hate, that it lasts a long time, in order to receive welfare when it runs out.

I know my life is pretty good, but it feels pretty fucked up right now. I apologize if you're the kind of person who was getting used to the cheery, upbeat information here, lately, or if you're the kind of person who would rather not read f-bombs. But that's where I'm at, right now. That's the purpose of this page, in addition to helping people check and see if I'm still sucking air. Current status: repeating an identical course of action, hoping for different results.

--9:57 PM, EDT, Sunday, 9/15/2013, "You Can [Not] Advance"

---

You get over there without a second to lose
written 2013-10-19 20:22:01

Today: got up early enough to eat and drink extra water before donating blood. Donated blood. Bought Ingrid lunch at a place she likes, bought myself lunch at Burger King -- not sure why? Have been vaguely thinking about how long its been since I ate there? Looked around and bought nothing at the following places: Elevation Burger, Brave New Worlds, Golfsmith. Had lunch with Ingrid and told her stories about nerd girls trying to pick me up because of my Chaotic Awesome shirt. Watched Midsomer Murders while Ingrid napped (hard work week), and then showed her two episodes of Firefly. Felt good all day - no dizziness or light-headedness.

This week: got fired, saw Eugene Mirman, Kristin Schaal and John Hodgman perform, played way too much Dawn of War: Soulstorm.

Statistically, this has been a very good week. On average. Sucks to start it with losing your job, though.

--8:16 PM EDT, Philadelphia, PA, And you're the last best thing I got going

---

Shikata ga nai
written 2014-01-20 17:10:24

No news. Have not worked since getting dropped last October. TGI Ingrid, who is really not too concerned with our financial situation (she made sure our cost-of-living was cheaper here for our house than it was for her one-bedroom in DC). Have been applying for jobs way outside of the legal arena -- registrar's office in a college, records keeping for government agency -- since temp work seems to be a thing of the past and permanent work has proven a myth.

Things is rough. So be it. I apologize for posting total bummer material.

--5:07 PM, EDT, Philadelphia, PA, "6 out of 7 dwarves are not Happy"

---

You want it to be one way, but it's the other way
written 2014-04-15 12:31:33

Still no joy. This economy is killing me.

I don't use credit cards because I don't like the nebulous nature of fake money. Is my balance zero? It is, except there are fees, and you owe us $0.03 on the $1.00 we charge you for not using the card, and while you paid the $1.00, we did not receive the $0.03 and now you owe $25 in nonpayment fees, for which you also owe us $0.75, which will not appear on your statement.

So, last year, I call up the company and I say, "Cancel it, you people are vultures, why should I pay $100 every year to be allowed to have your credit card, which I do not use?"

They reply, "No sweat. Though, you'll lose all the flyer miles you've built up."

"...how many miles are we talking about?"

"About 25,000. Enough for a free roundtrip anywhere in the US."

"...dammit. All right, keep it open, here's $100."

Later that year, they said I had forfeited all those miles because I did not use my card. I didn't understand this concept, but I gave them some more money to return my accumulated miles to me. Understand, I didn't get anything in return for that money. It was just $30 or something for them to say, "Okay, yeah, now I see the 25,000 miles."

In a different context, this is called extortion.

So, this year, again having not used my credit card, they told me I had again forfeited my miles. At this point, I'm ready to accept the loss of one roundtrip flight (without Ingrid, unless we pay for it) just to get off this damn treadmill. To wrap it up completely, I called the credit card company and told them to cancel it. I'd read ahead and knew they'd try to convince me to stay, but I wasn't going to agree to pay $100 annually in any circumstance.

I call in, and they're a little short, a little rude. (And why not? Can you imagine if your job was to talk to people about money, in this economy? Everyone's poor, and you have to tell them they owe you an extra $25 this month. Everyone who isn't poor is pissed off about not being richer than they are, and everyone who's rich is pissed off about everyone else hating them. Okay, actually, the rich people have people who handle this sort of crap for them, but still. Not an easy job.) I tell them I'm canceling because I don't want to pay $100 every year to have a credit card I don't use.

"Shall we change your account so that there is no annual fee?"

(silence)

"Sir?"

Okay, fine, great, but look here: what the hell have I been paying $100 a year for for the past eight years? Flyer miles, sure, but then the CS person tells me I will still earn them with the no-annual fee card. So, basically, I was paying them because I agreed to pay them.

I feel like this is just further evidence that no two people perceive money in the same way. It makes me feel like my class-struggle perceptions are needlessly attenuated; a copy of a copy of a handwritten note describing a photograph.

My next step is to stop acknowledging money altogether and begin using a system of moral and ethical economics. Do good, or do well, and be paid in kind.

--12:28 PM, EDT, Philadelphia, PA, my pastor, and my grandfather, who is dead

---

Things are not good
written 2014-05-05 17:15:37

Today I applied for a job where I interview sexual offenders to see how they should be treated after release from prison or treatment. The job description specifies this will be "hazardous" and "you will not be permitted to carry weapons".

In related news, my unemployment benefits ended.

--5:13 PM, EDT, Philadelphia, PA, it's just like going to sleep

---

This day is against me.
written 2014-05-21 16:19:03

Ingrid and I leave in a few days for a trip to New Mexico. Ingrid needs to see her baby nephew real bad and I am obligated to attend her. I am currently out of work, so the very concept of a trip to another part of the country is abhorrent to me. I cannot align Not Having Income with Doing Anything But Looking For Work.

We have two full days between now and departure. I am already developing cold sores from the stress of it all. We have someone housesitting (after my niece failed her responsibility roll and bitched out on us), so we have to prepare the house for company and make it a place that our sitter won't just say, "You know, screw this whiny dog, I'm out."

This morning, I decide to get a mile or two of walking in, since we'll probably walk about that much between trains and planes and layovers and rental car places. I do not do this in the morning, for fear of a rain forecast. In the afternoon, having done some dishes and made a list of things for our housesitter, I decide to go.

I pick up my messenger bag (manpurse) and notice that my headphones are dragging along with it. Why is this? Apparently, left unattended, headphone wires infiltrate zippers. And not even the wholly-predictable "got caught in the" zipper, but actually entwined in the zipper's head. The little eye that holds down the zipper pull? Somehow, my headphone wire is THROUGH that eye. It looks physically impossible. And yet.

So, provable noncausality aside, this is not a big deal, I'll just fix it. It's a small problem, I'm a grown man, I (and when I say "I" I of course mean "Ingrid") have a tool kit. Let's just apply our minds and our leverage to see this through.

Ten minutes later, I have ruined the finish on the zipper head, the wire is still in there, and I'm cursing at an empty stairwell.

Since the zipper is already Baghdad, I don't really display much concern in my further efforts. Maybe this is why it finally works - having accomplished its goal of enraging me, there's no need to retain the wire any longer.

Momentarily relieved, I separate the zipper and the wire and then renew my efforts to go out and walk the earth like Caine from Kung Fu. I place the headphones around my neck and go to zip up the bag.

Except now the zipper pull is gone, since I just opened up the eye that holds it in place.

Resume impotent rage and cursing. (Keep in mind, Ingrid is about seven feet from me for most of this process. She's working. She has a job. What's my problem?) I have to search on my hands and knees for a bit before locating it, and then I have to figure out how to re-close the eye so it won't promptly drop the pull again.

[HAMMERING.]

Okay, there. Good. Deep breaths. We have a bag that can zip shut, we have headphones so we can listen to Adam WarRock music on our errands. We will accomplish things and feel a sense of peace. I do not have much, and look forward to less, but I will have this.

I step outside and a raindrop smacks me in the forehead.

--4:15 PM, EDT, Philadelphia, PA, i don't sleep, cuz sleep is the cousin of death

---

What the I don't even what is
written 2014-06-02 09:05:13

The last seven months: sitting on my couch, sending out resumes, trying not to feel like a complete failure.

Last week: went to Santa Fe for part of a week to visit family. Felt very conflicted about it, since I haven't had an income in over half a year. But we had a lot of help getting out there, and it was a great trip. That part of the country is beautiful.

This week: home without Ingrid. That's a change, since we've basically been joined at the hip since moving in together. She's staying out west to spend time with her sister and new nephew, and I'm totally in favor of that. I just miss her. But I have Abby to watch, so it's not like I have nothing to do.

Yesterday: the jackoffs who find me work -- and who haven't found me sweet F.A. in seven months -- want me to come into the city Monday to interview for a project "estimated to last one month". (Translation from bullshit: Estimated to last about as long as it takes you to get used to working there.) Interviews are almost unheard of in the temp business. I mean, they're temps. You hire a coyote to go get you some, and they show up in their stupid suits, hoping to impress someone with their hard work and maybe get a job as a real big boy lawyer. Which will not happen, because your job is to minimize costs, not create opportunities.

Today: I have to hire someone to watch my dog while I go ACTUALLY TRY and get back into this bullshit job treadmill again. So, regardless of today's interview outcome, I will be out a couple bucks (which I do not have, mind). And the outcomes are either: 1) get a job for a few weeks, which will not be enough to resume getting unemployment benefits, develop no chances for full time work, pay for a train pass which will probably outlive the project, pay to have the dog walked while I'm in the city, or 2) stay unemployed with no benefits, no prospects, no girlfriend, and a dog who ostensibly likes me.

This is what I can hope for today.

--9:02 AM, EDT, Philadelphia, PA, they can kill you, but the legalities of eating you are a bit trickier

---

One more thing
written 2014-06-02 09:14:54

In the temp ("Document Review") business, in 2013, in Philadelphia, you get paid $28/hour with a chance for $42 overtime (not guaranteed) or you get paid $30/hour with no chance for overtime pay (work after 40 hours may be required, you will not be paid extra for it).

As a temp, you earn this rate based on your capacity to practice law. You need to have passed the bar exam in at least one state to do this work.

The people who pay you are the temp agencies. They pay you $28 for each hour, and are in turn paid about three or four times that. They are paid by the law firms. The law firms bill the work that you do at two or three times what the temp agencies are paid. One example I've seen is $28/hour to the temp, $75/hour to the agency, and $225/hour billed to the client by the firm. You need to have passed the bar so that these law firms can tell the client "Your matter is being handled only by licensed professionals, and there's so much work we had to bring on additional lawyers."

The law firm earns thousands of dollars every hour off the work that a dozen temps do, and pays them a couple hundred. It is a great business practice, as long as you are not one of those temps.

--yours truly, one of those temps

--9:11 AM, EDT, Philadelphia, PA, this is not my beautiful house

---

I think you mean vicious, not viscous
written 2014-06-04 14:16:57

The government did something.

The media - part of it - got up in arms about it.

The media - the other part of it - got up in arms about what the first part said.

People hear these rumblings and have opinions about the rumblings.

Those people post things on the internet to express their opinions about it.

Some of those things are objectionable to me.

I was briefly upset about them until I thought about how goddamn meaningless it all is. Literally, I was going to get worked up about a meme posted by someone who felt that news coverage of someone reacting to government action was judgmental and overweening.

...

Christ, I need a job.

2:15 PM, EDT, Philadelphia, PA, I could feel something's not right / I could feel someone blasting me with hate

---

It's starting to seem like a game show
written 2014-06-15 19:03:01

So. No work since October. Ingrid goes away for three weeks to visit her nephew. I am home alone with the dog. If you look back an entry or two in this journal, you'll notice that I got an interview -- but only at such a time as would inconvenience me.

The universe wants me to know that I can try and get a job, but I won't get any bites until it is problematic for me to pursue them. In this case, I am the only one watching Abby, therefore, I will be needed for ninety minutes of interviews in the city.

IT GETS BETTER.

I did not get that job. That job was for one person, not the usual group hire, and among any group of candidates I'm sure there's enough that looks iffy on my resume' for a hiring partner to turn her nose up at. That's fine. However...

A few days later, I get offered another gig. Mind you, I haven't heard fuck all from recruiters and placement agents in eight months. Now that it's inconvenient for me, twice in one week. [french] Remarkable' [/french]

This job is in Wilmington. I do not live in Wilmington. I do not even live in Delaware. And yet, here is this offer.

I inquire about the possibility of differential pay to reflect the pain in the ass location of the position. My agent does not so much laugh as withhold his full contempt, repeating the pay rate. Which is not impressive. I state my diffidence, but reaffirm that I will take any work whatsoever. At this point, I cannot be a chooser.

A day or two later, I am selected. My agent wants to know for certain if I am on-board. I repeat my misgivings and my desperation, which translates in the affirmative. The first week of work is only two days, so I decide to drive one day, and take the train the next.

Driving to Wilmington from where I live is the Platonic ideal of an inconvenient car ride. You can't get there from here. You have to go a couple towns over, pick up the highway, take that to the bigger highway which happens to be the main conduit for all traffic between Philadelphia and Wilmington (and all points north and all points south). Add to this a recent bridge collapse in Delaware closing the bypass around Wilmington, causing all, ALL, traffic to flow on the main route.

It is not a nice time. It's too long, when you're done you're in fucking Delaware, you have to pay to park, and then you have to go to work. Not that I'm not grateful for the job, but I've been quite content with my job as dog-walker and tea-brewer to Miss Goree. This is a far sight from my last eight months. A far sight.

Then you have to do it all again to get home. At rush hour both times, worse south when going south, and worse north when going north.

I naturally prefer the next day, when I take SEPTA regional rail to and from work. There's more walking involved, but that's good for you and it's nice to spend a little time in the fresh air (or whatever they have in Wilmington) when your job is clicking the mouse for eight hours. Now, sure, the ride home was delayed, and Amtrak screwed up things for SEPTA, and the train I was riding got cancelled while I was riding it, but so what? You just wait for the next train, read your book, work on your afghan (still working on that) and relax. Enjoy.

Now, if you've been following the theme of this post - a cruel universe working to personally inconvenience me - you'll know what happened with SEPTA at 12:01, Saturday, June 14th.

Remarkable'.

--6:33 PM, EDT, Philadelphia, PA, You're the Great One, I'm Marty McSorley / I make the dough, but you get the glory

---

I learned
written 2014-07-03 19:57:15

You should not try to post a really long, really passionate journal entry from your phone.

You will accidentally hit the "back" button with your clumsy fat thumb enough times to delete three journal entries' worth of text.

--7:56 PM, EDT, Philadelphia, PA, damn the man

---

I can't sleep
written 2014-09-21 02:13:41

I'm lying awake in my bed listening for the sound of little claws on hardwood floor.

We took Abby to her last vet appointment on Friday, and I am not okay yet. I've had to be "okay" the whole time, because that's Ingrid's best friend for most of the last 14 years, and she is absolutely entitled to be as broke up as she wants, for as long as she wants. I have her back on that. But man, I did not think I was going to be lying up at night thinking about a little dog.

Ingrid asked me today if I thought I projected a tough guy image, if I thought I had everyone fooled. I assured her I had no such delusions. But still.

There's dog food, and dog beds, and a coat hook rack on that wall that says "WOOF". There's the treats we bought for her last week, when we got her new medicine for her other problems, and the special dog food the vet let us have as samples. I checked to make sure her bowl was where she could get it earlier tonight.

This dog is not gone. This dog is going to be in my head for a while, making me ask if I made sure there was water, or if I took her for enough walks, or was a good human? Was I her human?

Ingrid is already talking about our next dog. I understand that. Fill the empty spot with another little friend who needs a home, who needs love. It's an ideal solution. I need a little time though, or the dog in my head is going to torture me for replacing her so soon.

I didn't mind Abby when she came to live with me and Ingrid, but I firmly established that she was Ingrid's dog. I'd help out, but I wasn't going to form some kind of bond with some little froofy, punting-sized stuffed animal.

I had no goddamn idea.

--2:11 AM, EST, Mt. Airy, PA, isn't it rich?

---

I AM DISAPPOINT
written 2014-10-25 19:26:30

So, my mom tells me on Tuesday, "I'll be in town for the next five days."

I think, "cool" and then regret everything.

I'm working at the moment. I'm working in Wilmington, so I have about three hours of commute time each day. I leave home before dawn, and return home after dark. It's inconvenient, but it'll be over soon. Not, however, before my mom comes to town and leaves again. So, for the first three days of her visit, I'll be largely unavailable. I make this clear to her, and let her know that I'll be holding Saturday for her visiting enjoyment. I have to cancel plans on that day, but I don't mind.

My mom lives in Vermont half the year, and Florida the other half. There are years where I do not get to see her AT ALL, except for the brief window when she's moving from one state to the other.

So I'm glad that she's coming to town, I get to see her, and then it'll be months until I see her again. That last part is a bummer, but at least she gets to live in nice places and select her climate and all.

So I don't get to see her Wednesday or Thursday. On Friday, I risk angering my project manager and sneak out a little early, and get to see her briefly at my brother's house on Friday night. It's late, though, and we're all tired. I drive her back to my sister's house and tell her to call me if she needs a ride down to my house on Saturday, or if she'll just show up whenever's good.

On Saturday, I have a four hour CLE class in the morning. It sucks. It's all about how you can make hundreds of thousands of dollars off millionaires trying to screw other millionaires out of money. The lawyers are awful, the accountants are drones, the bankers keep trying to make it seem like they have interests other than charging you interest, but failing to accomplish anything of the sort.

It sucks, but I'm going to have a much better afternoon. I skip out of there and call my mom, who, after a morning of trying to help my sister run a garage sale in her trainwreck of a house, is probably looking forward to getting out of there.

No answer.

That's fine, she's probably busy. She'll see I called and call me when it's time to get lunch, or hang out and watch college football, or whatever.

I wait five hours.

I get a text from her that makes no sense. That's fine, old people aren't good at texting. I wait a little longer, and get a text that makes a little more sense. "We have left Jen's".

I text back, "Are you on your way here?"

The response is in broken English and an old person's attempt to use text slang. It basically says that her husband came back from wherever he was, and told her they were going to go have dinner with some people she's never met. And she hopes she gets to see more of me next time.

It's been about two hours since then. I'm upset, but I'm not certain about what.

My sister monopolized my mom's time since she got to town, so I could be angry about that. I'm not, because that's just what my sister does. I could be angry that my mom lets herself be manipulated like that, but again, that's just what my mom does. I could be angry that her husband didn't take my plans into consideration, but... you get the point.

I basically have no room to bitch. Everyone else wanted something, or wanted to please someone, and they got it. They got it by acting (or failing to act) in accordance with their selfishness. Good for them.

I just let my mom know that I was happy to see her, and it would have been nice to have seen a little more of her. But other people's needs are important, and that's fine.

I turn 40 in a week.

--7:22 PM EDT, Philadelphia, PA, come pick me up / I've landed

---

By popular inference
written 2015-04-03 09:24:26

Yesterday I didn't eat right - I thought I was getting supper, or dinner, or late dinner, or some other culturally significant meal that is associated with a specific time (though not breakfast), and I was wrong. I wound up with a headache, a stomachache, and a belief that the high blood pressure was finally going to get me.

It did not. I'm fine this morning, just walked the dog. But that explains why I haven't posted in six months.

badumtsssh.wav

I have spent the majority of the intervening time unemployed. I basically believe at this point that I will not actually ever work in law and that my law school tuition was a waste of money, better spent on the lotto. I have been applying for non-law jobs, but you can imagine what an exercise in futility that is: "It says here you went to law school? Wouldn't you quit this job as an administrative assistant to go be a big-shot lawyer?"

We have a new dog. Her name is Lennie. She is a little dog, reputedly half Chihuahua, half Pomeranian. She is a bundle of nerves and usually expresses herself by threatening to attack everyone but Ingrid and me. But she's pretty sweet to us, and she's been with us about five months, so it's permanent. We have not yet learned that "roll over on my back and look adorable" means "if you touch me, I'm taking off one of your fingers". She is in many ways a cat.

There was a tiny mouse in the house last night. It was the size and shape of a gumball. I tried to catch it and release it into the wild (read: release it outside so it can find the hole in the building and get right back in in six minutes), but it eluded us. Lennie has been trying to find it since.

I've been tormenting everyone about blowing off my birthday. Delicious.

I owe $92,000 in loans. I have made less than $30,000 for the past two tax years. Ingrid is very understanding and supportive. Things are terrible, everything is fine.

--9:18 AM, EDT, Philadelphia, PA, A paradox that is both true and false at the same time and in the same sense is called a dialetheia

---

Parallel Construction
written 2015-06-15 21:43:56

That last post was written God-only-knows-when, and posted tonight. I gotta remember to datestamp these things.

Work is terrible. I've had two projects since the first of the year, total time worked about six weeks. And it's goddamn June. Had a lead on a project, but in Wilmington, and it's been postponed for two to six weeks.

I took enough money out of my savings to cover my student loan payment for July, but there's not enough left in there to cover August. I guess I hope I get work, and a lot of work, between now and then.

Things are bad. Ingrid's going to leave town for a week for her daddy's birthday and Boonestock. I have to stay home with the dog, or work reduced hours to leave for Wilmington and get back before her bladder bursts. Also, the dog has demonstrated in the past that she doesn't like it when we leave her. All of this assumes there's even going to be work, in the first place.

My choices are no work, which will destroy my credit and eventually stick my mom with my debt (co-signed); and work, which will enrage the dog, remind me that the only thing I can do as a career is high-priced data entry, and take three hours a day coming and going.

Things are bad. I don't really have options. I apply for jobs that I am either unqualified for, or too qualified for, and never hear back.

And this crap is why I don't post journal entries for months at a time.

--9:40 PM, EDT, 6/15/2015, Not enough ice cream in the world for this

---

Administrative
written 2015-09-01 00:41:25

No work at the current moment. There's a mention in a journal entry from June that says a project got postponed 2-6 weeks. It still hasn't happened.

My loans are down to $87,000 but my savings are exhausted. Ingrid has about had it with me sitting around the house, but nothing but the shitty work I can get through temping pays well enough to make my loan payments.

It was good to see Icculus.org this weekend, since he had forgotten I still had a journal on his server. I meant to ask him what the FTP protocol was to change the intro and title files was. I don't even think I have Fugu installed on this computer.

Same old, same old. You could probably graph the content of this journal by moaning despair content, and get a flat line.

--12:38 AM, EDT, 9/1/2015, Mt. Airy, Philadelphia, PA, beware folks, dia de los muertos

---

Bad meaning good not bad meaning bad
written 2015-09-17 10:19:13

So no work through September, and none on the horizon. I will probably default on my loans before New Year's -- well, they warn you a few months before actually sending you into default, but I'll owe so much by then that it won't matter.

Refreshed some of my job search site information. Got my PA website data up-to-date and available to all employers, which means I should see an uptick in spam statistics any minute.

Applied to be a bodily injury insurance claim reviewer, an AUSA, and a contracts project supervisor. I won't get the first one for inexperience, I won't get the second one because of networking, and I won't get the third one because of overqualification.

It's hard trying to figure a way out of your situation when all the routes say "This probably won't work".

Sorry again about the sadness. But hey, think how I feel.

--10:17 AM EDT, 9/17/2015, Philadelphia, PA, it's the money

---

Well, fuck me.
written 2015-10-21 14:56:46

It has not been a great week.

Last week, I went in for a physical. Generally speaking, I don't care for doctors, or the parade of bullshit that going to the doctor entails. My current doctor has an online site that you have to use if you want to schedule an appointment. Each of the last three times I tried to use it, they called me on the phone to schedule it.

At the physical, the doc tells me my blood pressure is high. Of course it is, doc. She bumps up my medication by a fraction, which means I need a fractional prescription, which I can add to my existing prescription. No big deal. Just another kink in what could have been a simple transaction.

Then my mom came to town. I recently asked her for some financial assistance, since I am (four months now?) unemployed, and Sallie Mae keeps asking for their monthly pound of flesh. She said she couldn't help me, which is a pity, but it's not her job to be responsible for my financial failings. (Actually, she cosigned my loans, so she literally is responsible for my financial failings. Which makes me feel super good, I tell ya.)

On her visit to PA, I took her to see our cousin and his new baby, and then our other cousin and her less new babies. It was basically a "you've made me a failure as a grandmother" tour. I cannot apologize enough, ma.

Later that week we had dinner, and then pie and cake for a family birthday. (Not mine. Forgetting my birthday is the new family tradition.) And it turns out a significant percentage of my family smokes weed, and my mom is tired of lying about it. I thought that was a good thing, though she's not willing to let my teenaged relations ask open questions about it or try it. Little does she know...

So this week, I get a job offer. First one in months! I say yes, they ask if that means I'm interested, I remember that this is a business of liars and the lying lies they tell, I say I really really want to work. It starts Thursday. It's in Wilmington. It could be worse, but it's still pretty fucking bad. But work is work. I'll take it.

I also have to have an uncomfortable call with the student loan people. See, I asked them if I could go on income-based repayment, because the rules for that are very sweet and supportive to the failed loan-taker. They said yes, but then they screwed up all the details so that not only can I not get any help for my private loans (I knew that) they treated each of my loans like a single debt, so I didn't get the help I needed, and the minimum payment I was offered by the federal government became 7x the minimum payment - one for each individual loan.

Fuck. Well, some light will dawn with this job. Right?

Except, the stress of all this shit is hovering around me like a vulture. And naturally, it strikes when I need it not to: right before this job. Sudden crippling back spasms, impairing my ability to walk or stand upright. It's impossible for me to imagine getting to Philly and then Wilmington - even on a train - with this pain and weakness.

So, I better go see the doctor again. HA HA HA. Actually, I lucked out, I got in to see a doctor. It went like this:

DOC: So, back spasms?

ME: Yeah, I wouldn't be in here complaining about it, but I really need to go to work tomorrow. I've been unemployed for months.

DOC: Cool. Try yoga, and call us back if you think you want to eventually get a physical therapist.

I could go on, but you get the notion. I ask about medication, and he gives me some bullshit about positivity and core strength. He also drops this pearl on me: "It's all connected. If you hate this job you're going to, find something you really love. Then the stress and the back pain will resolve itself." But for right now, no, you can't have any medication that will help you get a job you need to stay out of default. Sorry. Next.

If one more happily-employed, independently wealthy motherfucker could say this to me, that would be great. My unemployed, can't-stand-up, miserable ass loves hearing all about it.

So here I am, at home at 3 PM on a weekday, back hurts, might not be able to stand up tomorrow morning. And I'll find out at 6 AM when my alarm goes off for the 2.5 hour commute to Wilmington whether I get to do it or not. And I cannot believe that staggering to work in Delaware while my back periodically stops working... this is my preferred outcome.

--Philadelphia, PA, 2:48 PM, EDT, 10/21/15, "was it a millionaire / who said imagine no possessions"

amusing postscript: The loan company made me promise them a $150 payment for "good faith" when I asked for a couple of months of grace. This doctor visit cost me $25 to be told "you should stretch some". Being poor is expensive.

---

In other news
written 2016-01-12 06:32:59

I wrote and deleted a post from December, and saved this excerpt:

"So, good news, that thing I was worrying about was true and I should've done the thing."

--6:31 AM, EST, Philadelphia, PA, never let me down

---

Reversal of Fortune
written 2016-04-01 21:15:20

No updates in a couple months because I've been WORKING YEAH BOY THAT'S RIGHT

Couple-week project turned into two month project turned into four-five month project, the last month of which has been a lot of not actually working. Getting paid, mind you, but not really doing any real work. It's been great.

So, I have long commutes and time to read and time to crochet and money coming in and it'll all be over soon, I'm sure.

--9:06 PM EDT, 4/1/16, "you'll be back / time will tell / you'll remember that I served you well"

---

Les temps perdu
written 2016-06-09 06:46:37

What I've been up to:

Working without interruption since last November. The income is lovely, the three hour commute is not that bad (I fill it with reading, phone games, and crochet), and because I have already expected to be fired about four times, I no longer fear it.
Volunteering for Bernie Sanders. In actual time expended, this only represents a handful of hours. It was interesting to see what motivated people to go out and knock on doors. As of yesterday, Clinton has the pre-convention number necessary to win at the convention, so I've been a bit sad. On Facebook, people are conflating an elderly civil servant with 20-something douchebags screaming death threats at ladies. This is their way of celebrating.
Trying not to get worked up about shit on the internet. That way lies conflating an elderly civil servant with...
I bought a used computer from a refurbisher, and now I plan to play gobs of Dawn of War II. I hope Dawn of War II is worth getting a computer specifically fast enough to play it. I can't imagine it'll run Overwatch.
My Mac began the wheezy end-of-life stage thing last week, so I'm now on a piece of shit HP laptop my sister gave me, and a desktop that is top of the line, for 2009. (Actually, probably not even that.)
I need something to read. Maybe more Haruki Murakami, maybe more Iain Banks. If Neal Stephenson would just release books on an annual or twice-annual basis, I'd be fine. I need something dense so I won't just burn through it, but not wholly morally nihilist. Finishing the Discworld books was nearly painful.

I'd write more but I have a train to catch. Summer is here, and it's cooler than we deserve.

--6:43 AM, EDT, Philadelphia, PA, when I want to say I love you, I say boop

---

First World Problems
written 2016-07-02 11:30:03

Usually, when Ingrid goes away, I jokingly tell members of my family that they will need to feed me, or else I will starve to death. Well, it's 4th of July weekend, so Ingrid is in Boone. So far, my sister is in Dallas, my dad is in Binghamton, my brother is at Weezer, and my mom lives in some other state. So, probably no updates after this one, after they FIND MY SHRIVELED, MALNOURISHED CORPSE.

(I'm only joking. My corpse will still be fat in the gut, and skinny at the extremities. Unless the dog starts eating me.)

So, yeah, three day weekend with Lennie, the dog who wants to play ha ha no just kidding she wants to bite your finger off if you even THINK about petting her again. She's definitely a cat. I just wish the shelter had told us before we took her home.

The best thing about the Saturday of a three day weekend is not having to read all the whining on Facebook about how you wish you were on vacation already. "Ugh still at work on Wednesday blech THE WORST" was the peak of it, I think. Got me thinking about #firstworldproblems: you have a job. You have a job that gives you July 4th off. You get to go away for a few days. And your response is to bitch about it?

I get it, everyone bitches about something, it's healthy to do so. It's just frustrating to know that while people are going hungry, dying in the heat, and unable to care for their children, my friends are sooooo despondent about only getting a four day weekend when Lance in accounting is getting six.

Sigh. Fuck it. I'll go back to sitting in my air-conditioned mostly-paid-for-by-my-girlfriend luxury accomodation. I may be alone, I may have bite marks on my fingers, and I may have student loan payments that I've been deferring for a year show back up this month, but I'll try and maintain a sense of perspective about it.

--11:24 AM, EDT, Philadelphia, PA, everybody needs a hobby

---

It's not really first world problems if
written 2016-08-13 11:24:25

So I have been employed at this current project since October (?) 2015. I know this because when I enter my timecard in the system, I have to click through each month that has passed since then. It's getting ridiculous.

The job has been very undemanding, and they really thought it would have settled by now, but it hasn't, and as a result I continue to report for billable hours. (Fewer now, they reduced me from 40 hours to 30 when the SEPTA train shortage occurred. Basically, I couldn't get to work on time without getting on a 5:55 AM train to catch the 8:39 Wilmington. And fuuuuck that.)

I was planning on a trip up to Quebec when this project ended. Go see my mom, travel off the beaten path, see more of Canada. But between deciding to travel and now, Ingrid got pushed around at work, and began thinking about quitting. Ingrid is the reason we have a house and food and are not dead, so I am not about to suggest she do anything but what's best for her. But it means I can't be spending walkabout money when we might have an immediate need for staying-alive money.

Though, this just fits into my usual routine: Either I'm working, and I can't afford to take time off and "leave money on the table", or I'm not working, and I can't afford not to be available for when work makes itself available, and I can't afford to be spending money I'm not earning. It's bad logic, and I'm afraid it's informing a lot of the modern day "middle class."

I wonder if I'm middle class. It could go three ways, right?

Sigh. Everything is really good right now. The Waffle King visited the hemisphere this month and I curried favor to gain an audience, and we talked about the range between "how you'd like things to be" and "how things are." Things are really good right now, and being able to focus on that should help with the things that aren't: uncertainty, debt and career.

--11:19 AM, EDT, 8/13/2016, Philadelphia, PA, Feather elves aren't elves at all!

---

What It Is Like
written 2016-09-09 21:32:13

While I was in Vermont, visiting my mom and remembering how great Vermont (and my mom) are, I got some emails about a new project coming up from an agency that hasn't gotten me any work for quite some months. Years, even. My phone was ringing too, but fuck that, I was on a mountain somewhere in New England. If you answer your phone for work reasons, they're allowed to deport you.

So, this project: usual pay rate, two week duration, and the unusual step of requiring a background check before you can be considered. Not sure what that's about, but I've been unemployed for about two weeks, I should get back in the rut. I mean, groove. No, actually, I think I had it right the first time.

I get home, and the emails continue, and there's this whole online application rigamarole I have to go through to apply. Not to get the job, just to apply. And the damn thing is only going to last two weeks. A bunch of nonsense, sure, but as stated: I should really get back to having a paycheck. And they... they want my social security number.

Understand, this never happens. Sometimes they ask if you've ever had an ethics violation or what kinds of doc review you've done. But never this level of scrutiny. This is weird. I almost don't hit "submit" at the end, because I have no idea who will be receiving this.

Anyway, I get the job. They send me a location and instructions to wear a suit on the first day. I think that's a bit stupid, because we aren't working at a law firm (this agency has its own review space), but whatever. Small price to blah blah blah, whatever you do, do it 100 percent blah blah.

Then it gets good.

This douchebag with 90's hair and his shirt unbuttoned to his nipples tells us we've all been vetted so stringently because this project is REALLY confidential, you guys. OH MAN, the client is MAJOR LEAGUE CONFIDENTIAL, for reals. (Being very confidential is like being a little bit pregnant. Or very unique.) And all of us in our suits look great, but there's no need to dress up, ha ha.

...so, why were we told to do so?

Next douchebag announcement: We really want to hit the ground running so we can get this project wrapped by Friday. (murmuring and discussion among the temps) "Do you... do you mean next Friday?" No, no, we think we can really accomplish a lot up front and get it done by this Friday. (flat murmuring) "We were told this would be a two week project." Oh, sure! Yeah, we're going to have more for you do, definitely. This is just the first part. Yeah.

Please note: this is Labor Day week, so the work week started on Tuesday. That means we were sold nine days of work, and then bait-and-switched for four.

Well, great. At least doc review is still full of liars and assholes. It would be jarring if I went back to the grind and found that integrity and decency had taken hold and all the people were good to one another. HA HA HA HA HA

So, we temps will be working for the agency that hired us (who shall remain nameless for exactly as long as they can still find me a buck). They are subcontracting the work from another company that does doc review from South Carolina. They are only handling this matter - they are not counsel for the client. The SC firm is subcontracting this matter from another firm that is handling the larger universe of litigation for YET ANOTHER law firm that actually represents the client. So, I think that makes me an independent contractor (because god forbid we get benefits or humane treatment) working for a subcontractor handling local efforts on behalf of a general subcontractor handing specific matters for a general contractor handling general matters for a law firm which represents a client.

And the punchline is they think I should treat the "attorney-client relationship" between me and the client with respect. I can't even see the client at the end of this fucking corporate line of bullshit. I don't even know if there is a client. Maybe I'm on a nightmarish reality TV show. Maybe I'm dead, and this is purgatory.

Additional hits from the worst haircut in law, three years running: "If you see (Account Exec)'s name, be sure and look hard for reasons to make it privileged. (Account Exec) was involved with a lot of important communications, so we'd like to keep those protected." Temp: "But... he's not a lawyer?" Douchebro: "That's correct. He talks to a lot of lawyers, though, so try and use that." Temp, to me: "...did he just ask us to make non-attorney communications privileged?"

"The office will be open from eight to eight. So, if you can work twelve hour days, please do." Insert sound of overly competitive failed lawyers lunging at their computers to try and get as many hours in as possible before we all get fired. "Overtime will be paid after forty hours." Collective gasp of astonishment until some cynical bastard points out that since we started on a Tuesday at 9 AM, we can only work 47 hours this week. And the thundering herd of nincompoops working themselves out of job will guarantee that there isn't enough work to last that long to even get 40.

I confess: I am that cynical bastard.

The work itself was fine: privilege review for an insurance merger. The bright-eyed kids all want to talk about antitrust and other shit that's way above their pay grade. I worked three eight hour days and didn't worry about it too much. One day I ate my lunch in Rittenhouse Square and watched dogs walk by. It was nice.

You may be wondering why I said "three eight hour days" above. Well, consider the part further up where I say this industry is all liars and assholes. Afternoon on Thursday, people start notice the work is drying up. I advise them to make it last, and we probably won't be called back for Friday. They scoff and remind me we were told it would go THROUGH Friday! They said! They... they said.

I confess: I am that cynical bastard.

We were all fired via email that night. Nothing about this project was unusual. No one fought it, no one objected to it, no one insisted that words have meaning and that by contravening what they had stated, they had become liars. It was understood.

--9:29 PM, EDT, Philadelphia, PA, nobody speak, nobody get choked

---

Regarding that previous item
written 2016-11-10 09:46:21

Perhaps everyone is liars.

--9:45 AM, EST, November 10, 2016, Philadelphia PA, maybe I'm just like my mother / she's never satisfied

---

Peter King's Monday Morning Quarterback
written 2016-11-10 10:00:25

These are some things I wrote on the morning after Donald Trump was elected president.

This morning the combination of overcast skies and recently abated Daylight Saving Time made for a unnaturally flat gray backdrop which could only appear to be the world mourning the ascension of the Demagogue.

"Don't mourn; organize."

I have already seen people on social media discussing the imminent need for a modern underground railroad. Those people should try and contact or research the abortion UGRR of the past couple decades before and after Roe v. Wade if they are serious about their intent.

I don't think Bernie Sanders would find your "SHOULDA NOMINATED SANDERS" memes at all helpful.

Hey, at least we get four more seasons of The Wire: state government, federal government, cultural imperialism and normalization of genocide.

And lastly: Ingrid's father, on the day after election day, told her that Obama was the most divisive president in history. That he was a Muslim, and he made it so that, in this country, a Muslim can throw down a prayer rug anywhere in the middle of the street, and no one can say a thing about it. He said Obama made it so that a Protestant can't even pray in public.

Ingrid's dad is a nice guy, I like him and I respect him. He's a twenty year veteran of the armed services and the post office, both. But to hear that crazy shit come out of his mouth... I can't imagine what she's going through.

Our landlady is going to sell this house next summer, so we will have to move. While I imagine that will mean changing neighborhoods in our part of Philly, it's now possible it means something more significant. I may need to work on my French.

--9:52 AM, EST, November 10, 2016, Philadelphia PA, we're not coming home (coming home) / Giving up everything we've known / All the chances we've blown / I swear we're not coming home

---

Some bullshit
written 2016-11-20 14:40:51

I woke up before Ingrid, after being sick overnight (good sausage and peppers, bad digestion). The dog only wants affection from her and not me, but we'd slept in late and she badly wanted a walk. I took her out in 40 degree weather and howling winds wearing only a t-shirt, because I'm an idiot.

After I got her back in the house, I fed her, which now involves throwing her food across the house so she can chase it, and/or putting food into toys that she can play with. She actually sits and complains if the food is just sitting there in her bowl.

Then I cleaned up all the dishes from role-playing. There are a lot, because at least one of our players simply doesn't worry about cleaning up after himself. He lives with his parents, always has, and is about 40 years old. I emptied the dishwasher and put away the dishes, then reloaded all the dirty dishes from yesterday. I also threw away the food that the non-cleaning guy left, took out the super-full bin of recyclables, put away teacups that Ingrid lets get all tannined and have to be washed by hand. I had already washed those by hand before Ingrid came home on Tuesday, and they say out until this morning.

Remember when I said it was howling winds this morning? That probably means the recyclable bin is less full now and our alley is littered as fuck.

I made Ingrid a cup of tea and took it to her in bed.

The dog got ahold of some little gravel and was chewing it. She's done this at least once before, and it worries me. I don't want to have to deal with her skittishness if she breaks a tooth and bleeds all over the place, so I thought I'd try and get the gravel away from her. But she sees it as food, and so she bit me.

Fuck me, right?

--2:37 PM, EST, November 20, 2016, Philadelphia, PA, gimme big mac / gimme fries to go

---

I wasn't yelling at you, I was just yelling
written 2017-04-26 01:32:53

Moving is the worst. Next time I have to move I'm just going to kill whoever it is that is making me move, and then kill the next person, and the next. It will be easier in the long run.

A recurring theme of this move has been asking Ingrid if she is throwing away old clothes, old books, old papers; the punchline is when she says no, she might need them. We have lived together for five years and she has not seen any of these items since we moved in, in 2012. 2011? It's been a while.

I'm just as bad, but in a lesser magnitude. I have a lot of "but I received this as a gift from Respected Friend!" reasons for keeping shit. I also have a full set of Happy Meal toys from the Legion of Super-Heroes cartoon, so don't let my bullshit fool you.

(There's also the legitimate fear that Relative X will find out you donated or threw away something they gave you, and be hurt by that. Look, I had to accept that they're all just possessions, please don't fuck up my progress.)

Yesterday I worked eight hours and my project ended. Today, I had to go back to the old house, have an existential shock about how much shit there still was to move / donate / throw away, then move said shit for four hours. Afterward, we drove it back to the new apartment, hauled it up two flights of stairs, and put it away. I collapsed in Ingrid's IKEA chair, my legs flung across the matching footrest. I tried to get my shoes off, but I was tired, and I mostly just let them fall off my limp feet. One of the shoes hit a long (five feet?) cardboard box, which began toppling toward me. I leaned forward to catch it, which put my center of gravity too far forward for Swedish seat technology to adapt. The entire chair rolled forward, dropping me on my ass on the floor and the back of the chair banging me on the the head while my legs batted the footrest across the room and the cardboard box fell on me anyway.

I sat on the floor, screaming profanity, until Ingrid came in and demanded to know what I had done. I informed her that her Nordic devil chair had attacked me, which she took as some kind of slight.

I did the next drive to the old house alone. I feel sure that my cause is just.

--1:27 AM EST, West Mt. Airy, Philadelphia, what difference does it make?

---

When do I get to know armies?
written 2017-06-05 12:34:56

The headline is copyright Martin Henley, all rights reserved.

We did character creation for Unknown Armies, fulfilling a dream I've had for over ten years. A Fool, a Masterless Man, a Necessary Servant, and a hacktivist will be investigating the disappearance of a girl at a club they all frequent.

I broke a tooth last week, and went back to the dentist I used to go to when I lived further north. It's a pain in the ass to drive all that way from our new place, but I know that guy has my dental records. Also, I asked him to recommend a more convenient dentist last time, and he got all pissy about it.

So the dentist repairs my tooth, but reminds me that last time I was supposed to think ahead and plan on getting it capped or crowned or some dental nonsense. I reminded him I have no insurance, and he said "Not my problem", but more politely and responsibly.

The upshot is, I'm supposed to get some minor oral surgery to make my tooth crownable, and then get the crown. I don't know how much the surgery costs, but the crown is between two and three thousand dollars.

But then I remember - I bought an insurance plan while my last work project was ending because Obamacare. And I think there is a dental plan on it. So I go to pay for my tooth fix, and I give the receptionist my insurance card. "This is an HMO," she says to me. "Okay," I respond, not sure what that has to do with anything. "Also, this is for pediatric dental care." I nod and pay out of pocket for the work, still not sure why the insurance didn't pay for everything. Anything? What does insurance do?

Not sure what all this means, I go home and do some research. Both the things the lady at the dentist's office told me were true! First, I do not have insurance, I have a list of doctors who will charge part of my bill to Independence Blue Cross. Not all of it, just some of it. And I have pediatric dental care, also through an HMO. I am not a pede, though, so I can't use it. And, presumably, I can't stop paying for it either because I am not in an "open enrollment period". Question mark.

I went from being glad that I had thought ahead and was a responsible adult to feeling like a stupid ass for falling for this responsible adult bullshit. I would go and look for jobs that offer insurance but HA HA HA HA HA oh my sides.

The new apartment is nice. The streets are loud sometimes, but that is what Lincoln Drive is like. It's pretty here, and the dog still has beds to lie in all over the house, so I'm sure she doesn't think it's any smaller than our last house.

I worked eight hours last week, and made so little money that I still qualified for unemployment. I need some kind of hustle where I can make part of my income regardless of circumstance. At this moment, our entire household income is my unemployment check.

The placement agencies swear more work is coming. They swear.

--12:21 PM, EDT, Philadelphia, PA, and so Sally can wait

---

I'm home sick today
written 2017-08-21 13:54:41

We'll see if I can remember how to ftp to Icculus and put something other than text on this page. Smart money's on "not any time soon."

--August 21 (Eclipse Day), 2017, Philadelphia, PA, apparently the robot needed caffeine

---

Bad at routine
written 2017-09-30 23:42:03

There was a squeaking noise in the apartment today.

I told Ingrid I thought it might be a mouse. (Our apartment is shitty with mice and possibly some kind of biting insect? I don't know, there was a lot of "not our fault" clauses in the lease about bedbugs; I was assured those are a mere formality in Philadelphia.) She scoffed and suggested it was coming from outside. Perhaps someone was test driving cat toys.

The noise continued, periodically attracting the attention of Lennie, the dog who is only a dog when it suits her. She was jamming her nose in the crack under the dishwasher, but that didn't seem likely. We had a previous incident where a mouse crawled under our refrigerator and died. We discovered this after the stench of soaked (by condensation) and cooked (by the heat of the fridge compressor) mouse filled the apartment. Not just the kitchen, mind you. The whole apartment.

The noise continued. I was not getting used to it, as I had hoped might happen, and then later on I would pull the fridge out and check for mouse carcasses before they became mouse air fresheners. I was feeling bad for the mouse. It wasn't his fault there's an old, shittily maintained apartment building full of food and crevices to hide in. He's just playing the hand he's dealt. So, I decide to do something about it.

I move the fridge out of its space between the counter and the wall. They made the space X inches wide to accommodate the X-0.01 inch fridge. It screams and scrapes every time you move it, and can only move an inch or two before it jams in its space. It's a pain in the dick to deal with, but the squeaking continues even as I'm wiggling this damn appliance out of the way.

Once the fridge is moved, you need to remove a back panel. I have not brought any tools, so I have to ask Ingrid for them. The dog is real fucking interested in what's going on now: her food and water are over there, and the squeaking continues, and if she can be a pain in the ass in any given situation, she's right there. I get the back panel removed and try to get my head craned into the now-empty space so I can see back behind there.

It's empty.

The squeaking is not coming from the base of the fridge, as I suspected. It's coming from beneath the counter, immediately to the left of the fridge... under the dishwasher, like Lennie thought. Well, fuck, this was a lot of work for no goddamn reason. Let me just put the fridge back where it goes and then pull out the dishwasher.

While I'm putting the fridge back, there's a burst of sparks from underneath it and the lights go out.

I think I killed the refrigerator. At 11:15 PM on the Saturday of a Jewish holiday weekend (the landlords are Jewish). While it is full of frozen goods. After a week when we found out my job is not going to last nearly as long as promised.

And that squeaking is still going.

--11:38 PM, EDT, 9/30/17, Philadelphia, PA, sometimes you the Louisville Slugger / sometimes you the ball

---

Happy birthday to me. /drinks
written 2017-11-05 07:51:17

It was my birthday on Friday. I'm super old.

It's a weekday, and I'm currently employed, so there was nothing unusual there. I got up, went to work, came home from work. I received some cards in the mail, sent thank-yous to the senders, and got some texts wishing me a happy birthday.

I didn't get anyone wishing me such on Facebook. This is by design, though, as I instruct Facebook not to share that information with anyone. I do it because I would like it if people remembered my birthday because they like me and are thinking of me. I am less touched by a gesture prompted by Facebook, which last year included "click here to send Matthew a gift" and this year includes "click here to donate to a cause rather than selfishly sending Matthew a gift".

Yes, this is unreasonable and fails to accept how things are today. Facebook is omnipresent, and like phone numbers in our contacts list, we have subcontracted the work of remembering birthdays to a machine. By not cooperating, it's my own fault if no one wishes me a happy birthday.

I'm going to keep doing it.

I went through the Obamacare process and learned my insurance bill is going up. I don't know by how much yet, but I'm going to price out how much going without insurance will be. If I die before I can post here again, sorry everyone. The GOP killed me with capitalized healthcare.

I received no gifts, two checks, and a friend paid me back some money she owed me by PayPal. I will probably spend some money on some things, so I can say I got something for my birthday, because I am very shallow. The idea that your birthday should stop mattering about the time you get a driver's license is a good one. It is just a pain to the people around you.

Since my birthday fell on a Friday, Ingrid and I usually go to a Mexican place. We call it 'tex-mex Friday' because we are fucking unoriginal. I skipped lunch so I wouldn't be half-full when it was Burrito o'clock. Ingrid came home, declared she wasn't very hungry, and asked if we could go to dinner later. I said that was fine. She smoked up, turned on a Miss Marple flick, and fell asleep on the couch.

Again, like the Facebook thing, I don't blame her. She worked all week, including writing up her 90 day self-evaluation at her new job. Last week she did her job, a colleague's job, and served five days of jury duty. I get it.

But, uh, it did mean that I didn't eat on my birthday. Like, I had some Pringles. And a couple of bagels at work. Not bagel sandwiches, not bagels with anything, just bagels. But no meals.

The following day, our friend Andy had a surprise party. We went to Qdoba (at no time, I'm proud to report, calling it 'tex-mex Saturday'), bought a birthday card for Andy, and went to his parents' house. When we arrived, we didn't really know anyone. When people arrived who we did know, most of them blew me off. Including Marty, which was unpleasant. When it got loud and crowded, I found an empty room and played with my phone. The only person who talked to me (despite many people coming into the room to get beer) was David, who I thought was angry at me over some fantasy football shit.

Eventually Andy arrived, was surprised, and we agreed this day would have been better spent playing D&D. I got him an RPG he had his eye on, but I didn't get to "give" it to him because I wanted to get the hell out of there before the designated gift-giving portion of the evening occurred. I hope he likes it. See above, "I'm very shallow", I would have liked to see him receive it to see if he really liked it or if he was just being polite.

Marty didn't talk to me the whole time we were trying to leave. I spent about five minutes sitting in a room with just him, Sarah and Ingrid. I have no idea what he's mad about. I didn't forget his birthday (it's the 13th) and I got him a RWBY board game for it. I could hear him talking about work inside the party. I can't envision wanting to talk about work while not currently being paid to do so.

Ingrid just thought I was being needlessly grumpy and oversensitive. She went to bed without saying 'good night'. And she's right. I'm terrible. But I guess I thought I could get a little leeway for a special occasion.

The upshot here is that my birthday isn't a special occasion. I got it.

There needs to be some aphorism akin to "you're not paranoid if they're really out to get you" to apply to being a dour cynic when things really don't go your way. But the prevailing wisdom is "you decide if you're happy or not". I've never been any good at that.

This is the part where I ordinarily hit 'delete' on a social media post. Because it's entirely self-involved, talks shit about people, and is generally mopey. But this isn't social media. There's like three people reading this, and you're all in different states, and none of them is here. I don't have a therapist, so maybe this is a replacement.

I woke up, took my blood pressure medication, and wrote this down. Let's see if I feel any better.

--7:35 AM EST, November 5, 2017, Philadelphia PA, maybe it's less than three

---

[ archives | front page ]